Discover more from Write For California
A community for California Golden Bears, about the California Golden Bears, made by California Golden Bears.
Over 4,000 subscribers
Quest for National Title No.99 - Men's Swim and Women's Water Polo
Cal Men's Swimming (and Diving) has Cal's best shot at a NCAA title; Women's Water Polo upsets Stanford to stay undefeated (11-0)
I kicked off this winter season Cal Olympic Sports preview/coverage 1.5 weeks ago by writing about the national championship chances of Cal Women's Tennis and Cal Women's Swimming and Diving.
Cal Women's Tennis was able to breeze through the first two rounds of the ITA Indoor Championships to secure themselves a spot in the final 16. The ITA will reseed the final 16 teams for the last FOUR rounds this weekend (Friday through Monday), to decide the women's indoor tennis title in Wisconsin. Check back tonight when No.4 Cal's path to a potential second ITA Indoor Tennis title would be revealed. Cal will also face No.20 Michigan today in a dual meet that should not factor into this ITA Indoor Tennis seeding.
Cal earns the 4th seed and will open against Texas A&M with a potential rematch against Pepperdine on deck in the Quarterfinals. You can find the bracket below.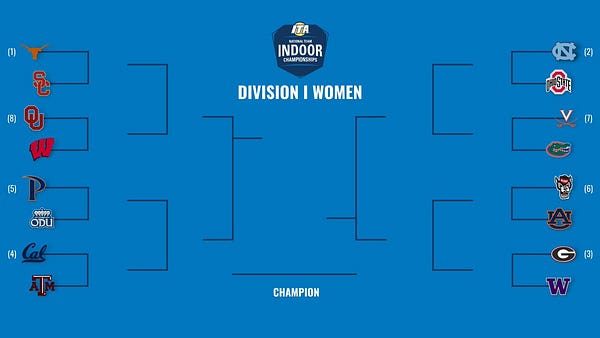 Cal Athletics' claim of 98 Team National Championships is a combination of titles awarded not just by the NCAA but also other governing bodies (IRA for Men's Crew, various bodies for Rugby, various histories for the five Football championships, etc.). You can find the full list hosted on Cal Athletics' webpage here (which has NOT yet been updated to include the recent 2021 Men's Water Polo NCAA championship).
Arguably, other peer institutions put too much emphasis on the NCAA titles. As the result, some of the sports that had long collegiate histories but chose not to be governed by the NCAA, for example, Men's Rowing and Rugby, do not get the proper support in those schools, even a well-funded one like Stanford.
UCLA was the first to cross that triple-digit threshold 15 years ago on NCAA titles alone. Stanford has since joined and surpassed them. USC is also above 100 NCAA titles currently. Both the Directors' Cup (dominated by Stanford) and the Captial One Cups (a separate one for the Men and the Women) only count the NCAA-sponsored sports.
Cal's next best shot at another NCAA title, which would be the 40th overall to give the Golden Bears sole possession of 10th place over Michigan (according to Wikipedia), would be the Men's Swimming and Diving at the end of March. While Texas looked like a good bet to repeat this past fall, Cal's chance to take the 2022 championship got a big boost since last December.
---
Cal Men's Swimming and Diving
National Title Count: 6 (most recent: 2019)
NCAA National Championship: March 23-26 (Atlanta, Georgia)
Thanks to the extra year of eligibility, Cal returned almost all of the key swimmers from the 2021 class who were instrumental to the Bears winning the 2019 NCAA title. Daniel Carr, Sean Grieshop, and Trenton Julian are all back for their 5th year after each guy made a run at the delayed 2021 Tokyo Olympics at the U.S. Swimming Trials last summer.
Cal does lose an important swimmer in sprinter Ryan Hoffer, particularly as the anchor of relays, to the professional swimming league, the International Swimming League (ISL). Given some more-than-rumored behind-the-scene financial issues concerning the ISL (which had to compete in bubbles in Europe for the past two years due to the pandemic), it is understandable that Hoffer opted to turn pro on time while that opportunity to earn money swimming currently exist. Hoffer had a decent rookie season for the DC Trident team.
The other notable Cal Bear from the remarkable senior class last year is Bryce Mefford, a first-time 2021 Tokyo "Calympian". Mefford finished 4th, just off the podium, in the 200m Backstroke in his first Olympic Game this past summer. Thanks to the new NIL rule, Mefford could both cash in on that Olympian status and still return to collegiate swimming just for this spring semester to bolster the Cal squad.
One can pencil in Bryce Mefford for essentially three (the maximum) individual A-Finals at the NCAA, along with the trio of Carr/Grieshop/Julian. The return of this quartet gives these guys a legit 4th try at an NCAA title after Cal's 2020 chance was wiped out by the COVID-19 pandemic.
Adding more experience on that Cal sideline for this 2022 NCAA title run is legendary swimming coach David Marsh. Marsh will pick up the slack for assistant coach Chase Kreitler, who will take paternity leave for the birth of his first child. Marsh was not just Cal head coach Dave Durden's former boss at Auburn but also another former Team USA head coach in the Olympics. Recently, he had trained some of the recent "Calympians" like Anthony Ervin and Kathleen Baker to become multiple-medalists at the 2016 Rio Games. Marsh has also acted as the head coach for the ISL franchise, the LA Current, which included several Cal stars like Calympians Ryan Murphy and Abbey Weitzeil. This move is akin to if Justin Wilcox has hired Jeff Tedford as the OC for Cal Football.
In addition to the 5th year returnees, Cal also got plenty of experienced swimmers like breaststroker Reece Whitley, sprinter Bjorn Seeliger as that key anchor of relays, and two impact sophomores who should both take a huge leap to challenge for multiple individual titles in Dare Rose and Destin Lasco. Cal's squad will also have two additional Tokyo "Calympians" in redshirt senior Hugo Gonzalez (Spain) and freshman Robin Hanson (Sweden). In addition to Hanson, fellow US freshmen Jack Alexy and Gabriel Jett both made a decent run at an Olympic berth last summer and should be major points contributors in their first national championships.
Texas adds top backstroker Shaine Casas but diver Jordan Windle is suspended indefinitely
The NCAA title for Men's Swimming and Diving will surely be another Cal vs. Texas showdown. Texas head coach Eddie Reese had originally announced his retirement after Texas won the 2021 title but quickly had a decision reversal. Reese was then able to poach Shaine Casas, who won both backstroke events on top of the 200 IM at the NCAA last year, from Texas A&M to Texas. With those three individual titles, Casas was the 2021 NCAA Swimmer of the Meet.
Last spring, the top scorer in Texas' narrow 595 to 568 win was actually a diver. Jordan Windle scored 52 points (1st in 1m, 2nd in 3m, 4th in platform) to lead the Longhorns before opting to return for his 5th year after being the top US platform diver (9th overall) at the Tokyo Games. In a shocking event that might just flip the championship in Cal's favor, Windle was announced to have been suspended by US Center for Safe Sport indefinitely last December. The University of Texas had also decided to suspend him indefinitely.
Allegedly, Windle sent nude pictures to an underage member of the USA Diving team (possibly even during the Olympics). US Center for Safe Sport had started their investigation over the summer before deciding on the suspension in December. A resolution, particularly one that might clear him to compete, by the end of March appears highly unlikely. It is a major fall from grace for a young USA Olympian, even if it has not shown up much outside the swimming/diving world (this news has also been way overshadowed by the whole controversy surrounding the eligibility of Penn trans swimmer Lia Thomas).
One does also have to expect some major new point contributions from the very talented Texas freshman class this March. However, the loss of Windle really turned this NCAA championship from unlikely to a coin-flip from Cal's point of view.
Both Cal and Texas will not post their top times until the NCAA championship meet. So far, Cal has dominated in all of their dual meets as expected. Texas may have the more impressive times in the books, but both squads know to peak at the national championship. That should be another exciting week of racing between the two powerhouse programs.
---
Cal Women's Water Polo
National Title Count: 0
NCAA National Championship: May 6-8 (Ann Arbor, Michigan)
What a difference a great weekend can make? I basically had to rewrite this section after Cal passed their first true test of the season with flying colors at the Stanford Invitational this past weekend.
The 2021 season was a disappointment for Cal as the Bears only went 12-7 and fell behind Arizona State as the 4th best team in the conference as well as the country (so no NCAA berth). Of course, the Summer Olympics had always drastically impacted Women's Water Polo as Olympians have to spend time with their national team to help with the spring qualification in addition to preparing for the Games. Cal, along with Stanford, USC, and UCLA, all faced major attrition as key players took the Olympic sabbaticals.
The return of Canadian "Calympian" Emma Wright has drastically improved Cal's outlook for the 2022 season. Cal has not just beaten their opponents, including Arizona State, but dominated them in building an 8-0 the record before the weekend.
Of course, similar to the case for Cal Men's Water Polo, the real tests are the contests against the other California-based Pac-12 schools. For example, Stanford got both two-time Gold medalists, the Fischer sisters, back from Team USA this semester. No.2 Cardinal also got the home pool advantage against No.4 Cal this past weekend.
Breaking an eight-match losing streak against their Bay Area rival, Cal Bears was able to earn a hard-fought win that should also be a great confidence booster for the rest of this season.
It was a 7-7 match at the end of the regulation. After the Cal Bears took their first lead of the match by scoring early in the first OT, Stanford quickly answered with the next two goals to go up by one. Of course, the Bears will not quit. Down to their last possession of the second OT, junior Cecily Turner scored her second goal of the match to essentially send this match into sudden victory (AKA next goal win).
Freshman Jessie Rose was at the right place at the right time to score off a rebound to give Cal a special sudden-victory win over their rival. Dutch Calympian Kitty Lynn Joustra took the initial shot from close range but the Stanford goalie was able to block it. The ball ricocheted right to Rose who quickly shoved the ball into the back of the net for the Cal triumph. Golden Bears had a woman advantage on that possession and was able to capitalize on it.
Interestingly, Cal star Emma Wright was held to just two assists in this match and had ZERO shot on goal according to the box score, but other Cal Bears were able to pick up the slack. Senior Elli Protopapas had a hat trick while Turner and Rose each scored a brace. Stanford's Fischer sister contributed 6 goals total (4 from Mackenzie and 2 from Aria). Cal keeper Isabel Williams was able to make 12 saves as well as earn 4 steals.
In the other weekend contests, the Bears defeated UC Davis 9-4 on their second match on Saturday. Golden Bears then got SIX GOALS from Wright on Sunday to beat Arizona State 11-6.
The Bears will put their undefeated record to the test in two weeks when they visit No.1 USC in Los Angeles on Saturday, February 19th. This match will be a must-watch for water polo fans on the Pac-12 Networks.
All of the NCAA Women's Water Polo championships have been won by UCLA, USC, and Stanford. Cal is still searching for that elusive first title. After not being able to tap into the rich Team USA pipeline under the previous regime, Cal under head coach Coralie Simmons had finally got some major number of USA national team (junior) members in the last two recruiting classes (4 in the sophomore class and 5 in this freshman class). Adding in some experienced international "Calympians" like Wright (24 goals) and Joustra (17 goals), Cal just might have the right mix in the chase for the 2022 NCAA national championship.
GO BEARS!