Discover more from Write For California
A community for California Golden Bears, about the California Golden Bears, made by California Golden Bears.
Over 4,000 subscribers
Trivia Thursday: Can you pick the correct football coach?
From 1920 to 2020, this quiz spans 100 years of Cal football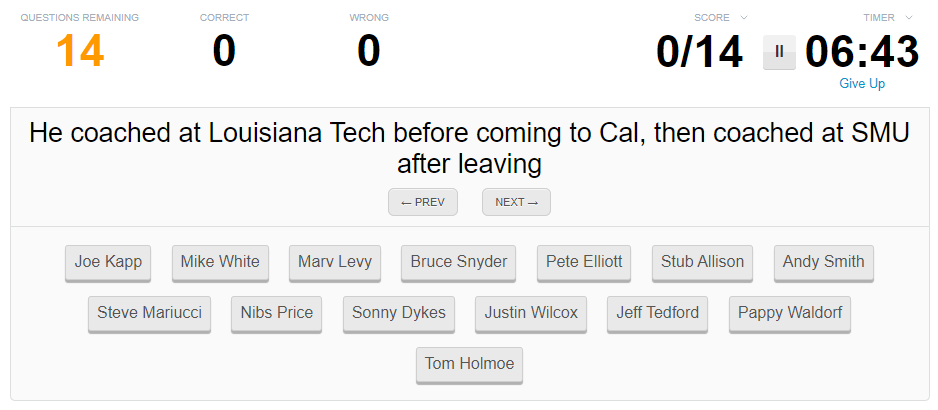 THIS WEEK IN TRIVIA
Can you pick the correct Cal football coach?
Old timey names, hall of famers, eccentrics, athletic department blunders . . . Cal's coaching history is plenty colorful. Sure, everybody knows plenty about the coaches that have roamed the sidelines over the last 20 years or so, but how many of you feel confident about some of the more vintage Cal football coaches?
Good Rodgers!
LAST WEEK IN TRIVIA
Can you pick the correct Cal sports facility?
QUIZ SPOILERS TO FOLLOW

Hey, everybody knows that Cal football is played at Memorial stadium, but not too many know that Cal lacrosse plays their home games in the biggest facility on campus as well! Between that and the somewhat obscure names for Cal's tennis (Hellman) and softball (Levine-Fricke) facilities, this was another quiz that was tough to ace.

Still, 10% perfect is better than our other quizzes, so kudos everybody for your Cal home field knowledge. Now: how many of you can claim to have attended a home match in every single one of these facilities? I myself can only claim six out of nine.