Discover more from Write For California
A community for California Golden Bears, about the California Golden Bears, made by California Golden Bears.
Over 4,000 subscribers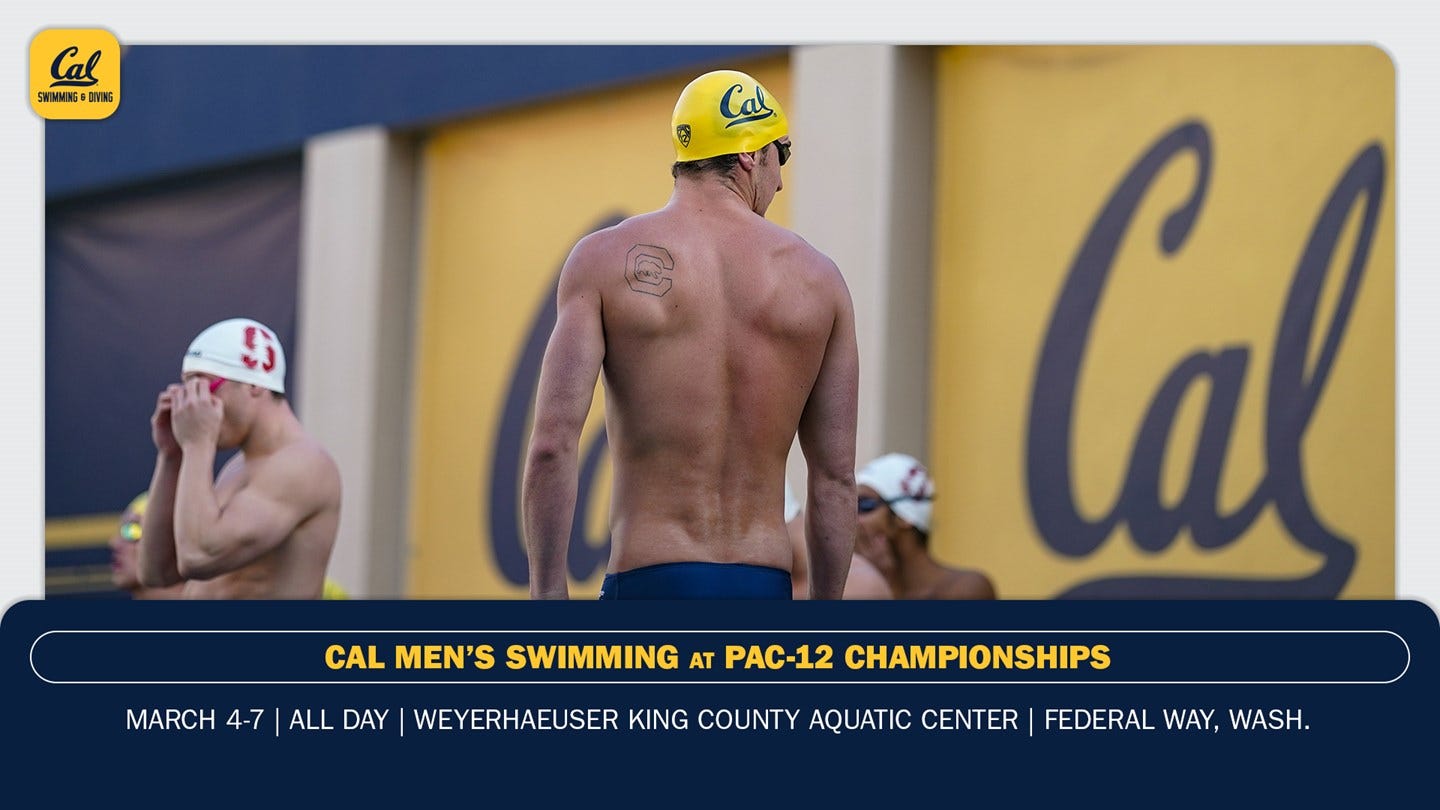 Photo Credit: Catharyn Hayne - KLC fotos
With Cal's primary rival of the last decade being in another conference, it's hard to envision exactly what the team will show at the Pac-12 Conference Championships that starts on Wednesday. Part of this stems from the dozens of Olympic hopefuls that populate many collegiate rosters potentially prioritizing their respective Olympic qualification meets over the collegiate season. Four years ago, a handful of Cal's stars elected to skip the four-day conference championship for another meet that better prepared them for the US Olympic Trials. There hasn't been any indication key swimmers will participate in a similar opportunity this time around, which indicates the Bears will bring a full-strength roster that is the heavy favorite. 
The other part of the equation is that historically good programs such as Stanford and USC struggled mightily in their respective 15th and 20th place finishes at last year's NCAA Championship. Given the Bears' success under Coach Dave Durden, it appears as though the primary focus is on the NCAA Championship, which means that the team might not be resting, shaving, and tapering until after the Pac-12 Conference Championship. Regardless, Cal's talent should be enough to walk away from Federal Way, Washington as the three-time defending conference champions. 
Graduating Andrew Seliskar, Michael Thomas, and Nick Norman from the roster that won last year's NCAA Championship is certainly difficult, but the strength of that team was in its depth. This year, Cal's strength is in the sprint freestyle and individual medley events. The Bears currently hold 3 of the top 7 seeds in the 50- and 100-yard freestyle events as well as 5 of the top 7 seeds in the 200- and 400-yard individual medley. The rest of the psych sheet is filled with events where several Cal swimmers populate the fastest seeds. 
With the start of the conference championship just upon us, there are definitely questions that the Bears could answer without showing their full cards that could hint to what they have to counter Texas later this month. Thus, here are the four Cal athletes I'll be paying the most attention to and why: 
Ryan Hoffer
At the collegiate level, elite sprinters are incredibly useful. The reason for this is because relays, which typically lean toward the sprints, award double the points. At the championship meets, swimmers are allowed to swim at most three individual events and four relays. While coaches can find ways to put studs such as Ryan Murphy, Andrew Seliskar, and Ryan Hoffer onto four of the five relays, it's significantly harder to find more than two relays for other elite talents such as Reece Whitley.

Coming out of high school, Ryan Hoffer had personal best times that made him the clear heir apparent to Dressel in the sprint freestyle events. His performances last year and at this year's Minnesota Invitational suggest that Hoffer might be ready to ascend to the throne vacated by Andrew Seliskar. While Hoffer has dropped time in his other two main events (50-yard freestyle and 100-yard butterfly), he needs to prove that his 100-yard freestyle is within spitting distance of his personal best (41.23), which he set in high school. This is important because he could be asked to swim the 100-yard freestyle four to six times if you include prelims and finals for both individual and relay events. 
Trenton Julian
Hoffer's fellow junior, Trenton Julian, is quite inspiring and has shown the Cal program's ability to develop swimmers, under Coach Duerden. Despite being ranked as SwimSwam's 15th-best recruit in his class, Julian had to drop significant time in order to be the incredibly valuable contributor he is today. Julian dropped 5.2 seconds in the 200-yard butterfly, 12.6 seconds in the 400-yard individual medley, and 17.1 seconds in the 500-yard freestyle to cement himself as one of the NCAA's best butterfly and middle-distance freestyle swimmers. 

Given his massive time drops, it seems weird to nitpick. Julian has a propensity to start his races really fast and strong but lacks the backend speed to finish his races as effectively as he starts them. He'll very likely be in the 800-yard freestyle relay, Cal's weakest relay event, that kicks off the championship weekend. I'll be watching to see if Julian has addressed his racing strategy to finish stronger and to see if he has developed into an elite 200-yard freestyle swimmer that Cal has consistently lacked in recent years.
Colby Mefford
As a whole, the freshman class lacks the elite swimmer that we're accustomed to getting at Cal. Think along the lines of top-ranked Reece Whitley, Hoffer, Seliskar, and Ryan Murphy. A lackluster showing at December's Minnesota Invitational suggests that the freshmen probably won't contribute scoring at the NCAA Championship, but the conference meet will be a perfect opportunity for them to score points and show how close they are to being valuable contributors next year. 

I highlighted Colby Mefford partly because his brother, Bryce Mefford, successfully faced a similar path from developmental recruit to substantial role at the NCAA Championships. While Bryce was able to accomplish this in just his first year at Cal, I don't expect Colby to accomplish the same results in the same timeframe just because they're brothers. He showed decent improvements (2+ seconds) in his two best events, 200-yard backstroke and 200-yard freestyle, as a senior in high school to suggest he is on a good path. If anything, the Cal backstroke tradition might just be another source of improvements for the backstroke specialist. Even then, he, along with most of his class, is still another 2-3 seconds from being impact swimmers at the next level.
Hugo Gonzalez
The transfer by way of Spain, Auburn, and Virginia Tech with three years of eligibility is perhaps the Bears' biggest question mark. Two years ago, he stunned the SEC with his performance at their conference championship, but he was significantly worse at that year's NCAA Championship. He transferred to Virginia Tech to follow Coach Segio Lopez from Auburn, but Gonzalez abruptly went back to Spain before the season even started. Now, at Cal in an Olympic year, he's already made Spain's Olympic team. 

Knowing which Gonzalez shows up at both the Pac-12 Championship and the NCAA Championship is certainly a mystery to fans. Will it be the one that excelled at the 2018 SEC Championship? Or the one that struggled a month later? Or the one that is more focused on this summer's Olympics? If Gonzalez can demonstrate that he'll be more of the first throughout the championship season, he has personal bests that suggest he has Seliskar-like versatility and speed, which will be incredibly fun to watch Coach Durden plug in various places as he did with Seliskar over the last four years. 
Cal's biggest weakness in recent years has been diving. The Bears are as good and dominant of a swimming team as any, but they lag behind conference rivals and national competition in diving. While the team tried to address that with recruiting, freshman Nick Hart, one of Cal's best diving recruits yet, medically retired earlier this season after a promising start to his career. As the diving took place last week at the women's Pac-12 Conference Championships, senior Connor Callahan, after sitting out the fall due to a shoulder injury, scored 28 points across the 3 diving events, good for 6th place (out of 6 teams). Junior Johnny Robinson didn't compete as he is out for the season, also due to a shoulder injury.
Despite the 82-point deficit to current first-place USC, SwimSwam projection tool, which is usually based on season-best times, has Cal … swimming away with the title. 
Go Bears!