Discover more from Write For California
A community for California Golden Bears, about the California Golden Bears, made by California Golden Bears.
Over 4,000 subscribers
Best case: What a difference two years make in the Cheez-It Bowl II
Who knew that Cheez-Its were great for washing bad taste out of your mouth?
With no Pac-12 Football in 2020, Write for California will instead be covering a mock season. In place of our standard game previews, we will start our pregame "coverage" with fictitious contrasting best- and worst-case scenarios for each game (inspired by Ye Olde ESPN Pac-12 Blog) had COVID-19 never cursed us. The week will culminate in a video game simulation on Saturday (with commentary by Rob Hwang and Trace Travers) and a game recap by Nick Kranz on Monday.
---
Two years ago, the Golden Bears were an unfortunate highlight of the 2018 football season—the much-maligned and readily-ridiculed Cheez-It Bowl. The two teams combined for 9 interceptions and just 14 points at the end of regulation, culminating in a 10–7 for the Horned Frogs as Gary Patterson's staff was the only one that recognized the need to move away from the struggling passing game.
It was ultimately revealed that Chase Garbers was dealing with injuries in 2018 that leading to him being outright ineffective in that bowl game—passing for fewer than 100 yards with a dismal quarterback rating of 20.6—but it certainly looks like he came into this contest with something to prove. His statline wasn't particularly phenomenal as he was limited by TCU's two stellar safeties—including a pick by All-American-caliber safety Trevon Moehrig—but Garbers looked confident and decisive while showing no fear in testing the deep ball. The biggest difference-maker for the offense wasn't even on the field. Instead, we were all treated to a master class in offensive playcalling by Coach Musgrave, who neutralized the Horned Frogs' safeties by stretching the field horizontally and keeping them off balance with a mix of runs and play-action passes.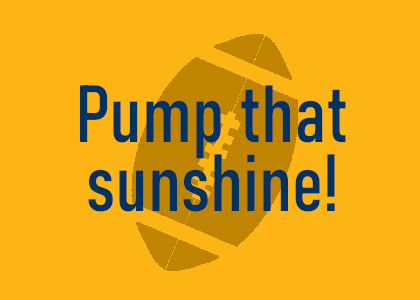 On the other side of the ball, California feasted in the trenches. TCU is struggling to build anew at offensive line; with neither enough linemen who can play at an adequately "high level" nor sufficient time for what players they do have to gel, it was a field day for the veteran California defensive line—which played all thirteen games together last year. These three Bears manhandled their counterparts—sixth-year seniors Zeandae Johnson and Luc Bequette each enjoyed a sack and the line gobbled up plenty of blocks. The defensive pressure wasn't enough to rattle sophomore QB Max Duggan into a Muehlstein-level performance—but it did help enable the Bears to two picks courtesy of Joshua Drayden and Camryn Bynum. The Horned Frogs showed a few flashes of playmaking ability, but their youth and inexperience resulted in a one-dimensional attack that the Bears were ultimately able to snuff out.
It wasn't the meme-able masterpiece we witnessed in 2018, but Cal's 27–20 win instead left fans gripping their seats in anxiety. Still, the affair showed promise for what's to come and typified the gritty wins that have defined the Wilcox era.
---
2020 Cal best-case season
UNLV: W 34–13
TCU: W 27–20
Cal Poly:
Utah:
Washington State:
USC:
Oregon:
Oregon State:
Washington:
Arizona State:
Stanfurd:
UC L.A.:
Win-loss: 2–0
---
This is a completely fictional account of the 2020 California football season had it transpired without COVID-19. All commentary, criticism, etc. of any player, coach, or figure is based on this total hypothetical and is not an analysis or indictment of the actual individual.