Best case: California debuts its new football offense against UNLV
The defense reloaded, but was the offense reinvigorated?
With no Pac-12 Football in 2020, Write for California will instead be covering a mock season. In place of our standard game previews, we will start our pregame "coverage" with fictitious contrasting best- and worst-case scenarios for each game (inspired by Ye Olde ESPN Pac-12 Blog) had COVID-19 never cursed us. The week will culminate in a video game simulation on Saturday (with commentary by Rob Hwang and Trace Travers) and a game recap by Nick Kranz on Monday.
---
It's beautiful when a plan comes together.
The biggest question mark coming out of the 2019 football season was the future direction of the offense. It was listless in 2018 and 2019 appeared destined for the same… until the light bulb seemingly went off for Chase Garbers. Nevertheless, it still felt like it had lagged behind the defense. With offensive coordinator Beau Baldwin departing the team to lead (future opponent) Cal Poly, Golden Bears everywhere scrutinized and overanalyzed the hire of Bill Musgrave and pondered—daydreamed, even—about what he could bring to Memorial Stadium.
He brought a work of art.
The new-look Cal offense had a few minor hiccups, but no major stalls from growing pains. Garbers looked mostly settled and comfortable dropping back from under center en route to 267 passing yards and three touchdowns. The receivers were dynamic—notably Kekoa Crawford's leaping touchdown reception over DB Alex Perry on the sideline—but the biggest change came thanks to the run game.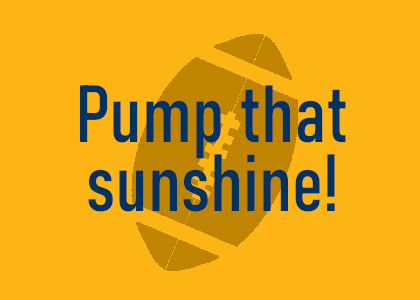 Despite UNLV putting more of their defenders in the box to stop the run, California's battle-hardened offensive line was able to open up enough holes for Christopher Brown Jr. and Marcel Dancy to do their damage (just shy of 150 combined yards and Brown's TD run). Kudos to these tough runners for still being able to move the ball despite the defense loading the box. Newly-minted fullback Zach Angelillo also deserves plenty of recognition for hitting some key blocks. All in all, the California offense showed enough to keep first-year defensive coordinator (and former Stanfurd assistant coach) Peter Hansen's head spinning.
Speaking of first-year Rebels, head coach Marcus Arroyo seemed a little too focused on their pass game, recognizing far too late that they were starting to have some success running the ball. Instead, our front seven looked like stars with Cameron Goode picking up a sack and Kuony Deng living up to the high expectations of a Wilcox inside linebacker by racking up 12 tackles. The defensive backs didn't look like they've lost a step in the transition away from that original, core group of Takers. Camryn Bynum was his reliable self and Elijah Hicks was able to nab an interception on a terribly thrown ball by a beleaguered Kenyon Oblad.
Despite breaking in two new specialists, California didn't look too bad on special teams. P Jamieson Sheahan got adequate hangtime on his kicks to buy enough time for our coverage units to get downfield and stop any big returns and K Dario Longhetto was able to nail his two field goals—although we still haven't been able to truly test his range.
In all, it seems like the defense was mostly able to reload. What remains to be seen is how the new Cal offense will look. Against the Rebels, we were able to move the ball and put up points—but they aren't exactly the toughest of opponents. The UNLV defense allowed an average of 33 points per game last year and are adjusting to a young defensive coordinator who is new to this much responsibility. The Cal offense will have to sustain—or exceed—this level of production if the team wants to meet the high hopes of the fanbase.
---
2020 Cal best-case season
UNLV: W 34–13
TCU:
Cal Poly:
Utah:
Washington State:
USC:
Oregon:
Oregon State:
Washington:
Arizona State:
Stanfurd:
UC L.A.:
Win-loss: 1–0
---
This is a completely fictional account of the 2020 California football season had it transpired without COVID-19. All commentary, criticism, etc. of any player, coach, or figure is based on this total hypothetical and is not an analysis or indictment of the actual individual.