Discover more from Write For California
A community for California Golden Bears, about the California Golden Bears, made by California Golden Bears.
Over 4,000 subscribers
No.1 Cal Men's Rowing could win Cal's 100th team national title on Sunday
Can No.1 Cal best No.2 Yale, the exciting ~5.5 minutes V8+ race is scheduled for 7:50 AM PT on Sunday
UPDATED:
The table is set for the expected Cal vs. Yale showdown in the Varsity 8 Grand Final on Sunday morning. That race is tentatively scheduled for 7:50 AM PT, but weather can always alter the schedule (the IRA will often get this main race over early IF there is the threat of rain to cancel the other finals). Use the YouTube link below to watch the live stream (and to watch the replays).
In the Varsity 8+ Grand Final will be Cal, Yale, Brown, Washington, Harvard, and Syracuse. Cal (5:33.311) dominated their semifinal to beat Washington and Harvard by 2.6 and 7.1 seconds on Saturday. Yale (5:34.950) won the other semifinal with 1.9 and 2.3 seconds margins over Syracuse and Brown.
This one race will decide the main prize of the IRA Championships.
In other races, both 2V8 and 3V8 Cal boats have also made their respective grand finals on Sunday. Cal V4 has already won the V4 petit final on Saturday.
---
It will probably be an extremely close race for the entire 2000 meters between No.1 Cal and No.2 Yale in the Varsity Eight Grand Final on Sunday morning for the 2022 IRA Championships from Lake Mercer in New Jersey.
In Men's Rowing, the main championship is awarded solely to the crew that wins the V8+. A separate trophy, the Ten Eyck Trophy, is awarded to the school with the most points. In addition to the Varsity 8, Cal will also have a 2nd Varsity 8, 3rd Varsity 8, and a Varsity 4 boat racing this Friday through Sunday.
If you believe in the cMax, a computer metric developed by Chris Maxwell and Andrew Kirk based on a well-known statistical technique called OLS (ordinary least squares) and documented on the row2k website, they have Cal and Yale separated by a mere 0.2-0.5 seconds. They also just flipped the order between Cal and Yale, possibly due to the availability of New Zealand Olympian Dan Williamson for the Bulldogs.
Coincidentally, Williamson's availability due to a back injury at the Tokyo Olympics last summer nearly allowed Cal's Ollie Maclean to be a part of New Zealand's Gold medal-winning Eights crew. As an Olympic reserve, Maclean traveled with the New Zealand Olympic team to Tokyo and he was a standby for any of the boats. He was told to be ready just before the men's eight final.
As told in the Inside the Lair feature this Spring.
The Cal rower from Auckland, New Zealand, didn't initially think he'd make his nation's Olympic team for the 2020 Games, but he ended up being a reserve for the trip to Tokyo. Maclean was on standby for any of New Zealand's boats, and moments before the final of the men's eight, he was told he might have to row due to a back injury to teammate Dan Williamson.
 
Maclean went through the entire warm-up routine as part of the men's eight and walked with the crew to launch the boat 10 minutes before the start of the race. That's when it was determined that Williamson could row, and Maclean ended up watching his teammates take the gold medal from the crowd box.
 
"I cried," Maclean's mother, Vikki, said. "I was in a café when Ollie rang me and told me he could possibly be needed for the eight. I just burst into tears. It was all of his dreams come true."
 
While the emotional tug-of-war was certainly challenging, Maclean handled the situation with all of the traits his Cal teammates have gotten to know – maturity, professionalism, selflessness and leadership.
Alas, Ollie Maclean will likely only have to wait a couple more years for his turn to be an Olympian. Coming off this experience of being so close to an Olympic berth and a potential medal, the Cal senior had a very strong season to be named the Pac-12 Athlete of the Year in helping his Golden Bears crew to Pac-12 titles, both his Varsity 8+ boat and the team title.
Also winning awards for Cal's Pac-12 Championships dominance were Gennaro di Mauro as the Pac-12 Newcomer of the Year award and Scott Frandsen as the Pac-12 Coach of the Year. Di Mauro is an Italian "Calympian" freshman who made the single sculls final at the Tokyo Games last summer. Cal Men's Rowing head coach Scott Frandsen is a former Canadian "Calympian" and medalist in his 4th year at the helm. Three other members of the Cal V8+ boat also earned All-Conference Honors: Australian "Calympian" Angus Dawson and potential future Olympians in Campbell Crouch (also from New Zealand) and Elliot Kemp (from Great Britain).
"Everything we've done continues to build well towards the weekend," said head coach Scott Frandsen when discussing the significance of this weekend. "The Varsity 8+ has maintained its consistency and the crew is just really ready to get to Friday and get to racing. We have had the usual ups and downs of training, but we are excited about the races."
Cal easily dispatched Washington, last year's IRA Champions, in both the dual meet and at the Pac-12 Championships. Cal won the Pac-12 Championship by a healthy margin of 5.5 seconds.
One would expect the Golden Bears to use the same lineup in New Jersey this weekend.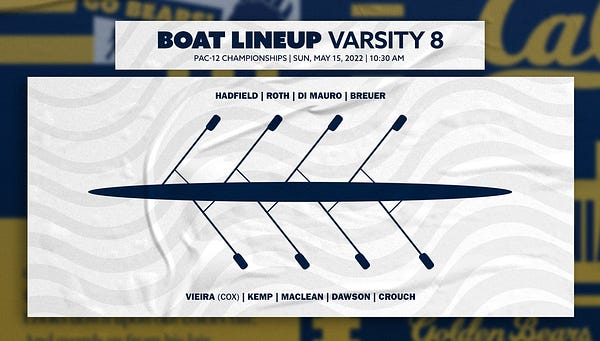 Golden Bears' biggest challenge will likely be the Yale Bulldogs crew coached by former Cal head coach and one-time interim Athletic Director Steve Gladstone. Yale had won the last three IRA Championships that they had competed in (2017-19) but did not participate in the 2021 version due to the Ivy League canceling all their sports for two straight years due to the pandemic.
Cal will be seeking their first IRA title since 2016.
Yale has dominated their races on the East Coast this year, despite missing Dan Williamson at the Eastern Sprints that also decided the Ivy League Championship. A blemish on their record came in late April when Yale technically lost the Carnegie Cup because they were disqualified in the finals for a steering mistake that had no real effects on them finishing way ahead of Princeton and Cornell.
The Yale V8+ boat could have as many as three Olympians with Dan Williamson joined by fellow New Zealander Jack Lopas and Swiss Olympian Andrin Gulich. All three Elis were a part of Yale's IRA Championship winning boats in both 2018 and 2019.
If Williamson cannot go this weekend, Cal would be a heavy favorite. If he could go, I still think Cal can win, but there would be no margin for errors. Ideally, we will see a Cal crew best the best possible lineup from Yale.
Before Sunday morning's showdown, we will first have the heats on Friday and the semifinals on Saturday. The full schedule of the IRA Championships is below.
Friday, June 3 (Heats and Time Trials)
5:10 a.m. – Varsity 8+ heat 1
lanes 1-5: Penn, Northeastern, California, Syracuse, Drexel, Santa Clara
6:10 a.m. – Second Varsity 8+ heat 1
lanes 1-5: Oregon State, Syracuse, California, Boston University, Drexel
7:20 a.m. – Third Varsity 8+ heat 3
lanes 1-6: Oregon State, Cornell, California, Brown, Boston University, Temple
8:20 a.m. – Varsity 4+, time trial 
10:50 a.m. - 12:20 p.m. – V8+, 2V8+ & 3V8+ repechages
12:30, 12:40 and 12:50 p.m. – V4+ A/B/C semifinals (based on time trials)
 
Saturday, June 4 (Eights A/B semifinals; Four grand final)
5:40 a.m. and 5:50 a.m. – Varsity 8+ A/B semifinals
6:00 a.m. and 6:10 a.m. – Second Varsity 8+ A/B semifinals
6:20 a.m. and 6:30 a.m. – Third Varsity 8+ A/B semifinals
8:30 a.m. – Varsity 4+ grand final 
Note that the Varsity 4+ Grand Final is on Saturday.
Sunday, June 5 (Eights grand finals)
6:30 a.m. – Third Varsity 8+ grand final
7:00 a.m. – Second Varsity 8+ grand final
7:50 a.m. – Varsity 8+ grand final
All of the racing action will be streamed for free on YouTube. I believe the videos will also be available afterward for replays.
Friday Heats
Friday Repechage/Saturday Semifinals
Sunday Finals
ROW ON YOU BEARS!