Discover more from Write For California
A community for California Golden Bears, about the California Golden Bears, made by California Golden Bears.
Over 4,000 subscribers
Pac-12 Champs: Cal Men's Rowing, Camryn Rogers (W. Hammer), Josh Johnson (M. Shot Put), Mykolas Alekna (M. Discus)
Cal freshman Alekna breaks his own collegiate record
Both rowing (men and women) and outdoor track and field (also men and women) competed in their respective Pac-12 Championships from the state of Oregon this past weekend. A number of Cal student-athletes earned Pac-12 titles. Let's take a look at these conference Gold medalist Golden Bears.
No.1 Cal Men's Rowing wins first Pac-12 title since 2016
While Washington has dominated the Pac-12 Rowing Championships for the past four seasons (not counting 2020 when the season was canceled), the Bay Area schools won the team Pac-12 titles this year. The Pac-12 Rowing Championships were held at Dexter Lake in Oregon for the first time.
Cal Men's Rowing won their 16th conference title by winning 4 of 5 races, including the most important one: Men's Varsity 8 (V8+). For the national championship (IRA Championship) coming up in three weeks (the first weekend of June), the main prize is determined solely by the result of the V8+ race. The combined team score trophy (Ten Eyck) is gaining importance, but the one that matters (and can carry Cal Athletics' total national championship count to triple digits) is the Varsity 8.
On the weekend, Cal finished first in Varsity 8, 2nd Varsity 8 (by coming from behind), Varsity 4, and Novice 8. Cal finished 2nd behind Washington in the 3rd Varsity 8 race.
Pac-12 Championships Men's Results
California                         72 points

Washington                     65 points

Oregon State                   47 points

Stanford                           42 points

Washington State           40 points

Oregon State                    17 points

Colorado                          13 points 
Impressively, Cal dominated the V8+ race, beating Washington by more than 5 seconds and holding a lead wire-to-wire.
The Cal V8+ lineup includes freshman Italian "Calympian" Gennaro Di Mauro (Italian Single scull where he finished 8th) and Australian "Calympian" Angus Dawson (Australian Men's 8 that finished 6th overall) in the middle. While not quite a "Calympian", Ollie Maclean also got to go to Tokyo last summer as an alternate for the New Zealand Olympics team.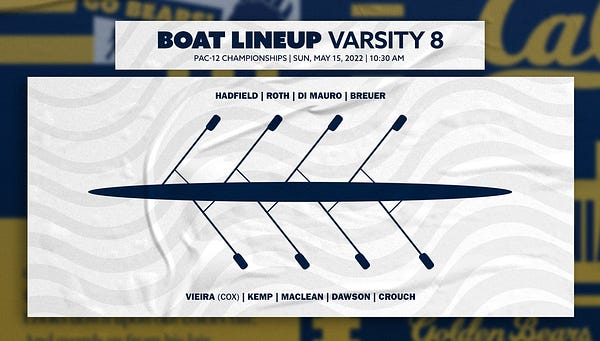 Between the Pac-12 Championship and the dual meet on April 23rd, Cal has shown that they are much faster than Washington this year. Looking ahead at the IRA Championship, No.1 Cal's main competition will likely be No.2 Yale.
Led by former Cal Men's Rowing head coach as well Athletic Director Steve Gladstone, Yale is the three-time defending champions if you cut them the slack for not racing in 2021 when the Ivy League did not have a season (several Ivy League schools did compete at the IRA Championship won by Washington). Yale has three "2020" Tokyo Olympians on their team with New Zealanders Dan Williamson and Jack Lopas teaming with Swiss Andrin Gulich. Yale's loss to Princeton was also caused by a steer technicality that caused them to be DQ'ed despite winning the race by over 6 seconds.
It should be a very exciting race between the two crews in Lake Mercer, NJ on June 3rd-5th.
On the women's side, Stanford dominated the races to beat Washington. Cal finished 3rd overall. Bears finished 3rd V8 and 2V8, but 3rd in V4. These are the three races that will decide the NCAA Team Title in two weeks from Sarasota, FL. The field for that championships will be announced on Tuesday afternoon at 2 PM PT. Cal also placed 3rd in 3V8 and Novice 8 on the weekend.
Stanford will likely be the main contender to the defending champions Texas, coached by former Cal head coach Dave O'Neill, at the NCAA Championships on May 27th-29th.
Pac-12 Championships Women's Results
Stanford                           43.5

Washington                     41.0

California                          31.5

Oregon State                    23.5

USC                                    22

Washington State           10.5

UCLA                                  10
ROW ON YOU BEARS!
---
Cal Track and Field makes claim as "Throw U" at the Pac-12 Championships
Cal Track and Field had easily one of their strongest Pac-12 showing in recent history this past weekend from Eugene, Oregon. As a team, the Cal men placed 6th and the Cal women placed 3rd. Host Oregon won the team title for both the men and the women.
Over the entire weekend, Cal captured three Pac-12 champions, five second-place finishes, and four third-place finishes.
Mykolas Alekna (Men's Discus)
The 19th-year-old freshman broke his own collegiate record set at the Big Meet last time out. Alekna, son of three-time Lithuanian Olympian and two-time Gold Medalist Virgilijus, easily won the Pac-12 title. His best throw, watch it in the embedded Tweet below, traveled a distance of 68.73m.
This is both a new college record and a new age record for 19. The "undisputed" comment is due to Alekna now breaking the UCLA's Julian Wruck's 2013 exhibition throw of 68.16m. Mykolas Alekna technically already got the collegiate competition record for his 67.68m (222-0) throw from the Big Meet. The 68.73m distance is even more impressive when you compare that to the runner-up, ASU's Ralford Mullings and his 63.47m. Cal teammate Iffy Joyner took 3rd place with a 56.61m throw.
Alekna will look to improve on that mark both at the NCAA West Regional in Fayetteville, AR (where he should easily qualify for the NCAA Championships) and at the NCAA Championship back in Eugene.
Josh Johnson (Men's Shot Put)
Johnson joined Camryn Rogers as Cal's two representatives at the NCAA Indoor Track and Field Championships earlier this year. The former walk-on captured his first Pac-12 title by winning shot put. The senior also contributed points to the Cal squad by placing 5th in discus.
Josh Johnson's best throw traveled 19.95m (65-5.5), a personal best. He also bested the runner-up by more than two feet. In 3rd place was another Cal thrower in Jeff Duensing, whose best went 18.71m (61-4.75).
Camryn Rogers (Womens' Hammer)
Easily the most recognizable Cal Track and Field athlete, Canadian "Calympian" Camryn Rogers was able to win her 3rd Pac-12 title while eying a 3rd Pac-12 title. Rogers' best throw of the weekend traveled 73.71m (241-10). Rogers owns the collegiate record with a throw of 74.97m (245-11) at the NCAA last year. Teammate Anna Purchase finished 2nd with a throw of 68.93m (226-1).
Chatting with Pac-12 Networks afterward her win in rainy conditions, Rogers mentioned that she got into graduate school at Cal and will stay on campus to train (if not compete, I got to check if she's got more eligibility). We also learn that when her athletics career is over, Rogers dreams of going to law school.
In addition to the three winners, Joyner's and Duensing's 3rds in men's discus and shot put, respectively as well as Purchase's 2nd in women's hammer, the other Golden Bears to make the podiums were Ivar Moisander (3rd in men's hammer), Jai Williams (3rd in men's high jump), Jasmine Blair (2nd in women's discus), Hawa Wague (2nd in women's high jump), and two for Ezinne Abbas (2nd in 100m and 2nd in 200m).
Yes, Cal is now very much a Throw U for producing the three winners, two runner-ups, and three third places in the throwing competitions. Cal throw coach Mohamad Saatara is doing a tremendous job in his 9th year in Berkeley.
A large contingent of Cal Bears will look to book a return trip to Oregon by placing in the top-8 at the NCAA West Regionals in Fayetteville, AR from May 26-28.
ROLL ON YOU BEARS!