Discover more from Write For California
A community for California Golden Bears, about the California Golden Bears, made by California Golden Bears.
Over 4,000 subscribers
Cal Men's Basketball Suffers 56-90 Defeat to No. 13 Oregon
Ducks make an example out of the Golden Bears, look to end season as conference champions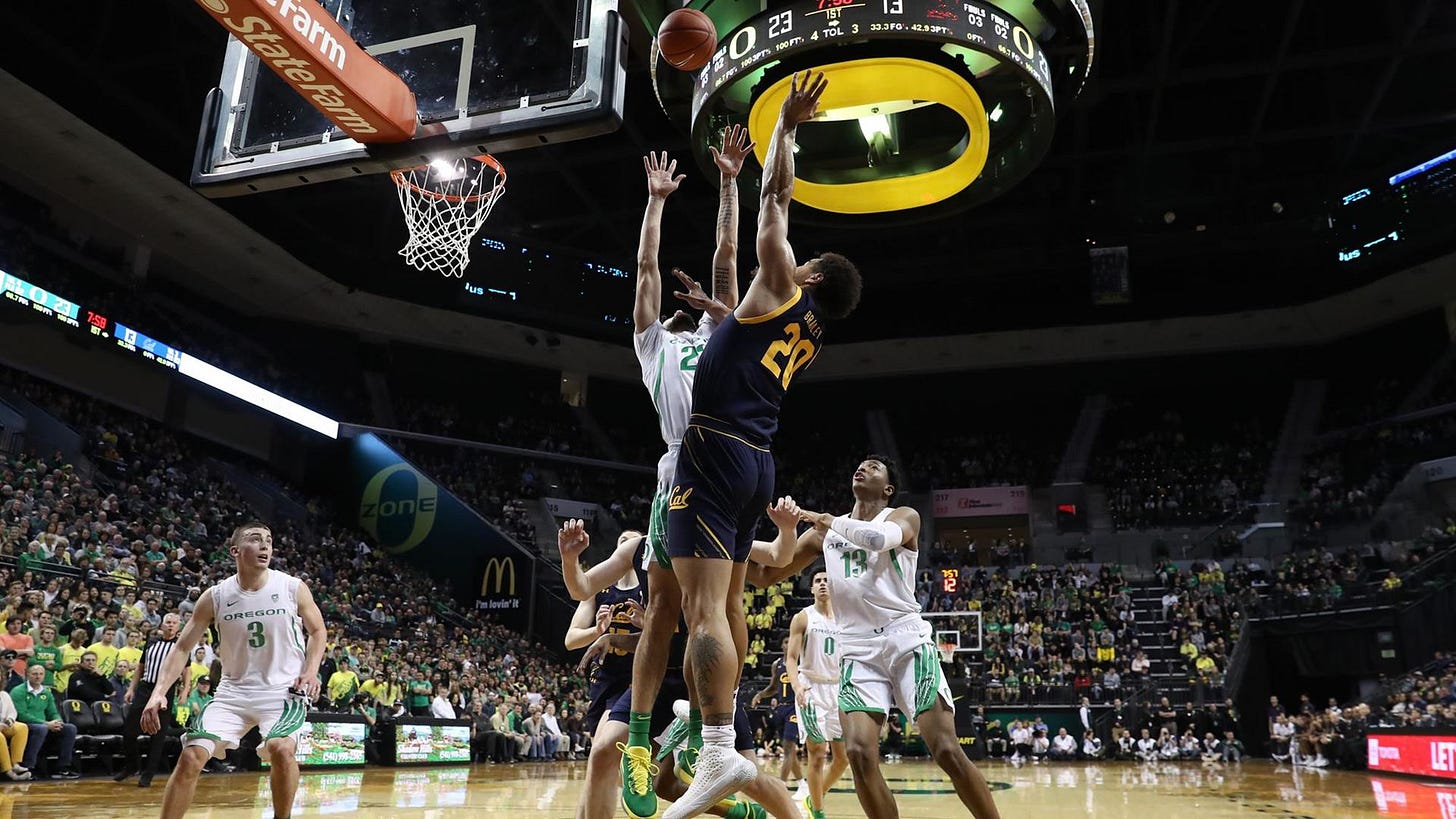 Sophomore guard Matt Bradley scored 15 points for California, including two three-pointers. (Photo: Al Sermeno KLC fotos via Cal Athletics)
The California Golden Bears (13-17, 7-10 Pac-12) traveled to Eugene, Ore., looking to play spoiler to the No. 13 Oregon Ducks (23-7, 12-5 Pac-12), who are in the hunt for the Pacific-12 Conference title. Still, there would be no March Cinderella story, as the Ducks rolled to a comfortable 90-56 victory over the Golden Bears.
Unfortunately for the Golden Bears, the 34-point deficit is the fourth time this season first-year head coach Mark Fox has been blown out by an opponent to the tune of 30 or more points. The Thursday night loss is also the first time California gave up 90 or more points to an opponent since Jan. 5, 2019, when the UCLA Bruins delivered a 98-83 clobbering in Pauley Pavilion.
Plainly, the game was over for California as soon as it started. The Golden Bears, who only need one win this week to clinch an eighth-seed in the upcoming post-season conference tournament, never felt at ease. Just six minutes into regulation, eight Golden Bears had made appearances, despite no players being in foul trouble. Oregon would then go on a 6-0 run to extend its lead to 26-10 over the next one minute and 22 seconds.
Indeed, runs were the hallmark of Thursday night's contest. The Ducks added a 28-0 run over nearly five minutes of game-time from 6:44 to 1:58 in the first half, which proved to be insurmountable.
Oregon, who never once trailed, shot 59.6%, the seventh time this season California allowed a team to shoot above 50%. Five Ducks ended the game scoring in the double-digits, led by 20 points from senior guard Payton Pritchard. Only two California players scored 10 points or more: sophomore guard Matt Bradley put up 15 points while junior Grant Anticevich contributed an even 10.
California ends the regular season with a Saturday matchup against the Oregon State Beavers. Tipoff in Corvallis, Ore., is at 1:30 p.m. Pacific Time.