Cal v. UCLA Football Scheduled for Sunday 9 A.M. Pacific Kick-Off
Covid-19 adds UCLA to the Golden Bears' schedule
After the cancellation of the match-up between California and Arizona State due to the Sun Devils' Covid-19 outbreak, which includes Herm Edwards, the Arizona State football head coach, the Golden Bears have rescheduled play this weekend.
California (0-0) will play the UCLA Bruins (0-1) at the Rose Bowl on Sunday, Nov. 16, at 9 a.m. PT.
"The scheduling of this game is consistent with the Conference's commitment to provide opportunities for student-athletes through maximum scheduling flexibility while still prioritizing health and safety," the Pac-12 Conference said in a prepared statement Friday afternoon.
California can play, despite canceling its season opener against the Washington Huskies last week, because city public health officials cleared some Golden Bears who were under self-quarantine to play on Sunday. As a result, California will travel to Pasadena, Calif., Saturday afternoon to make the 9 a.m. kick-off time the next day.
"We have known from the beginning of this pandemic that there could be challenges this season and that we would need to remain flexible and find ways to be creative while still keeping the health and safety of our student-athletes as our No. 1 priority," California Athletic Director Jim Knowlton said in a prepared statement.
California Head Coach Justin Wilcox expressed gratitude: "We appreciate all of the hard work that everyone has done on so many levels to allow us to play this weekend, and we are thankful the opportunity has arisen to play at UCLA."
When the Pac-12 Conference released its truncated six-game, conference-only season, California fans were shocked to find UCLA missing. The new game allows the Cal v. UCLA interstate rivalry to continue the series, which began in 1933.
The Golden Bears will hope their visit to the Rose Bowl in Los Angeles will be as fruitful as their last: a 28-18 Cal victory on Nov. 30, 2019.
FOX Sports 1 will broadcast the Cal v. UCLA football game Sunday morning.
The Golden Bears scheduled the match-up with the Bruins after UCLA's scheduled Saturday game against the Utah Utes was canceled Friday. The Utes did not have the minimum number of scholarship players available due to positive Covid-19 tests and subsequent contact tracing requirements.
UCLA will hope to bounce back against California after giving up four turnovers to the Colorado Buffaloes last Saturday in a 42-48 loss.
#Pac12FB
Offensive Player of the Week, presented by
@Nextiva
: Jarek Broussard. Full release ➡️
Pac12.me/20FBPOW1
#GoBuffs
|
@CUBuffsFootball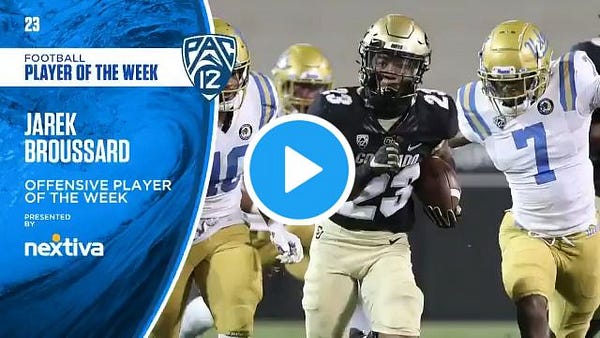 The Bruins, previously scheduled to play their next game on Friday, Nov. 20, will now face off against the Oregon Ducks on Saturday, Nov. 21, to provide UCLA with another day to get ready. A kick-off time for UCLA v. Oregon has not been determined, but the game will air on the ESPN family of networks, according to the league office.