Discover more from Write For California
A community for California Golden Bears, about the California Golden Bears, made by California Golden Bears.
Over 4,000 subscribers
No.4 Cal Women's Tennis at ITA Indoors Championship
Women's Gymnastics hosts Utah; Softball opens season
Cal Women's Tennis at ITA Indoors Championship
Where: Madison, Wisconsin
When: single-elimination tournament, although all teams will play at least three matches
Friday - Round of 16 vs. Texas A&M, 1:30 pm PST
Saturday - Quarterfinals
Sunday - Semifinal
Monday - Final
The 2022 ITA Division I Women's National Team Indoor Championship draw was announced on Tuesday afternoon. No.4 Cal earned the 4th seed as expected. Of course, with the team dual season only started in this young year, the rankings may not be such an accurate measure of a team's true ability. What we do know for sure is that this Cal squad has as good of a shot to win this tournament, which would be only the program's 2nd in history, as anyone else in the field.
You can find the full draw in the Tweet below.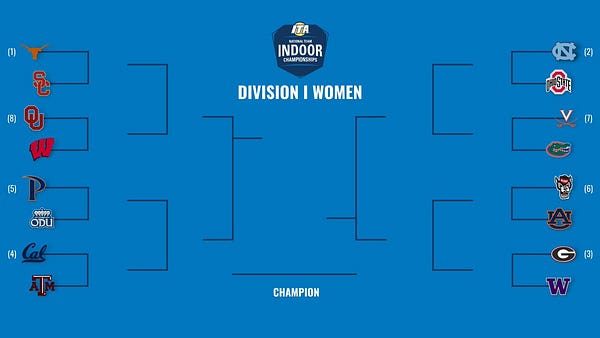 Seedings:

Texas (1), North Carolina (2), Georgia (3), California (4), Pepperdine (5), NC State (6), Virginia (7), Oklahoma (8)*

*The top eight teams are seeded 1-8 with the remaining eight teams assigned an opponent through a draft by the top eight seeds.
The ITA Championship preview made it sound like the top-8 seed, including Cal, got to pick their Round of 16 opponent. If that's actually true, I am not sure Cal made the best pick since Texas A&M Aggies are apparently the 9th best team in the country according to the YouTube channel Cracked Racquets. Cracked Racquets will be onsite for the action this weekend and can likely provide Cal fans with more insights on the oppositions (if Cal does make a nice long run at the championship).
Should Cal advance to Saturday, a potential rematch against 5th-seed Pepperdine is likely. Cal really made a big splash in the ITA rankings after a huge 4-3 road upset at Pepperdine three weeks ago back on January 22nd.
The Golden Bears (4-1) are coming off their first loss of the season after they scheduled a mid-week tune-up at No.20 Michigan on this mid-Western trip. Despite earning the doubles point, Cal only won one singles match in a 2-5 loss to the Wolverines right after the ITA Indoors draw was announced. This result is actually a reminder about just how any team can be defeated on any given day.
Head coach Amanda Augustus has settled on the same lineup for all the dual meets in 2022.
Cal lost the doubles point in their first two duals of the season, including that eventual win at Pepperdine. The doubles lineup has since been changed to its current form, breaking up the only ranked Cal pair of No.49 Jessica Alsola and Erin Richardson. The Haley Giavara and Valentina Ivanov pairing had stayed the same for all 5 matches this year, producing great results. Freshman Alsola has since formed a doubles tandem with fellow freshman Katja Wiersholm. Wiersholm graduated high school early and only joined the team this semester. Doubles specialist Erin Richardson now plays with Julia Rosenqvist in the other new pairing in the last three meets.
The Cal singles lineup has remained the same for all 5 meets. Outside of the two freshmen (Alssola and Wiersholm), the rest of the lineup is rather experienced. Giavara, Ivanov, and Rosenqvist had all played as the No.1 singles player for the Bears for extended stretches of their Cal career.
Freshman Jessica Alsola had the finest fall (when players played as individuals) to earn the team-best No.51 ranking. Three other Cal Bears are ranked in the ITA top-120 due to their recent successes.
Junior Haley Giavara is a big hitter that is capable of beating anyone in collegiate tennis on a good day. However, duals are often decided by the steadiness of the counterpunching players in the lower courts.
The formula for Cal's potential success this weekend would be to win the doubles point and then rely on the team's depth to dominate those No.3 through No.6 singles. In the upset over Pepperdine, Cal swept singles in courts 3 to 6.
The use of a deciding point on deuces means that breaks of serve games are fairly common in college tennis. Players also really feed off the energies of each other to often create simultaneous comebacks across different courts.
In the post-match interviews, the Cal team blames part of the recent loss at Michigan on the lack of familiarity playing indoors since all of Cal's previous matches in the state of California have come outside. Obviously, the Bears need to make those adjustments before this weekend's action from the indoor facility of Wisconsin.
---
No.11 Cal Women's Gymnastics hosts No.3 Utah
Where: Haas Pavilion, Berkeley, CA
When: Saturday, 4 pm PST
TV: Pac-12 Networks
With all the off-the-mat issues at UCLA this year (a highly regarded freshman apparently used a racial slur but was also allowed to just transfer to LSU), the Pac-12 regular and postseason championship will likely be a battle between the upstart Cal and the powerhouse Utah.
One thing is clear, this Cal team as a whole has yet to perform anywhere close to its lofty potential/expectation on the young season. Slowly but steadily, Cal is reintegrating the key pieces from last year's NCAA national semifinal run back on the team while using early absences as opportunities for many underclassmen.
Recovering from an Achilles injury but looking lively enough on the sidelines that it feels that her return is inevitable, 5th-year senior Kyana George has yet to debut for the Bears this season. George competed as an all-arounder for the bulk of her Cal career but gave up her spot on the uneven bars late last year given all the Cal talent there.
Another 5th-year returnee, Emi Watterson has only competed in the past two meets after a late start to her season. Tragically, Watterson missed time due to the passing of her father. Her emotional season debut on the balance beam earned her the Pac-12 Coaches Choice Award after Cal's win over Oregon State.
Senior Milan Clausi missed the most recent Cal meet due to an illness. Clausi, daughter of two Utah athletics greats, will hopefully be back to full strength for this meet.
Even with all these absences, Cal has won all four meets on the year, including both times over Stanford. Coming off the first NCAA national championship in program history last year, senior Maya Bordas has picked up a bigger role as an All-Around. As the third 5th-year senior to return to the team, Nina Schank has also provided her consistent 9.85+ scores across all the apparatuses.
During Cal's postseason run last year, the All-Arounds spots went to Andi Li and Navaeh DeSouza. Both have been great, if not better than ever. In her sophomore season, Li has registered back-to-back 39.525 all-around scores in the recent meets.
After rolling her ankle in the opening meet on a pass and sitting out a meet, senior Grace Quinn scored a career-best 9.925 in the most recent meet on her lone event, floor exercise.
Newcomers Madelyn Williams (9.925 on bars) and Mya Lauzon (all-around) have also shown their ability to put up 9.9+ scores.
Cal set a program-record team score of 198.050 last year. If and when everything goes right for the Cal Bears, this score could be exceeded multiple times this year. While I will temper expectation and say that the additional judges in the postseason often mean lower scores across the board, this Cal team got the potential to put up these kinds of scores that could win the program its first NCAA team national championship this year.
Back to this weekend specifically, one of Cal's biggest milestone victories recently (and there have been plenty in recent years as the program continues its ascension to become a national title contender) was the home win over Utah in 2018. Jamaican "Calympian" Toni-Ann Williams scored a meet anchoring 9.975 to give the Bears a 197.500-197.450 win.
Utah Red Rocks (7-0) has exceeded 197 in all of their meets this year, including a season-high of 197.775. Even with UCLA's issues, the Bruins in their last meet really pushed Utah to only fall short 197.750 to 197.650. By the way, Utah scored 197.750 despite having to count a fall in their last rotation.
Maile O'Keefe is perhaps the most well-known Red Rock. O'Keefe shared the 2021 Uneven Bars NCAA title with Cal's Maya Bordas. O'Keefe also won the floor exercise NCAA title. Team USA Olympics fans might recognize Grace McCallum. McCallum earned her first collegiate perfect-10 on the uneven bars in their last meet. The rest of their deep roster are all capable of scoring 9.9+ on any given routine.
Cal's best score so far this year is only 197.350. Even with all of my optimism about how high the team score could be by the end of the year, I am not sure this team will come close to their peak performance this weekend. Nonetheless, I expect Cal to put up another historic top-10 score and exceed 197.500.
This should be a great meet. I definitely wish I was back in the Bay Area to see this in person. I would encourage even just casual gymnastics fans to go check out this meet.
---
Cal Softball opens season from Fullerton this weekend
A week before Cal Baseball opens their season (the MLB 4 Tournament from Arizona that will be televised on the MLB Network), Cal Softball will begin their season on Friday at noon.
The Golden Bears are scheduled for 5 games in three days: a doubleheader on Friday against San Diego and Dixie State, a doubleheader on Saturday against Ole Miss and host Cal State Fullerton, and a Sunday morning finale against Colorado State.
Cal only went 17-20 in the pandemic affected 2021 season. Cal did not play a number of games, reducing several series into just one game, due to COVID issues within the program. I am not sure one can fairly judge Cal alumna great and head coach Chelsea Spencer's first year given the circumstances.
The key returnee in the lineup for the Bears is Makena Smith. Smith, some Cal fans may recall, made a memorable fill-in outing as the goalkeeper for Cal Women's Soccer when they upset then-defending NCAA champions Santa Clara early last fall. Back to her primary sport where she stars primarily as the catcher, Makena Smith will probably again be the Cal team leader in all the offensive categories again. In the shortened 2020 season, Smith put up a ridiculous (Andrew Vaughn-esque) slash line of 0.481/0.512/0.727 (batting average/on-base percentage/slugging percentage) in 24 games. She *only* hit 0.327 with a team-high 8 homers last year.
Another key bat from past years, Mikayla Coelho (0.337/0.421/0.446), has graduated while Lauren Espalin (0.318/0.402/0.447) has opted to graduate transfer to Minnesota. There should be plenty of opportunities for youngsters to earn their lineup spots early this season.
What may really decide just how competitive the Cal Bears will be this season will be the production from inside the circle. Cal has two experienced returning pitchers in Haylei Archer and Sona Halajian but also adds two freshmen in Anna Reimers and Annabel Teperson. Cal also got a big boost in the dugout by naming Cal Hall of Fame inductee and former ace Kristina Thorston as the new assistant coach. Archer and Halajian were okay but walked too much and did not get enough strikeouts last year.
Since Chelsea Spencer was only hired in May of 2020, the quality of this year's freshman class will be our first real look at her recruiting prowess, which will ultimately determine if Cal can return to its past glory of being perennial national championship contenders in Spencer and Thorston's playing days. We shall see which Cal newcomers can seize the moment and become fellow stars to support Makena Smith this season.
GO BEARS!