Discover more from Write For California
A community for California Golden Bears, about the California Golden Bears, made by California Golden Bears.
Over 4,000 subscribers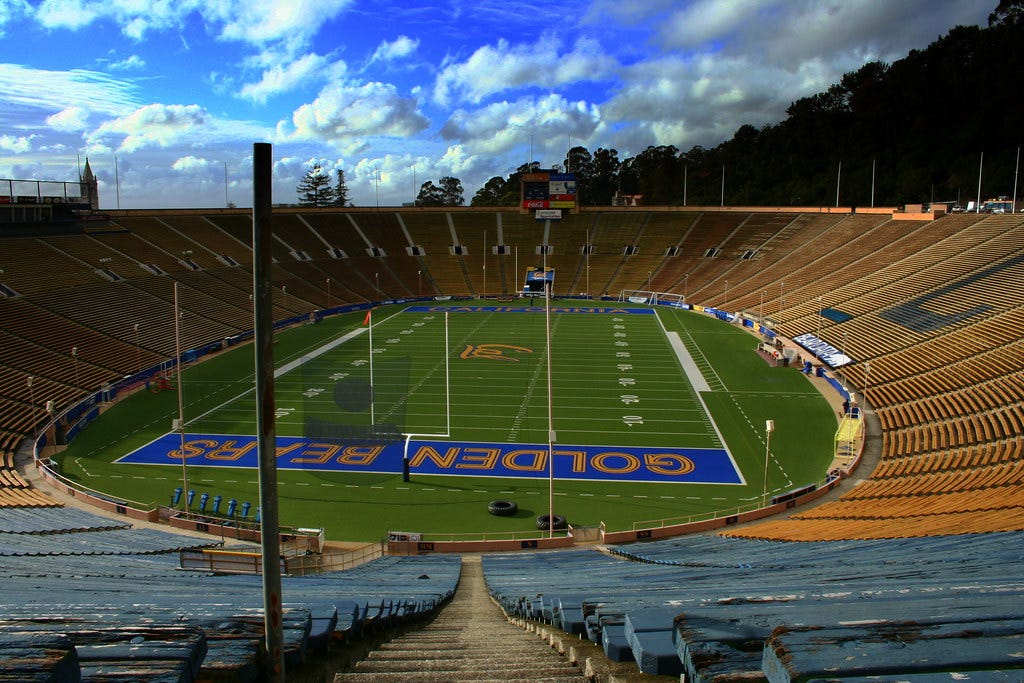 In many respects, UC Berkeley has one of the best Athletic Departments in the country. With 30 sports, an average of 2.2 NCAA National Championships per year over the past decade, and, at the 2016 Summer Olympics in Rio de Janiero, current and former Cal student athletes earned 21 medals, 8 of which were gold.
Despite substantial achievements by athletic standards for many sports, the Cal Athletic department has fallen into dire financial straits over the past decade.  In 2017 an Article covering debt in college athletic programs revealed that the Cal Athletic department has substantially more debt than any other collegiate program in the country, with 2020 debt levels approaching the USD 500 million mark.
The primary reason given by the Athletic department has been due to the USD 440 million debt stemming from the renovation of Memorial Stadium and the Simpson Student-Athlete High Performance Center.  The stadium renovation was extensive, requiring bespoke seismic engineering solutions due to the Stadium's positioning directly over the Hayward Fault in addition to Bay Area-specific regulations, all of which dramatically increasing the cost of the renovation.  However, ballooning costs and the inability of revenues to keep pace have also been major contributing factors to the department's debt crisis.
In 2018, then newly appointed Chancellor Carol Christ announced that UC Berkeley would be taking over 54 percent of the annual debt service payments (approximately USD 9.5 million annually out of a total of USD 18 million).  In addition, Christ also announced that the Athletic Department would attempt to have a balanced budget by 2020, an ambitious target considering that the department ran a USD 16 million deficit in 2017.  Since then, Cal Athletics has posted consecutive deficits of just over USD 19 million in 2018 and 2019.
In the Summer of 2018, Cal Athletics appointed a new Athletic Director, Jim Knowlton.  Knowlton joined Cal after a successful stint as the Athletic Director at the Air Force Academy, where he famously increased home football game attendance by offering complimentary Chick-fil-A sandwiches to the home fans.  Upon his arrival, Knowlton's primary objectives were to increase event attendance and revenues while eliminating the significant spending increases that were plaguing the department.
Athletic debt has only recently become a significant issue for the University.  In 2010, the department's gross annual deficit was just USD 80k, with surpluses of USD 181k and USD 1.5 million in 2011 and 2013, respectively.  The deficit increased significantly for the first time in 2015, when the department reported a USD 8.5 million loss, which was subsequently followed up by USD 19 million average annual losses from 2016-2019.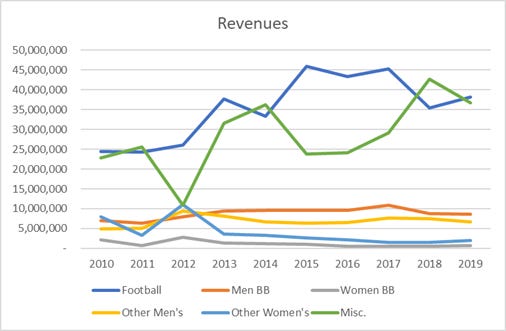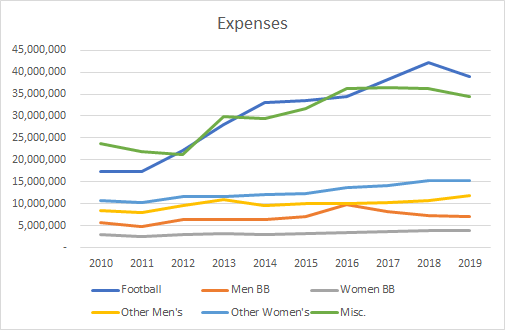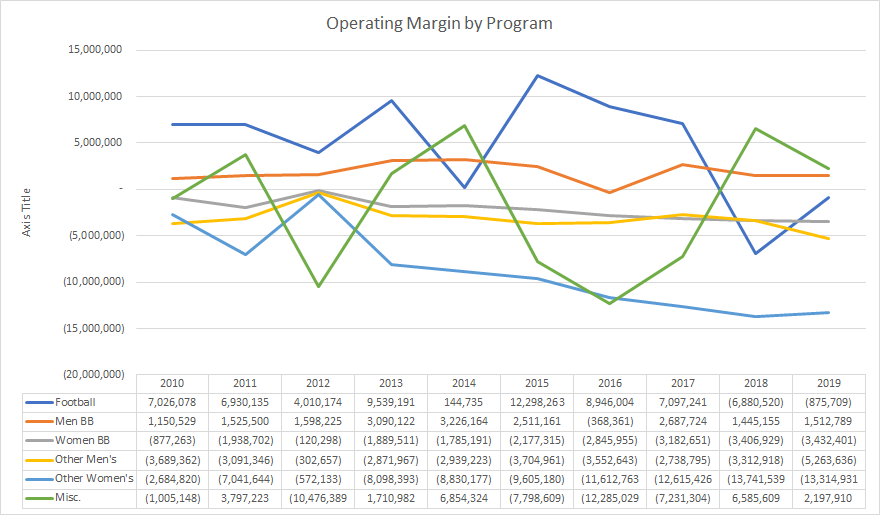 When breaking down operating margins by program, it is clear the problems lie with two key factors: inconsistent football-related and miscellaneous (donations, sponsorship income etc.…) income, consistent increases in football-related expenses, and a steady decline of revenue from Women's basketball and other Women's sports over the course of the past decade.
The football program experienced an uptick in revenues from 2015 to 2017 during Jared Goff's prime and Sonny Dyke's "Bear Raid" offense; however, the program experienced a significant revenue decline after Goff's departure via the NFL Draft.  In 2017, two key factors in the potential turnaround of the program were announced: the signing of Under Armour as the official apparel and equipment provider of the department, and the hiring of Justin Wilcox to replace Sonny Dykes as the head football coach.  In the same time frame, football expenses increased an average of 6.4 percent year over year before the 7.8 percent drop in the first full year of Knowlton's stewardship.  This, in addition to the revenue increase should put Cal Football back on the path to profitability in 2020.
Over the past decade, women's sports have performed very poorly financially.  Combined, Women's sports have seen a 74 percent decline in income since 2010, coupled with a 42 percent increase in expenses.  The result was a 370 percent increase in the total deficit contribution, from USD 3.5 million in 2010 to USD 16.7 million in 2019.
For argument's sake, if it is assumed that any miscellaneous revenues and expenses are divided evenly between men's and women's sports, the programs would still have seen a 285 percent deficit increase over the past decade, going from losing USD 4 million in 2010 to USD 15.6 million in 2019.  The causes of the deficit could be the subject of another article; however, it is important to note that not attracting a sufficient market for women's events is not just problem not just a problem for Cal Athletics but for the industry in general.
Under Jim Knowlton's transition, there have been promising signs of a turnaround.  Football revenue increased 7.7 percent from 2018 to 2019, while expenses for the program decreased by 7.8 percent, resulting in a USD 876k deficit in comparison to 2018's USD 6.88 million deficit (before Knowlton's arrival as the Athletic department ends the fiscal year on June 30th).  In addition, men's basketball has continued to post a steady surplus, under his tenure, with miscellaneous revenues and expenses appearing to begin to steady.
Knowlton and the department have already taken several steps to remedy the situation; however, if the situation worsens, especially considering the current economic climate, more drastic measures might be necessary.  Thus far, the department has mostly focused on fundraising and increasing event revenue, continuing to renovate aging facilities while leaving scholarship and program cuts as a last resort.  In addition, any cuts made would have to comply with Title IX regulations, which might cause the department to cut profitable and unprofitable programs simultaneously.  While refinancing some of the debt might be a viable option, interest rates in 2012, during the original financing of the stadium, were at similar levels as they are today, making refinancing an unlikely option.
As always, the best way to support Cal Athletics both physically and financially is to go to events and support the teams.  Go bears!