Best case: Clairvoyant Cal crushes Cal Poly football
🎶 Taking care of business 🎶 I think that's the only line to that crappy song that I know...
With no Pac-12 Football in 2020, Write for California will instead be covering a mock season. In place of our standard game previews, we will start our pregame "coverage" with fictitious contrasting best- and worst-case scenarios for each game (inspired by Ye Olde ESPN Pac-12 Blog) had COVID-19 never cursed us. The week will culminate in a video game simulation on Saturday (with commentary by Rob Hwang and Trace Travers) and a game recap by Nick Kranz on Monday.
---
After a few years of #CardiacCal, it's nice to have one of those easy, mundane wins where the Bears were just able to completely take care of business.
The stats were so boringly beautiful—nearly 300 yards & four touchdowns for Chase Garbers and 127 yards & two touchdowns for Christopher Brown Jr—that they don't even feel worthy of a recap.
Instead, the true story is in the execution.
Coach Musgrave kept the playcalling simple, yet our offense was efficient and effective. Garbers only looks more and more comfortable each week taking snaps under center and dropping back. The new-look run game was productive—thanks to Brown Jr., Marcel Dancy, and FB Zach Angelillo—and on the flip side, Garbers showed surgical precision and decisive thinking in how he spread the ball to our cadre of receivers. One of the key areas of improvement we're looking for under Musgrave's system is a change from the predictable and uninspired playcalling we saw in Beau Baldwin's system; with Baldwin on the other sideline, however, some may be disappointed by Musgrave's somewhat vanilla calls. On the other hand, we were able to out-talent Cal Poly without revealing too many tricks to future opponents, so I'd call this a job well done.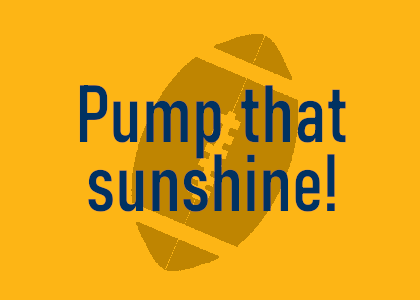 Speaking of our "nice to see you again" game against Baldwin and Coach Nicholas Edwards, that familiarity only seemed to be a benefit for the Bears. Under Coach Wilcox, the Bears have been lauded for their on-field intelligence and ability to predict opposing plays, that strength seemingly turned into a superpower against the Mustangs after years of practicing against this offense. Cal picked up three picks (two by Cam Bynum and one by Chigozie Anusiem) by correctly reading the play and cutting off the pass and Kuong Deng looked like a tackle vacuum, accumulating 17 tackles.
Cal Poly scored ten meaningful points and was able to hobble their way into the endzone for a garbage-time score late in the game. The Mustangs seem to be in the midst of some severe growing pains as they try to evolve from the triple-option to Baldwin's spread-out multiple offense—and the Bears were the beneficiaries of this transition.
In all, Cal ends nonconference play undefeated—that's great and there have been some fun games, but Wilcox has proven the ability to coach the team up for these early, non-Pac-12 wins. Now we enter the true test to see how the team performs in conference play. We can probably rely on the defense to have reloaded, but the offense still remains a question. Sure—it looked great against inferior, outmatched opponents, but we struggled in our only Power Five game and survived thanks to some late-game heroics by the defense. California has a bye week to rest and strategize (and pray that we don't hit our typical bye-week slump) until the reigning Pac-12 South Champion comes to town. Out of the frying pan and into the fire for the Bears…
---
2020 Cal best-case season
UNLV: W 34–13
TCU: W 27–20
Cal Poly: W 45–17
Utah:
Washington State:
USC:
Oregon:
Oregon State:
Washington:
Arizona State:
Stanfurd:
UC L.A.:
Win-loss record: 3–0
---
This is a completely fictional account of the 2020 California football season had it transpired without COVID-19. All commentary, criticism, etc. of any player, coach, or figure is based on this total hypothetical and is not an analysis or indictment of the actual individual.