Discover more from Write For California
A community for California Golden Bears, about the California Golden Bears, made by California Golden Bears.
Over 4,000 subscribers
Cal Athletics receives recognition for APR scores
A school-record 10 teams were recognized by the NCAA for their excellence in the classroom. They all earned an NCAA Public Recognition award for scoring 1,000 in the most recent multiyear APR scores. The teams that received the award were: Beach Volleyball, Men's and Women's cross country, Women's Golf, Lacrosse, Women's Soccer, Softball, Men's and Women's Tennis and Volleyball.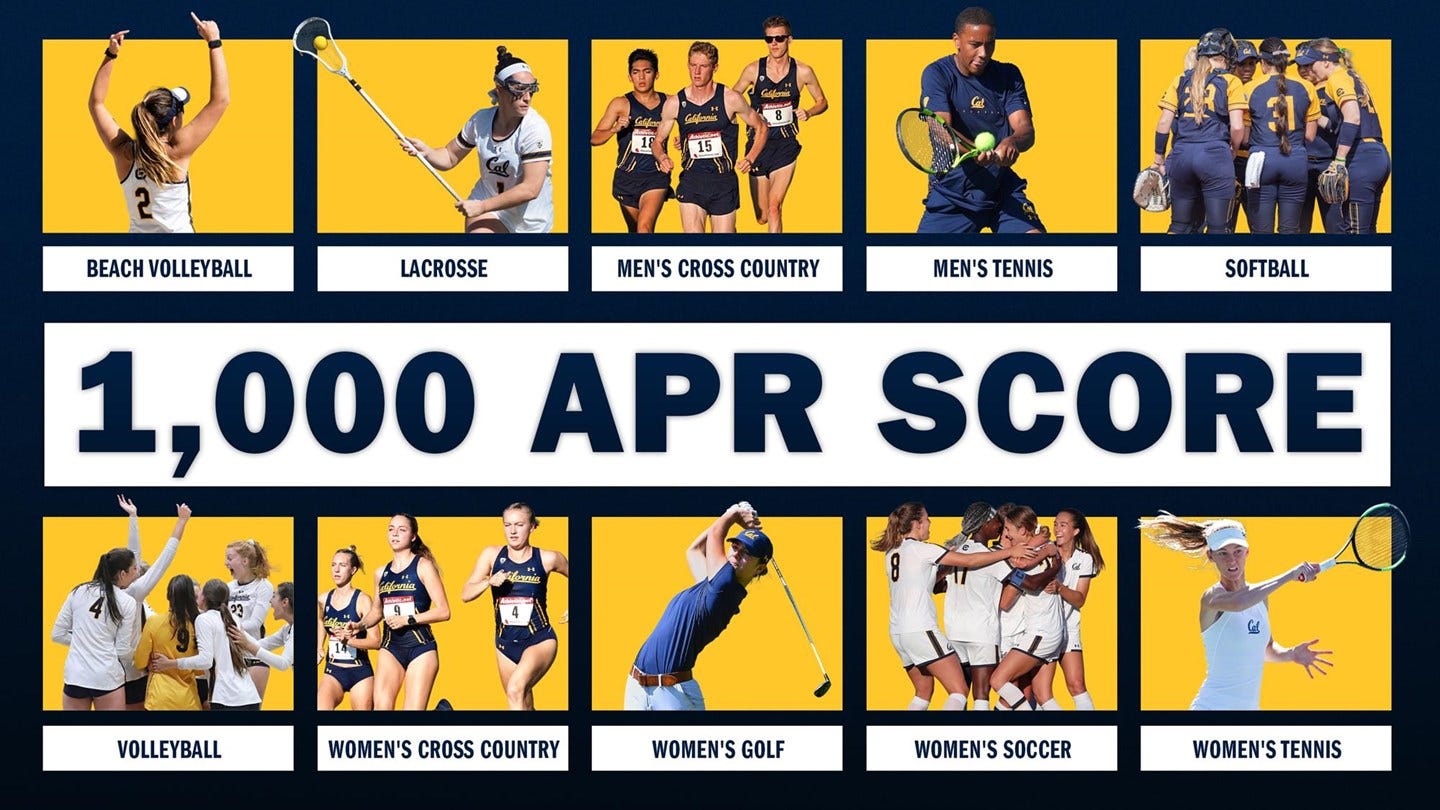 Photo Credit: Cal Athletics & Calbears.com
Congratulations to all of the teams! Read the full press release from Cal Athletics below!
BERKELEY – A record 10 Cal intercollegiate athletic programs – all with scores of 1,000 in their latest multiyear Academic Progress Rate scores – have earned NCAA Public Recognition Awards for their exceptional results in the classroom.

Those receiving the honor are beach volleyball, men's and women's cross country, women's golf, lacrosse, women's soccer, softball, men's and women's tennis and volleyball. The 10-team breaks the school mark of seven from both 2017 and 2019. The total also makes Cal one of just six schools from Power 5 Conferences to reach double figures.

Cal's men's tennis team is receiving the national notice for the 10th year in a row, the longest streak among Golden Bear programs. Volleyball is being honored for the fifth straight year, with women's golf and lacrosse posting a run of four consecutive years. Women's tennis has also achieved the recognition in eight of the last nine years, while women's cross country and softball both earned the award for the first time.

Overall, 15 different teams have earned the public honor a total of 55 times since the NCAA began identifying distinguished sports teams in 2004-05, more than 50 percent of which have come in the past four cycles (29 of 55).

Each year, the NCAA honors selected NCAA Division I sports teams by publicly recognizing their latest multiyear Academic Progress Rate. These teams posted multiyear APRs in the top 10 percent of all squads in each sport.

The APR provides a real-time look at a team's academic success each semester by tracking the academic progress of each student-athlete on scholarship. The APR accounts for eligibility, retention and graduation, and provides a measure of each team's academic performance. The most recent APRs are multiyear rates based on scores from the 2015-16, 2016-17, 2017-18 and 2018-19 academic years.

Multiyear APRs for all Division I teams, including the teams receiving public recognition, will be announced Tuesday, May 19.