Discover more from Write For California
A community for California Golden Bears, about the California Golden Bears, made by California Golden Bears.
Over 4,000 subscribers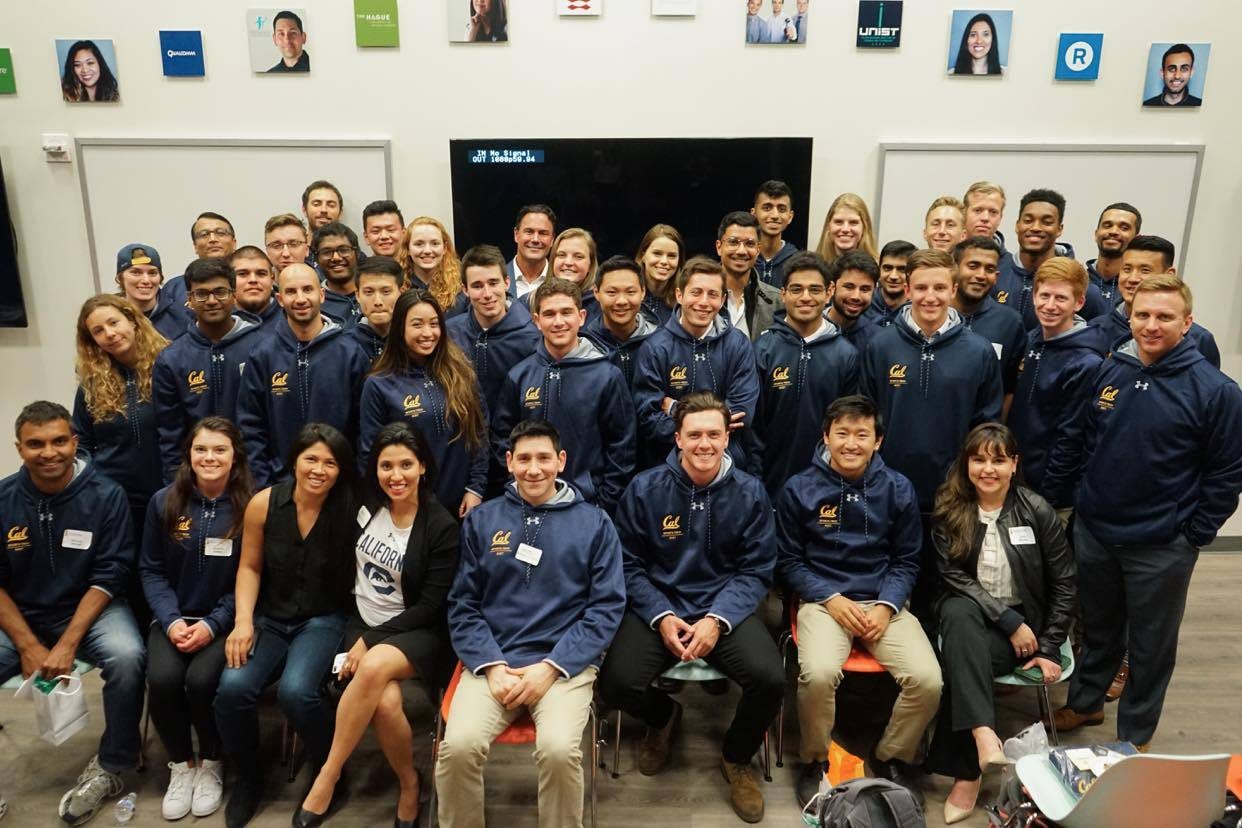 There are very few universities in the United States that have world-class academics and athletics, and UC Berkeley is one of those universities.  However, at times the school can often seem like two institutions: Cal, a school for athletics, and UC Berkeley, a school for academics.  In fact, people who are not familiar with the school often do not know that the two are the same institution.
The Sutardja Center for Entrepreneurship and Technology (SCET) is located inside of California Memorial Stadium adjacent to the north tunnel, and conveniently adjacent to the stairs leading down to the football facilities.  When Justin Wilcox took over as the head coach of the football program in 2017, his curiosity brought him into the Center, where he met Danielle Vivo, who at the time was a program manager at the Center, and Stephen Torres.
Stephen Torres is a Professor at SCET, a Cal Alumnus, and an avid sports fan.  Torres and Vivo came up with the idea to run a class that would integrate the skills and abilities of the school's athletes and engineers in a sports tech class.  Coach Wilcox was excited to support the initiative and promised to lend his expertise.
Torres and Vivo got in touch with Senior Association Athletics Director Ryan Cobb to make the necessary introductions to coaches and advisors, and began to work on designing a class (officially listed as INDENG-185 Sports Tech Challenge Lab). Wilcox continued to be involved in the class by speaking on the "Intersection of Football and Technology" each semester, and mentoring teams whenever he gets the chance to.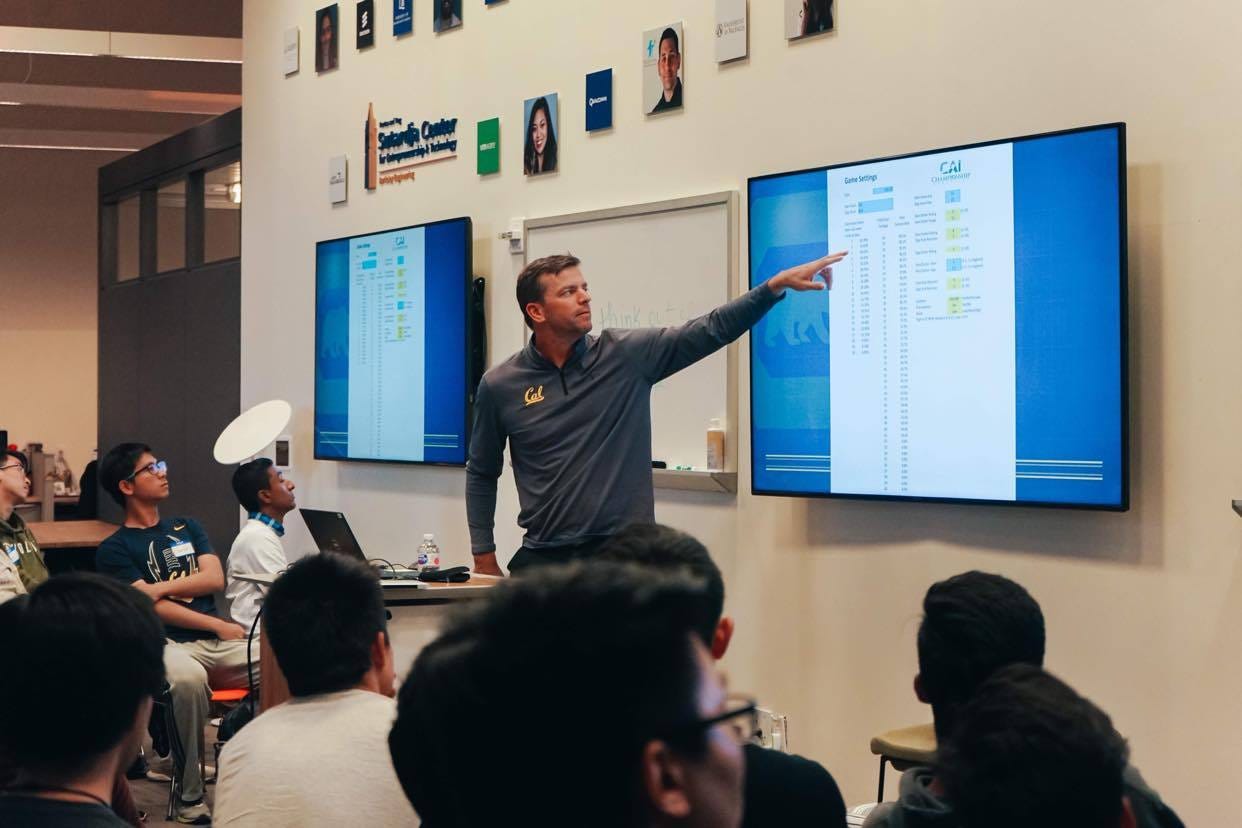 Malik McMorris is a former Cal football fullback and is currently pursuing a career in the NFL after a successful college career, highlighted by his clutch pass-catching ability.  McMorris was initially approached at a Cal Athletics event by Professor Torres, who suggested he take the class.  McMorris did not immediately sign up for the class; however, when it was brought to his attention again by an academic advisor, he recalled his previous interaction with Torres and decided to sign up for the course (a fortuitous decision as it ended up being his favorite class at Cal).
McMorris, along with several teammates including Elijah Hicks and Jaylinn Hawkins, joined the class in the Spring of 2019 and he was surprised at what he found, "I was amazed with the amount of diversity we had in the room.  It was my first time interacting with engineers on campus, and I was impressed by how well-spoken and communicative the students in the class were."
Over the first two weeks teams of five students each were formed, and McMorris found himself away from his football teammates and working with a completely new team of engineers while getting a feel for the life of an entrepreneur.  McMorris brought a very different skill set to his team, "We got a lot of really critical feedback, and I think most of the guys on the team weren't used to that… I was able to use my experience of taking coaching on the football field to help the team translate the feedback into an improved product."
Aayush Dave is a Mechanical Engineering and Haas Business major from Houston, Texas.  A huge sports fan, Dave added the class near the add/drop deadline and was excited to have the chance to work with the student-athletes on campus.  Engineers were in high demand, so despite joining the class late, Dave was able to join a team with Cal football cornerback, Josh Drayden.
Dave and his team created Pylon Technologies; a football ball spotting technology inspired by the controversial spot during the closing seconds of the Cal vs. Ole Miss game in 2019.  The technology was designed to give officials the ability to spot the ball more precisely, and the team collaborated with NFL and Pac-12 officials while developing the prototype.
Dave had never played football and was amazed to have the opportunity to wear Drayden's helmet and run around on the football practice field while filming promotional content for Pylon Technologies.  The collaboration paid off, according to Dave, "We got much tougher critique in this class than in any other class I had taken in the past.  This class really taught us how to think, not what to think."
Ben Skinner is a redshirt sophomore wide receiver for Cal out of Marin Catholic High School.  "It's the most unique class I've ever taken at Cal", Skinner recounted.  "The three major differentiators for me were the teaching style, class format, and the value of the information in the real world.  I've also gotten very close with a new group of friends who are not athletes."  Skinner's team, Break it Down, is an online video platform for dance tutorials, and was the winning team in the Spring 2020 class pitch competition.  Skinner and his team plan on continuing to build Break it Down this summer and will pursue raising funds from angel investors who attended the Cal Sports Tech pitch competition.
Eric Hovagim dropped out of Cal in 2019 to pursue a company he started as a result of the class, Better.  Better is an online sports and esports gambling platform that enables users to bet on individual events or participate in traditional pooled betting.  Better was slated to launch during March Madness of this year; however, the launch was postponed as a result of the global pandemic.  As a result, Better has since launched an esports platform instead.
Hovagim had been studying Industrial Engineering and Operations Research, and had taken the Sports Tech Class twice during his time on campus.  In the fall of 2018, he was a student in one of the first semesters the course was offered, initially losing out to a team largely comprised of PhD students.  Undeterred, Hovagim signed up to take the class again in the Spring of 2019, this time encountering a dramatically different result.  According to Hovagim, "Having football players in the class dramatically changed the atmosphere.  I teamed up with Elijah Hicks and worked to build Better with my new team, who were very helpful in marketing and raising awareness about the product."
Professor Torres recounts, "This class can only exist at a couple of universities in the world, that was the main inspiration for creating this course.  The diversity of students in the class, the opportunity to learn by doing, and having Olympic gold medalists team up with potential Nobel Prize winners, the real prize of the class are those interactions."
The class has been able to continue as a direct result of funding and in-kind support from Intuitive Foundation and its Managing Director, Danielle Vivo.