Discover more from Write For California
A community for California Golden Bears, about the California Golden Bears, made by California Golden Bears.
Over 4,000 subscribers
California Football's 2019 attendance was bad... but also good?
For the first time in nearly a decade, I actually see something positively.
Kudos to our old home of the California Golden Blogs for bringing to my attention that NCAA attendance figures have been released for the 2019 season.
We're all Cal fans here, so we all know that California has been struggling with attendance in recent years. However, I think there's some cause for optimism and we'll get into that a bit later.
With college football as a massive question mark for 2020, let's take a look at the state of affairs in 2019—when the world was last normal. Before the world was swept by a pandemic (and insane racism). Before a nation was driven to nobly assemble for hair cuts. Before a nation was driven to assemble for equality (and to fight aforementioned insane racism—wait, is that a recurring issue here?).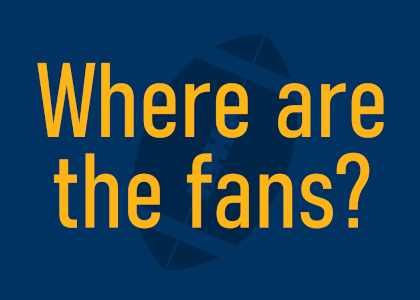 First, let's take a look at the college football landscape in 2019 in terms of average attendance per game; the percent fullness of the stadium was calculated using the always-reputable Wikipedia to find each stadium's maximum capacity. Note that the Pac-12 and Power Five figures include only intraconference games (including those played at a neutral site).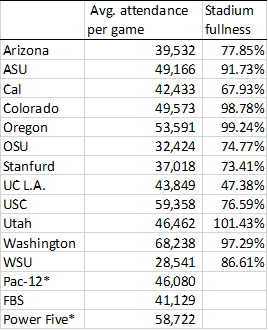 This same information is graphed below, but arranged in order of decreasing average attendance. Turns out that droves of people showed up to (unknowingly) witness the Chris Petersen Retirement Tour with Washington leading the way; this is also quite possibly because Seattle is a garbage town and watching college football offered a brief respite from the endless, endless stream of trash. Washington is one of two Pac-12 teams to beat the Power Five average along with USC—which is arguably a testament to the declining status of football on the West Coast. Moving down to Utah, we get the six top Pac-12 schools; USC is the only school to qualify for this cohort without filling more than 90% of their stadium. Utah gets the "no one likes a braggart, Hal" award by being the one team to reportedly exceed stadium capacity and force me to shift the graph above 100%.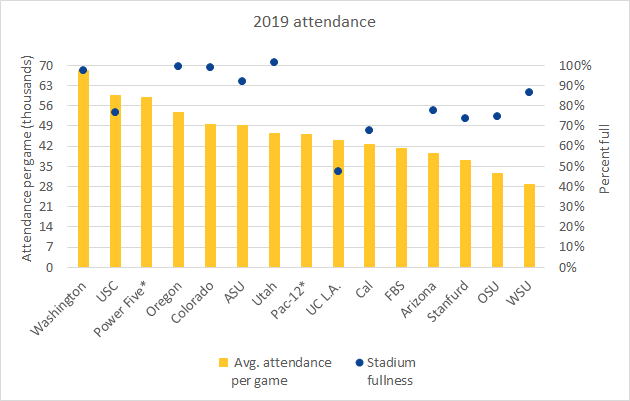 Moving to the bottom half of the Pac-12, we get started with UC L.A., which does the worst job at filling their stadium due to the embarrassingly, unnecessarily large Rose Bowl. While UC L.A. and California are below the Pac-12 average, they do eke out the FBS overall by just a hair, making the Bears the come in at eighth in the conference for per-game attendance. The bottom third of the conference is comprised of Arizona (perhaps an indicator of the Sumlin era), Stanfurd (falling back where they below), and OSU and WSU (hailing from the two small, rural towns)—Wazzu clocks in at lower than half the Power Five average
So, how can I polish this turd? After all, you can put lipstick on a goblinface, but it's still a goblinface.
Well, I see promising trends here thanks to Justin Wilcox.
Let's take a look at the attendance under the past three California head coaches.
In recent history, California Football's attendance peaked in 2006, with a fanbase going rabid for Jeff Tedford, Marshawn Lynch, and DeSean Jackson while watching the Golden Bears win a share of the Pac-10 championship. Since then, attendance has basically dropped every single year for the next eleven years. The two exceptions came in 2012 (which saw California with the biggest year-over-year improvement in attendance in FBS as we returned home from the cramped AT&T Park, though 2012 was still down compared to 2010) and a tiny bump in 2015 with the Bears ready to witness the pinnacle of Jared Goff. This annual attendance decline was at its worst (omitting 2011 due to the decreased stadium size) in 2017 for Justin Wilcox's debut; however, based on the small sample size of two, decreasing fandom in a head coach's first year is normal at Strawberry Canyon.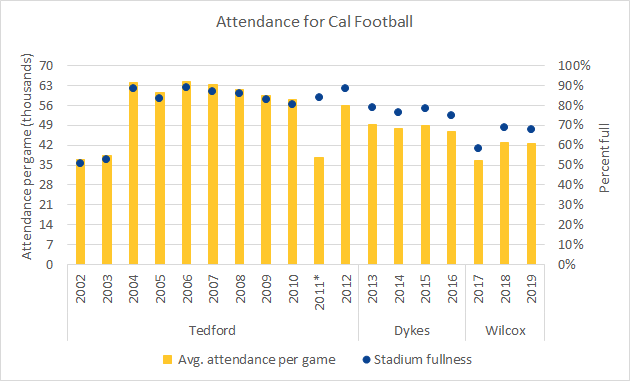 But that's where the trends showed some improvement. An optimistic fanbase made a statement in 2018 with the FBS' fourth-largest improvement in attendance. After witnessing the unimaginable in 2017—Stanfurd topping California in attendance—Golden Bears showed up in 2018 to restore the natural order of the world. Attendance did drop in 2019—by just a smidge over 400 fans per game—but odd-numbered years are notoriously bad for the California home schedule, featuring UC Davis, North Texas, ASU (although the fans did show up as hype personified on a Friday night for our most-attended home game in 2019), OSU, WSU, and USC (the only marquee name).
Attendance wasn't great in 2019 for California Football—but we'll always struggle with attendance. We aren't a blueblood program, our school is filled with a huge number of students who don't follow collegiate athletics (let alone know that Cal = UC Berkeley) or international students who don't get football, and the Bay Area is teeming with other activities to do. But things are looking up under Justin Wilcox and—as someone who is notoriously, detrimentally, and debilitatingly negative—I see signs of a bright future in Memorial Stadium both in the stands and the product on the field.