Discover more from Write For California
A community for California Golden Bears, about the California Golden Bears, made by California Golden Bears.
Over 4,000 subscribers
Cal's place in college basketball's Brave New World
Covid19 is accelerating NCAA change, and one-and-done, transfers, and NCAA rules are all in a deep state of flux. How will Cal cope?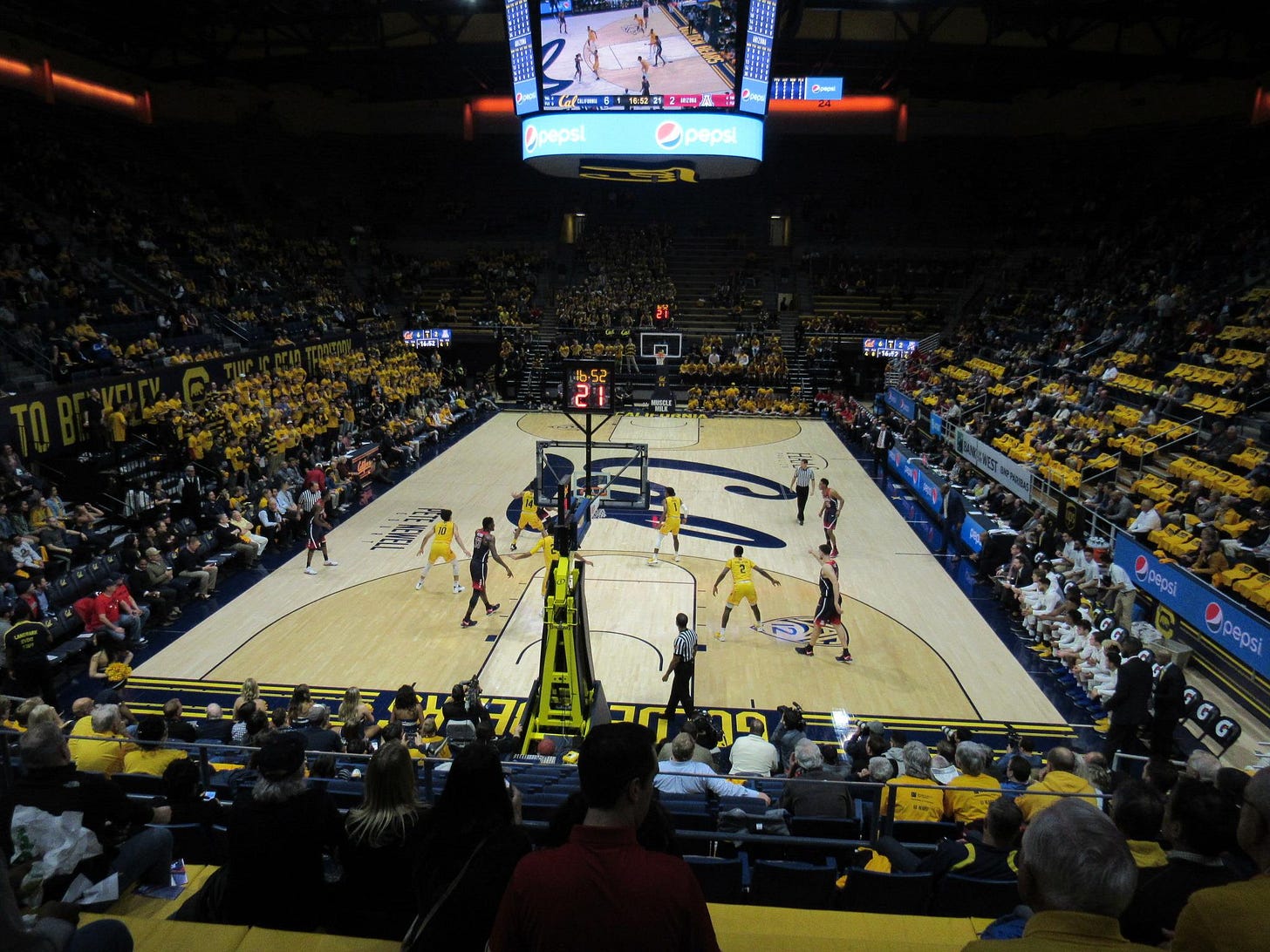 If you were laser-focused on the NFL draft this weekend, or NOT laser-focused on sports, since next to nothing is going on, then you may have missed the news that Cal MBB picked up Jared Hyder, a point guard transfer from Fresno State. Hyder was a freshman last year for the Bulldogs, and so comes to Cal with three years of eligibility remaining.
In ordinary circumstances, this would be good but not great news. Good, because Cal needs guards, but not great because Cal needs eligible guards, and Hyder would need to sit out a year. But that's probably changing:
According to a report by D1 Baseball, the NCAA Division I Council is expected to discuss a one-time transfer waiver on April 24 and then vote on May 20. The report also states that the waiver would go into effect immediately, granting all first-time transfers immediate eligibility for the 2020-21 season.
This was probably going to happen anyway, as the NCAA slowly and haphazardly fails to try to stay ahead of their many accurate critics. But the current pandemic may well have accelerated the timeline and made passage more likely - would the NCAA really want to have to wade through a few thousand hardship requests centered around the pandemic, to say nothing of the negative press for anybody denied? Probably not.
So hooray! Cal will probably have Jared Hyder on the court the next time basketball is played! In this one particular instance, Cal will benefit from this rule change.
But that's not all that's changing. Did you hear that hypothetical local Cal recruiting target Jalen Green was successfully recruited to the G League by Shareef Abdur-Rahim? The NBA, which played a massive role in getting the one-and-done rule put in place, has finally realized that maybe having players on payroll, getting full time consistent coaching focused on talent development, is a good thing. And they're willing to offer real money:
California high school star Jalen Green, the No. 1 prospect in the 2020 ESPN 100, is making the leap to a reshaped NBA professional pathway program -- a G League initiative that sources say will pay elite prospects $500,000-plus and provide a one-year development program outside of the minor league's traditional team structure.
Half a million dollars over the table to get high end coaching is a pretty sweet deal for an 18 year old. You could argue that the college basketball route may still be better for some. Zion Williamson, for one, almost certainly made himself plenty of money with his one season at Duke. But for many elite prospects, the G League will be a more attractive path.
And if transfer waivers and G League attrition weren't enough, remember that California passed landmark legislation to give NCAA athletes name-and-likeness rights? Well, the NCAA is also going to finally get around to responding, and they claim their response will be 'robust':
The NCAA is also expected to take further steps in regard to student-athletes being able to profit from their name, image and likeness.

Kevin Lennon, NCAA vice president of Division I, said Thursday afternoon that the recommendations from the working group will be "robust."
If the NCAA wants to have a shot at convincing lottery pick level talent to play NCAA basketball, they probably have to give players name-and-likeness. The LAW will likely require that the NCAA grant name-and-likeness. Will those two twin realities stop the NCAA for patting themselves on the back if they pass name-and-likeness? Probably not.
That's two massive internal NCAA changes (name-and-likeness reform, and making transfers MUCH easier) along with a fundamental shift to how teams recruit and which players are available. If lottery level talent mostly starts going pro, how do the Kentuckys and Dukes of the world change their recruiting profile? And what are the knock on impacts to programs further down the recruiting food chain?
This would all be enough to give any athletic department administrator night terrors, but all of this change is coming down during a global pandemic that has created massive budget uncertainty. Losing out on March Madness revenue is one thing, but athletic departments are contemplating the possibility of losing the much more lucrative football season, or at least playing in empty stadiums and losing gameday revenue as a consequence. Some administrators are concerned enough that they've floated a proposal to allow member institutions to cut programs below the minimum level required for D1 membership.
Whew. That's a lot.
Which brings us to Cal generally, and Cal MBB specifically. Cal's recent on-court struggles have been well documented, and as somebody with a disturbing level of emotional investment in Cal's ability to rebuild into an above average Pac-12 program again, I'm concerned.
As noted above, immediate transfer eligibility is good for Cal in this once instance. However, I think it's safe to say that Cal has generally struggled in the transfer market, particularly relative to their conference peers*. For the last few years Cal has been hemorrhaging talent to other major programs, and Cal's transfers in have generally been smaller school players. Justin Cobbs is probably the last multi-year high impact transfer to come to Cal, and his commitment is nearly a decade old.
*Just this year, Arizona, UCLA, ASU, Colorado, USC, Oregon, and Washington all pulled in players ranked higher in ESPN's transfer rankings, which is pretty typical.
True, some of Cal's transfer struggles may be poor recruiting, but I think a healthy portion is the challenge of finding guys who both A) want to come to Cal and B) are eligible to come to Cal. I'd bet it's not a coincidence that most of Cal's grad transfers come from Ivy League-or-similar institutions.
Easing transfer restrictions, while morally the right thing to do, is only going to make it easier for players to use an option that, in the long term, is probably to Cal's detriment.
Meanwhile, the upcoming name-and-likeness changes are unlikely to benefit Cal MBB, particularly with the program at a low ebb historically. The Bay Area is a pro market and 99% of the basketball oxygen is taken up by the Warriors. Maybe I'm off base here, but I don't really see Cal as the place where an entrepreneurial recruit can maximize his name value.
All of which is to say that now more than ever a coach has to be resourceful, creative, forward thinking, and flexible. Considering the challenges of transfer recruiting, I think Cal is generally better off attracting high school talent and working to retain those players for as long as possible, and only going the transfer route when there's no other choice. Unfortunately, Cal mostly struck out with high school talent this year, which has left Cal to try to convince various mid-major transfers to come to Berkeley . . . if they are in fact eligible.
I hope that Mark Fox is the resourceful, creative, forward thinking, flexible coach that Cal needs. On the evidence of his (nearly complete) first full recruiting cycle, I can't say I'm optimistic. But the additions of Hyder and Ryan Betley at least adds enough players at positions of need that (presuming eligibility) you can squint and see the makings of a competitive team. Cal will presumably enter the next season with more than one eligible point guard. Disaster has been averted.
But the 2020 recruiting cycle leaves the big questions unanswered, in part because we're not even sure what the rules will be next year. I just hope that, whatever the NBA and the NCAA do, Cal isn't left behind.