Discover more from Write For California
A community for California Golden Bears, about the California Golden Bears, made by California Golden Bears.
Over 4,000 subscribers
Charmin Smith is building a culture of resiliency
Cal Women's Basketball Coach Smith speaks about race and student-athletes' activism
Charmin Smith isn't bothered by being different.
Indeed, Smith credits her accomplishments to the resiliency she built up during her childhood.
"As a young kid, my parents really did a great job of putting me in situations in which I had to get comfortable really quick with being the only one," Smith said Tuesday in a university-sponsored panel discussing women's contributions to Berkeley.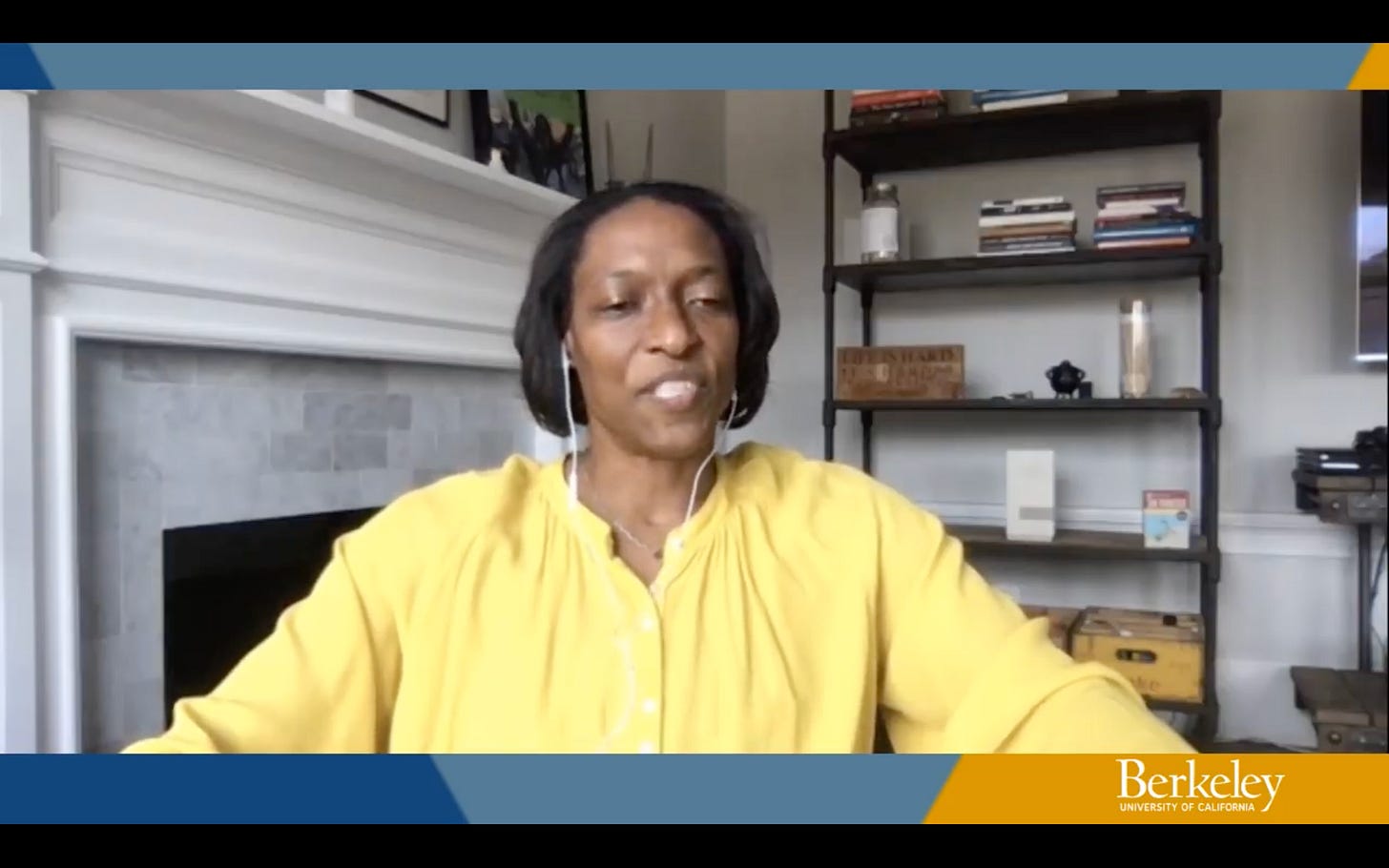 Charmin Smith, head coach of the California Golden Bears women's basketball team, speaks at a Campus Conversation panel as a part of the "150 Years of Women at Berkeley" project. (Photo Courtesy: University of California, Berkeley)
"Some things that others may see as obstacles are kind of the norm for me," Smith reflected.
"I was the only Black kid in the math class, the only girl in my major at Stanford in engineering," Smith said, referring to her time at Stanford University, where she earned bachelor's and master's degrees in civil and environmental engineering. She also brought the Cardinal to three "Final Four" national semifinal appearances in the NCAA Division I women's basketball tournaments and three Pac-10 Conference titles as a women's basketball student-athlete.
Smith added: "I am a Black gay female, so there's a ton of stuff right there; and in my life, just having to be comfortable in my own skin and not worry about what other people think, I think is the way that I am most resilient."
This lesson of resiliency she learned at an early age is also what she aims to impart to her team. She notes her players have a platform, some whose reach is national, as student-athletes, and she advises them to use their privilege for good.
"What I'm most proud of is the way that our student-athletes… are understanding the importance of using their platform and speaking up for what's right when it comes to social injustice, racial injustice, and really taking advantage of this opportunity to not be silent… and to really enact change," Smith said.
"My student-athletes would say that they are comfortable speaking up because they have a coach that they know supports them and allows them to feel free," Smith explained. "I really flip that back on them and say, it's not about me, it's about the fact that they actually have something to say, and they're willing to use their voice."
But there is still room for improvement, even at progressive Berkeley.
Named head coach of the women's basketball team in June 2019, Smith is just one of two Black head coaches among the California Golden Bears' 30 collegiate athletics sports programs.
"We were both hired last year," Smith said. "When you look at senior leadership in athletics, I think there are [fewer] Black people than that."
"We've got to get those numbers up all across the board because I believe it's important for young Black people, as well as other people, to see Black people in positions of power," Smith said. "And I'm hoping that we get going on that change very soon."