Here's How College Football Teams Are Using Zoom
College football coaches get creative to build rapport, use honor system for physical training
By now, you're well aware of Zoom. Zoom, previously best known as the video-conference software used by corporates and techies for remote meetings, screen-shares and webinars, is now the breakout star of the Covid-19 pandemic. It's become a necessary utility for seemingly everyone, including grade-school pupils, grandparents, and the religiously observant.
Now, we can add college football coaches and football players to the list.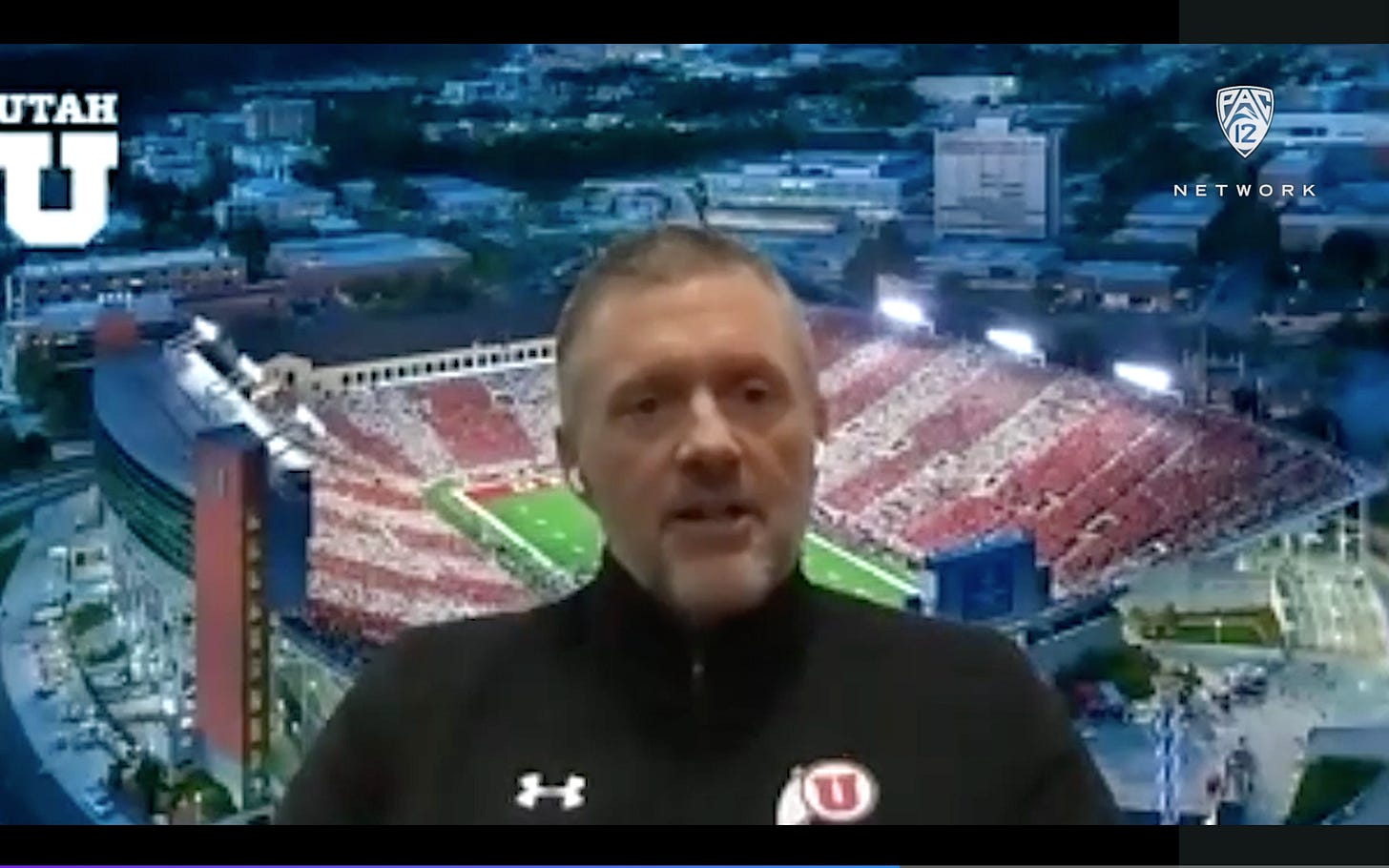 Utah Head Coach Kyle Whittingham (Photo: Zoom webinar, courtesy Pac-12 Networks)
"We have team meetings, unit meetings, position meetings, special teams, and we're hitting all the areas, doing everything we can there," Utah Head Coach Kyle Whittingham revealed on a college football webinar organized for media by the Pac-12 Conference Tuesday. Colorado Head Coach Karl Dorrell and Washington Head Coach Jimmy Lake also participated in the webinar.
The NCAA recently allowed all teams to require up to eight hours per week of virtual communications—double the previous four hours of "teaching" per week—between April 20 and May 31, 2020. In short, the new rule allows football coaches, or basketball coaches, or any other college sport, to require Zoom calls for things like film reviews or Coach Whittingham's unit and team meetings.
With most states banning any large in-person gathering or under some stay-at-home order to prevent the spread of Covid-19, physical practices are out of the question. Interestingly, Coach Whittingham added: "The strength coaches have done a great job of getting the kids workouts and... being able to get them up to speed. From what we're gathering, they're doing a great job of working out."
But of course, it's all on the honor system. College athletics teams cannot require "physical athletics activities," according to NCAA rules, because a sports-safety certified staff member must supervise the workouts.
The NCAA ban on organized physical training has been a thorn in the sides of Coach Dorrell and Coach Lake. "For me, I haven't even been in this program before, as an assistant or whatever for quite some time," the first-year Colorado Buffaloes head coach said. The two are recent head coaches at Colorado and Washington, respectively, and have yet to hold a single practice for their programs thanks to the ongoing Covid-19 pandemic. The Utah Utes, meanwhile, got three practices in before organized sports all but shut down.
The lack of athletic practices makes it difficult for head coaches to build their teams. For example, both Utah and Washington head into the upcoming season with a position battle at quarterback. The Huskies and Utes are relying on Zoom meetings, but admit evaluating a player's understanding of the offensive system and schemes will be difficult online.
"We've got to get that to two fairly quickly, and ideally, two weeks out from the opener, we decide on a guy and go from there," Coach Whittingham said of quarterbacks Jake Bentley, Drew Lisk and Cam Rising.
Similarly, none of the quarterbacks at Washington—Ethan Garbers, Dylan Morris and Jacob Sirmon—have played any college football. Garbers and Morris have yet to play a single down as a new freshman this year and redshirt freshman last year, respectively, while Sirmon attempted only three passes in five games in 2019.
Worst still, recruiting has effectively ground to a halt. "The challenges that we're having right now is not having those unofficial visitors and official visitors that we would normally have on campus right now," Coach Lake explained.
To their credit, the new head coaches have tried to adapt to the adversity, amidst the uncertainty.
Without campus visits, Washington's recruiting team turned to social media to show potential prospects what life for a student-athlete might look like. Instead of being able to walk recruits through the tunnel of purple smoke into Huskie Stadium, "we're just trying to show that glimpse through a computer screen," Coach Lake said.
When Coach Dorrell joined Colorado, he had 10-minute Zoom meetings with every player on his roster as an "icebreaker" to start building relationships and the trust and confidence necessary to succeed as a team. Fortunately, individual check-in meetings between athletes and coaches remain free of most time restrictions, no matter how regular.
"We just finished finals... so it was a lot of encouragement," Coach Dorrell recalled about his one-on-one conversations. They're "just kind of introducing myself, the things that we do, cause you know, I'm the one that's new."