Discover more from Write For California
A community for California Golden Bears, about the California Golden Bears, made by California Golden Bears.
Over 4,000 subscribers
Introducing the Write For California Staff
A quick intro to the friendly folks of will be bringing you articles, podcasts, and videos about Cal sports.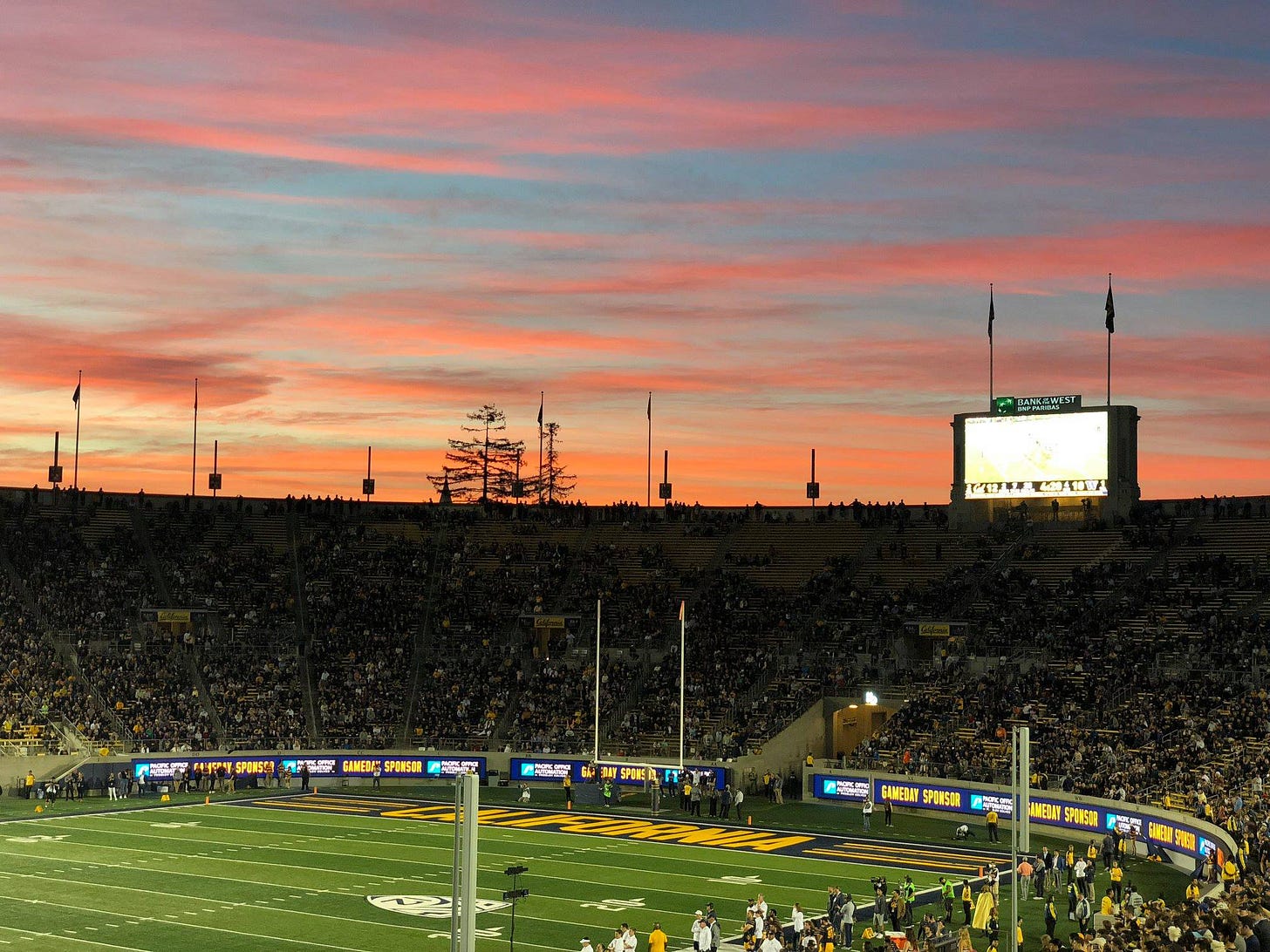 If you're a longtime reader, then you probably know most of us already. But if you're here for the first time, welcome! Please allow us to introduce ourselves:
Leadership Team
President - Avinash Kunnath is the President of Write For California and the former Editorial Director of California Golden Blogs. He was elected to both positions after all challengers realized they'd have to cover Cal sports every day for the rest of their lives. To learn how to impeach him, please email him at avinash(at)writeforcalifornia.com or Tweet him at @avinashkunnath.
Technical Lead: Erik Johannessen - A Cal fan for twenty years now, Erik originally joined the Cal Marching Band on a lark, and it only took a single football game (a win over Utah!) for him to be hooked. Writing under the name "ragnarok," Erik co-founded the California Golden Blogs in 2006 because he was bored and wanted a place to discuss Cal sports online. The community that grew up around the blog surpassed anything he ever expected and is the thing he is most excited to help carry on at Write for California. You can reach him at erik(at)writeforcalifornia.com and @erikrjoh on twitter.
Editor-in-Chief: Nick Kranz is a 4th generation Cal fan who has been writing about Cal sports of all stripes for nearly a decade, leading many to question his choices in life. He will be writing primarily about Cal football, men's basketball, women's basketball, and the trials and tribulations of Cal's athletic department. You can reach him at nickkranz(at)gmail.com or @norcalnickW4C on twitter.
Editor: Leland - Just your typical Asian-American engineer who went to UC Berkeley because my parents told me I was going to UC Berkeley and only then learned what a Cal was after that. Terribly named and terribly handsome, I'm usually tightening every screw and keeping the gears going behind the scenes to try to keep this cesspool swirling. You can contact me at leland.WFC(at)gmail.com, but you won't find me on Twitter because it's a garbage platform.
Editor: Rob Hwang - Former Facebook friend of Ryan Anderson and Jahvid Best. Freshman year at Cal was 2007 (Yes. It still hurts). Still figuring out what a completed catch is. Avid proponent of the quick slant on short downs. A shooty of hoops and breaker of own ankles. #MikeyRocks. The other guy on The Golden Bearcast. You can reach him at @rob11hwang on twitter.
Staff Contributors
Alex Khalifa has been watching Cal basketball since the beginning of the millennium. He also enjoys baseball and hockey at all levels. The biggest thrill of his past year came from lobbing questions at Camryn Bynum and Evan Weaver at Pac-12 Media Day. He can be reached at alex.amin.khalifa(at)gmail.com or @goodguyinsports on Twitter.
Andy Johnston: Eye witness to the '03 win against SC and Big Game '09 and '19. The Golden Bearcast co-host, mediocre Tweeter and Cal athletics loyalist.
berk18 does video analysis of football schemes and strategy.  He's a second-generation Golden Bear and this will be his fourth season contributing to the best damn Cal community on the internet.  You can find him on Twitter @berk18CFB and on Youtube.
Berkelium97 has been writing about Cal sports for over a decade.  He's covered everything from football film breakdowns to opponent previews to photo essays.  He plans to spend most of his time crunching numbers in a quixotic attempt to show that there is indeed wisdom in the crowds of Cal fans who read Write for California.  He's harbored a grudge against Larry Scott ever since they served red velvet cupcakes with the Cal logo on them at the 2011 Pac-10 Media Day.
Christopher Helling (i.e. christopher_h), Cal Math 2011. Devout Cal fan, sports bettor, and avid Pac-12 football observer. Armchair QB with strong opinions.
Chris P. was born and raised in Richmond, California, and never imagined the day he would be a student at Cal. The greatest times of Chris' life yet were memories and experiences he had at Cal. While a student, he fell in love with Cal sports, and then sought out the opportunity to be a part of CGB, where his love for Cal sports intensified, especially towards basketball and football, two teams he got to cover during his senior year. Chris graduated in the spring of 2019 and now resides in Fort Worth, Texas, where he is in graduate school.  You can reach him at christopherqp(at)gmail.com, and on Twitter and Instagram at @chrismqp.
Christopher Zheng - Just the newest Christopher to join the ranks of covering Cal Athletics. Began watching Cal as a freshman in 2015 when I thought scoring 73 points in college football was the norm before realizing that it's just Cal being Cal. Once claimed to have scored more points in Spring 2016 than Ivan Rabb. Reach me on Twitter at @thechriszheng where I will begin developing a 21st-century presence, a decade or so too late.
Gustav (Aka "Nik Jam") graduated from Cal in 2011 in music and is still slowly working on a music career. He regularly attends Cal sporting events in many different sports and will often be writing in-depth articles about some of the under the radar teams, like baseball and volleyball. Look for his IG stories from various Cal sports, including road trips to other west coast schools, and on twitter @nikjamtheman.
Kodiak is a 4th gen Cal fossil who wears an onion on his belt.  Designated Force ghost who will occasionally pop in to crankily shoo someone off a lawn.  @KodiakW4C
Owen Kaminski - His voice cracks turned into a new Cal cheer. Chase Garbers connected with him on LinkedIn. Officially, his role is "Division 1 walk-on student-athlete varsity team captain". Owen Kaminski is one of the most interesting Cal Mic Men in the world. You can follow the Mic Men on Instagram and Twitter, @CalMicMen.
Piotr T Le, a not so lifelong Cal fan who fell in love with the football program one cool Fall evening 2012 when Cal beat #25 UCLA. From then it was he tries to tie his ability to (often unnecessarily) boil everything down to stats. He will be writing about sports and stats, always with a geeky, passionate, and unwaveringly Cal oriented bent. You can find him at piotr.le.trong(at)gmail.com and @PiotrLe
Rick Chen is a San Francisco native and lifelong Cal fan. He will focus on breaking news and the business and culture of college athletics. Share comments and tips with him at seriouslyrick(at)outlook.com or on Twitter at @seriouslyrick.
Reef writes about basketball. Find him on Twitter at @ReefW4C
RollOnYouChairs (Alex) arrived at Cal in 2006 and started following football and basketball soon thereafter, with rollercoasters of happy bowl games and tournament appearances mixed in with nearly-winless seasons of misery. He loves the complexity of college sports, from recruiting through player development to the nuances of in-game coaching strategies. He still lives in Berkeley, has been a season ticket holder for over a decade, and still attends nearly every home football and basketball game.
Ruey Yen - Writing about all 30 Cal sponsored sports, Ruey Yen '04 is the resident Jack of all trade and master of none (but PhD in nuclear physics). Since moving East for grad school, he has traveled often to see his beloved Cal Bears, being an eye witness to a men's basketball win over Syracuse at MSG, football road wins over Texas and Ole Miss, and 6 (and counting) Olympic sports national championships. Follow him on twitter @YRueyYen
Terence Lau is a Cal grad who has been watching and listening to the Bears via dodgy internet for the last 13 years; he will be writing about memories of Monty Buckley's career.
TwistNHook was a founding member of California Golden Blogs and is in every sense both positively and negatively responsible for this website's existence. He has not, and likely never will, log in.