Caption: I'm on the left! This was a not yet 18-year-old me at CalSO.
Note: We're starting a series of articles to introduce the writers of Write for California. Here's the first.
A couple days after my high school prom in June 2015, I was at SFO, on my way back to New York after spending a few days on campus for CalSO, proudly sporting the new Berkeley sweater I bought. As I quietly loitered near the boarding line waiting for the gate agent to call my boarding group, a man with a suit jacket approached me and asked, "do you go to Cal?" I eagerly listened as he talked proudly about Berkeley and all of its wonders, but he lingered on the potential of the football and the men's basketball team. He told me how Jared Goff was going to win the Heisman Trophy and bring us back to the Rose Bowl. He told me how the young recruits joining the savvy veterans of the basketball team would bring us to the Final Four. I had no clue who Jared Goff or any of the names he mentioned was.
That was probably the first time someone got me hyped about Cal and he taught me my first two lessons about Cal Athletics: there are always a ton of reasons to be excited about Cal and there are some extremely optimistic Cal fans out there. I kept that in mind when I got to campus in August. When that first Saturday afternoon game rolled along, I pleaded with my floormates to go see the game with me. It turned out my biggest selling point was that it came at no cost to them as we were among the couple freshmen classes to get a free season pass. That game was no slouch, but it got boring fast. Turns out scoring 35 points in the first quarter against Grambling State doesn't lead to a highly entertaining game.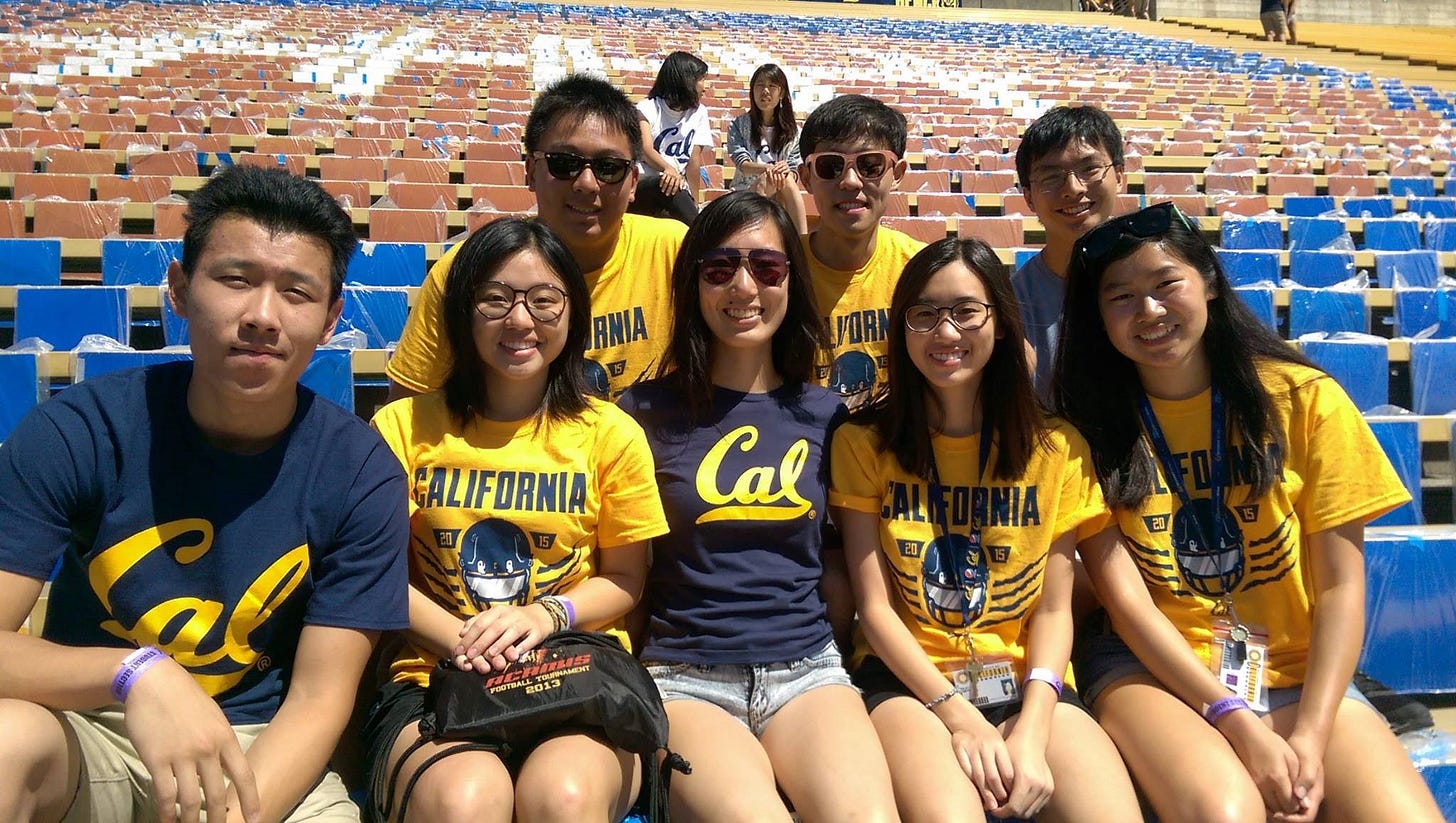 Caption: I'm in the second row on the left. I don't remember being early to the game against Grambling State in the first game of the 2015 season, but the student section is clearly empty.
The team went on a five-game winning streak to start the season, and I joined The Daily Californian's sport staff, on a whim. As a child, I was all about baseball, specifically the statistics. My dad claims that as a young boy I could recite the entire 25-man roster of the New York Yankees and their batting average or earned run average (if they were a pitcher). I know it doesn't seem all that impressive given all the stories of child prodigies, but this was how my entire family knew that I was always going to be a passionate sports fan. But, this was all my casual interaction with sports.
The two-and-a-half years that I spent on The Daily Californian's sport staff made me the fanatic that I am today. It's why I started doing fantasy football, watched 12 hours of college football on Saturday, and followed it up with "7 hours of commercial-free football" on Sunday. It's why I have rapid-fire Facebook Messenger chats with friends on why I don't like Russell Westbrook (all respect to him for being an elite professional athlete, but I'll continue to watch a different game if you're playing). Heck, it's why I joined Twitter, so I can get notifications for the Woj-bombs or other breaking news alerts before I get the ESPN notification.
During my first semester, I covered the women's golf team, but after that, most of my time at The Daily Californian was spent covering swimming, both the women's and men's teams. These are some of my fondest memories writing about sports. It's why you see my name surrounding swimming coverage going forward, not to step on Ruey's turf! I remember being wildly impressed at the first women's swim meet I went to and watching their in-season times being faster than my personal bests as a competitive swimmer in high school. Once, during my freshman year, I was walking a classmate from lecture in VLSB to swim practice on my way back to Unit 3, and we talked about how much I hated backstroke and at that moment, I saw Ryan Murphy giving me the look of "who is this kid" (there's a 100% chance I read way too much into the glare).
While I have other stories related to Cal Athletics (like the time I got yelled at by the football staff for trying to hand out gameday issues to the 2016 UW football team), I cherish the ones about swimming, just a little bit more. I weirdly became friends with Katie McLaughlin's mother because I was late to a competition at Spieker my sophomore year. I had asked her if she could catch me up on some of the stuff I missed, and all of a sudden she started telling me all about the athletes on the team.
Katie's story has a special place in my heart because I remember seeing her in a neck brace around Unit 3 as a result of a severe neck injury during our freshman year.Her mother told me they were afraid she was never going to walk again, and I could feel my heart sink. Yet, somehow Katie recovered, found the strength to compete and make the finals in multiple events at the 2016 Olympic Trials just months after her injury, and worked her way back to surpass her pre-injury form to the point that she's a serious contender for the next US Olympic team. Katie and her family have always been nice to me, from saying hi at meets that we run into each other at to inviting me to the post-Stanford meet team barbecue to Katie and her teammate inviting me to join them at Cafe Durant for brunch when I got back to campus early and my friends weren't back yet. I'll always cheer excitedly for any Cal Bear doing anything, but, for Katie, it'll be just a bit more energetic as if I could somehow transfer the energy I had to her.
It's been about a year to the day since I crossed center stage at the Greek Theatre at my department commencement. I certainly have more personal memories to tell if you want to hear them (reach out to me if you don't know about the Ink Bowl, my favorite Big Game tradition), but I miss sports and I miss writing. I stopped writing for The Daily Californian after my junior year. Most of all, I miss Cal, and I don't live in an area with a ton of alumni. I reached out to the CGB folks who told me that they were transitioning to Write For California, and I was happy to move with them in February.
Being a New York native, we don't typically think about going to California for college. I really preferred to stay on the East Coast, but when the opportunity presented itself, I looked at Berkeley as a fun four-year excursion to do something different. I don't regret it at all. Despite its imperfections, Cal was the perfect place for me. While my current work has nothing to do with my major (no surprises there as I studied political science), I couldn't be happier to be a California Golden Bear.