New increase in Covid-19 cases at Cal linked to fraternity and sorority parties
University administration statement casts doubt on fall reopening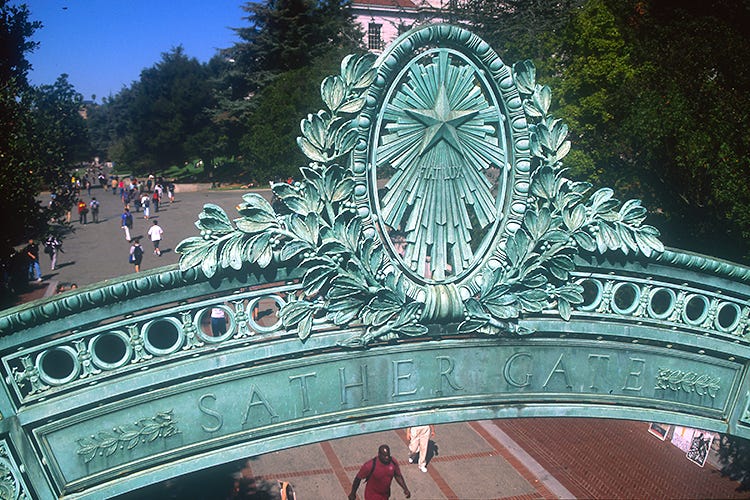 Sather Gate, on the University of California, Berkeley campus (Courtesy: Berkeley News)
The Southside streets of College and Telegraph Avenues are a lot quieter this summer. Berkeley, Calif., typically bustling with students enrolled in summer sessions and visitors, are scarce as lockdowns close local restaurants, shops and sights, as well as international borders in a bid to prevent the spread of the coronavirus.
But one aspect of social life has persevered: fraternity and sorority parties.
The University of California reported 47 new cases of Covid-19, the disease caused by the novel coronavirus, this week, linking many cases in this most recent outbreak to a series of recent parties connected to the CalGreek system.
At least six members of Kappa Alpha Order fraternity members tested positive and are now in quarantine, a source from the CalGreek community told Write for California. The source said parties at different fraternity and sorority houses have been commonplace since the start of the pandemic.
Campus administrators and health officials confirmed some secondary spread within households and from other smaller gatherings took place in a campus-wide email Wednesday. The notice urged community members to follow public health guidelines and to avoid attending large gatherings or parties.
They also say it is becoming harder to imagine bringing the community back to a reopened campus. Previously, the University of California reported only 23 cases since the start of the pandemic.
In a plan presented on June 17, the University of California announced the fall semester would start Aug. 26. Most classes would take place online, except for those with 25 or fewer students enrolled, which could take place in-person and on-campus with special permission. The plan also requires students, faculty and staff to wear masks at all times unless they are completely alone in their office or room.
The summer parties are not unique to the University of California. Local city and fire officials in Tuscaloosa, Ala., home to the University of Alabama, recently told CNN young people were throwing "Covid-19 parties." At the parties, known carriers of the coronavirus, are allegedly invited to attend to intentionally spread Covid-19 to other guests. The first person to get infected from the party earns a payout from the event's ticket sales, the local officials said.
Alameda County, home to Berkeley, Calif., recently announced more than 7,000 cases and at least 146 deaths attributed to Covid-19. Also, this week, the confirmed case total in the United States surpassed 3 million people and more than 133,000 dead.