Discover more from Write For California
A community for California Golden Bears, about the California Golden Bears, made by California Golden Bears.
Over 4,000 subscribers
Pseudo Recaps: I guess now is the time to revisit the AQI Bowl?
Plus: our 2020 college football season simulation goes light on the drama against a Cal Poly stand-in.
Happy(?) Monday! If you're reading this from California, you're entering a 5th week of awful smoke that blocks out the sun and makes breathing outside hazardous. If you're anything like me, you're dealing with a rare late summer/early fall form of seasonal affective disorder. Life sucks right now.
Thanks to another awful late summer west coast fire season, I've had one very specific Cal game on my mind all week long:
In 2017, the Air Quality Index at kickoff between Cal and Washington State was 159. If I recall correctly, air quality gradually improved through the game thanks to some ocean air blowing into the bay, so it wouldn't shock me if AQI dipped below 150 at some point.
Meanwhile, each of the last five days in Berkeley have had worse air quality, to say nothing about some of the insane levels of particulate matter recorded up and down the state over the last month.
So this week, I had to dip into the not-at-all-distant past for a pleasant bad-air-quality memory.
Throwback recap: 2017 Washington State
From the perspective of a Washington State fan, this opening statement has to be ominous: "Mike Leach and Washington State Cougars are a top 10 team for the first time since 2003." Or maybe that's just my Cal fan fatalism sneaking in there. 30 seconds later: "It's Friday the 13th, anything can happen on a night like tonight!" I'm prematurely feeling back for Wazzu fans.

I have some practical work experience with respirator safety, so I'm going to screen cap every time the broadcast shows a fan wearing some sort of face covering that either 1) would not prevent smoke inhalation or 2) is worn incorrectly, thus preventing you from benefiting from the respirator. Here's our first candidate, and I'm hoping, our last: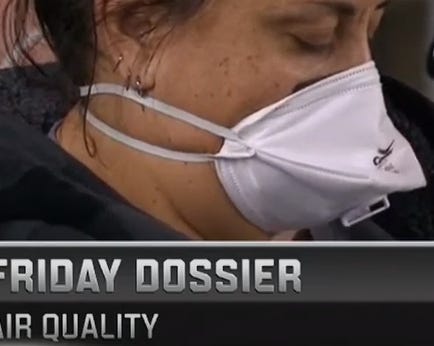 First Half
I completely forgot Wazzu returned the opening kickoff back for a touchdown, probably because the holding penalties were so blatantly obvious that I knew it was coming back before the returner even crossed the 20 yard line.

On the 2nd snap of the night, James Looney creates a pressure coming straight up the middle to force an incompletion, foreshadowing the area of the line that Cal would exploit all night long. On the 3rd snap of the night, Cam Bynum in zone coverage bamboozles Luke Falk for an interception, which I guess doesn't count as foreshadowing because now we're just diving straight into the shadow.

Ross Bowers finds Kanawai Noa for a big 3rd down conversion inside the 10, and man do I miss Kanawai. I decided to look up his stats with 5-7 Nebraska, and they are depressing. 17 catches for 245 yards and 2 touchdowns. Man, would we have used him last year when half our WR unit was out with injuries. Cal can't convert and settles for a field goal, which at the time I was very disappointed about.

On one hand, this is sad:

On the other hand, I got to rush the field at both of the wins!
Washington St. is driving on their 3rd possession before Jaylinn Hawkins forces a fumble recovered by Devante Downs. With the Cal offense again handed plus field position, the announcers speculate that Cal needs to cash this in for a touchdown to pull the upset. I was thinking the same thing. We all quite understandably had no clue exactly how dominant the Cal defense would be all night. Luckily Vic Enwere follows Malik McMorris into the endzone for the 10-0 lead. Little did we know that would be enough right there.

The sideline reporter relays the following: "Mike Leach . . . told his team 'You look like the worst offense in America right now. I am not interested in excuses.'" There are few things I love more than pouty, whiny Mike Leach.

Leach's positive encouragement does inspire Wazzu to drive all the way down to Cal's 3 yard line. But then James Looney blows up a running play for an 8 yard loss, WSU commits OPI, Cam Goode gets his first Cal sack, and suddenly Wazzu has to attempt a 52 yard field goal just to get on the board.

On one hand, this guy clearly gave up trying. On the other hand, surgical masks don't prevent fine particulate inhalation, so he's better off not wearing it anyway:

Meanwhile, Cal's final drive of the 1st half is their first successful drive without the benefit of turnover-related field position. Jordan Veasy makes two straight nice sideline catches, and Cal eventually gets to the 1 yard line with just :04 left on the clock. Big Balls Wilcox goes for the touchdown, and Ross Bowers finds Kyle Wells for a touchdown on the last play of the half. 17-3.
Second Half
With Washington State's short passing game, this was a great opponent to watch Ashtyn Davis use his track speed to shoot through gaps at running backs in the flat like a guided missile.

WSU finally gets some YAC for a 43 yard gain, before by far the flukiest turnover of the night. Luke Falk tries to shovel the ball to a running back a yard away, the running back lets the ball bounce off his chest, and the ball kinda falls into the hands of an alert Ray Davison. This was maybe the biggest turnover of the night, as a touchdown would've gotten WSU within a possession.

Cal's next drive again pivots on something of a lucky break - a potential Noa fumble is (probably correctly) ruled incomplete. It's one of those plays you've seen go the other way before. Matt Anderson finishes the drive with a career long 48 yard field goal. If I remember correctly I was yelling in the stands for us to go for it, but a 17 point lead is nice too.

Adam Amin marvels that Cal has 8 sacks against "one of the best offensive lines in college football," and my reaction to that statement is that while Wazzu under Leach typically did have good lines, they also benefited greatly from a system that usually gets the ball out fast - too fast for a pass rush to get there. But Cal's secondary had the dudes and the scheme to force Falk to hold onto the ball, and disaster ensued.

Much of the 2nd half was the typical "I have a lead and I'm going to kill this game off" Wilcox/Baldwin offensive conservatism, except that Cal kept moving the ball on the ground against a thoroughly demoralized Wazzu defense. Cal drives down the field on a drive that spans the end of the 3rd quarter and the beginning of the 4th, mostly on Vic Enwere runs. Then, to cap things off, THIS happens: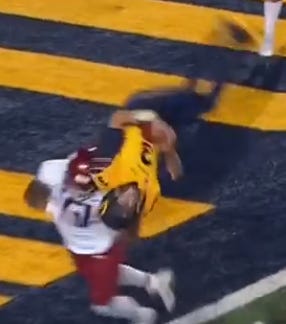 These dudes have the only proper reaction: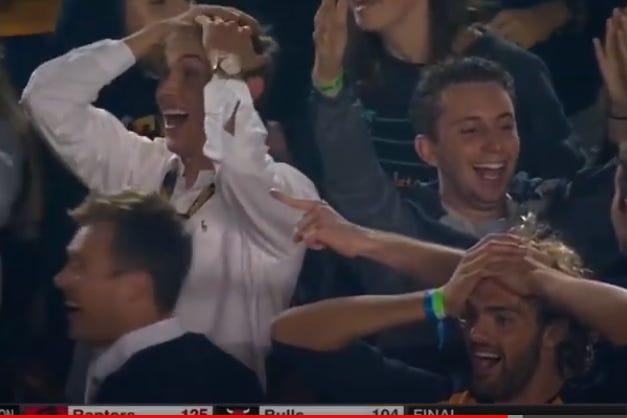 This game is OVER, but the announcers are trying to convince themselves that Wazzu can score 24 points in 12 minutes. But to emphasize the point, the Cougars go 3-and-out and Mike Leach surrender punts. The ESPN camera pans to Cougar fans leaving Memorial, and while I don't generally condone leaving games early, I 100% grant exceptions when your coach surrender punts. Cal drives for a field goal to erase the .07% chance of a WSU comeback.

This guys is looking like he's in pretty good shape. Looks like an N95, appropriate face coverage, no facial hair. I doubt he had it fit tested but if he did a good job shaping the nose piece for a tight seal he's probably good to go:

And the final insult-to-injury cherry on top: Jordan Kunaszyk comes completely clean up the middle and sacks Falk, who fumbles. Gerran Brown scoops for the final score of the game, 37-3.

Probably not a coincidence that both of these games probably make my personal top-10 Cal games:

Cal's final turnover is another somewhat fortunate play, as the Falk pass touches no less than four players before the 5th (Quentin Tartabull) finally grabs it. Though by this point it was entirely academic. Chase Forrest comes in to run Cal's final drive.
This week our simulated game gets 2nd billing, since it's against a made up FCS team standing in for Cal Poly. I'm surprised that EA sports couldn't afford the rights to Big Sky football teams, but so it goes.
I still can't get over the EA Sports Chase Garbers avatar. Not because it doesn't look like Chase, but because this doesn't look like ANY college player. Dude has the male pattern baldness of a 40-something guy who retired from the NFL a decade ago.

As for the game itself? Well, as you might imagine in an FBS/FCS match-up, Cal looked like a good team, and Cal-Poly-Lite . . . did not. The Bears opened the game running the ball right down Cal Poly's throat, through gaping holes in the line, and were up 10-0 in the blink of an eye. Meanwhile, Cal Poly's play was characterized by sacks, dropped passes, and errant throws. It's true that Cal's defense made life hard on the Mustangs, but it's also true that the Mustangs made life easy on the Cal defense.
It wasn't a perfect game for Cal - Chase Garbers threw an interception when he left a pass to the corner goal line short, Cal Poly managed to cross midfield a few times, and the offense generally struggled to finish drives with touchdowns. But it was clear from the first series that this was never going to be a competitive contest. Cal scored on every drive but one in the first half and walked into the locker room at halftime with a commanding 30-0 lead.
Thanks to Cal's first half explosion, the 2nd half was an exercise in game management and clock killing. The Bears tacked on 17 more points and more importantly held Cal Poly scoreless to complete the shut out. After allowing TCU to run a bit wild last week, Justin Wilcox has to be happy to see his defense dominate.
The stats were typically lopsided for a game against a lower division opponent. Cal outgained Cal Poly 545 yards to 137, with an impressive 7.9 yards per play gained vs. just 2.5 allowed. Cal went over 250 yards through the air and on the ground, won the turnover battle 3-1, and Chase Garbers was particularly efficient with just 4 incompletions. Very little that was spectacular, but everything was efficient and workmanlike on both sides of the ball.
All in all, a good virtual warmup for virtual Utah in two weeks!