Discover more from Write For California
A community for California Golden Bears, about the California Golden Bears, made by California Golden Bears.
Over 4,000 subscribers
Pseudo Recaps Week 2: A fitting Cheez-It sequel, plus the 1993 Alamo Bowl
Fun from the past and fun from an alternate universe, as we recap two entertaining Cal football wins.
What would happen if you combined the best and worst excesses of the Sonny Dykes era Bears with the goofiest weirdness the Cheez-It bowl could possibly provide? Well, welcome to Game 2 of our 2020 season simulation via EA Sports NCAA Football:
After three+ seasons of restrained, largely conservative football, this was the week that Justin Wilcox decided to let his offense off the leash. 45 pass attempts compared to just 29 rushing attempts only tells part of the story, because with those 45 pass attempts, virtual Chase Garbers channeled his inner Rex Grossman and went down the field early and often, regardless of the risk of interception.
That high risk, high reward offense resulted in an eye popping 16 yards/completion and the bulk of an offense that scored 45 points. It also resulted in three interceptions that simultaneously killed off scoring drives and also all but handed TCU 14 free points. I don't know what the best balance is between risk and reward, but what Cal found in this game was certainly entertaining.
At first blush, you might think that Justin Wilcox would be concerned about a defense that allowed 45 points. But the Cal defense was mostly solid, allowing just 307 yards and 3.1 yards/play with two turnovers forced. Those are dominant numbers. But TCU maximized those three turnovers with good drive finishing and special teams play to make this game much closer than it appeared if you look at the box score. It's really really hard to very nearly double your opponent's total yardage and lose, but Cal almost pulled it off.
Everybody involved in the passing game came out with wild numbers. Garbers, obviously, broke Jared Goff's single game passing yards school record. Trevon Clark came up just short of 200 receiving yards, a mark that Cal players have hit just 5 times in school history. Kekoa Crawford and Makai Polk both passed the 100 mark as well, with Jake Tonges and his two touchdowns not far off. The running game never really got going, but neither did it need to. The Bears passed early, often, and successfully - presuming the ball didn't find the hands of a TCU defender.
Kuony Deng and Cam Bynum were the stars on defense. Employing a variety of unusual (for Wilcox) defensive formations that featured fewer linebackers, Deng picked up the slack with an Evan-Weaver-esque 15 solo tackles. Meanwhile, Bynum had the defensive play of the game with a pick 6 of his own. Four sacks were also pretty useful in holding down the dink-and-dunk TCU offense.
And so the Bears are 2-0 despite playing in two pretty wild, back-and-forth games. Twice in two games the Bears have faced a double digit deficit. Twice the Bears have won anyway. That doesn't seem like a very good long term formula, but two wins are still a damn sight better than any other alternative.
1993 Alamo Bowl
After seeing the results of Trivia Thursday, it got me thinking that the mid-90s Bears needed a little love. Unfortunately, games in the 90s were frequently not televised, so there's not much out there to actually seek out and watch. Still, we have a few games available on youtube, foremost among them the '93 Alamo Bowl.
The '93 Bears were an interesting team. They beat both Pac-10 co-champs, but when QB Dave Barr suffered a shoulder injury the Bears slumped during a mid-season four game losing streak, with three of those defeats coming in blowout fashion. But when the Bears were on, they won in blowout fashion themselves, as six of Cal's eight wins came by 20 points or more.
Their reward for a strong season? A trip to play in the first ever Alamo Bowl against Iowa. Let's go to the tape:
calbearsarchive included 16 minutes of pre-game TV, which means you also get to experience the time warp of early 90s advertising:
We're in for some fun today
1st Quarter
After a long pass, Cal's in the red zone, but Dave Barr over throws Damien Semien, who is now perhaps better known for being the father of Cal baseball legend (and AL MVP 3rd place finisher) Marcus. Doug Brien comes on to put Cal on the board 3-0.

Reagan Upshaw smashes Iowa's QB and the Hawkeyes go 3 and out. Cal's D looks fired up, I have a feeling Iowa isn't scoring much today.

A steady diet of Lindsay Chapman touches and Iowa offsides penalties gets Cal into the red zone, but Cal stalls out inside the 10 yardline and settles for another field goal. Will the Bears regret not taking advantage of two long drives?

Now is as good a time as any to take a break and acknowledge the legendary half shirt. Sun's out, abs out: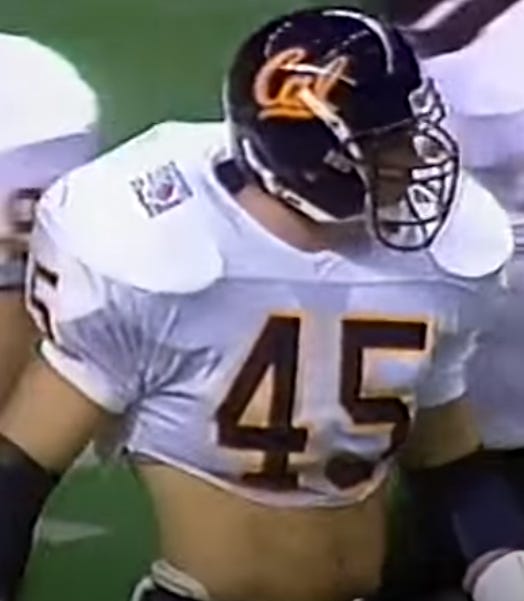 Iowa's quarterback Paul Burmeister (The Burmeister! Radical! Slingin' footballs! Oh yeah!) is having a rough day. He's overthrown multiple passes, taken a couple of rough hits, and had his receivers drop two passes. Still no first downs for the Hawkeyes.

ESPN just ran a promo for College Game Day, and yes Lee Corso was on staff back in '93. Thankfully ESPN eventually upgraded his cohosts, because the loathsome Craig James was involved back then.

If you asked me what would be both the goofiest and laziest way to express your team spirit, this is close to what I would recommend. "BARB I HAVE TO LET FOLKS KNOW I'M AN IOWA FAN, NOW GET IN HERE AND SHARPIE MY FOREHEAD!"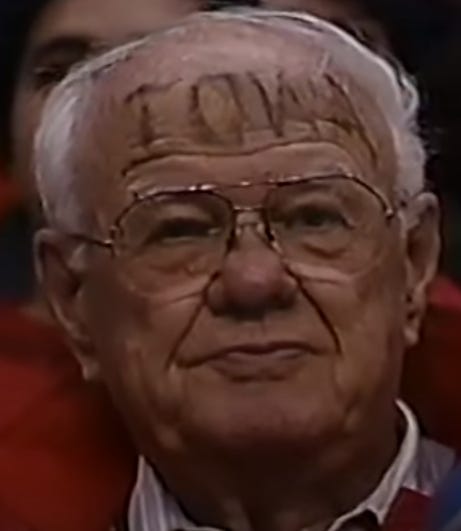 2nd Quarter
Damian Semien picks up 20 on a nifty reverse, and the Cal offense is immediately back in Iowa territory. But Iowa stuffs a run, Cal false starts, and it's again field goal time. Iowa's lucky to still be in this game.

Oski is far from the only unsettling mascot out there. I wonder how hot it gets inside a mascot head that appears to be made of out tin?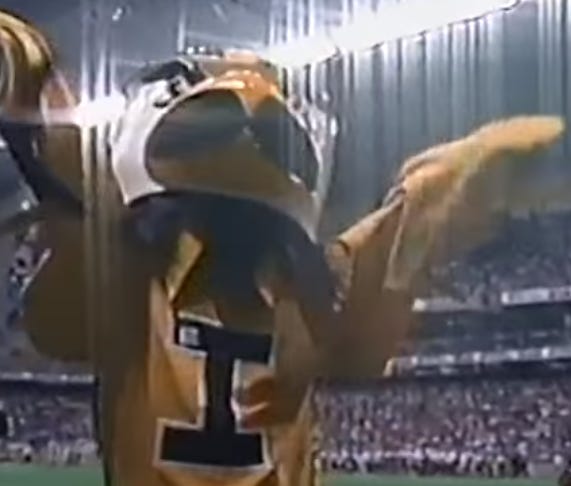 The announcer says that Jerrott Willard's greatest asset is his speed, which is just goofy when clearly his biggest asset is his abs. Meanwhile, Iowa finally completes a pass on 3rd down that comes up a yard short. Iowa, desperate for a first down, does the cowardly pretend-to-go-for-it-to-try-to-pull-the-defense-off-sides thing that never works. It doesn't work, and Iowa punts. The Bears respond with their first three-and-out.

Iowa finally gets a first down, then hits on a deep pass when Cal blitzes 7 and doesn't get to the QB. Undeterred, Cal sends ANOTHER 7 man blitz on the subsequent 3rd down and Cal gets there immediately for the drive-killing sack. Iowa punts again.

Roll on you Bears! echoes around the Alamodome as Cal again crosses midfield on a screen to Chapman. After a sack, Barr buys time, scrambles, and finally finds Iheanyi Uwaezuoke to convert on 3rd down. Will Cal again stall out and settle for a field goal? Nope, Barr finds Mike Caldwell on a play action slant for the TD. Finally Cal's dominance is starting to show on the scoreboard, 16-0.

Will Iowa try to do anything with the final 30 seconds of the half? They get to midfield after two quick plays, but Reagan Upshaw gets to Burmeister on the next play, and he makes a bad throw off his back foot that goes to Jerrott Willard. Willard takes the ball all the way to the house and in the space of seconds Cal's lead has gone from 9-0 to 23-0 and Iowa might be cooked.
HALFTIME
I know people were tired of the 'What do you see? UC Berkeley' commercial like, four years ago. But I think it's better than this weird one that aired at halftime of the Alamo bowl. It begins with a classic Cal vs. UC Berkeley messaging problem in this graphic: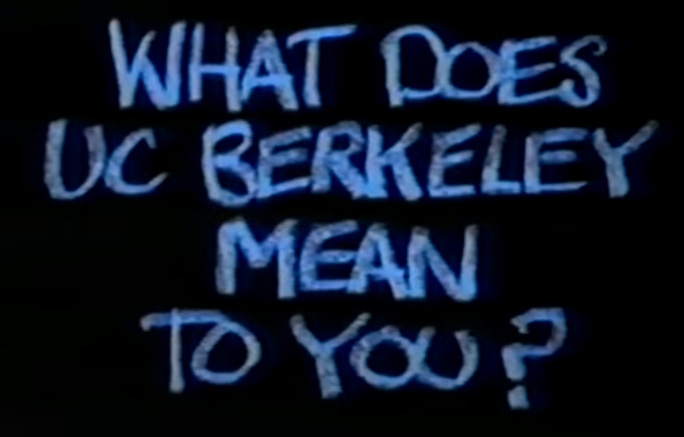 And then continues with interviews with random people on campus, who give various short and non-insightful answers.
3rd Quarter
Now this is the kind of graphic that warms my heart, even if ESPN'S choice for Cal's logo confuses me: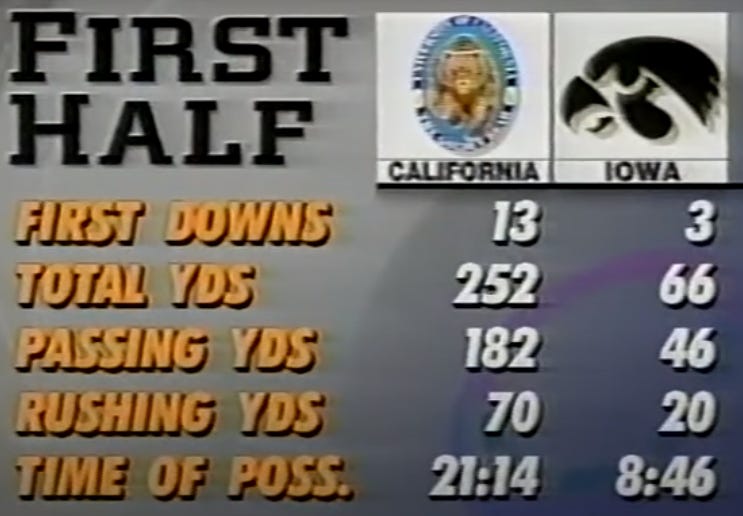 Poor Burmeister is getting crushed on every drive, this time from an outside blitz that gets to him real quick. Iowa again punts. I'm starting to feel bad for them, or at least for Burmeister.

Iowa has been able to get to Barr from time to time (primarily by attacking the left side of Cal's line, which doesn't feature Todd Steussie) and this time they force a fumble and recover. For the first time Iowa gets into the red zone.

Burmeister holds onto the ball for ages, and gets leveled by Willard for his troubles. Iowa ends up losing yards after the fumble and settles for a long field goal. Hey, at least they're finally on the board. Bears 23, Iowa 3.

Barr engineers a great escape from a sack to find Na'il Benjamin for a 3rd down conversion. That puts Cal in position to get a 34 yard TD pass from Barr to Uwaezuoke. Iowa sent the house at Barr on the play and left Uwaezuoke facing single coverage with absolutely no safeties back deep. Seems unwise, but I guess when you're down 20 you have to take risks.

Finally it's Burmeister's turn to punish his receivers after getting beat up all game. He air mails a throw and Je'Rod Cherry creams the WR as the ball sails over his head. Probably would be a personal foul nowadays, but the announcers nonchalantly note that Cherry wasn't even playing the ball because that was how it was done back then.

ESPN's announcers wish a Happy New Year 1994 to those on the east coast to a game played in the central time zone, primarily being watched by fans in the west and central time zones.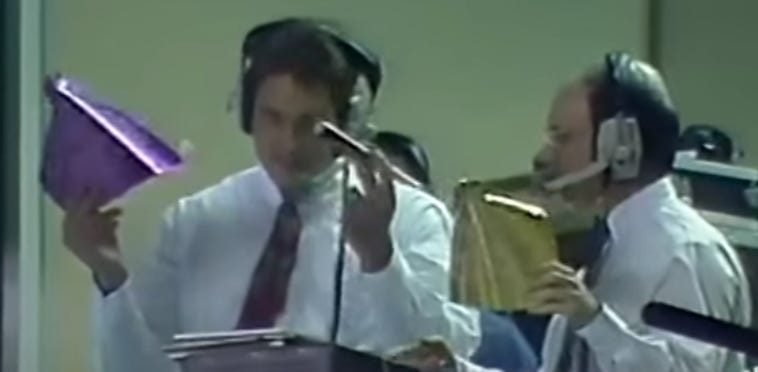 4th Quarter
Iowa has just 84 total yards entering the 4th quarter, and would be facing a shut out were it not for a Cal fumble. The announcers note that Iowa probably isn't very good, and only got picked for the Iowa bowl ahead of other options because Iowa fans would travel. A few minutes later the announcers praise by name the Alamo Bowl management team. Hooray for bowl season!

Cal concludes a long slow drive with lots of back up playing time and Iowa off sides with a touchdown throw to tight end Brian Remington. Rather than showing the Cal band playing Fight For California, the ESPN cameras hilariously scan up and down the Iowa sideline, full of players who very much look ready to get the hell out of San Antonio. Cal 37, Iowa 3.

Play-by-play man Sean McDonough clutches his pearls and has the vapors: "And Todd in my opinion that's kind of borderline acceptable behavior in a bowl game especially on the part of Cal already ahead 30-3 with 8:00 minutes to go, dominating the game in every way to run a play action fake and throw it in the end zone, at least raises the question about running up the score a little bit. How I feel about this as a Cal fan is perfectly expressed by the Cal players shown on screen while McDonough moralizes about an exhibition game designed to line the pocket of the San Antonio Chamber of Commerce: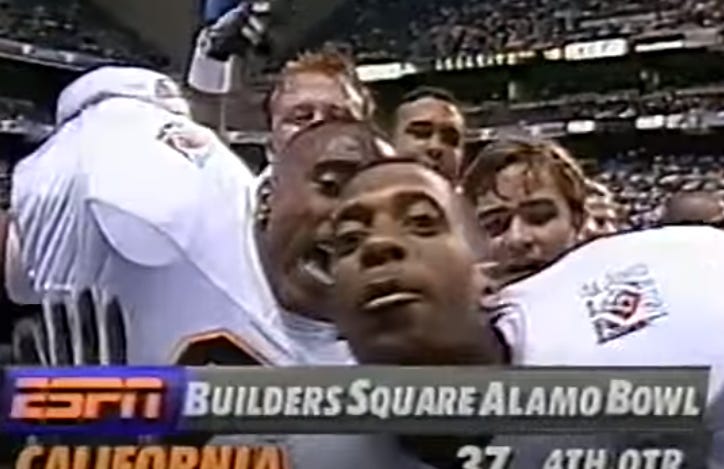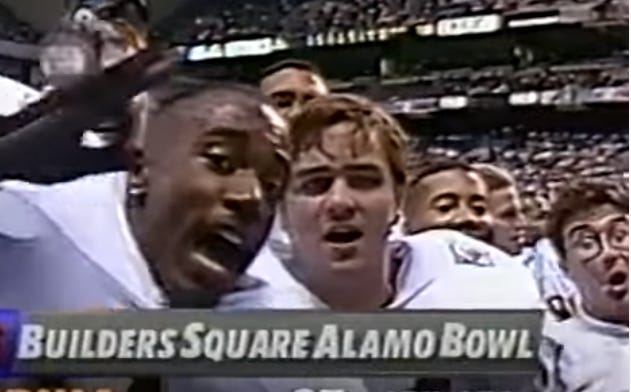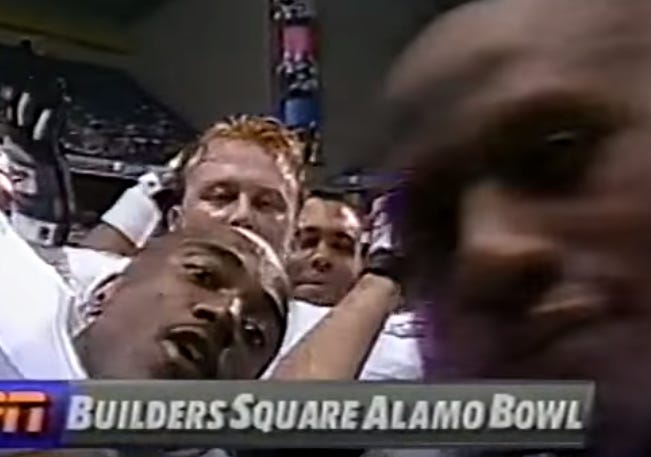 Speaking of advertising - rather than commenting on the game (which admittedly is out of hand) ESPN is interviewing the CEO of the Alamo Bowl, who coincidentally also is the CEO of Builder's Square. What a coincidence!

Go! Bears! echoes around the Alamodome as Pat Barnes takes his spot under center with Dave Barr enjoying a well earned rest on the sidelines. I believe it's time to declare San Antonio Bear Territory.