Remembering Larry Berroya
We're forced to say goodbye far too soon to a dear friend who represented the very best of the University of California.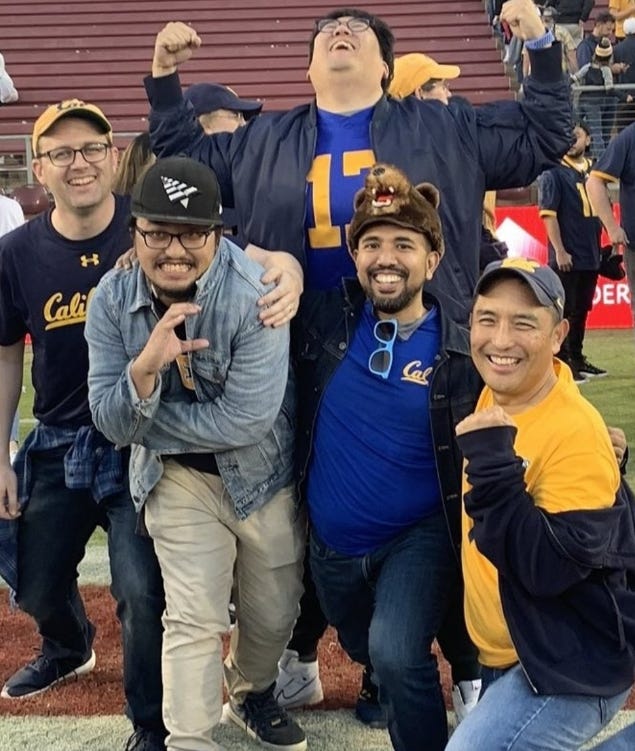 It's my sad responsibility to share awful news for our Cal fan community. Yesterday we learned that Larry Berroya, who many of you may know by his CGB/W4C screen name 'Reef,' passed away after a car accident.
My first reaction to hearing this devastating news? Larry was the best Cal fan. I mean that quite literally. He was The. Best.
Larry fused intelligence and emotion in a way that still awes me. Many of you may be familiar with the 'Robot Larry' nickname that Kodiak bestowed on him. It was a nickname that he earned because he understood basketball on a different level. Years spent learning about the game, watching it at every level, spending time breaking down each play from every Cal game, tracking everything in spreadsheets. There were games when he would sit next to me and call out the plays we were running, which typically made him grumpy because it meant that Cal's opponent probably also figured it out too. Larry was razor sharp. Here's a picture of him taking notes at a game . . . against Cal Poly: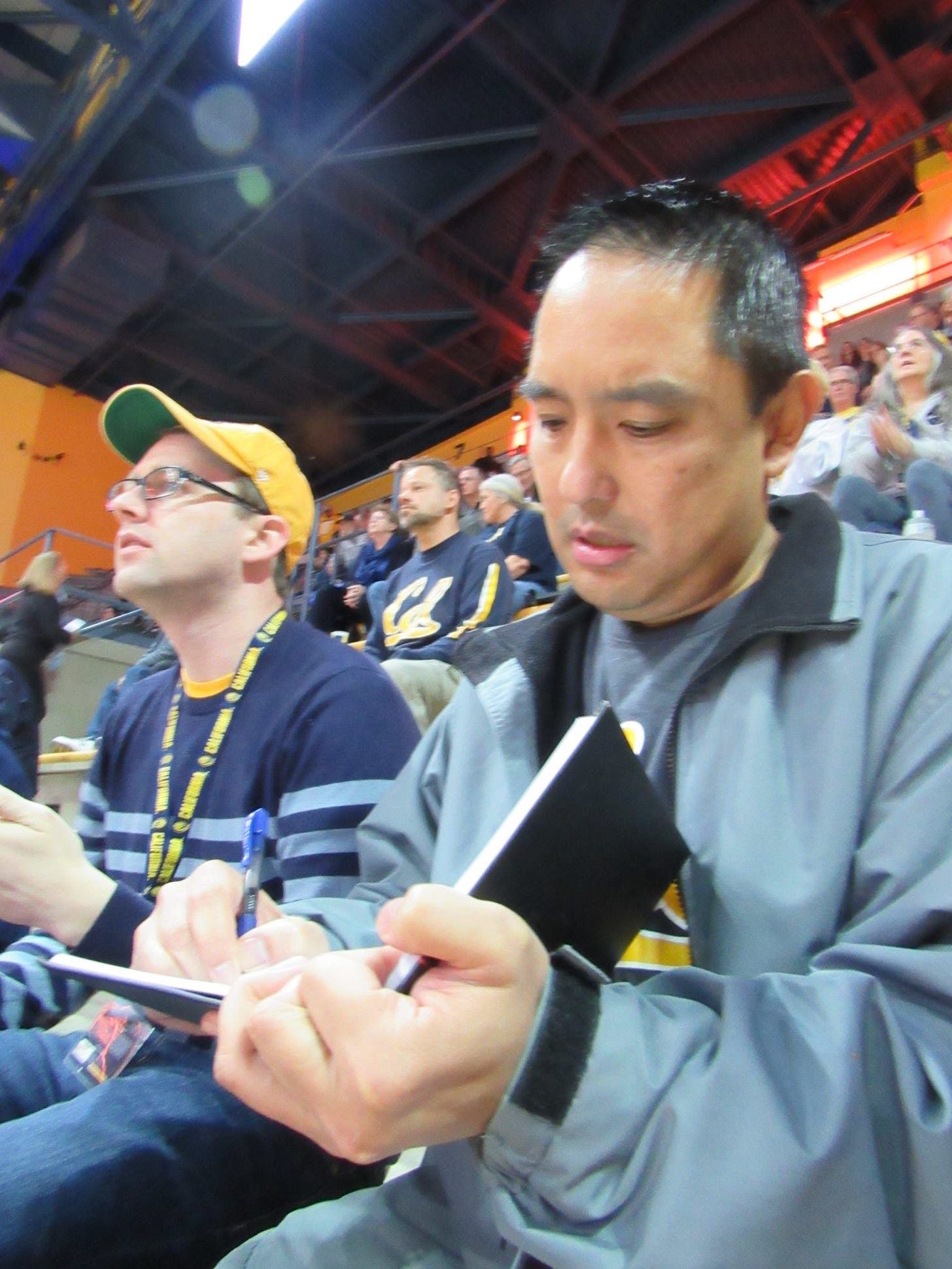 But that's not what made Larry's Cal fandom special. What made the Robot Larry nickname so funny, so secretly ironic, was his boundless passion. When he needed to be, Larry was coldly analytical. But I haven't met anybody who brought more passion into his fandom. He was the loudest guy in Haas Pavilion, using his voice in equal measure to cheer for his Bears and berate the refs. This effect was particularly wonderful at women's basketball games, when his booming voice would echo across the gym.
And that passion ALWAYS came out in his writing. Celebrating a thrilling MBB win over Arizona in 2016. Remembering a crazy WBB win over Stanford in 2019. If we're going to talk about Larry, his Cal fandom, his passion . . . well, we can let him speak for himself:
One of the special things about heading toward the Older side of Blue is the number of memories I take with me. When you live and die with a program for decades, the memories become a part of you -- your identity, your personal mythology. They become the heartbeat, the foundation, of a life well lived.

Yes, my own personal relationship to Cal basketball is defined by the big, program moving moments I listed above, but it is also defined by a thousand little memories within that building on the south side of campus. My uncle taking me to my first game when I was 11-years-old. Falling in love with the heat, the noise, the smell of Harmon Gym. As a student, lining up outside to get into the student section and take my customary seat, squared to the north basket. Keith Smith high fiving me after a three at the halftime buzzer. The electricity whenever the Cal band entered the arena. Learning every chant, every song. The first purchase when I got my first real paycheck: a Bear Backer donation and a deposit on season tickets. Driving from Sacramento to Oakland for every game while Harmon was being renovated. Walking into Haas for the first time. Bill Glass, Eddy, and now Spencer. Senior nights: Al, Randy, Joe, Brian, Ayinde, Theo, Jerome, Jorge. Twist appearing then disappearing for hours at a time. Seeing Jaylen and Ivan for the first time. Jumping on atoms' back after the Arizona win.
We're all here because we're Cal fans, but of course Larry wasn't defined by his Cal fandom. Many of you probably know that Larry was a teacher. You might not know that he was a lawyer earlier in his life, before realizing that his passion lay elsewhere. He quit, went back to school for an education masters, and never looked back. He taught humanities at Gateway High School in San Francisco, and if his passion for Cal could be dwarfed by anything, it was by his passion for education.
He was the consummate teacher, the kind that couldn't turn it off if he wanted to. When he missed basketball games (a rarity) it was always because he was doing something for his students - some sort of debate trip or fundraiser or high school sports. It is very much apropos that this was one of the last tweets he sent out:
What made him a great teacher is the same thing that made him the best Cal fan. Because he wasn't blind about his Cal fandom. The last time I was with him in person was for WBB senior night in February. He happened to be in Sacramento for (you guessed it) a weekend student event, so I picked him up from the convention center. Larry loved senior nights more than anything, because senior night represented the culmination of a student's journey at Cal.
On that drive down, we had a long talk about this new Cal website we were about to launch, and sports fandom generally. He had recently taken a mental health break from writing and social media to focus on his students, and he was openly wondering if he had the time and the passion available to be a contributor at Write For California at the absurdly high standard that he held himself to. He openly wondered about the ethics of football fandom, because of NCAA exploitation and injury risk. He openly wondered about the morality of sports fandom generally, and how hero worship can cloud our ethical decision making.
He didn't have all the answers. I told him that if he did want to keep blogging, that I'd love to read his thoughts as he wrestled with big ideas like that. And that if he retired, he'd have already contributed more than enough to the Cal community. More than anything, it reminded me that Larry led an examined life. A thoughtful, compassionate, ethical life. A life that understands the big things, like putting so much energy into teaching. A life that understands the small things, like the joy of desserts.
(I doubt there's a soul on earth with a better knowledge of where to get the best food generally, and deserts specifically, up and down Northern California.)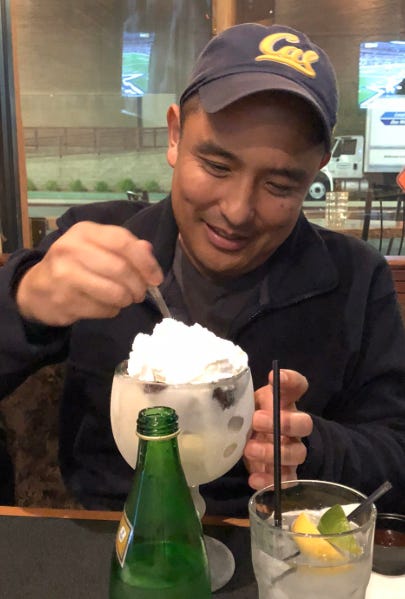 Up above, when I mentioned that Larry couldn't stop teaching, even if he wanted to? I learned more about basketball from Larry than I did anybody else. I learned more about writing from Larry than I did anybody else. As I sit here trying to collect my thoughts, reflecting on the person he was, I'm starting to realize that he taught me more than he ever intended, just by example.
It destroys me that you won't be there, in the flesh, for #victoryformation. That you won't be able to see what Charmin Smith and her freshmen and sophomores do on the court. That your students have lost a tireless educator. But I'm so, so grateful to have known you.
Churro to Victory, Larry.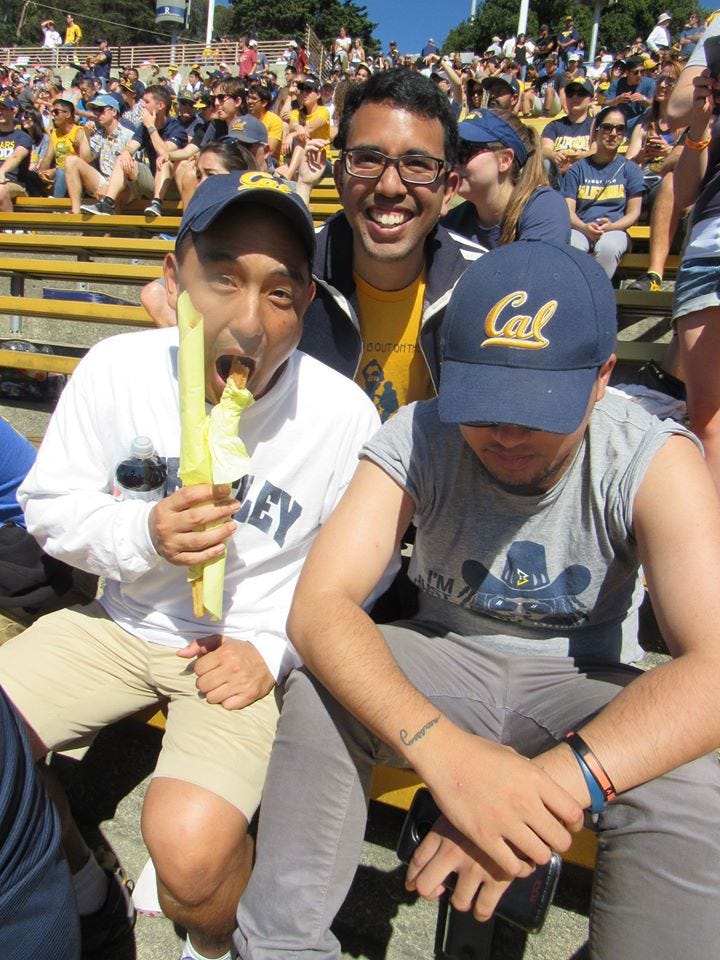 W4C will have more posts in the coming days as more of our contributors remember the life of Larry Berroya. If you are interested in contributing your memories of Larry, please feel free to share in the comments below or e-mail me at nickkranz(at)gmail.com.