Retro Live Blog: Cal Women's Basketball upsets Arizona State
When a game worth savoring in fine detail happens during the middle of the work day, this is our best recourse.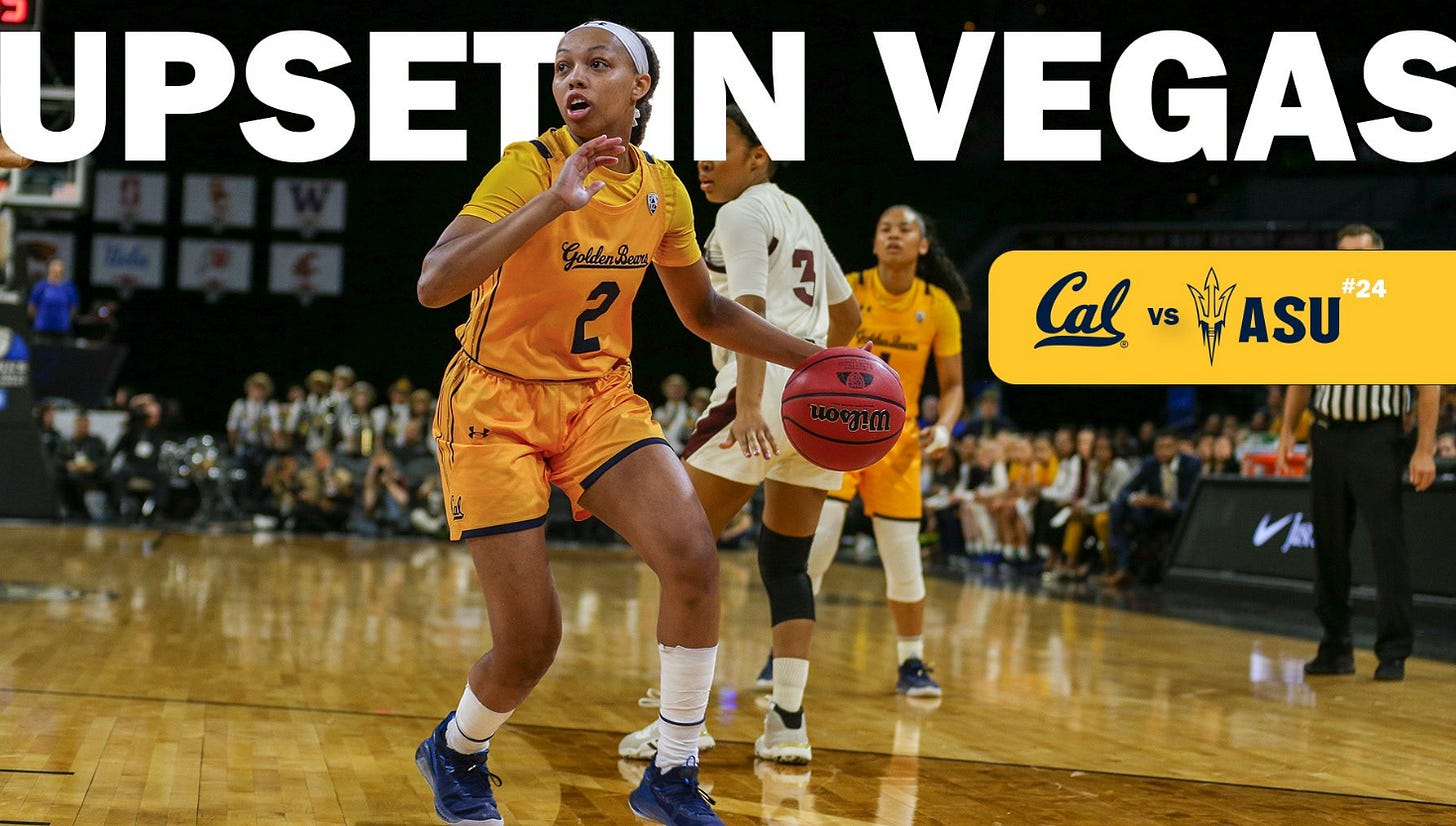 Photo credit: @calwbball twitter
Sure, some may say "The Pac-12 tournament schedule was set prior to the season." But I know the truth. Larry Scott was trying to keep Cal down by hiding the Bears away at 11:30 a.m. on a Thursday. But the Bears weren't going to let a horrible time slot that only three people could enjoy live stop them from putting on a show.
So let's set the stage: Cal is the 12 seed in the Pac-12 tournament, and while they're coming off a rousing upset of top 25 Arizona, they're also facing a team that beat them by 23 points less than a week ago. Arizona State will be playing in the NCAA tournament later this month. By any metric, this game shouldn't be much of a contest.
And for one half, that's precisely what happens. The game is going to script. Low scoring, with ASU slowly building a lead against a Cal team that just struggles to score points. At one point ASU is up 17, and still leads 32-21 at the half. It's hard to see how Cal is going to score enough to make this a game. Let's pick up the live blog in the 3rd quarter begins.
C.J. West pulls down an O board and draws a foul, as the announcers note that Cal has won four straight against ASU in the Pac-12 tournament. This does not at all square in my head, because I hate watching Cal play slow-it-down, grind-it-out ASU despite an unlikely history of success and thrilling wins.

Cailyn Crocker hits a catch-and-shoot 3, Cal gets a stop, and then with the shot clock running down she gets a step on her defender to drive the lane and draw a foul before hitting two free throws. Crocker's late season emergence as a confident, varied scorer is a potential big deal for 2020-21. Bears down 7.

A long stretch of turnovers, loose balls, and missed shots. Cal's only offense is Cailyn Crocker drawing fouls. ASU's offense, a model of back door cut layups, has devolved into iffy passing and low end jump shots. Crocker draws another foul that you often see called a push off. Hold that thought on the refs. Bears down 5.

Jaelyn Brown swoops in from nowhere, snatches a rebound away under the basket, takes three dribbles, and launches a perfect outlet pass to Evelien Schipholt for a transition layup. That's a huge swing play.

ASU stretches the lead back out to 11 over a couple of minutes that are cut from the Pac-12 network replay. C.J. West, who has a long and storied history of putting her body on the line, trips as Cal forces a 10 second backcourt violation turnover and has to be helped off the court. Cal scores. The Bears force another turnover (with more than a little contact), then draw a foul. Cal has a +14 free throw disparity. It feels like every whistle is going our way. Hold that thought.

ASU is wilting in the face of Cal's press. They turn it over again, and Jaelyn dishes to Crocker for the transition 3. The Bears just forced 5 turnovers and scored 13 points in one minute and 41 seconds of game time to take the lead. Whoa.

ASU's first possession of the 4th quarter? A pretty, pretty awful charge call. I'll take it! Jaelyn nails an unassisted 3, then puts up an O board layup after ANOTHER ASU turnover from the press. ASU committed turnovers on 7 straight possessions before finally drawing a foul to end the bleeding.

Minimal scoring over the next few minutes as Cal tries to manage the lead. But suddenly Cailyn Crocker does THIS:
Cal has the ball, up 9, with 5:00 minutes left. An uncreative announcer might suggest the Bears have all the momentum. This game feels in the bag. Surely this is a routine win? Nope. Cal has an empty possession as they try to burn clock and ASU nails a corner 3.

Still, two later and Cal's still up 6, they force a turnover, and ASU misses an assignment to give Cailyn a wide open layup. Bears by 8 with 2:51 left, and Charlie Turner Thorne's look of exasperation at her team's defense is PRICELESS.

ASU hits two free throws, Jaelyn gets stripped, and ASU gets out in transition to draw another foul and hit two more free throws. ASU hits 1 of 2. Jazzy Green commits a pretty obvious charge to foul out.

On the next possession, Jaelyn Brown basically doesn't contest an ASU layup . . . but is called for the foul anyway. It's an awful call and it gifts ASU 2 points and gives Jaelyn 4 fouls. I want to complain, but Cal has gotten almost every other call in the game to this point.

Cal runs off another 25 seconds but Cailyn gets caught against the sideline, ASU is playing high pressure defense, she swings the ball around . . . and her elbow comes in contact with an ASU player's face. It's completely unintentional (you can even see Crocker try to pull away from the defender because she's trying to shield the ball) but she gets tagged with an intentional foul. I hate this rule, but it is the most consistently applied rule in college basketball: if your arm makes contact with another player's head, you get called for an intentional or flagrant foul. Sigh.

ASU hits both free throws to cut Cal's lead to 1, and they're inbounding. Cal screws up their pick and roll defense, as nobody guards the rolling player. Jaelyn Brown swoops in from the weakside to try to draw a charge. Her foot is on the restricted zone, and she's late to the play anyway . . . BUT THE REFS CALL A CHARGE! AND THEY REVIEW IT AND DON'T OVERTURN IT?!?!?

Was this the greatest make up call of all time, because the refs felt bad for the awful foul call on Jaelyn a few possessions earlier, and for calling a correct-by-the-rulebook-but-still-awful intentional call that almost swung the game? I can only speculate. If you call that a block, Jaelyn fouls out and ASU is shooting two free throws to take the lead. Instead, Jaelyn's still on the court and Cal has the ball. Charlie Turner Thorne is remarkably composed. I'd have lost it if I were her.

Cal runs off 24 seconds but gets lucky with a foul call as the ASU defender appears to get Cailyn Crocker's wrist. She hits 1 of 2. For the first time since she left the game injured, CJ comes into the game to get rebounds. ASU misses a couple 3s, CJ gets the rebound, CJ hits two free throws. Bears by 4, as Cailyn goes eye-of-the-tiger in celebration: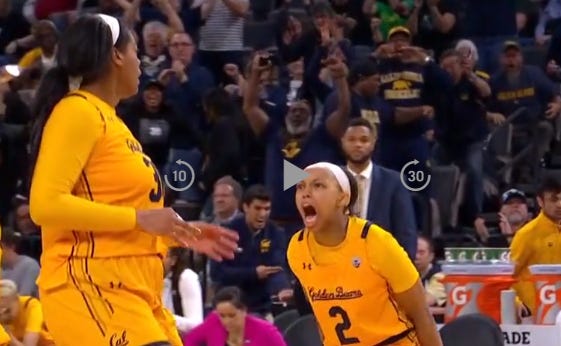 Post game, Charmin Smith gets interviewed while her players hoot, holler, dance, and otherwise make merry behind her. This should be how all post game interviews are handled, and I don't understand why it took this long.
Do you think the Bears like their coach?
And who do the Bears play next? Why, it's the same Arizona team Cal upset in Tucson last Sunday! If you can find a way to watch, the Bears will again play at 11:30 in the morning on Friday as they try to extend their season in Vegas.