Discover more from Write For California
A community for California Golden Bears, about the California Golden Bears, made by California Golden Bears.
Over 4,000 subscribers
Ron and Stephanie Rivera gives a substantial gift to Cal Softball
The Rivera's continue to support Cal Athletics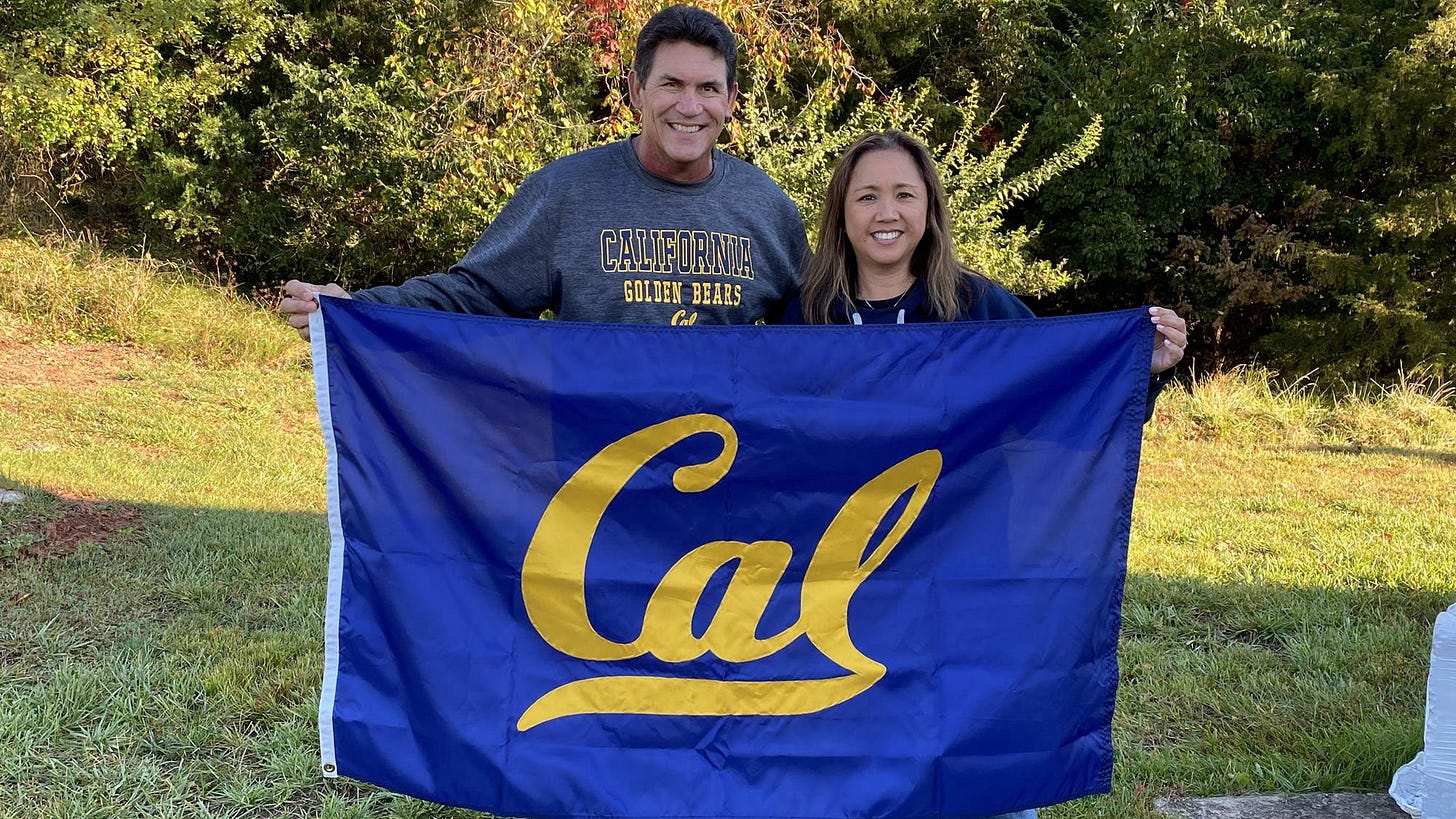 Photo Credit: Cal Athletics
Ron and Stephanie Rivera were announced to have given a substantial gift to Cal Softball to use towards a new facility. The pledge of $500,000 is towards a facility project and will be named the "Rivera Family Cal Softball Field" upon its completion. The donation was also matched by an anonymous donor for a total of $1million towards the project. You can read the full release below!
Rivera Family Makes Impactful Gift To Cal Softball
Ron And Stephanie Rivera Pledge $500,000 Toward New Facility

Ron Rivera won a Super Bowl as a player and coached in two others. He's been named the NFL Coach of the Year twice and was an All-American linebacker in college.

Yet with all that he's accomplished, there's something else that makes an impact on him as much as anything.

"Every time I go back on campus, I get chills," said Rivera, who was a star linebacker at Cal from 1980-83. "I love going back there. I get butterflies in my stomach thinking about that."

Nearly 40 years after he graduated from Cal, the University still holds immense significance for Rivera. That's one of the reasons he and his wife, Stephanie, have made a $500,000 gift to Cal's softball facility project. To honor the Riveras' gift, the renovated facility is intended to be named the "Rivera Family Cal Softball Field."

"The biggest thing is we saw a need," said Stephanie Rivera, who was a member of Cal's women's basketball team from 1983-85. "We always try to support Cal athletes."

An anonymous donor also offered to match up to $500,000 for the project.

Ron and Stephanie have lived all over the country, but they still have a home in California. Any trip back to the Bay Area is accompanied by a visit to campus, and of course, Yogurt Park. The frozen yogurt shop near the corner of Telegraph Avenue and Durant Avenue is where the couple first met when each was attending Cal.

"The connection is very strong," Ron Rivera said.

While Ron was forging a successful professional playing and coaching career and Stephanie was busy coaching basketball on a multitude of levels - including serving as an assistant coach for the WNBA's Washington Mystics -  the couple always had Cal on its minds. They established the Ron Rivera Linebacker Scholarship for the football program in 2002, and continue to purchase season tickets for both football and women's basketball, most of the time giving them away to family and friends because they are unable to attend.

Both Ron and Stephanie regularly populate their social media accounts with shoutouts to Cal, and they've gone out of their way to attend Cal athletics events whenever it fits their schedule.

The Riveras' gift is part of the Cal Athletics' gender equity campaign that is raising funds for new facilities for both softball and beach volleyball.

"We are immensely grateful for Ron and Stephanie's leadership gift to the Cal softball facility project and for their support of our Gender Equity Campaign," Cal Director of Athletics Jim Knowlton said. "They are phenomenal examples of what it means to be a Golden Bear. We are excited to put shovels in the ground and honor the Rivera family on the field that will bear their name."

The Riveras were especially excited to support Cal's softball program under new head coach Chelsea Spencer, who played for the Bears from 2002-05 and helped Cal win the national championship in 2002.

The Riveras built a relationship with Spencer while Spencer was playing professionally with the Rockford Thunder near Chicago. Ron and Stephanie asked Spencer to help run a softball camp that was attended by their daughter, Courtney, who ultimately went on to play at UCLA.

"They brought us to their house and inside their family," Spencer said. "It meant a lot. We kept that connection throughout the years. The passion that the Rivera family has for Cal Athletics is unmatched. For Cal softball, it's a dream come true for this process to continue with the Rivera family. We're very fortunate to have them behind us."

The softball project will ultimately upgrade the facility to meet current standards and provide practice and competition space. Once completed, the facility will meet field dimension standards and Cal will be able to host NCAA Tournament games, something the team is unable to presently do.

Ron Rivera is currently the head coach of the Washington Football Team in the NFL. He is also undergoing treatments for a form of cancer called squamous cell carcinoma.

Ron Rivera said he has been overwhelmed by the support he has received from the Cal community.

"It's been amazing," Ron Rivera said. "I get emails, letters, text messages – well-wishes from alums. So many Cal people have reached out. I've gotten some mail from Cal alums who just say they've watched me play and that they wish me the best. That's been really heartwarming."