Discover more from Write For California
A community for California Golden Bears, about the California Golden Bears, made by California Golden Bears.
Over 4,000 subscribers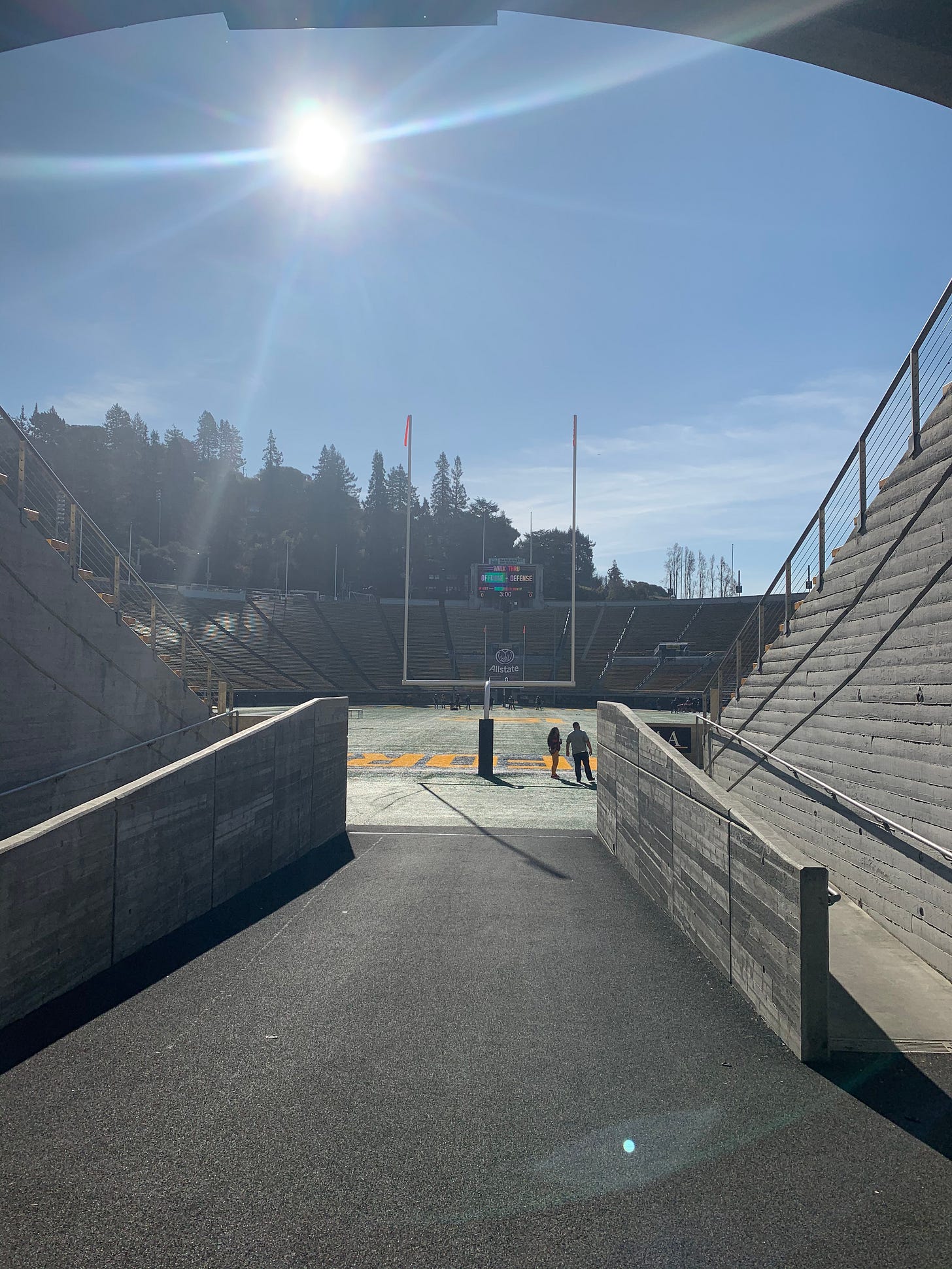 A new decade. A new season. A new OC. A beautiful day at Memorial Stadium to kick off Spring Football 2020. No need to talk about more. Let's deep dive into my practice notebook.
General Notes
Big Coaching role changes (See video of HC Justin Wilcox below to get a better understanding of why the change was made)

Tim DeRuyter - Associate HC, Co-Defensive Coordinator, Outside Linebackers

Peter Sirmon - Co-Defensive Coordinator, Defensive Play Caller, Inside Linebackers

Players out for Spring Football announced by HC Justin Wilcox

OLB Cam Goode - Upper Body

ILB Kuony Deng - Upper Body

ILB Ryan Puskas - Upper Body

OL Gentle Williams - Lower Body

Some other players were held from practice today, but Wilcox did assure that they'll rejoin practice at some point.

Early Enrollee Jaedon Roberts is listed as an Athlete at 6-foot-3, 275 pounds, but he suited up with the defensive line today.

Best Quote of the day - Unknown Speaker yells: HE'S LIKE A SPIDER MONKEY!

A pretty light day of work for the team: working on fundamentals, getting back into football practice cadence and adjusting to new drills/coaching
Main Takeaways
The defense practiced individuals, as usual, not much change outside of Marcel Yates now coaching the DBs.

The offense is where you saw some differences in coaching style along with drills. With varying emphasis' for each position group for the day

QB - Movement from under center, Play Action, throwing on the run

RB - Explosion through the running lane, Pass protection, pass-catching in traffic

TE - Pass protection, Run Blocking, pass-catching in traffic

WR - Not much change since it's still with Toler

OL - Aggressive mentality, Upfield blocking, Awareness
Got to see Jaden Casey in some drills. The kid can absolutely sling it and is a great thrower on the run.

Spencer Brasch also showed off his arm strength. Dropping 35-40 yard darts without even stepping into the throw. Quite literally a flick of the wrist.

Chase Garbers continued his improvement. The key-takeaway from him was pocket awareness. He couldn't feel the right direction of the pressure just a year ago, but in this practice alone, you saw his improvement in running away from the primary and secondary pocket collapse. He knew where to step into and take off if necessary while keeping his eyes downfield.

Some interesting rotations were seeing Camryn Bynum and Jaylen Martin at Safety. Bynum mentioned in his post-practice interview that he played some safety for bowl practice and is excited at rotating wherever. Martin is listed as a CB, but redshirted last season. It'll be interesting how much we see guys rotate to other roles in the defensive backfield.

The offense is FUN to watch, man. It is just fun seeing the different concepts, personnel groupings, play designs. It looks like just the beginning stages, but we're going to have a fun time breaking down the offense after the spring game and after games next season. I can't go into specifics here but what Wilcox said is true, not a lot has changed, but at the same time things have definitely changed.

The offense also just looks more energized and confident. Everybody just looks upbeat and raring to go on every snap.

The QB's also just worked under center a lot for this first practice. Not that it's going to be the main look, but, I would assume, OC Bill Musgrave wants to run more than just QB sneaks from the set and is just getting guys the reps in that formation early on.

Jamieson Sheahan has a monster of a leg. He had some booming punts and had a knack for pinning the ball at the sideline. He would punt from around the 35-40 yard line and pin the ball at the opposing 20-25 yard line. He needs to work on producing some more distance, but his form and composure with pressure seem to give him an opportunity to produce.
That's a wrap on the notebook today. Bears hit the field again on Friday at 930AM. Come stop by if you are available and say hello!
*Don't forget to subscribe to our youtube channel for the Cal coverage as well!