Discover more from Write For California
A community for California Golden Bears, about the California Golden Bears, made by California Golden Bears.
Over 4,000 subscribers
The Final Four for the Pac-12's (second-)best mascot
Two hated archrivals meet on the internet--the toughest battleground of all.
It's time for the tourney that's sweeping the internet—our search for the Pac-12's second-best mascot. What few participating writers we have voted to seed the eleven candidates and we turn to our dozens of dozens of readers to determine the winner of each match-up. Here's the bracket and results of the first two rounds: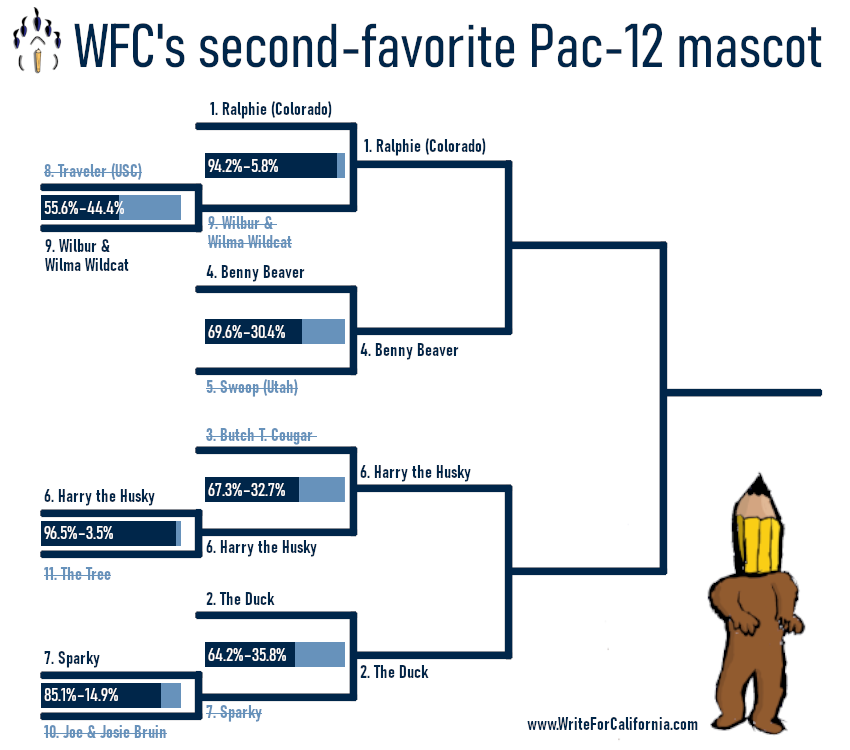 In the quarterfinals, #1 Ralphie trounced #9 Wilbur & Wilma Wildcat. Ralphie won by the second-largest margin seen thus far in the competition and is the only beatdown in the tourney that didn't involve Bear Territory collectively demolishing one of our archrivals. It's early, but Ralphie's living up to the hype so far.
If you ask me, the most boring result came in what should have been the closest contest per seeding. Instead, you defied seeding with #4 Benny Beaver earning nearly 70% of the votes against Swoop—just one seed lower.
In the Apple Cup, Harry the Husky extends their seven-game win streak to eight by beating Butch T. Cougar. What an upset to see the six seed topple the three seed as—spoiler for the next paragraph—Harry is the only mascot from the play-in round to still be alive.
Interestingly, what I expected to be a comfortable win for the #2 Duck ended up being the closest call of the quarterfinals due to the fight of #7 Sparky—this isn't a good sign for our status as ATQ South. I thought the Duck was popular!
---
Moving onto the semifinals, our Final Four are #1 Ralphie, #2 The Duck, #4 Benny Beaver, and #6 Harry the Husky—this year's Cinderella story.
#1 Ralphie met little resistance in the quarterfinals, but can #4 Benny Beaver build a dam strong enough to stop her?
The Apple Cup came early last week for #6 Harry the Husky and this week, he moves on to his most hated rival—#2 The Duck.
This post will be updated by noon PT with the polls for you to participate in, but please leave your thoughts in the comments so we have more of that sweet, juicy #content.