Discover more from Write For California
A community for California Golden Bears, about the California Golden Bears, made by California Golden Bears.
Over 4,000 subscribers
The Write For California FAQ
Answering your burning questions. And if it's not answered here, there's always the comments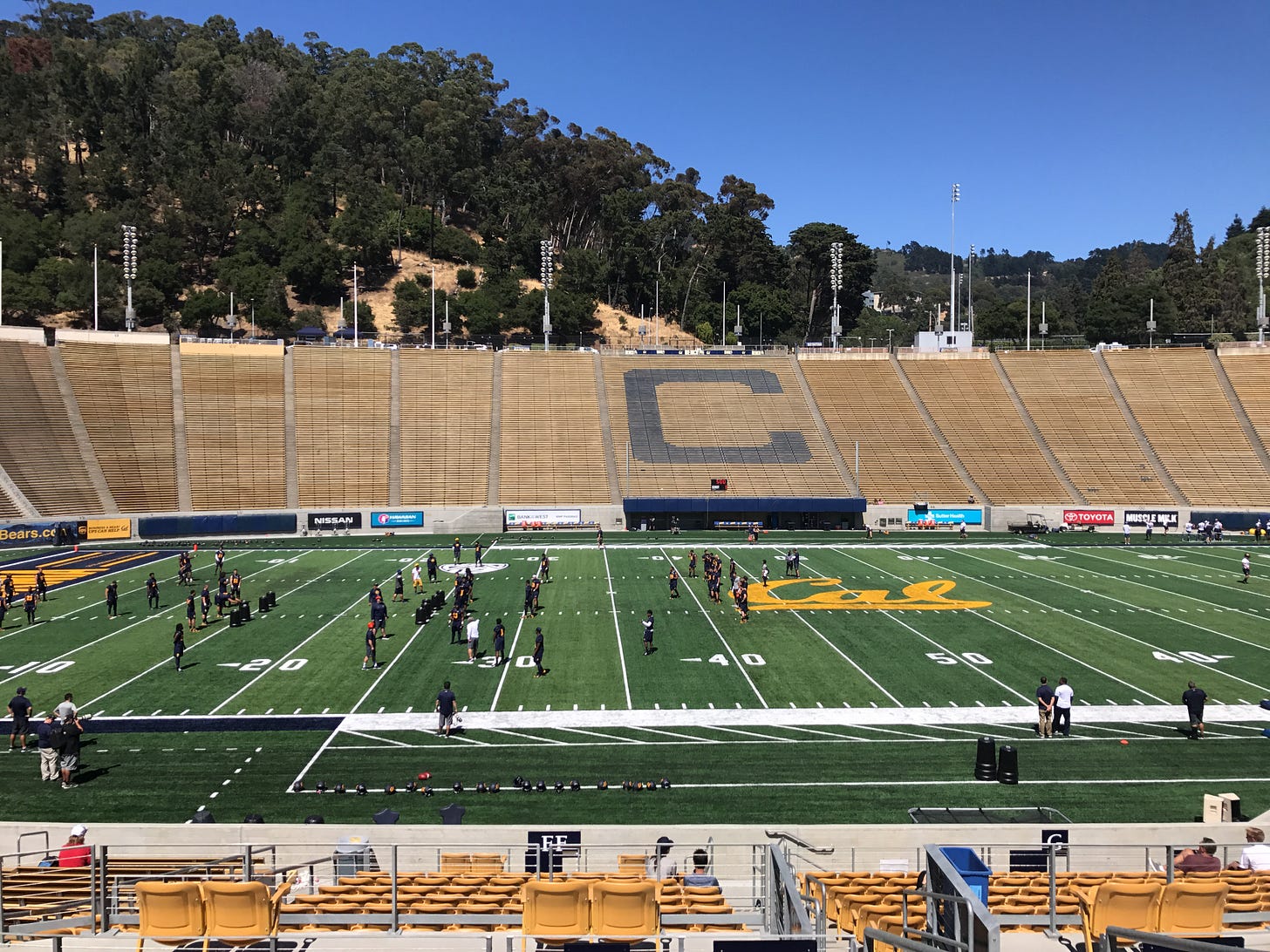 This site seems to be new, but everybody also seems to know each other? What exactly is the history here?
Way back in 2006, a bunch of Cal band alums decided that they were just as capable as anybody else of creating a Cal sports website. It turns out they were totally right! For 13 years, from Blogsome to SBNation to Vox, California Golden Blogs grew into a firmly established part of the Cal fan community. At Write For California, you'll be reading the same group of writers and the same ethos as the former California Golden Blogs. New website, same great taste!
I have issues with my account, who do I talk to?
Please contact support+writeforcalifornia(at)substack.com.
I wish to join the team and write for the site. What is the process?
Send an e-mail to admin(at)writeforcalifornia.com to express your interest! As a volunteer outfit, we're always looking for new contributors. It's a big help if you can include in your e-mail a brief description of what topics you're interested in contributing to the site and a sample of your writing.
Wait, volunteer? You aren't making money off of this?
As of right now, no! Substack does give us the option of paywalling content, and at some point in the distant future we may decide to make some content pay-only. But the point of this effort has never been to make money - this is a passion project of true blue die-hards.
There is an error with an article. Whom do I notify?
Well, most of our readers tend to just point out the error as a comment in the article—and when notified we do our best to fix the error as quickly as possible. But if you're the extra polite type, feel free to contact the writer of the article directly. You can find their contact information on the Authors page.
I wish to report bullying, trolling or abusive posts. Who do I notify?
Please contact admin(at)writeforcalifornia.com immediately with your concern. While we can't promise a response in a specific time frame, we have enough contributors available to typically respond promptly.
I've got a hot rumor/insider tip, you guys want to write an article about it?
We're not capital 'J' journalists and not generally in the fashion of breaking news ourselves. Moreover, we don't always have the resources necessary to verify tips. We also take seriously our ethical responsibility to truth, accuracy, and fairness. While your rumor may in fact be true, we're not generally going to comment until independent verification. Email us at writeforcalifornia(at)gmail.com.
You haven't been writing about [insert particular topic here], what gives?
This is currently an amateur outlet, in the sense that all of us are running this site and creating content in our spare time, between work and school and family obligations. We try hard to be comprehensive in our coverage of Cal athletics, but we inevitably can't write about everything.
However, just because we're hobbyists doesn't mean that we're immune to criticism. We regularly welcome (and often directly solicit) feedback, and you can comment under every article if you disagree with something we wrote. Part of the reason this site exists is to create a space where Cal fans can (respectfully!) argue about Cal sports. Just understand that we tend to be a little bit sensitive if your complaint boils down to 'spend more time creating more content.' Our families miss us.
What's the DBD?
Short for 'Daily Bear Dump,' the DBD is a post that goes up every weekday, and it's the place for readers to talk about . . . well, just about whatever they want. True, the community guidelines still apply, but this is a great place to share an interesting link, plan your next tailgate, or otherwise hang out with your Cal and Cal-adjacent friends.