Discover more from Write For California
A community for California Golden Bears, about the California Golden Bears, made by California Golden Bears.
Over 4,000 subscribers
Throwback Thursday: The greatest sports call since The Play
Looking back on The Game That Saved Cal Baseball
It's the offseason, and sadly the offseason has started sooner and is even more barren than usual. We're kicking off a series in which various writers reminisce about some of their favorite Cal sports memories.
I've been writing about Cal sports for a decade now, primarily about basketball and football. But if you asked me to name the single most exciting Cal sporting event I've covered in my decade on the job, it's not a football or a basketball game, and it's an easy, no-hesitation answer.
The comeback game, within the comeback regional, within the comeback season - all wrapped up in the 2nd greatest Cal broadcasting moment of all time.
And that's what makes me come back to this moment within this season so often. If Cal baseball had done any of these things individually, it would have been enough to create a legendary legacy:
Lose Game 1, then win out to win a regional

Make the College World Series

Make a deep playoff run after nearly being cut as a program

Stage an incredible 9th inning comeback
The 2011 Bears did ALL of that, all in one season, with THIS as dramatic high point:
The game inspired what I still believe is the greatest gamethread in CGB history, and I still get a little bit nervous whenever I decide I want to relive that game by rereading that thread, as if Cal's win isn't a thing that already happened.
The video of KALX's Danny Freisinger's incredible call of Devin Rodriguez's game winning, two-RBI single has 78,868 views. I would estimate that I account for 57,913 of them. Here is a ranking of the greatest things about this video, in reverse order:
Moment #8: Game 7, win or go home.
All throughout the bottom of the ninth, the tension had been mounting. The stakes are so clear, but so huge that they needed to be restated between every batter. The perfect set-up for what was to ensue.
Moment #7: Marcus Semien had just struck out
OK, this is cheating as it's not actually part of the video. But one of the amusing footnotes of this game is that the most successful eventual pro on the team, a player who just finished 3rd in the AL MVP vote, struck out to set up the dream 2 out scenario for Devon Rodriguez. Of course, that's unfair to point out without mentioning that Semien had four hits and was at the heart of every Cal rally prior to the 9th.
Moment #6: Unbelievable! They score four times in the 9th inning, trailing 8-5 . . . what a season for California!
I once listened to an interview with soccer broadcaster Arlo White, where he mentioned that he never uses the word unbelievable to describe something he sees, because it's never actually unbelievable. Too many improbable things happen in sports for something to ever truly be unbelievable.
And yet, the sequence of things that had to happen in order just to get us into a situation where Cal could go from being one strike away from season-ending elimination and to advance to a Super-Regional in one pitch . . . in THIS particular season . . . well, that's as close to unbelievable as sports can get. This was the time to drop the U word.
Moment #5: A . . . . . base hit into right field!
There's this pause between the rising 'A' and 'base hit into right field. You can feel the excitement, but also the uncertainty, as Freisinger saw immediately that Rodriguez hit a line drive but couldn't be sure that it wouldn't run right into a fielder. If I could bottle that feeling of excited anticipation and then elation when the ball hits turf I'd be a billionaire.
Moment #4: CALIFORNIA WINS IT, NINE TO EIGHT! - Obviously memorable because it's the moment that Cal won. But the inflection that Freisinger gets, emphasizing 'Wins' and 'nine' in a higher pitched, near falsetto, get me every time.
Moment #3: This screen shot: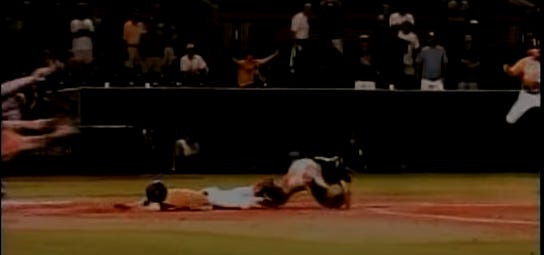 You've got Tony Renda, sliding head first across home plate as the ball gets away from Baylor's catcher. You've got Cal's 3rd base coach, levitating off of this plane of existence. And you've got your very first shot of the Cal bench, who will shortly flood the field to mob both Renda and Rodriguez in a madcap celebration. 1,000 words indeed.
Moment #2: RENDASLIPSHE'SCOMINGHESLIDESHE'SSAFE - Really, an impressive amount of information delivered in something like 1.5 seconds, perfectly capturing all of the moving parts of a play that happens really quickly.
Moment #1: MY VOICE IS GONE I CALLED TWO GAMES YESTERDAY
The line that elevated the moment, because of the obvious comparisons to Joe Starkey and The Play. But I think it's worth replaying the entire video with your eyes closed, and imagine following the game just by ear. For many, Joe Starkey's call of the play is notable not only for what it includes, but for what it doesn't include - the word lateral. Danny Friesinger gives you everything you would want to know, when you want to know it. Count, circumstances, location, names, description - he got it all, while still rising to the moment emotionally.
Now if you'll excuse me, I'll be watching the video on loop for a few hours until they let me back outside again.