Discover more from Write For California
A community for California Golden Bears, about the California Golden Bears, made by California Golden Bears.
Over 4,000 subscribers
Trivia Thursday: Can you name Cal Football's career yardage leaders?
Prove your Cal knowledge!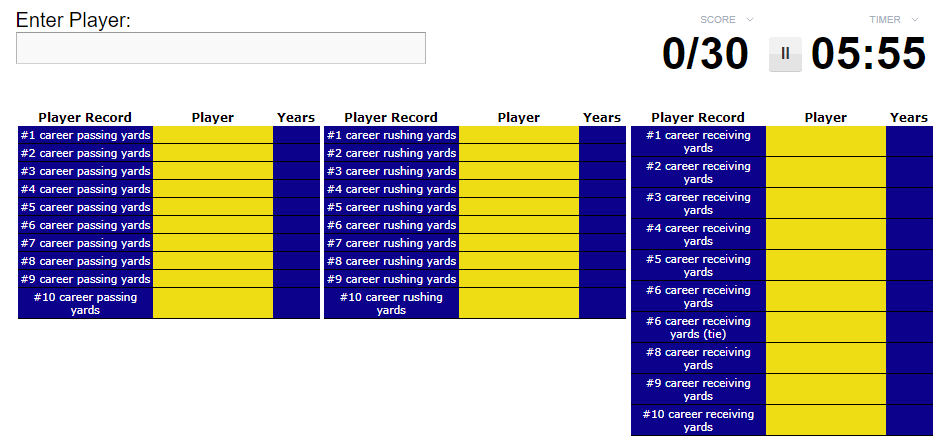 Welcome to Trivia Thursday!
Since there's not going to be any new Cal sports for a while, now's your chance to test your knowledge of Cal sports past.
If you're not familiar with the website Sporcle, it's an online quiz site where you can create quizzes on anything and everything. And I've been creating quizzes about Cal sports. So between now and whenever Cal sports return (or I run out of good quiz ideas, whichever comes first) we'll be debuting a new quiz for you to test yourself with every Thursday.
Notes:
As of right now, we can't embed the quiz on our site, so you'll have to go to Sporcle to take the quiz. But come back here to let us know how well you scored.

My sourcing for the correct answers is generally going to be an official Cal record book or almanac of some kind, but if you think I've gotten something wrong let me know in the comments.

Please let me know about any other technical issues (quiz not accepting correct answers, not enough time, etc.) and I can go back and edit the quiz as necessary.
Today's quiz: Can you name the Cal Football top 10 in both passing, rushing, and receiving yards?
Here's the link to take the quiz for yourself. Good Rodgers!
Note: last names only suffice, though full names work as well. In some select cases nicknames are accepted as well.