Discover more from Write For California
A community for California Golden Bears, about the California Golden Bears, made by California Golden Bears.
Over 4,000 subscribers
Why Write For California?
Being a Cal fan isn't for the faint of heart, but the rewards for those who persist make it more than worth it.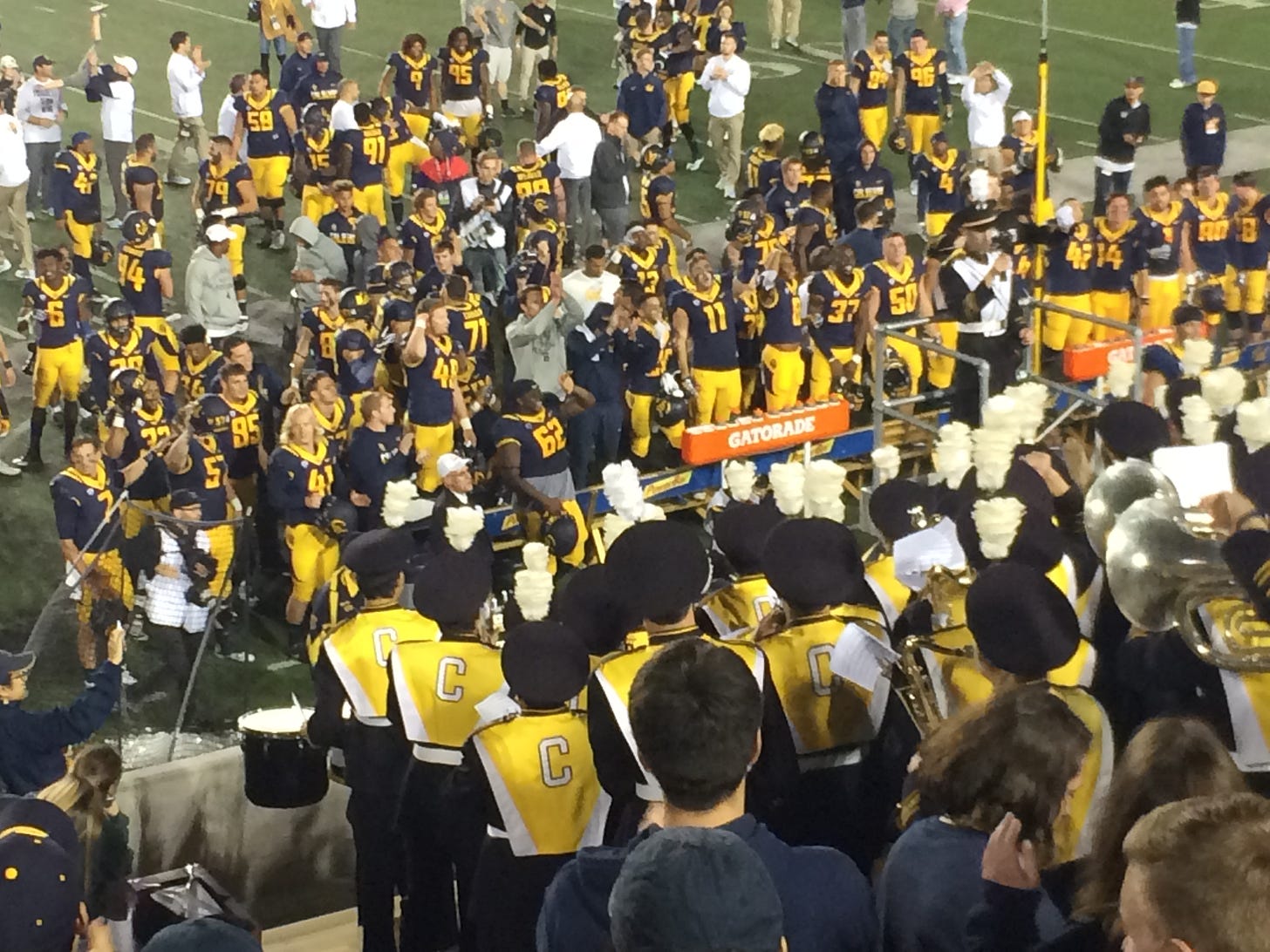 In late September 2003, Cal football was 2-3 and I was a freshman living in Davidson Hall in Unit 2. For reasons that made sense to an 18 year old but seem foreign to me more than 16 years later, I was wildly excited about USC's visit to Memorial Stadium. Never mind that they were #3 in the nation and heavy favorites. I was buzzing all week long, working to convince all of my dorm-mates to come to the game. What followed was a triple overtime thriller that was the coming out party of the greatest era of Cal football seen since the 50s. I will never forget the joy as everybody in the student section joined hands in a silent prayer for what would be the game winning Tyler Frederickson field goal, and the absolute pandemonium that ensued when the kick sailed true.
The 2009 Cal women's basketball team had what was at the time the greatest season in program history, and while a sweet 16 run was wonderful, the moment I'll never forget was when Alexis Gray-Lawson scored 37 of Cal's 57 points in a Herculean effort to beat a Stanford team that cruised to the Final Four. Everything about that game – the record breaking, ~10,000 screaming fans, the tension of a game that stayed close throughout, the brutal battle between dominant posts that canceled each other out, how AGL nailed shot after shot after shot – is seared in my memory.
How many times did I think that team was dead? When Cal's administration announced that baseball was cancelled? When a late season swoon put an NCAA tournament spot in doubt? When the Bears lost their first game in the double elimination regional? When Baylor took a 7-1 lead in the 6th inning of the final game? When Cal still trailed by three entering the bottom of the ninth? All I know is that one week later I got to watch the Bears clinch a College World Series spot 'at home' in Santa Clara. The Bear Will Not Die indeed.
I'm not sure if I'm aware of a Cal athlete who has overcome more in his life than Leon Powe. A childhood in foster care, his home burning down, the early death of his mother, multiple knee surgeries – all of that would have felled most people. Instead Leon Powe developed into a bruising world champion basketball player and community service advocate. I keep a picture of him on my wall at work as a reminder that my problems are tiddlywinks by comparison.
The poster for "Don't Quit: The Joe Roth Story" is also on my wall, and the poster says 'faith, courage, humility' across the top. Important values all. But what I take away from Joe Roth's too-short life is the simple joy of living. Joy in being a good family member, spouse, or friend. Joy in seeing through your commitments and responsibilities. Joy in the mundane.
These are stories worth telling and retelling. Big stories of triumph and tragedy, stories that connect us to a time and a place, to friends and family. Stories that we use to remind ourselves of who we are and what we value, and how we want to live our lives.
But the smaller stories are worth telling too. The unexpected emergence of players like Markhuri Sanders-Frison or Robert Thurman. The unique thrill of a touchdown thrown to Malik McMorris or Vinny Strang. Athletes with unique backgrounds that teach you something new about the world, like Jorge Gutierrez and Layshia Clarendon.
We're still fans, with everything that comes with that term. Irrational, emotional, prone to overreacting to wins and losses over the bigger picture. And ultimately, with a debt to the players who have provided us with so much entertainment
So we write for California til we wobble in our shoes because Cal athletes deserve to have their story told. Hopefully with passion, honesty, and compassion.