Discover more from Write For California
A community for California Golden Bears, about the California Golden Bears, made by California Golden Bears.
Over 4,000 subscribers
Will COVID-19 Exacerbate Inequities in College Football?
Pac-12 football coaches want NCAA to mandate uniform start, but geography may dictate prep time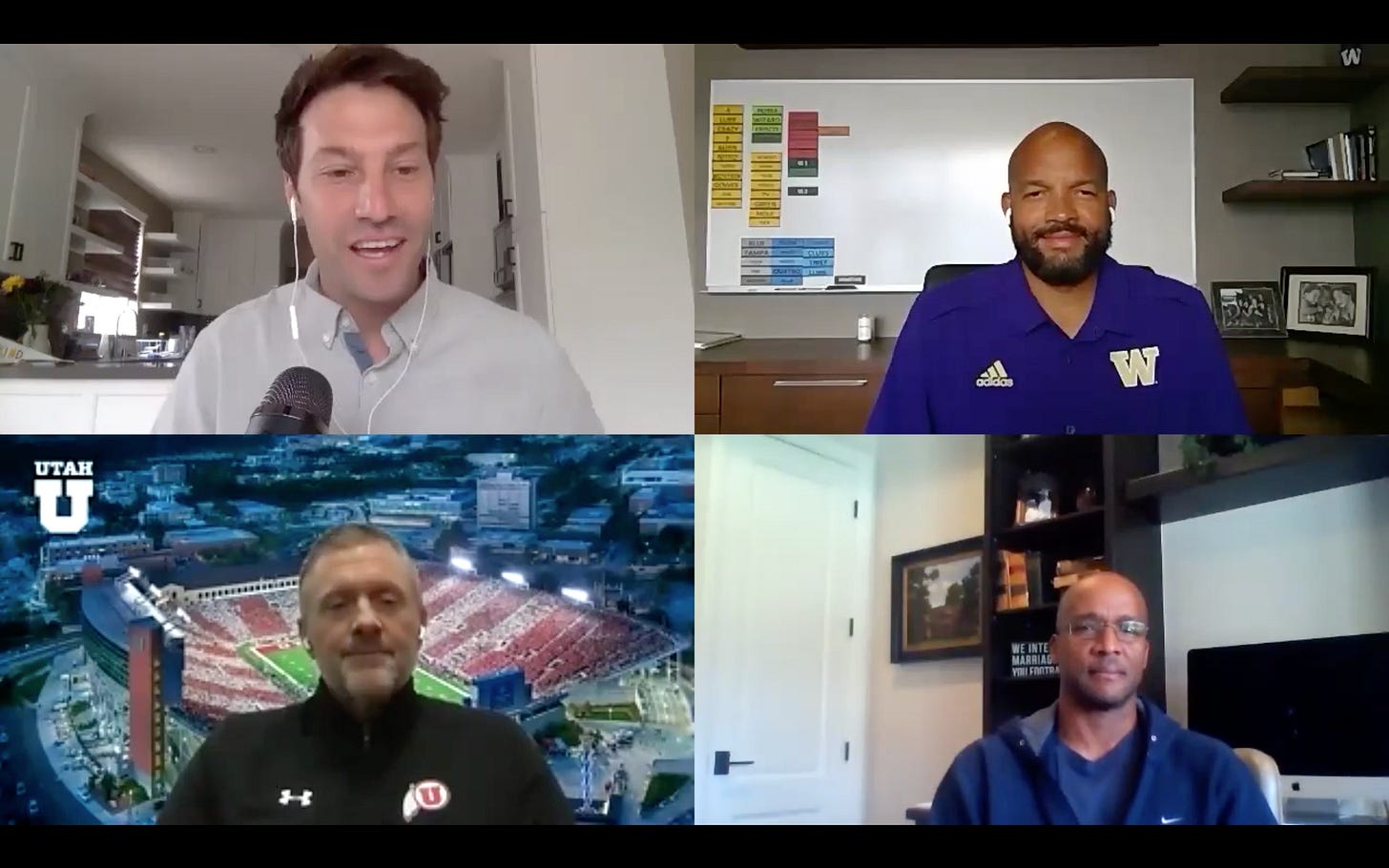 (Pac-12 Football Coaches Webinar, clockwise from right: Washington Head Coach Jimmy Lake, Colorado Head Coach Karl Dorrell, Utah Head Coach Kyle Whittingham, Pac-12 Networks Football Analyst Yogi Roth)
How much prep time your favorite college football team gets this season may depend on little more than geography.
Unwilling to let the ramp-up to their seasons be left to chance, Pac-12 football coaches put on a united front Tuesday. "We've talked as coaches... the sentiment is pretty much six weeks would be a minimum," Utah Head Coach Kyle Whittingham said on a Pac-12 Conference webinar.
Colorado Head Coach Karl Dorrell and Washington Head Coach Jimmy Lake also participated in the webinar and agreed. "It would be great if the whole NCAA made a blanket rule for the whole nation," Coach Lake said of a coordinated nationwide start for the college football season.
For the California Golden Bears, scheduled to start their season against the UNLV Rebels in Las Vegas on Aug. 29, 2020, a six-week training camp requires a mid-July return to campus. However, "it's likely none of our campuses will fully reopen in fall," Claire Doan, a spokeswoman for the University of California system, told The Wall Street Journal Tuesday.
Adding to the uncertainty, construction of Allegiant Stadium, the new home of the NFL's Las Vegas Raiders and the scheduled location of the Golden Bears' season-opener, may be delayed. At least 16 positive cases of coronavirus arose in recent weeks connected to the construction site in Las Vegas, mostly electricians working on the domed stadium's interior.
Still, the Pac-12 coaches' agreed-upon six-week lead-in to the season would be less than half the typical prep time allotted in college football. Ordinarily, a team benefits from as many as 15 training sessions in the spring, culminating in a spring football scrimmage game. In the summer, players return to campus for eight weeks of training, before an additional four weeks of fall camp.
Coach Dorrell, the new head coach of the Colorado Buffaloes and previously the Miami Dolphins wide-receivers coach in the NFL, understandably, wanted more: "I think it's an eight-week process. I'd like to have a month of training and conditioning... and then a month of training camp."
The new Buffaloes coach was hired on Feb. 23, 2020, two weeks before the Covid-19 pandemic canceled spring football practice and other spring sports competitions across the country.
Similarly, Coach Lake, another first-time college football head coach this year, agreed with Coach Dorrell's proposed time frame. "Eight weeks would be great, and anything over that would be... a positive direction."
Both first-year football coaches couldn't hold spring football.
But Lake and Dorrell likely won't get their wish, a fate both head coaches readily admitted. An eight-week lead-in ahead of their Sept. 5, 2020 season-openers would require a return to Seattle or Boulder, Colo., the week of July 6.
And while states across the country are slowly taking steps to reopen their economies this week, a return to normalcy will likely be slow in Seattle, for example. The city and its surrounding King County were an early epicenter of the Covid-19 pandemic in the U.S. and remains affected by the novel coronavirus today. King County has at least 7,137 confirmed coronavirus cases and more than 500 confirmed deaths and has yet to progress into the next phase of reopening.
In contrast, the state of Utah has not issued a stay-at-home mandate, although the governor's executive order placed the state in "moderate risk" preparedness until May 16. The state's decision may prove to be a competitive advantage for the Utah Utes if the upcoming football season should start.
When asked if Utah might be required to start with other Pac-12 schools, particularly alongside universities in states more impacted by Covid-19, Coach Whittingham replied plainly: "I don't believe that players that have the ability and the opportunity to train should [have training] withheld from them."
"There [are] imbalances and inequities all across the board in the NCAA—facilities-wise, recruiting bases—nothing's really equal when you really look at it," Coach Whittingham added. "I would hate to see athletes just sitting around, that you could be training and getting ready for the season, just because other places aren't quite yet to that point."