Discover more from Write For California
A community for California Golden Bears, about the California Golden Bears, made by California Golden Bears.
Over 4,000 subscribers
With no Pac-12 Football in 2020, Write for California will instead be covering a mock season. In place of our standard game previews, we will start our pregame "coverage" with fictitious contrasting best- and worst-case scenarios for each game (inspired by Ye Olde ESPN Pac-12 Blog) had COVID-19 never cursed us. The week will culminate in a video game simulation on Saturday (with commentary by Rob Hwang and Trace Travers) and a game recap by Nick Kranz on Monday.
---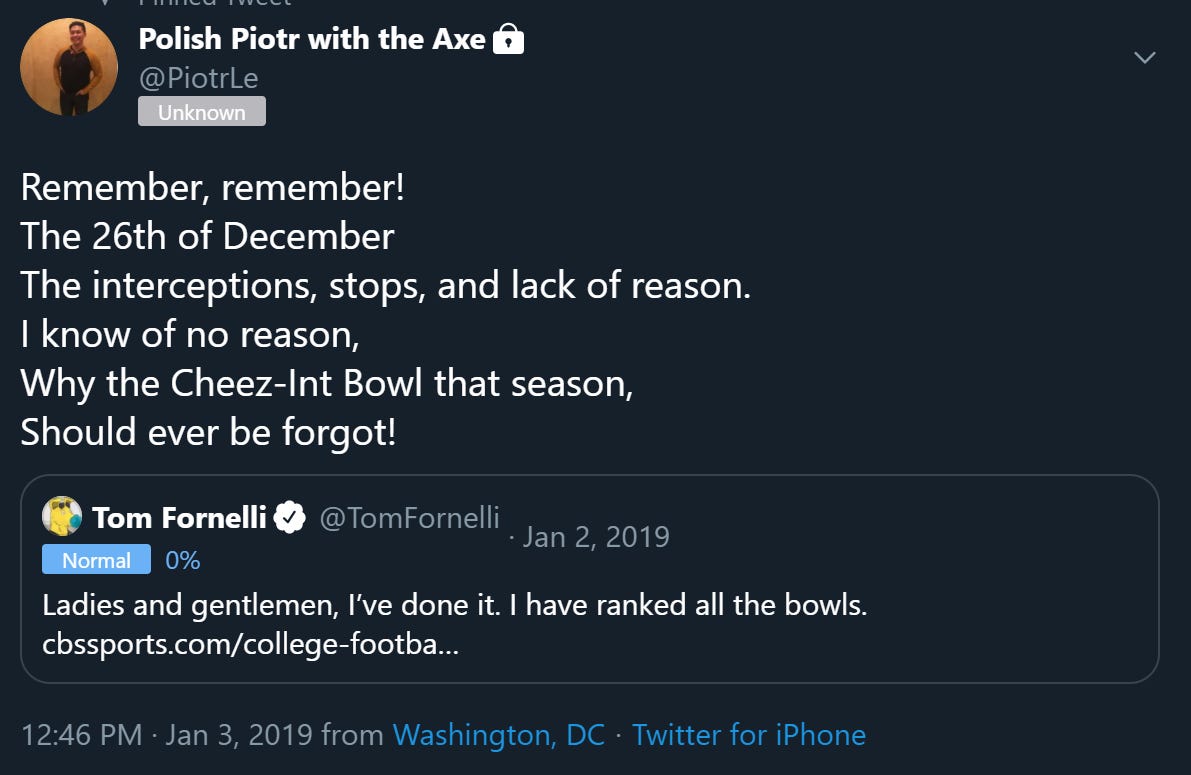 Tom Fornelli considers the 2018 Cheeze-It Bowl the greatest college bowl of 2019, not due to the quality of football, but for the social experience watching this game was at the stadium or online. I happen to agree, it was a memorable catastrophe that was the Cheeze-It dust crusted bow on the 2018 season.
After a narrow win against UNLV the week before after a turnover worthy performance by Garbers and the Cal offense it brings memories of the past. Those memories then fuel another turnover heavy game by the offense with Chris Brown Jr. having to put the team on his back most of the workload again. All that to score one TD and FG.
The defense tried its best, with the secondary shuffled about they are still vulnerable to the deep play-action pass letting TCU score two crucial touchdowns on broken coverage. Despite the literal Herculean effort of the TCU interior OL they still let BRETT JOHNSON wreck house for 4+ sacks but that means nothing as long as the defensive backs continue to be shredded into fine cheese dust on cracker squares.
Special teams continued to be the part of the game where people would go get another pitcher of beer for themselves (to those who do drink Cal football is why the credit card statement gets bigger each fall). In the immortal words of Chernobyl technician Dyatlov: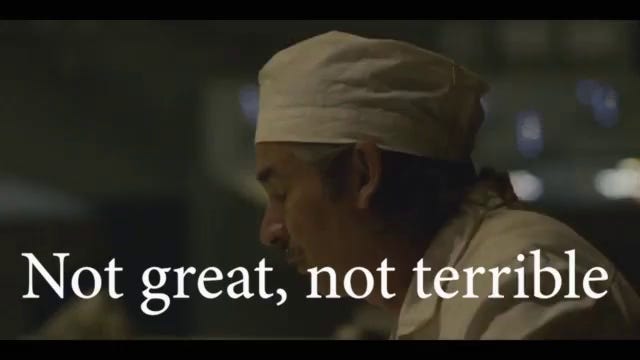 ---
2020 Cal worst-case season
UNLV: W 38-31
TCU: L 10-14
Cal Poly:
Utah:
Washington State:
USC:
Oregon:
Oregon State:
Washington:
Arizona State:
Stanfurd:
UC L.A.:
Win-loss: 1–1
---
This is a completely fictional account of the 2020 California football season had it transpired without COVID-19. All commentary, criticism, etc. of any player, coach, or figure is based on this total hypothetical and is not an analysis or indictment of the actual individual.