Discover more from Write For California
A community for California Golden Bears, about the California Golden Bears, made by California Golden Bears.
Over 4,000 subscribers
A March Retrospective - Looking Back at the Last 60+ Years of Cal Basketball
A crossover post from Section925.com's Connor Buestad.
Editor's note: You can also find this post over at Section925.com
Well somehow we got through March 2020. The 31 gutwrenching days are behind us. We are left with the economy nearly in shambles, our government in disarray, our families getting sick, and our sports stripped from our televisions. We needed the joyful madness of college basketball in the worst way this March. The only thing that could truly ease the pain of a virtual lockdown of the world was a collection of buzzer-beaters and One Shining Moment. But instead, we were forced to trudge through March Sadness 2020 with nothing but heartache and awful statistics from the CDC of what lies ahead. So, in the name of reflection of what once was and what could have been, why not look back at the last 60+ years of Cal basketball and the Bears' triumphs in the month of March?
This might take a while, so let's get some sobering stats out of the way early. Since Pete Newell turned in his whistle in 1960, the California Golden Bears have been to the Big Dance just 14 times. On seven of those trips, Cal came home with a first-round tourney victory and on two of those trips they made a magical run to the Sweet Sixteen. Yes, Cal has made some deep runs in the NIT and even won the whole thing in 1999, but much like the Cheez-It Bowl, we aren't here to discuss that. We are here to relive Cal's true glory days.  
Pete Newell Sets the Bar High
Now before we dive into the highs and lows of Cal's (modern-era) past, we owe it to the Old Blues to at least make mention of World War II Era hoops in Berkeley. When WWII kicked off in 1939, the NCAA had just held their first proper basketball tournament six months prior, pitting the Oregon Ducks against THE Ohio State University Buckeyes. Not surprisingly, the Pac-12 school came out victorious.
During that time, the great Nibs Price was roaming the sidelines for the Bears. Nibs had a lot on his coaching plate to be honest. Not only did he coach Cal basketball for 30 years from 1924 to 1954, but he also coached the Cal football team from 1926 to 1930. Suffice it to say, Nibs was Cal Athletics.  
But in his 30 years guiding the Bears basketball program, only once did he make the NCAA tournament, which resulted in a 52-35 semifinal loss to Oklahoma A&M in 1946. Cleary, we were still multiple decades away from an idea of a three-point line at that point, but we were already in the dunking era of basketball! Yes, a 7-foot white dude named Bob Kurland on Oklahoma A&M "accidently" began dunking in the mid-40's. Dick Vitale would have lost his shit if he were there to see it. Instead, nobody seemed to care. Fundamentals ruled the day in the 40's.
At the end of the 1954 season, Nibs finally gave up the reins of the Cal program to a guy named Pete Newell who ended up doing pretty well for himself. Newell had just finished two four-year stints at USF and Michigan State before he took the Cal job. After his first year going 9-16, Newell quickly made the Bears into a perennial winner. He ended his career at Cal going to the tournament four years in a row and in 1959 he won the whole damn thing, beating Oscar Robertson's Cincinnati Bearcats in the Final Four and Jerry West's West Virginia Mountaineers in the National Title. Ah, Cal athletics in the 1950's. Trips to the Rose Bowl and basketball National Championships. What a time.
Pete Newell and his players pose with the 1959 National Championship Trophy after beating Oscar Robinson and then Jerry West.
Lou Campanelli Brings Cal Back to Relevancy
After back-to-back trips to the Natty, Coach Newell had seen enough and moved on. This lead to the Dark Ages of Cal basketball. No seriously, it was dark. Cal was suddenly average/bad for 25 solid years after Pete Newell. First, it was Rene Herrerias, then Jim Padgett, then Dick Edwards, then finally Dick Kuchen. No matter who the coach was, the 60's, 70's and 80's were a dry time to be a Cal hoops fan. Bone dry.
But then came Sweet Lou Campanelli through the door, yelling at whatever happened to be in his way. In his first year, he won more games in Berkeley (19) than any coach had since Coach Newell. The next year, he got the Bears to 20 wins with Kevin Johnson at the point and by 1990 he had the Bears back in the NCAA Tournament for the first time in (gulp) 30 years! He rode guys like Keith Smith, Brian Hendrick and Roy Fisher to a 22 win season, culminating with a historic first-round victory of Bobby Knight's Indiana Hoosiers. Two years earlier, Knight had won the National Championship at Indiana and in 1990 he had superstar Calbert Cheaney in his backcourt, but it still wasn't enough to hold off the sturdy Golden Bears from winning a 65-63 battle.
That 1990 triumph over peak Bobby Knight would prove to be the high-water mark of Coach Campanelli's career, but controversy and scandal were still on the horizon.
Ah yes, the 1992-1993 Cal Basketball season. With all due respect to Pete Newell's 1959 National Championship run, this has to be the most memorable year in Cal hoops history. You know the story, but it's too good not to touch on it one more time. Campanelli brings on a young, fast-talking, self-assured assistant coach named Todd Bozeman to help him recruit with the big boys of college basketball. It works exactly as planned, as Bozeman manages to convince Lamond Murray, Jason Kidd, Alfred Grigsby, Monty Buckley, and Jerod Haase all to come to UC Berkeley to play basketball, none of which had any clue who Pete Newell was.
We later learn that Bozeman literally took a "by any means necessary" approach to recruiting, but that's neither here nor there for the interest of this story. The fact is, Cal all of a sudden had some true ballers out of the Harmon Gym floor, thanks in large part to Bozeman.
Of course, Kidd caught fire as a freshman and instantly turned Cal basketball into the hottest ticket in town. Fans flocked to Harmon in record numbers to see the show and were subsequently shocked when Coach Campanelli has fired 17 games into the season. Bozeman, just 29-years-old at the time, moved over one seat on the bench and led the Bears on a six-game winning streak to end the regular season and head into the Big Dance.
There, the Bears came from behind to beat LSU in Round 1 of the tournament, setting up a matchup with the vaunted Duke Blue Devils, two-time defending National Champions featuring Grant Hill and Bobby Hurley. Using a 28-point performance from Lamond Murray, a 14 assist effort from Jason Kidd and 13 points off the bench from Jerod Haase, the Bears shocked the world and sent Coach K packing for home much earlier than he was used to. The Sports Illustrated cover shot from that game can only be described using one word: iconic.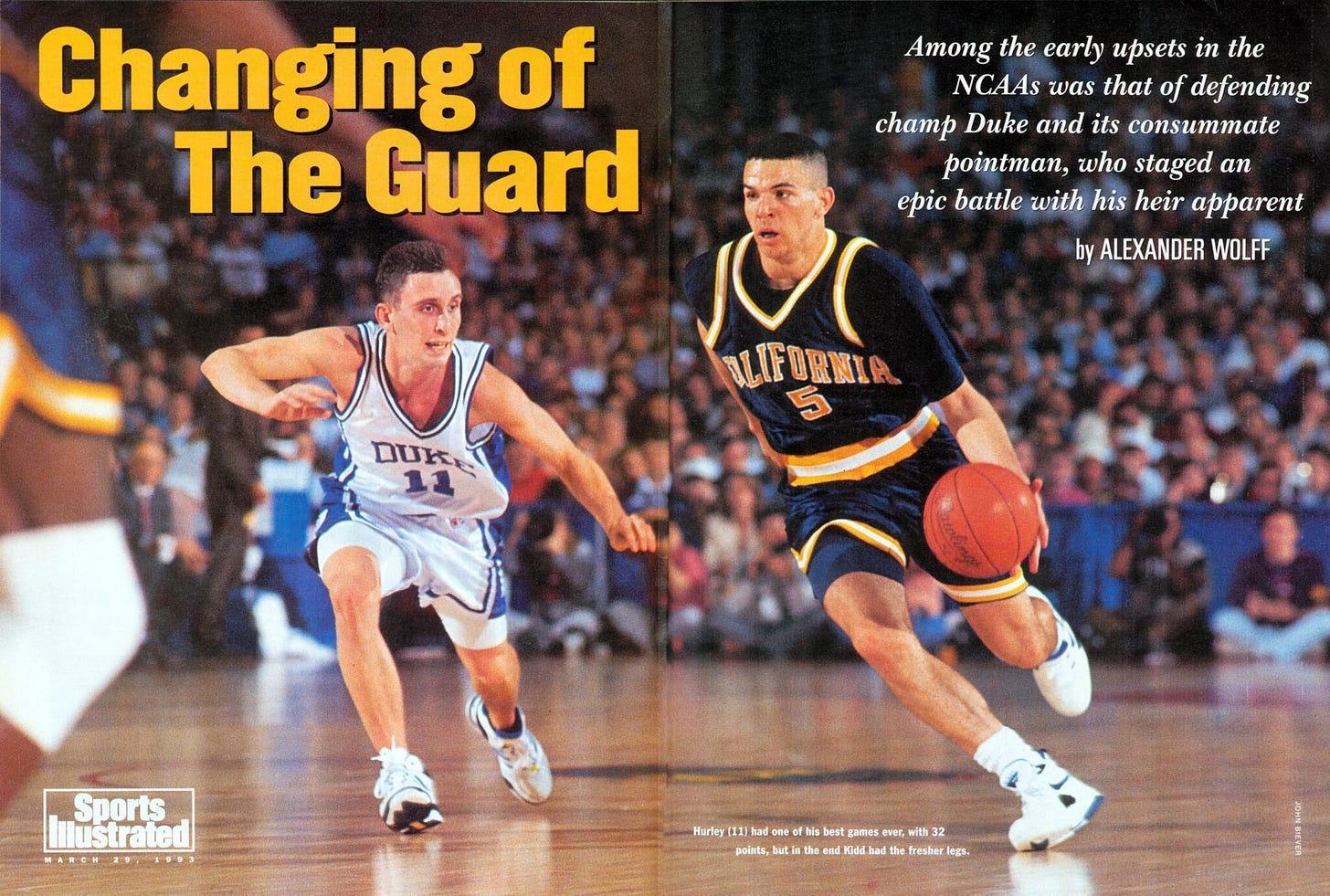 Coach K had no answer for J Kidd.
A Story Too Good to be True?
In the Sweet Sixteen, Bozeman's magic would eventually run out, losing to Rex Walters and the Kansas Jayhawks. But what could go wrong now? Cal's recruiting prospects were suddenly brighter than ever, Bozeman was officially the full-time head coach, and Kidd and Murray were coming back for another year. The stars were finally aligning for Cal basketball.
Not so fast, my friends. In classic Cal fashion, the wheels fell off quickly and dramatically.
The 1994 Cal basketball season started with the Bears ranked #6 in the nation. Let that sink in for a second. The Bears finished the regular season going 22-7 heading into a matchup with the University of Wisconsin-Green Bay. Cal somehow lost by four. Dick Bennett celebrated with his Green Bay underdogs as Bozeman all but ripped off his tie and stormed off the floor in disbelief. It was a sign of upsetting things to come.
With Kidd off to the NBA, the Bears suffered through a losing season in '95, even with the addition of high school All-Americans Jelani Gardner and Tremaine Fowlkes. Unfortunately for Bozeman, it was later revealed that he paid Jelani Gardner a pretty penny to choose Cal over the other college basketball blue bloods.
1996 was Bozeman's last hurrah and it was a fun one, while it lasted. Shareef Abdur-Rahim arrived on the scene and averaged 21 points as a freshman. Ed Gray transferred to Cal from a Junior College in Idaho and put up 16 a game. Randy Duck was raining from three consistently. Tony Gonzalez was throwing his weight around in the paint. Jelani Gardner was still getting PAID. Yes, it was really fun while it lasted. The Bears bowed out early in the tournament that year to Iowa State. Bozeman was canned at the end of the year and the NCAA made Cal vacate their '96 tournament appearance. So maybe just act like you didn't read the paragraph you just read. Moving right along.
Ben Braun Leads Cal into Haas Pavilion
Enter Ben Braun. An opportunistic coach who led the Bears through 12 seasons, including the renovation from Harmon Gym into Haas Pavilion. Braun inherited a scary-good team in his first year in Berkeley and he didn't screw it up. Ed Gray was a senior on a mission, averaging 25 points a game. Sean Marks began showing his NBA potential, as did Michael "Yogi" Stewart. Randy Duck was Randy Duck. Alfred Grigsby and Tony Gonzalez were both upperclassman at this point. The Bears were effing good.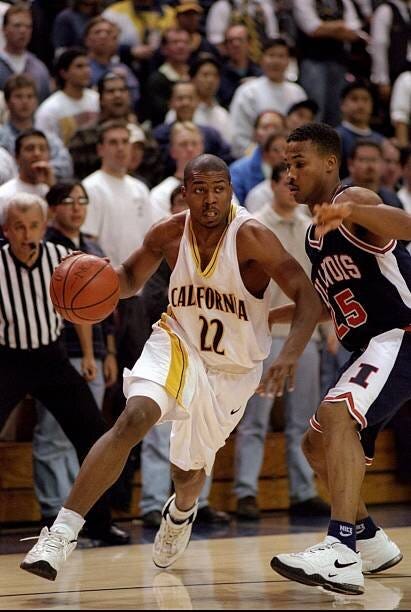 Ed Gray kept Harmon Gym rocking like the old days.
They didn't earn a ranking until finally hitting the Top 25 in late February, but Braun had his boys playing with a chip on their shoulder. The result was Cal's second trip to the Sweet 16 in the 90's, as they outlasted the Princeton offense and beat Villanova as well, to set up a battle with juggernaut North Carolina in the Carrier Dome. UNC would win that game and make it all the way to the national title with names like Vince Carter, Antawn Jamison, Shammond Williams, Serge Zwikker and Ed Cota on their roster. Without diving into the game tape too deeply, it's safe to say Ben Braun had no chance versus Dean Smith on this night. A great run it was, regardless.
A year later, the cupboard was bare for Coach Braun. Almost everyone from the Sweet 16 team was gone. Sean Lampley was just a freshman and Geno Carlisle wasn't exactly Ed Gray. Cal basketball was back to normalcy again. Bruan would have to wait until Lampley was a senior until the Bears would be back in the Dance.
Now in the newly renovated digs of Haas Pavilion, Braun led the Bears to three straight tournament appearances from '01 to '03. In 2002 and 2003, Braun used a clutch core of Joe Shipp, Amit Tamir and Brian Wethers to record first-round tourney victories over the Penn Quakers and NC State Wolfpack. It wasn't Duke or Villanova, but it was something.
Much like Bozeman, but without the scandal, Braun finally woke up to the fact that he had a wealth of basketball talent in his backyard and started to tap into it. This led him to his last tournament appearance as the Cal coach 2006. Leon Powe, Ayinde Ubaka, DeVon Hardin and Theo Robertson were all born and bred in the Bay Area. Braun didn't let them slip away and brought them to Cal. This decision paid major dividends as the Bears kept their head above water in an ultra-competitive Pac-10. Almost everyone was good in the league at that time and Braun's Bears were one of the best.
Monty Comes Back to College; Cuonzo Brings More Controversy
Despite Braun's three trips to the tourney and one trip to the Sweet 16, by 2008 his career in Berkeley had run its course. Mike Montgomery was waiting in the wings and although he was a mess coaching the Warriors, we all knew he could get a Pac-12 school to win from his days on The Farm. Much like Braun, Monty inherited a talented team in his first season in 2009. Jerome Randle and Patrick Christopher were juniors now and ready to run. Jorge Gutierrez was a freshman. All the pieces were there and the Bears went dancing. A year later, they went again with the same core group, this time beating Louisville in the first round. Randle played all 40 minutes that night and led the game in scoring along with Theo Robertson.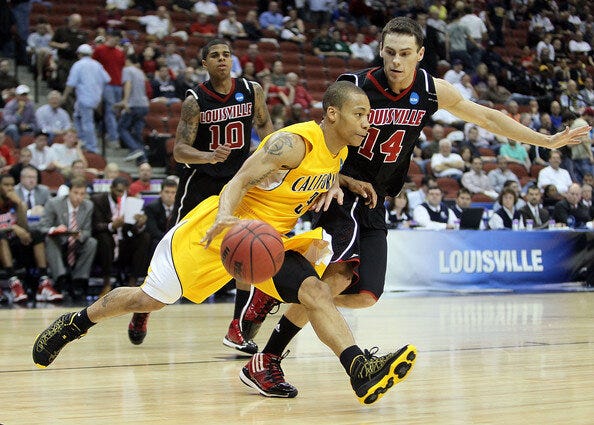 Jerome Randle electrified Cal fans with his ball-handling wizardry.
After a year watching the tournament from home, the Bears reloaded with Allen Crabbe and Justin Cobbs to give Montgomery two more well deserved years in the tournament. In 2013 the Bears survived and advanced by beating UNLV in Round 1. Syracuse was too much in Round 2. Montgomery was gone a year later.
Cal's last appearance in March Madness came to us via Cuonzo Martin, bringing us back full circle to a general theme of hope, controversy, and heartache in Berkeley. Martin arrived on campus as a fresh, young, talented coach who had just come off a Sweet 16 run coaching at the University of Tennessee. Much like the Cal coaches before him, Martin inherited a very talented roster that included future NBA guards Tyrone Wallace and Jabari Bird, not to mention Jordan Mathews who would later lead Gonzaga to the National Championship Game. Also true to the Berkeley way, Martin hired a controversial assistant coach to help him acquire the best recruits in the nation in Yanni Hufnagel. Unlike Bozeman, Hufnagel never found himself coaching against Coach K in the Sweet 16, but he did find himself embroiled in a sexual harassment case that threatened the integrity of the athletic program. The more things change…
Hufnagel's recruiting work brought local blue-chip Ivan Rabb in from Bishop O'Dowd as well as Jaylen Brown all the way from Marietta, Georgia. Both of which wound up in the NBA after their time at Cal.
The high point of Rabb and Brown's collegiate career figured to come in 2016 when they put together a 23-10 season heading into the tournament, then everything unraveled in an instant. The Hufnagel scandal broke the week of their first-round game against Hawaii, Tyrone Wallace broke his hand in practice, and Jaylen Brown basically forgot to show up to the game, scoring just 4 points.
The bad taste of that loss to Hawaii still lingers for Cal fans four years later as we watch Jaylen Brown tear up the NBA night after night and Cuonzo Martin count his money in Missouri as a 10th place team in the SEC. The bitter taste wasn't helped by Wyking Jones who produced back-to-back eight-win seasons in Berkeley before mercifully being let go to again pursue his career in show business.
Ironically the last taste Bear fans had of Cal basketball this season was a sweet victory over Stanford in an empty arena in Las Vegas earlier this March. As we sit in self-quarantine still licking our wounds from the unprecedented cancellation of March Madness, perhaps we can somehow imagine that Mark Fox would have somehow shocked the world and caught enough lightning in a bottle to send Cal through the Pac-12 tournament field and into the Big Dance for the 15th time since the Pete Newell Era. Likely? Of course not. A blowout loss to #2 seed UCLA was more likely. But at this point, 40-minutes of live basketball in the month of March would do wonders for the soul. It doesn't necessarily have to be Jason Kidd beating Duke.  Anything would do, really.