Discover more from Write For California
A community for California Golden Bears, about the California Golden Bears, made by California Golden Bears.
Over 4,000 subscribers
Cal Football 2020 Positional Preview: The Quarterbacks
While Garbers has accomplished a lot in his first two years, the best (knock on wood) is yet to come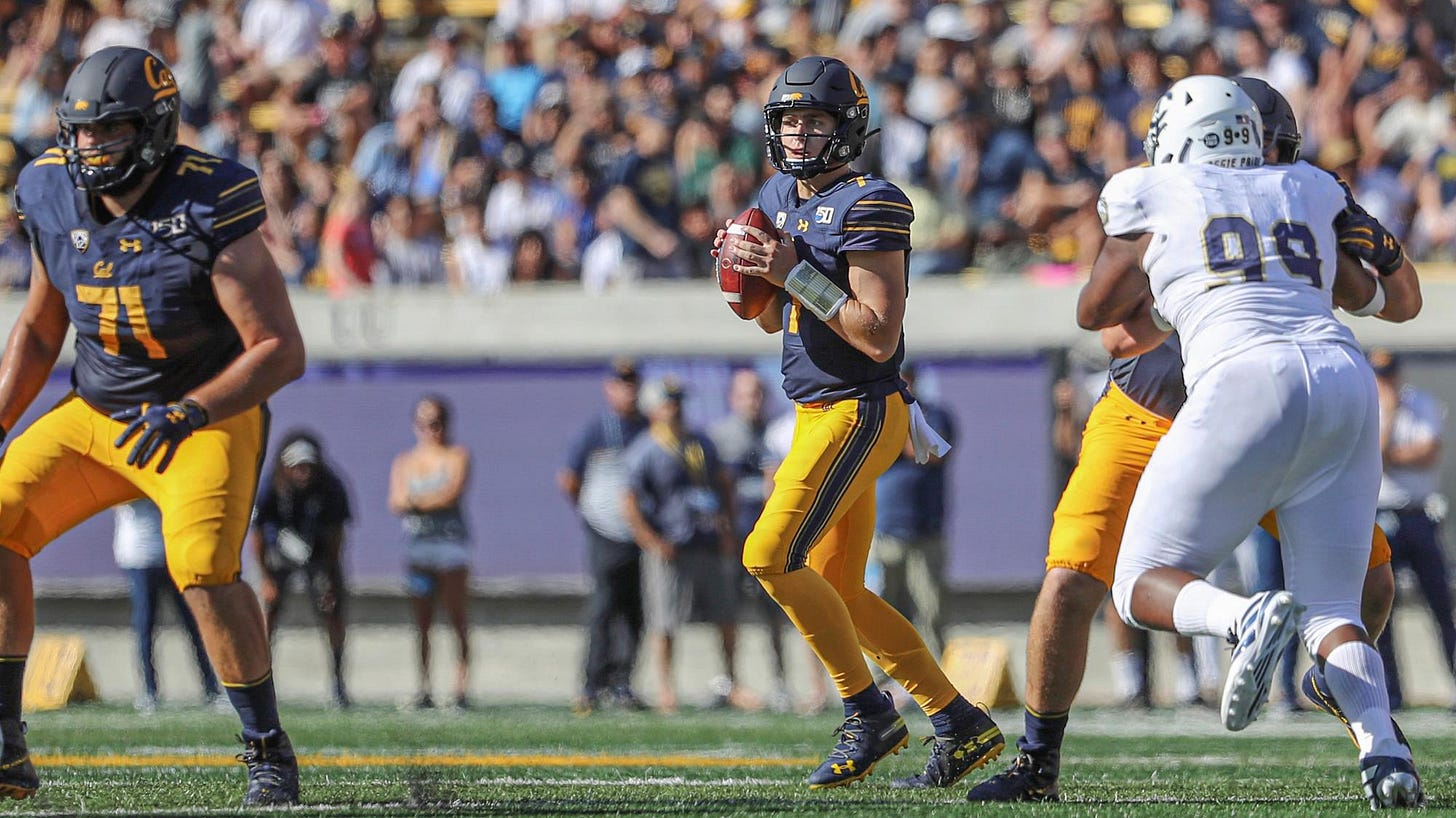 Photo Credit: calbears.com
For the first time in the Wilcox era, the Bears enter the season with quarterback as a strength as opposed to a question mark. There's an established starter, a veteran backup, and a handful of promising young guns who will eventually compete for the starting job. As we saw Thursday night with Clemson QB Trevor Lawrence and earlier this week with Wisconsin's quarterback room, COVID-19 brings the possibility that any one of these guys could see the field this year.
Quarterback during the Wilcox era has been... eventful. Ross Bowers started every game in 2017 and generally played well enough to keep his starting job, though relinquished it one quarter into the 2018 season and was never seen again. Garbers and McIlwain played musical chairs in 2018 until McIlwain's penchant for costly turnovers solidified Garbers' spot as the starter. That season, Garbers' role was essentially to manage the game well enough to let the defense win, and from my perspective it looked like it held him back from taking the adequate amount of risk to move the ball down the field. Garbers was the presumed starter in 2019, though the conservative "don't turn the ball over" style of play lingered through the first 3 games.
Then, the Ole Miss game happened. It was statistically his best game as a Bear, throwing for 350 yards and 4 touchdowns. More importantly, he looked confident. He was reading the defense, going through his progressions, throwing into tight windows, and creating plays when seemingly nothing was there. Of course, he got hurt the next game and the team struggled without him, but returned in time to become a Big Game legend and lead Cal to a bowl game victory over Illinois.
The question coming into 2019 was if Garbers could be an elite college quarterback capable of leading Cal to contending for the Pac-12 title. The answer was yes. Is Garbers an NFL quarterback? While probably unfair to draw any conclusions from a shortened season, that's really what the question coming into the 2020 season is.
Cal has a very solid quarterback room. Hopefully, Chase can protect himself and remain healthy, but it's important that the backups remain prepared as has been the case in his first two seasons. And as mentioned above, with COVID anything is possible.
With that brief recap, let's now go over the respective roles in the quarterback room.
The Starter: Chase Garbers (#7; 6'2; 225; Newport Beach, CA; RS Junior)
The first couple things that come to mind when I think of Chase Garbers: winner and natural playmaker. He's gotten a reputation for finding a way to win big games: 2 upset wins over UW (including the 2018 Husky team that won the Pac-12 and went to the Rose Bowl), beating USC for the first time since 2003 on the road in the Coliseum, and beating Stanford for the first time in a decade at The Farm. They were also 7-0 in 2019 when he played more than a half. He just has that "it" factor that I truly believe only 2 other Cal quarterbacks have had since 2000 - Aaron Rodgers and Jared Goff. While there have been some other good quarterbacks in that timeframe, the game seems to come more naturally to him than it does to others.
Of course, he still has a lot to prove. While he did turn a corner and take a major step in 2019, his sample size of excellent games is still relatively small. Additionally, he has to adjust to a pro-style offense led by Bill Musgrave. Garbers has been at his best when he can let his instincts take over, and hopefully the new system combined with a disruptive off-season won't get in the way of that.
Looking at his film post Ole Miss, there aren't any glaring flaws in his game. He's a pass first quarterback who has the ability to make plays with his legs. NFL scouts will probably be looking to verify he has the arm strength to make every throw at the pro-level, as well as evaluate his pocket presence, and further prove his ability to read defenses and go through progressions.
In short, it's unfortunate that we are only playing half a season, because really the only thing Garbers has to prove is that he can string 12 games together playing fully healthy and consistently. But if he can lead Cal to a Pac-12 championship, that should be plenty.
If you're a football nerd, the breakdown below of Chase Garbers' evolution while at Cal is a must watch, with analysis by former Cal great Mike Pawlawski.
The Veteran Backup: Devon Modster (#6; 6'2; 225; Mission Viejo, CA; RS Senior)
Modster, the UCLA transfer who is known in Westwood for actually beating Cal while he was there, took over for Garbers last year once he got hurt. As a starter, he went 1-2, with the low point being a homecoming loss to Oregon State before putting together a solid performance against Washington State.
As far as backups go, Modster is a pretty good one to have. While he did struggle in the losses to Oregon and Oregon State, I would be inclined to place more of the blame on Beau Baldwin, who despite being a very good FCS coach never got his groove as a FBS offensive coordinator.
Similar to Garbers, he's a pass first quarterback with the ability to create plays with his legs. If Garbers should go down again, don't expect the style of play to change dramatically.
The Young Guns:
Spencer Brasch (#13; 6'4; 200; Gilbert, AZ; RS Freshman)
Even though he's a redshirt, we did get to see him in action last year, ultimately starting a game on the road at Utah. Though he went 7-19 for 47 yards and lost 35-0, as a Cal fan, you have to give him a mulligan. There isn't much to glean from that game as he was put in an incredibly tough position. A true freshman, on the road, against a very good Utah team, with a Cal team that seemingly wasn't interested in being there that night. What we do know, is that Brasch is a much more traditional pocket passer with a strong arm. His high school highlights do show him running the ball a decent amount, but it doesn't seem to be the case that he will be able to run the ball with the same success at the college level.
Jaden Casey (#18; 6'1; 190; Calabasas, CA; Freshman)
While we likely won't see him in 2020, I'm excited for when we get to see Casey play. Simply put, he's a baller. Watching his high school tape, he looks more like a point guard (which is also how Wilcox describes him), distributing the ball and making plays himself when necessary. There are several throws he makes where you wonder how he pulled it off. It's pretty apparent he has a high ceiling, and someone Cal fans should be excited about when it's his turn to compete for the job. Though it isn't as much of an advantage this year, for what it's worth he was a mid-year enrollee.
Zach Johnson (#19; 6'1; 190; Valencia, CA; Freshman)
Though less highly recruited than both Brasch and Casey, he also has the potential to be a future starter for Cal. Especially with Bill Musgrave's west-coast offense, his strengths could favor this style. Wilcox refers to him an accurate passer with a quick release, with an ability to throw both from in and out of the pocket. All these characteristics are typically what are looked for in a west coast offense, where you need to get the ball out quickly and the passing game is essentially an extension of the running game.
Final Analysis:
In the Pac-12, and in the North division in particular, Cal's quarterback situation is an asset. The Oregon and Washington schools are all breaking in new starters, and with the wacky offseason and 6 game regular season, the experience will provide a huge advantage. The variables are implementing a new offense, Garbers' health, and COVID. If things go well, expect for Garbers to enter 2021 looking to work his way into an early round draft pick. Beyond that, there are multiple quarterbacks competing for the starting job that are fully capable of being at the top-tier of the Pac-12.