Cal Begins Men's Basketball Season Against Arizona State and UCLA
All Cal games will be televised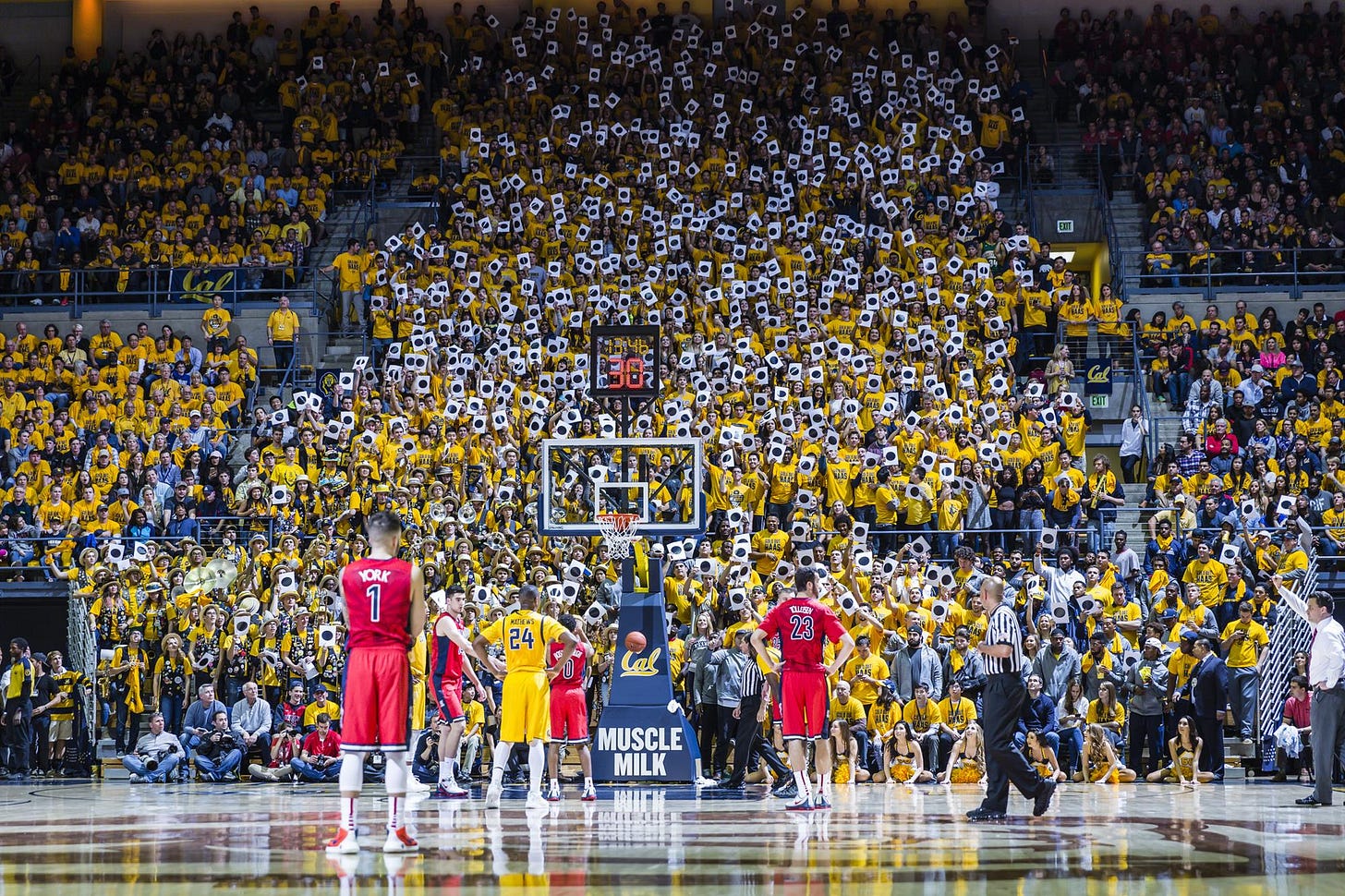 Haas Pavilion in Berkeley, Calif. (Photo Courtesy: Cal Athletics)
It's official: The California Golden Bears start the men's basketball 2020-2021 season at home against the Arizona State Sun Devils on Dec. 3 and a weekend trip to Pauley Pavilion to face off against the UCLA Bruins on Dec. 6.
The Golden Bears will then continue league play the week of Dec. 30 against the Oregon Ducks and Oregon State Beavers.
California ends its regular season against the Stanford Cardinal at Maples Pavilion on March 6 or 7.
The Golden Bears' full schedule (home games in bold) as announced by the Pac-12 Conference Thursday is as follows:
Dec. 3: Arizona State at California

Dec. 6: California at UCLA

Week of Dec. 30 to Jan. 3: California at Oregon and Oregon State

Week of Jan. 6 to 10: Washington and Washington State at California

Week of Jan. 13 to 17: California at Colorado and Utah

Week of Jan. 20 to 24: UCLA and USC at California

Week of Jan. 27 to 31: California at Arizona and Arizona State

Week of Feb. 3 to 7: Stanford at California

Week of Feb. 10 to 14: Colorado and Utah at California

Week of Feb. 17 to 21: California at Washington and Washington State

Week of Feb. 24 to 28: Oregon and Oregon State at California

March 6 or 7: California at Stanford

The post-season 2021 Pac-12 Men's Basketball Tournament will be held in Las Vegas at the T-Mobile Arena from March 10 to 13.
No fans will be in attendance at Haas Pavilion or Pauley Pavilion in December. The Pac-12 Conference, when it announced it was no longer postponing basketball and other winter sports' seasons, said it would consider public attendance no earlier than January 2021.
The league, earlier this month, clarified parents of players can attend but only if local or state public health rules allow. Currently, the state of California has only allowed limited attendance of sporting events, permitting professional sports attendance and only in counties with "controlled" or low Covid-19 infection rates.
The Pac-12 Conference announced its full schedule Thursday, focusing on confirming home and away game assignments.
The conference has not yet announced the exact dates and tip-off times as it is still finalizing the programming with its television broadcast partners. All 120 conference games will be televised by the Pac-12 Network, ESPN, ESPN 2, ESPN U, FOX, FOX Sports 1 or CBS.
The 2020-2021 season is head coach Mark Fox's second year leading the Golden Bears. Preseason "power" rankings by media outlets in the off-season believe California will finish in the bottom half of the conference at 10th (CBS Sports and Sports Illustrated) or second to last (Fansided).
Earlier this week, the Golden Bears faced a setback in beginning the upcoming season. Cal Athletics announced a basketball player tested positive following a regularly scheduled Covid-19 test, which paused team workouts for up to two weeks as a safety precaution.
"The health and well-being of student-athletes, coaches and staff continues to be Cal Athletics' top priority. The department is following recommendations from University Health Services Infection Control and Berkeley Public Health on contact tracing, quarantining, symptom monitoring and treatment," the university said in a prepared statement Tuesday.
The Golden Bear who tested positive is asymptomatic.