Cal remains committed to Olympic sports despite revenue setback
University will make 'human resources' decisions soon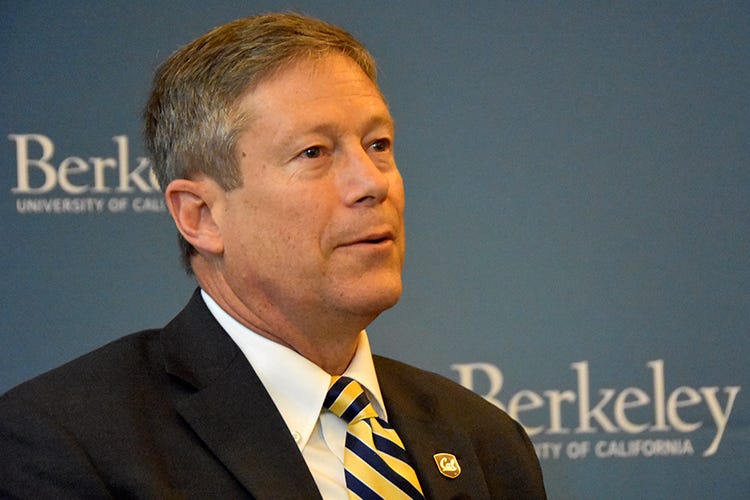 California Athletics Director Jim Knowlton speaks at the University of California, Berkeley campus. (Photo Courtesy: Berkeley News)
The pride of California will live another day under athletic director Jim Knowlton's watch.
California remains committed to its storied Olympic sports program, Knowlton said in a press conference Tuesday. Knowlton told reporters: "We're going to continue to support 800 student-athletes in 30 sports."
The remarks come after the Pac-12 Conference announced the postponement of all sports competitions through the end of 2020, including football and basketball. During the press conference, Knowlton said the canceled play will result in a $50 million shortfall in revenue for California.
Despite the significant revenue setback, Knowlton remained unequivocal: "Cutting sports would be an absolute last resort." He added that he and university chancellor Carol Christ have "been in alignment" and already have a plan in place to "continue to meet our budget" this year.
Unfortunately for athletics staff, the budget plans include likely furloughs or layoffs and may also require salary reductions.
"There certainly will be some personnel actions that we're going to have to take," Knowlton said. "We don't know how severe they will have to be, but we've modeled multiple ways that we can reduce our expenses, and there will certainly be some human resource decisions that we'll make."
Across the country, public state schools and even wealthy private universities eliminated or demoted to club status equestrian, fencing, golf, squash, swimming and diving, tennis and other programs this summer.
The affected sports, sometimes called "non-revenue" sports, are more niche and don't draw the large crowds or rich multimedia broadcast and sponsorship deals of men's basketball and football. Similarly, because of their often significantly lower profiles, the programs must rely heavily on revenue or profits earned from men's basketball or football or private contributions from alumni and other private donors.
Last month, in response to the coronavirus pandemic, the Stanford Cardinal discontinued 11 of its 36 varsity sports programs: men's and women's fencing, field hockey, lightweight rowing, men's rowing, co-ed and women's sailing, squash, synchronized swimming, men's volleyball and wrestling. The university said it would require more than $200 million to maintain these 11 Olympic sports at a nationally competitive varsity level, and it would still have an operating deficit after the cuts.
According to Knowlton, it takes three to four years to realize any savings from cutting a sports program because the coaches' salaries and students' scholarships must still be paid out.
"You hate to… make long-term decisions for a short term or relatively short-term problem," Knowlton explained, referring to the decision to permanently cut sports programs in response to the current pandemic.