Discover more from Write For California
A community for California Golden Bears, about the California Golden Bears, made by California Golden Bears.
Over 4,000 subscribers
Monday Grab Bag: Well, at least recruiting is going great
Grabbing onto little pieces of good news like crumbs of bread during a famine
If you (presumably a Cal fan) are at all like me, there are two dueling thoughts running through your head.
On one hand, things are going great for Cal football. Earlier this year Cal wrapped up what was probably the best post-Tedford recruiting class ever. Cal's coaching staff have followed up that exciting 2020 class with a 2021 class that might potentially blow the 2020 class out of the water.
(As always, all numbers below are from the 247 composite rankings)
Consider: From 2013 to 2020 (i.e., eight recruiting classes) Cal brought in 14 consensus 4/5 star athletes. Slightly less than two per class. And to illustrate how important high end talent is, those 14 guys included critical players like Jared Goff, Chase Garbers, Jaylinn Hawkins, Nikko Remigio, Demitris Robertson, and Kuony Deng. The hit rate on high talent guys (presuming you can keep them on the roster!) is always solid.
On 247, those classes has an average recruit ranking of anywhere between 83.5 and 85.4 . . . which is an arbitrary scout-created number but would typically put Cal 7th or 8th in the Pac-12 and in the 40s and 50s nationally. Good enough to keep you in bowl contention (Cal hasn't won fewer than 5 games in 6 years) but not good enough to compete for a conference title.
Well, so far the class of 2021 is something entirely different. FIVE consensus 4/5 star recruits, a solid collection of high 3 star guys with a bevy of P5 offers, and an average recruit ranking (88.5) that is currently 18th in the country!
To give you a sense of how massively different this is from recent Cal recruiting - if Wilcox and company were to maintain this average through to signing day with a full class, Cal would likely pull in a recruiting class that, last year, would have basically tied Washington for 2nd best class in the conference and would have ranked somewhere in the high teens nationally. It's a level of recruiting nearly on par with the best classes Jeff Tedford brought in.
This is the part of every recruiting article where you have to point out that these are early days, and that Cal has only received 9 commitments, which is maybe 30% of a typical recruiting class, and that players can decommit etc. etc. But it's also true that Cal is involved with way more 4/5 star guys than any prior recruiting cycle. None of this feels like a fluke. Justin Wilcox and his staff have multiple years at Cal under their belt, and they have a pitch to recruits backed up by on-field evidence, and that pitch has high end high school talent paying attention.
Of course, there's that second thought running through your head: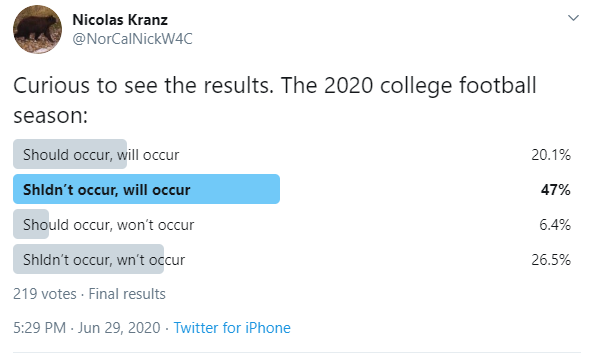 Of course, a twitter poll isn't scientific, except when the voters are the handsome, intelligent people who follow my feed. Still, even knowing that the 219 voters are Very Online Cal Fans, I think it's interesting and means something that 73% think a college football season shouldn't happen.
(And unsurprising that the winner of the poll are the cynical 47% who think the NCAA and conferences will proceed with a season despite conditions that should prompt cancellation or delay!)
It's no coincidence that Cal fans desperate to see a 2020 season filled with more optimism than any season in at least a decade also think maybe playing isn't a very good idea. And it's no coincidence that college football power brokers are evidently very seriously considering a spring football season.
Leland talked about some of the options on the table last Thursday. Stewart Mandel argued for a spring semester season at The Athletic the same day:
There's no guarantee we'll have this thing more under control in January than in August, but there's at least a possibility we'll have access to a vaccine by then. Maybe we'll have better treatments, too. If nothing else, hopefully the current scare will finally induce enough collective caution and mask-wearing to get the U.S. further down the curve to where all of Europe and Asia are now.

And most pertinent to this column, universities will have a semester's worth of experience managing the virus on a fully-opened campus. Maybe they'll be well past the expected-disaster stage by that point. Or, maybe the students will have long since been sent home.
Meanwhile, the New York Post talked to some important people and found interest in a spring season growing:
"What's most sensible is the spring," one Power Five athletic director said, speaking on condition of anonymity. "I understand the desire to have it in the fall, and there are challenges if you move all of your fall sports into the spring with all of your spring sports. But the argument here is: We will learn from the NFL experience. To put big-time college football in the spring, in likely an abbreviated season — maybe it's only a conference format, eight- or nine-game season — we are going to have learned much more about the virus."
Our old friend Sandy Barbour was quoted calling a spring season a 'last resort,' which . . . that kinda feels like where we are right now. We have reached last resort territory in this country.
If you'll excuse me, I'm going to close all of these news articles and go back to scrolling through all the different recruiting sites. We all need our happy places these days.