Pac-12 basketball tournament preview: Let's ruin Stanford (and UCLA's) season
With Stanford and UCLA right on the bubble, the chance for mischief is high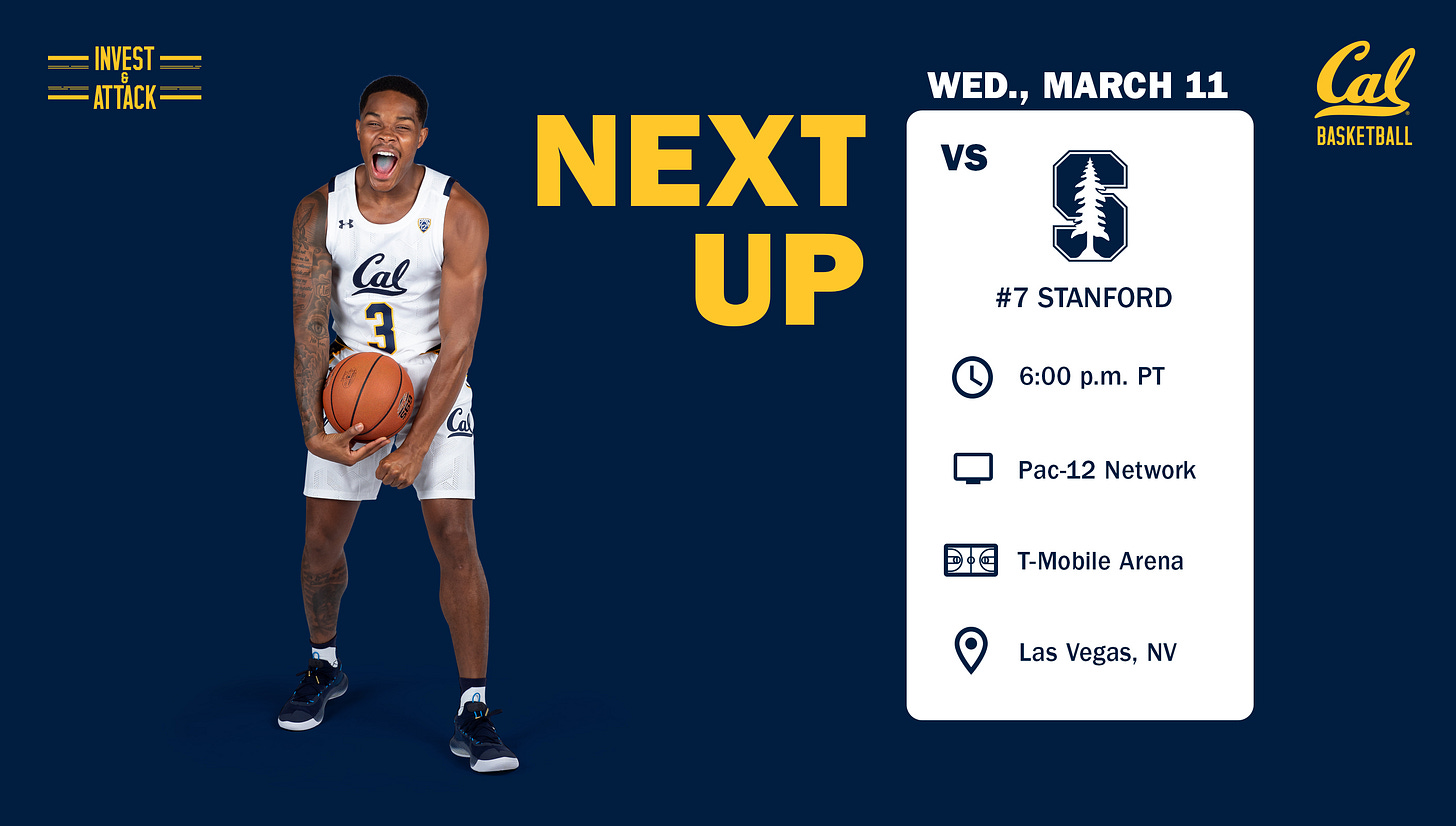 When: Cal vs. Stanford, Wednesday night at 6:00pm PT, Pac-12 Network
When (hopefully!): Cal vs. UCLA, Thursday night at 6:00 pm PT, Pac-12 Network
As has become all too familiar over the last few years, our Bears are firmly in so-you're-telling-me-there's-a-chance! territory in the Pac-12 Tournament:
No, winning the Pac-12 tournament isn't a thing likely enough to dream about. But, thanks to Cal's rough road trip through Eugene and Corvallis, and thanks to OSU's upset win over Stanford, Cal has fallen from the 8/9 game to the 10 seed. And that means a Las Vegas path that gives Cal the opportunity to ruin multiple seasons. SPITE SPITE SPITE SPITE SPITE!
Cal will begin the Pac-12 tournament against 7 seed Stanford, and the winner will play 2 seed UCLA. Meanwhile, Stanford and UCLA are both right on the razor's edge of the bubble. As of Monday night The Bracket Matrix has Stanford as the 3rd to last team IN, while UCLA is the first team OUT.
If Cal loses, Stanford/UCLA will probably be a tournament elimination game. But losing to Cal (current Net ranking: 148) would surely be a death knell to the tournament hopes of either team.
Would I want Cal to make an improbable run to the Pac-12 tournament semi-finals if the path was through OSU and Utah? Of course! Do I want it even more now that it means knocking one or both of our rivals into the NIT? OH YEAH!
Previewing the hypothetical teams Cal might play if they hit on their 1-in-20 shot at the semis (for the record: ASU, Colorado, or Washington St.) isn't a good use of time yet, so let's take a quick look at what Stanford and UCLA have been up to, since Cal hasn't played either team since January
Stanford
Honestly, not a ton has changed for Stanford since I previewed them back on CGB a couple months ago. They're still an excellent defensive team with lots of good shooting but some other offensive problems that will be discuss in more detail below.
Washington (rightly) gets all the attention for having a wildly unlucky season, but Stanford isn't far behind the Huskies. The Cardinal's nine Pac-12 wins have come by an average margin of 12.8 points/game, and their nine Pac-12 losses have come by an average of 6.2 points, two of them in overtime. Going 0-6 in conference games decided by 5 points or less or overtime couldn't have happened to a better team.
Of course, it's not just bad luck that has put Stanford squarely on the bubble. Stanford has a legitimately excellent defense that has entirely been let down by a mediocre offense. But strangely, Stanford's offense struggles despite shooting the ball really, really well:
How does something like that happen? Well, when you rarely grab offensive rebounds (last in the Pac-12), turn the ball over a lot (10th in the Pac-12) and don't earn lots of free throws (11th in the Pac-12) you find yourself with an offense that makes a high percentage of shots, but doesn't actually attempt that many. And that means that when the shots aren't falling, there's nothing for Stanford's offense to fall back on to keep them afloat, which is exactly what happened when they came to Berkeley, shot 2-12 from three, and only scored 50 points total.
UCLA
So, if UW and Stanford were significantly unlucky, who fell on the other side of that ledger? Why, the historically unsuccessful UCLA MBB team! Isn't it great when the little guys get a little luck? After a disastrous 7-6 non-conference performance, UCLA ended up only scoring 13 more points than their opponents in Pac-12 play. Does that sound like the formula for a blah 9-9? Nope! UCLA went 6-1 in single-digit-margin games en route to a 12-6 Pac-12 record. In the end only a Jonah Mathews 3 point buzzer beater on Saturday stopped UCLA from grabbing a shock share of the regular season title.
UCLA's Pac-12 success has stemmed from Chris Smith's dynamism as an all-around scorer and Cody Riley and especially Jalen Hill crashing the glass while pulling down a ton of offensive boards and drawing a bunch of fouls. The Bruins are, to a certain extent, Stanford's offensive counter point – bad at shooting, but good at earning themselves lots of chances and lots of free throws.
If Cal makes it this far, the battle for rebounds when UCLA has the ball will be a big area to watch. UCLA is first in the Pac-12 in offensive rebounding, and they rebounded 10 of their 27 missed shots when they played Cal. But the Bears have been improving all season long and have been increasingly stingy defensive rebounders. If Cal can keep Hill and company off the boards, they would give themselves a fighting chance at the upset.