Sim for California: How does '04 Cal Football compare to the best of the Pac-12?
It's Throwback Thursday, so let's remember peak Tedford, elite Rodgers, and beastly Lynch. How great is great?
A poster on Reddit posed the question of which Pac-12 team (since 2000) was the absolute best. Using WhatIfSports.com, BuzzBuzz01 simulated an entire conference season taking these zenithed zeniths to see which team would reign supreme; each game was only simulated once to allow for the magic of improbable upsets.
Let's take a look at the contenders, starting with the Pac-12 South. Up first, we have the 2014 Arizona Wildcats. These Pac-12 South Champs saw their season end on a sour note with a blowout in the Pac-12 Championship Game against Oregon and a Fiesta Bowl loss to Boise State. Still, this was a formidable team with weapons like Samaje Grant and Austin Hill led by Anu Solomon on offense while Scooby Wright III terrorized opponents on the other side of the ball. They went undefeated for their first five games (which were against unranked opponents), but their final nine games were against ranked teams and the Wildcats lost four of them. Still, they ended the season ranked no. 17/19; Wright was named the Pat Tillman Defensive Player of the Year for the Pac-12 and Rich Rod was named the Pac-12 Coach of the Year.
Speaking of Pat Tillman, his Sun Devils are represented by the 2007 Arizona State squad. The 10-win team were Pac-10 co-champions, sharing the title with Pete Carroll during his Reign of Terror. Similar to their in-state rivals, their season can be broken up into chunks. The season started with five wins against unranked competition, followed by four wins against ranked teams; their final five games also came against ranked teams, but ASU lost three of them, including an 18-point loss to Texas in the Holiday Bowl. The team was quarterbacked by Rudy Carpenter—recipient of a big Zack Follett hit—and featured NFL talent on defense; their performance this year resulted in a Pac-10 Coach of the Year award for Dennis Erickson and a #13/16 ranking in the final polls.
Let's venture out of the Pac-x conference for a second to recognize the Colorado Buffaloes. In 2001, they dropped their season opener against Fresno State, but came back to win nine of the next ten to end the regular season, with four of those wins coming against ranked teams—including #1 Nebraska. Their loss was against a top-ten Texas team, but Colorado would get revenge in the Big 12 Championship Game by beating that same Texas squad (now ranked #3) by two points. In perfect pre-Pac-12 action, they would play the Fiesta Bowl in ASU's Sun Devil Stadium, losing to the Oregon Ducks. Still, a stellar season for the Buffaloes, who would finish the year ranked #9 and see Gary Barnett win Big 12 Coach of the Year.
Rounding out our trip outside of the Pac, we come to one of the biggest BCS busters of the era, the 2008 Utah Utes. Utah went undefeated that year, but didn't play a ranked opponent for the first nine games of the year. Nevertheless, they were able to rise to the occasion and beat three ranked teams in their final four wins of the year—including taking down #4 Alabama in the Sugar Bowl. Utah finished the year as the only undefeated team in the nation with sixteen votes in the AP poll and one vote in the coaches poll (from Coach Kyle Whittingham himself); Utah was ranked #2/4 by the major polls, but was named national champions by Anderson & Hester.
Back to the Pac, the best squad of bear copycats were the 2014 UC L.A. Bruins. Jim Mora and Noel Mazzone led a roster featuring notable talent like Brett Hundley, Jordan Payton, Eric Kendricks, and Myles Jacks. UC Los Angeles entered the season ranked #7 and went 3–1 against ranked teams in the regular season before beating #11 Kansas State in the Alamo Bowl with a final ranking of #10.
Champagne problems to pick the best USC Trojans team during this run thanks to Pete Carroll et al. But in true USC fashion, there's a little Cheat-y Petey going on by selecting the 2004 squad, which would have some wins and titles vacated via the Reggie Bush violations. The Trojans ran roughshod on the nation, spending the entire goddamn season ranked #1. They went undefeated the entire season and won the BCS Championship Game over #2 Oklahoma. As for accolades, Matt Leinart won the Heisman and Carroll won national and Pac-12 Coach of the Year awards. However, the wins in their final regular-season game against UC L.A. and said BCS Championship Game have since been vacated; the AP still recognizes them as national champions this year.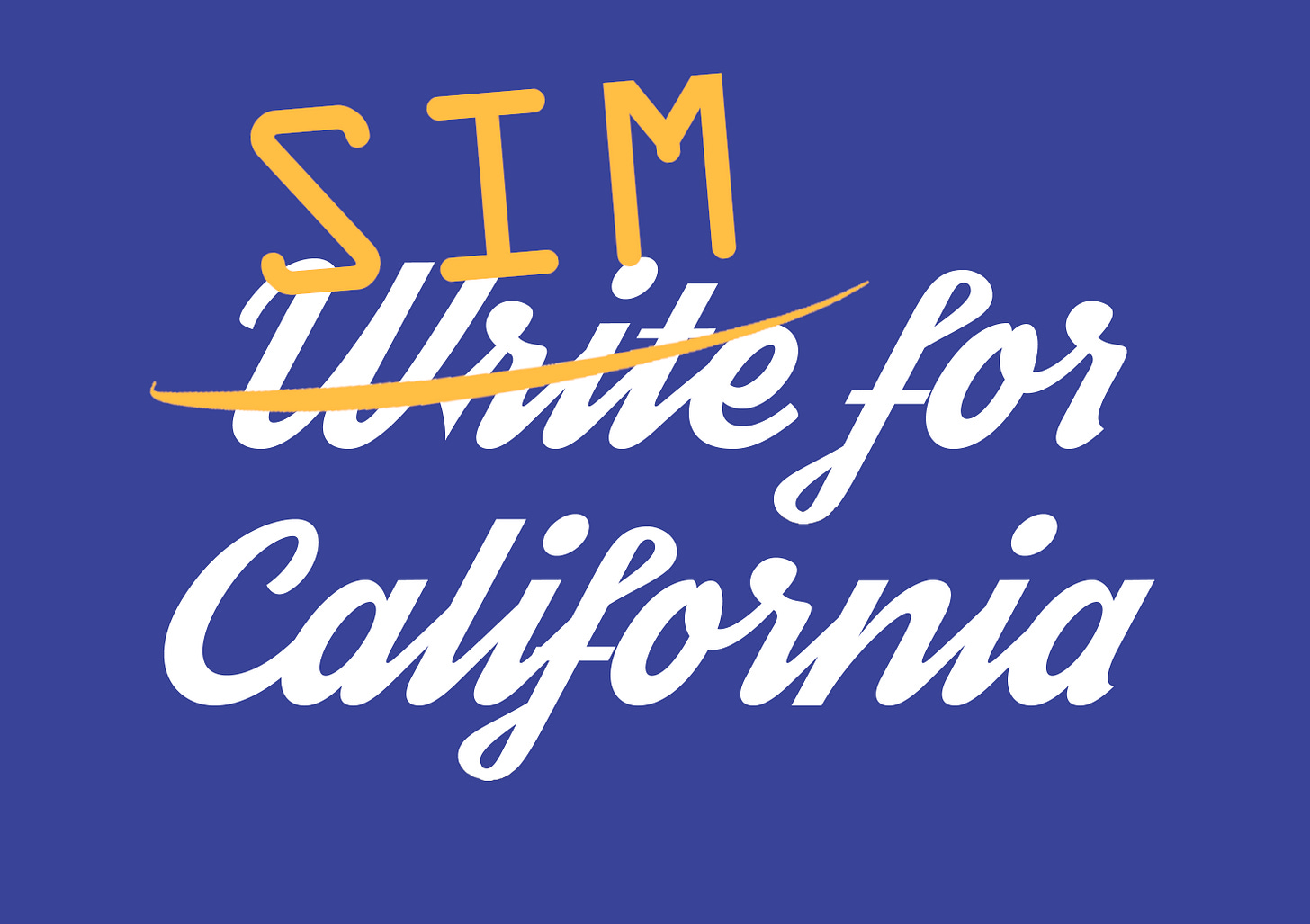 As we move to the Pac-12 North, let's stay in 2004 for the California Golden Bears. This was the golden era for Coach Tedford with offensive superstars like Aaron Rodgers (who tied an NCAA record for consecutive completed passes), Burl Toler III, Geoff McArthur, a baby Beast Mode, Marvin Phillip, & J.J. Arrington (with his 2k+ rushing yards) and defensive weapons like Ryan Riddle, Lorenzo Alexander, & Matt Giordano. California spent the whole season ranked in the top 15, coming just short on a red-zone visit to keep them from upsetting that aforementioned elite USC squad; Cal's other loss was an upset against #20 Texas Tech. The Bears scored twice as many points as they allowed in the season and ended the year ranked #9.
Despite being a wretched school, the peak for the Stanfurd Cardinal during this timeframe was their 2010 team. Up to a point, their season actually mirrored our '04 Bears. Tedford and Harbaugh had both turned one-win teams to teams that featured a superstar quarterback (Andrew Luck) and only lost one game in the regular season—to the eventual Pac-x champion that would eventually go on to the national championship (Oregon). Here, our paths diverged. We both sat at a crossroads of our coach and quarterback deciding to stay or go (we lost Rodgers and saw Tedford stay while they lost Harbaugh and saw Luck stay) and they would go on to a BCS bowl (thanks to changes in the system after we got screwed in 2004) and win it. Stanfurd ended the year ranked #4 because they're terrible; Andrew Luck experienced his first taste as Heisman bridesmaid; and the team featured the love of Harbaugh's life, Owen Marecic.
We're all thankful that the Oregon Ducks toppled them that year; for Oregon, their best year was 2014. The Ducks were nearly a top-ten team for the whole season, dropping to #11/12 after a home upset to Arizona. Mark Helfrich's team featured stars like Marcus Mariota, Keanon Lowe, Arik Armstead, and DeForest Buckner and the team made it to the College Football Playoff, where they pantsed Florida State by nearly 40 points and humiliated Jameis Winston (who still believes the game could have gone either way). They were so dominant in the semifinals that they put the fear of God in Urban Meyer—which was apparently enough motivation for Ohio State to get their act together and decisively handle Oregon in the national championship. Mariota would win a stupid number of awards—including unanimous All-American and the Heisman—with the Ducks finishing as the #2 team in the nation.
Dennis Erickson makes his second appearance in this list, this time as the coach of the 2000 Oregon State Beavers. With now–head coach Jonathan Smith throwing passes to Chad "Ochocinco" Johnson, Oregon State won eleven games—a school record—with their sole loss coming against #11 Washington. This loss would become an arm in a rock-paper-scissors battle between Oregon State, Washington, and Oregon, resulting in all three teams sharing the Pac-10 title in a messy threeway. The Beavers were dominant in their bowl win over the #10 Fighting Irish and they ended the season ranked #4.
Let's actually take a look at those 2000 Washington Huskies. A top-15 team all season, they faced an early challenge with three ranked teams across four games; they would defeat the aforementioned #23 Oregon State and #4 Miami (as well as pre-Pac-12 Colorado), but get upset by bitter rivals #20 Oregon for their sole loss all year. Winning one-third of the Pac-10 title, the Huskies would play in the Rose Bowl—and beat #14 Purdue to end the year ranked #3. They were coached by Rick Neuheisel, but their biggest asset was senior captain Marques Tuiasosopo.
We can finally end the preface of this article by looking at our final team—the Washington State Cougars. In 2002, the Cougars were led by Mike Price (in his final season with the team) and featured talent like Marcus Trufant. They had a 10–3 record and were Pac-10 co-champions with USC. Wazzu beat three ranked teams, but lost to #6 Ohio State in the regular season and lost the Apple Cup to an unranked Washington. They made it to the Rose Bowl, but lost to #8 Oklahoma; they finished the season ranked #10.
---
With introductions out of the way, let's finally move to the results. Full week-by-week results can be found here, but I'll focus on California. Here's our season results: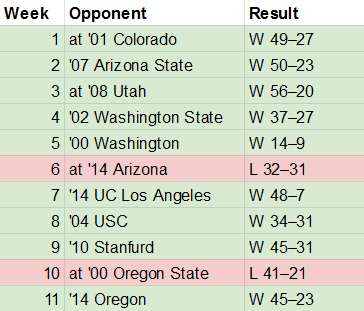 The Bears end the year 9–2 and earn vindication against '04 USC by winning 34–31. Winning nine games actually seems pretty stellar considering the fact these are all peak teams we're facing. We outscore our opponents by by an average score of 39.1–24.6, which are the first- and third-best in-conference rankings, respectively. We tie with Washington State for best record in the conference, but we earn the edge to win the Pac-12 North division due to our head-to-head win over Wazzu. As Pac-12 North Champions, we head to face the Pac-12 South Champions and the bane of the '04 Bears—the '04 USC Trojans and their 8–3 win-loss record (which already includes a regular-season loss to us).
Here's where the other shoe drops. In real life, '04 California lost to '04 USC by 23–17. In the regular-season simulation, '04 California lost to '04 USC by 34–31. Each were one-score games, so our rubber match in the championship game has to be close, right?
Well…
USC comes back more motivated (or more cheat-y) than ever and they pants us, 45–26. Not even in hypothetiCals can we go win the conference and make it to the Rose Bowl…