For the first time in quite a while, the Cal Football team has some legitimate buzz heading into Spring Football.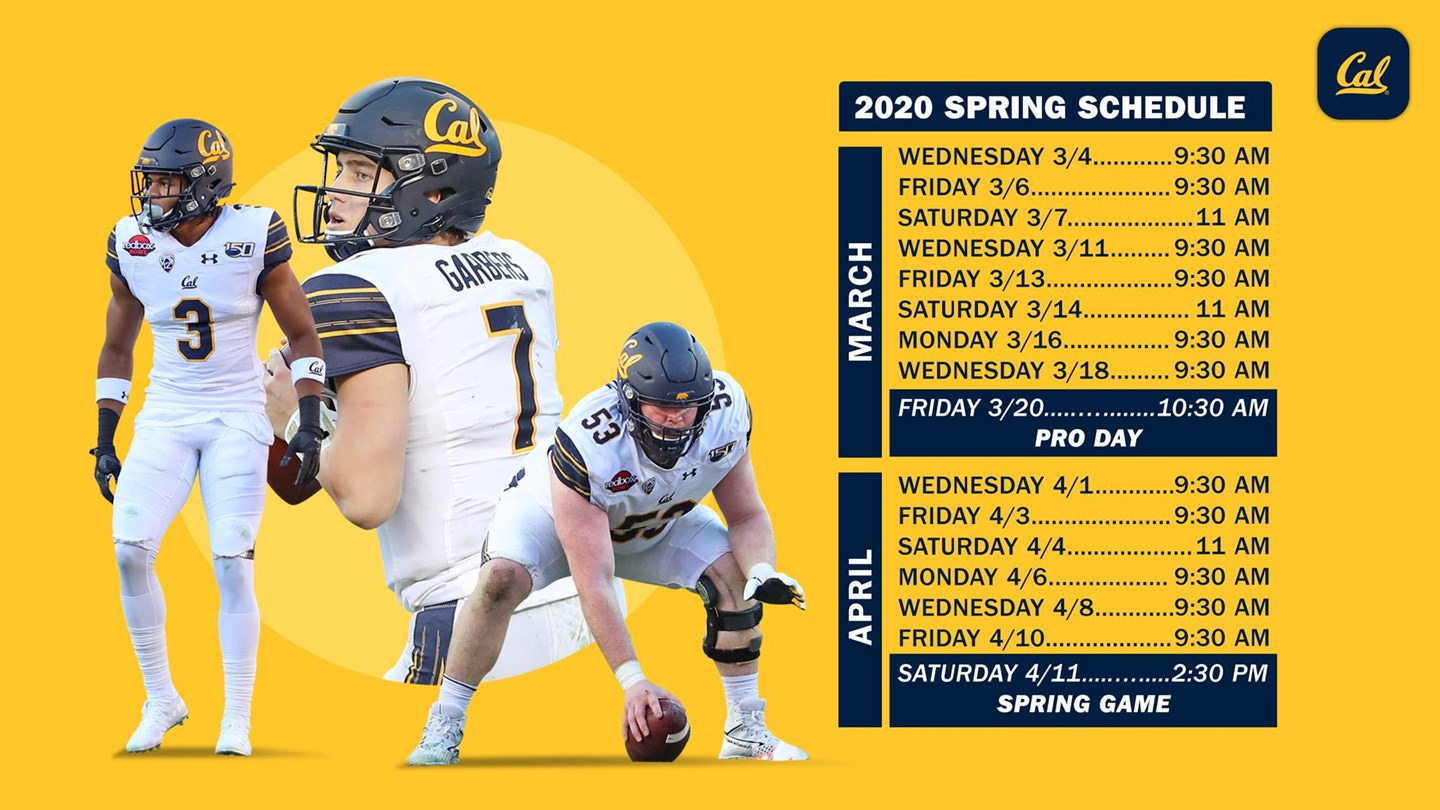 Photo Credit: Cal Athletics
The chapter on the 2019 Bears is now closed and we begin anew with the 2020 Bears. I do think the Bears have a higher ceiling than last season and the expectation now seems to be that they will have a higher floor. Oh, what a difference a year makes.
In terms of the team, the Bears return the highest percentage of offensive production in the conference, along with a brand new offensive coordinator who has had success in the NFL. On the other side, the defense loses some seniors and coaches who were a big part of the defensive ascendance, but will look to alleviate that with some very experienced replacements. With that being said, let's take a deeper look into the position groups and see which are ones that we should be keeping an eye on heading into Spring Football.
Roster Breakdown is from Spring Roster and Early Enrollees; it does not include the full 2020 recruiting class
* means that they have used their redshirt by the start of Spring Football 2020
Offense: Bill Musgrave (First Season)
Offensive Line
Coach: Angus McClure (First Season)
Seniors: Michael Saffell, Valentino Daltoso*, Gentle Williams*, Jake Curhan*, Henry Bazakas*
Juniors: Jack Beeman*, Poutasi Poutasi*, Sami Nazzal
Sophomores: Erick Nisich*, McKade Mettauer, Matt Cindric*, Will Craig*, Brandon Mello*, Miles Ownes*
Freshmen: Brian Driscoll*, Ben Coleman*, Brayden Rohme*, Cal Frank*, Everett Johnson
This may be the deepest group on the roster with so many players getting significant experience over the last couple of seasons due to injury. Saffell, Curhan, Cindric should be the first names on the board. Craig's return from injury should get fans excited as he was dominant in the few games that he did play in 2019. That leaves one spot on the starting line and my pick would have to go to Gentle Williams, but Daltoso will most likely get the nod as one of the most experienced players on the line. Former coach Steve Greatwood would rotate his linemen to keep them fresh, but it's not clear if new coach Angus McClure will have the same philosophy. If he does, then I fully expect McKade Mettauer and Poutasi Poutasi to be a part of the rotation as well. The names to keep an eye on here are Ben Coleman and Brayden Rohme. The two guys took a redshirt season; Ben Coleman has looked like an absolute wall, while Rohme has the size and athleticism to be a great in run blocking.
Running Back
Coach: Aristotle Thompson (First Season)
Seniors: Marcel Dancy*, DeShawn Collins*
Juniors: Christopher Brown Jr.
Sophomores: Zach Angelillo* (FB)
Freshmen: DeCarlos Brooks*
This is a pretty simple pecking order here with CBJ leading the room as the #1 back. The interesting battle here is who takes the backup RB spot. Dancy and Collins both played well in different games this past season. They also have a very different skill set. The dark horse here is DeCarlos Brooks and how comfortable he is after spending a year in the weight room. He's got a ridiculous amount of talent and showed it off when he got the chance in practice. I do wonder how long they can keep him off the field with his explosive running. Another late surprise, in Zach Angelillo, as Fullbacks make a return to the roster. The 6-foot-2 220-pound sophomore will be the only fullback on the roster this spring.
Tight End
Coach: Marques Tuiasosopo (Second Season at TE, Fourth Season Overall)
Seniors: Chinedu Udeogu*
Juniors: Collin Moore*, Gavin Reinwald*, Jake Tonges*
Sophomores: Nick Alftin*
Freshmen: Elijah Mojarro*
This is arguably one of the most intriguing groups on the team. The talented freshman in DJ Rogers has yet to step onto campus and the current group doesn't seem to have a bonafide starter at the position. Former OC Beau Baldwin preached the use of the TE position, but it rarely translated onto the field. New OC Bill Musgrave actively used his TE at every NFL stop he had, so there is renewed optimism that this group of players could expand their influence on the offensive side of the ball. Jake Tonges and Gavin Reinwald look to be the top two in the room due to their production this past season, but Collin Moore and Elijah Mojarro are dark horses to take away snaps. Moore, a former QB, has great size for the position, while Mojarro was a highly touted prospect coming out of high school and spent this past season redshirting. Nick Alftin is still a work in progress after switching over from the defense midway through the 2019 season. The surprise is the switch for Chinedu Udeogu from edge rusher in his final season of eligibility. He certainly has the athleticism and size. It'll be interesting to watch for what they expect from him at this position.
Wide Receiver
Coach: Burl Toler (Second Season at WR, Third Season Overall)
Seniors: Jeremiah Hawkins, Kekoa Crawford*, Trevon Clark
Juniors: Nikko Remigio, Ricky Walker III*, Evan King*
Sophomores: Monroe Young*, Makai Polk, Ben Skinner*
Freshmen: Chris Rogers*, Jared Staub*, Lucas Allen*, Ryan Regan*, Mason Mangum
This is where it gets exciting. Kekoa Crawford, Trevon Clark, and Nikko Remigio should be the three biggest names to start. We all saw them come alive as Chase Garbers began his meteoric rise. Behind them are Jeremiah Hawkins and Makai Polk, who should easily push the first three for snaps and be a part of the rotation from the start. The two intriguing names are Monroe Young and Mason Mangum. Young looked great as a freshman and has the footwork and natural speed to be an all-around threat, but small injuries have derailed his progress. Mangum is a plus athlete who was added late in the 2020 recruiting cycle, but joined as an early entree.
Quarterback
Coach: Bill Musgrave (First Season)
Seniors: Devon Modster*
Juniors: Chase Garbers*
Sophomores: Robby Rowell*
Freshmen: Spencer Brasch*, Jaden Casey
I mean, if there's a question here then you either aren't a Cal fan or are crazy. Chase Garbers is the cemented starter without any reservations. Now the question for #2 QB is a very big question mark. Devon Modster seems to be the safe bet, but Spencer Brasch got a taste of Collegiate Football last season and could be hungry for more. Jaden Casey is the dark horse here as the early enrollee; he has the athleticism we haven't seen in a Cal QB in quite some time and is a bonafide playmaker with the ball in his hands.
Defense: Tim DeRuyter (Fourth Season)
Defensive Line
Coach: Andrew Browning (Second Season)
Seniors: Luc Bequette*, Zeandae Johnson*
Juniors: Aaron Maldonado, Gabe Cherry*
Sophomores: Brett Johnson, JH Tevis*
Freshmen: Gunnar Rask*
We have to start with the fifth years for Luc Bequette and Zeandae Johnson. It is going to insanely great to have their talent to alleviate some of the loss behind them. Brett Johnson is the star in the making while getting Aaron Maldonado back at defensive tackle for a full season could allow Bequette to move back to his natural position at defensive end, with maybe some time for Brett Johnson at defensive end(?!?!). The player to keep an eye on is Gabe Cherry. He has the prototypical size and physical tools to be a dominant defensive lineman, but does not seem to have put it all together in the last few years. The staff has raved about his flashes and his growth and maybe this is the season we see him explode onto the scene with the opportunities available to him.
Inside Linebacker
Coach: Peter Sirmon (Third Season)
Seniors: Kuony Deng*
Juniors: None
Sophomores: Tommy Vanis*, Evan Tattersall*, Sam Walker*, Nick Henderson*
Freshmen: Kyle Smith*, Blake Antzoulatos*, Ryan Puskas*, Alex Murray*, Muelu Iosefa
We all know Kuony Deng will be a starter at one of the ILB positions, but the biggest question on everyone's mind is the void left by the legend that is Evan Weaver. Evan Tattersall seemed to be the heir apparent until the terrible injury during the SC game. He has since fully recovered, but I would assume a more cautious approach with him considering the weight of the injury. The main competitor would likely be Blake Antzoulatos, Ryan Puskas, and Kyle Smith. The trio of recruits from the 2019 class all redshirted this past season and have had a year to learn the coverages and playbook and to pick the brain of Evan Weaver. All three are tackling machines with varying physical traits. The dark horse candidate here would be Muelu Iosefa. The early enrollee was recruited hard by USC and Oregon towards the end of the cycle, but he stuck with his commitment to Cal and it's clear to see his level of talent could potentially make an immediate impact. It'll all come down to how quickly he can get acclimated to the playbook and speed of college football.
Outside Linebacker
Coach: Tim DeRuyter (Fourth Season)
Seniors: Tevin Paul*, Cam Goode*
Juniors: Ben Moos*, Matt Horwitz*
Sophomores: Braxten Croteau, Parker Bosche*
Freshmen: Myles Jernigan*, Curley Young*, Orin Patu*
This group is also pretty clear cut in terms of starters. Cam Goode and Tevin Paul are the unquestioned starters along with Zeandae Johnson and Kuony Deng coming in certain packages. Braxten Croteau seems to have a hold on being a part of the rotation. While Ben Moos should be playing his way into the rotation after flashing a few times this past season. The dark horse here is the trio of redshirt freshmen in Myles Jernigan, Curley Young, and Orin Patu. Patu is the one player I'm looking forward to seeing. He's shown some great moments in practice and used the year in the weight room to grow into his 6-4 frame.
Cornerback
Coach: Marcel Yates (First Season)
Seniors: Josh Drayden*, Cam Bynum*
Juniors: Branden Smith*
Sophomores: Chigozie Anusiem*
Freshmen: Jaylen Martin*, Tarik Glenn Jr.*, Isaiah Young
Pretty straightforward here. Bynum is a guaranteed starter with his experience and pedigree. Drayden should be the other CB, but if he is the starter at nickel, then I would say Chigozie Anusiem as the other starter at the CB spot. The dark horse candidate to look out for is Jaylen Martin. Martin, the former Colorado commit, flipped to the Bears during the early signing period in December of 2018. His size is what the staff wants at CB with a plus in his measurables and wingspan to be able to play more passing lanes.
Safety
Coach: Marcel Yates (First Season)
Seniors: Elijah Hicks
Juniors: Daniel Scott*
Sophomores: Isaiah Humphries*, Steve Mcintosh*
Freshmen: Erik Harutyunyan*, Craig Woodson*, Miles Willaims*, Trey Paster
The first two names should be the starters at the two safety spots. Hicks moves over from CB in a move that should help his draft prospects and allow Cal to get their best DBs all on the field at once. As said above, it all depends on how Cal wants to line up personnel-wise. The dark horse to push for a starting position is Isaiah Humphries. He is an absolute ballhawk and was dominant in fall camp with his knack for playing the ball. He does need to work on his decision making in those moments, but there's a reason the kid was touted as a prospect. Trey Paster is also a dark horse, not for the starting role, but to get into the rotation at safety. The early enrollee has some serious talent.
Special Teams: Charlie Ragle (Fourth Season)
Kicker
Seniors: Gabe Siemieniec* (PK)
Juniors: Jamieson Sheahan (P)
Sophomores: Dario Longhetto* (PK/P)
Freshmen: Nick Lopez* (PK)
Long Snapper
Seniors: None
Juniors: Daniel Etter*
Sophomores: Slater Zellers*
Freshmen: JJ Lindsay*
Not much here to be said regarding this group outside of placekicker. Slater Zellers should continue his growth and maintain his grasp as the starter at long snapper. Jamieson Sheahan should be the starting punter with his leg talent. Gabe Siemieniec should be the kicker on kick-offs with him also leading the battle to fill the void left by Greg Thomas.