Discover more from Write For California
A community for California Golden Bears, about the California Golden Bears, made by California Golden Bears.
Over 4,000 subscribers
The Cal Family Reflects on the Life of Larry Berroya
Those impacted by Larry's life, including former Cal WBB coach Lindsay Gottlieb, offer their thoughts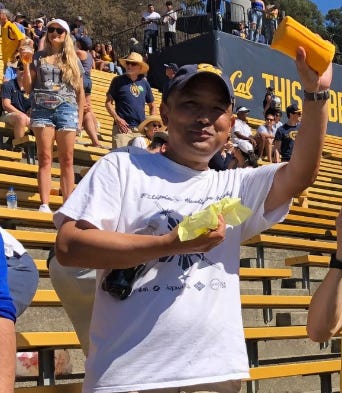 When we learned of Larry's passing, we put the call out to the greater Cal community who were close to Larry to, if they felt comfortable, share memories as we work through our grief. This will actually be the first of two posts reflecting on Larry's life, because Avi's thoughts ended up so long that we thought it best to split everything in half!
Thanks to Terence, Otavio, and Coach Gottlieb for sharing their thoughts in these tough times.
Larry's family posted an obituary that directs you teacher fundraisers on DonorsChoose if anyone wishes to make a donation in his memory, and friends and family are gathering memories of his life here.
Terence
I don't remember when Larry entered my life or my Cal fandom circle. It's like one day he was there, and we were arguing about Ty Wallace's defensive ability.
I had worked in professional basketball for a decade, and been a fan for a long time, but I had always looked at the sport from a schematic point of view. Through a decade of conversations, both over the internet and eventually in person, he taught me to take a look at scoring rate and offensive efficiency, and all of the analytical aspects of basketball I, frankly, did not have the toolbox for.
But to reduce him to basketball analysis and "Robot Larry" would be to miss what made him so special as a Cal fan. It would peak through sometimes in his writing - especially when he went to a game in person, but he was never analytical in person. He was the fan who always believed. In the parking lot before the AQI WSU game, he went around the tailgate "But what if we win? We can win this game," finally betting TwistNHook a million dollars (writing for CGB obviously made everyone wealthy) and making everyone promise to meet him at the 50 yard line. And we did. There are a million memories like that - us heckling Brianna Stewart, the best woman basketball player in the world, so loudly, Cal fans were telling us to be quieter, his absolute shock and depression after a loss to Harvard, so much so that he failed to join Rob, Nick, Golden Oso and I for tacos at his favorite taco place in the world, and he really loved those tacos. He kept muttering "we're going to win this game" during the Cheez-It Bowl, even as hope slipped away. He had an absolute belief in his ability to help the Cal defense dial up turnovers, but wouldn't use that ability until the highest points of leverage in the game. 
Viewing through the lens of the university and community that he loved so much still does him a disservice. He thought more deeply and thoroughly about what it meant to be a Cal fan and the community it engendered than I had thought about anything, and yet, it was far from the most important part of his life. Nick mentioned that he started his professional career as a corporate attorney, and then decided to ditch that to teach high school. It was his mission in life, to help prepare young minds to take their next step in life, whether to University or in some other direction. To engage them and open their minds to worlds beyond their neighborhoods or their personal experiences.  His passion and advocacy for justice and fairness, his humanity and his morality were traits that were a hundred times what he felt for Cal basketball, and that is what will stick with me a long time after his ideas about offensive efficiency and defensive failures at the point of attack have faded, and that's as wonderful a legacy as anyone could have. You've left us too soon Larry, and you are already missed. 
Otavio
What makes a great sports fan?
The first prerequisite is passion. Passion for a team, a program, a school.
Larry had passion in spades. Starting when he was a kid, going to games at Harmon Gym with his uncle, through his undergrad days at Cal, lining up early to get his preferred spot behind the basket, and even while living across the country as a law student and a lawyer, Larry lived and died with Cal Basketball. When Larry decided to make a career change, and enrolled at that evil institution across the Bay to get his masters in education, he proudly and defiantly kept flying the Cal flag in enemy territory.
Larry's passion was unmistakable. It was there for all of us to hear as his voice boomed across Haas, encouraging his Bears, heckling the opposition, and getting on Pac 12 refs for being, well, Pac 12 refs. His passion showed in the way he sang Hail to California, in the way he sang the Cal Drinking Song, and in the way his heart sang when his beloved Bears rose to the occasion and vanquished Stanfurd, or Arizona, or UC Los Angeles, or whoever the enemy happened to be on that day.
Most of all his passion shined through in his writing. Larry wrote beautifully, eloquently, and powerfully about Cal Men's and Women's Basketball. Informed by his deep understanding of the game, and with a wealth of memories accumulated through a lifetime of riding the ups and downs with the Blue and Gold, Larry always knew just how to encapsulate a moment and put it in perspective. Go back to the CGB archives and read him. Nobody captured moments, expressed the joys and frustrations of Cal fandom, or waxed poetically about Cal Basketball quite like Larry.
Larry's passion was pure. It was deep. And it was beautiful.
The second prerequisite of a great sports fan is intelligence.
Passion without intelligence is little more than blind fanaticism. The best fans have the capacity and the inclination to dig deep and understand the game, and the team, so that they can not only intelligently analyze why the team is winning or losing, but also advocate for the changes that are necessary to put the team on a better course.
Larry was the smartest Cal Basketball fan of all.
Larry knew the Xs and Os of basketball inside out. He could identify offenses and defenses instantly. He understood patterns that unfolded on the court. He paid attention to how teams created and gave away advantages on ATO plays and at the end of halves. Larry could tell you the exact strengths and weaknesses of every Pac 12 coach, and he could breakdown matchups like nobody's business. He was so good at this, in fact, that he supplemented his teacher's income by gambling on college basketball. Larry was the sharpest of the sharps, and year after year, he outsmarted the bookmakers and turned a profit in Vegas.
The most wonderful thing about Larry's intelligence is how generous he was with his insight. Larry was a busy man, with many interests. Teaching took up an enormous portion of his time, as he refused to cut corners when it came to giving his students his absolute best. And yet Larry volunteered the small bit of free time he had to write for CGB, and to educate us Cal fans on the nuances of basketball. 
Writing for a fan blog can be a thankless task. Larry was not financially compensated for the time he put in. Many fans refuse to read, or even believe, critical commentary about their favorite teams. And yet Larry wrote, lovingly and carefully crafting each sentence, educating us on basketball strategy, on statistical analysis, and why, no matter how much some of us may protest the notion, sometimes basketball games come down to luck.
Often Larry would complain about how some CGB commenters would refuse to accept his analysis, no matter how much evidence he produced to back up his conclusions. I always imagined he must have felt like an astronaut being confronted by flat earth truthers. Sometimes I wondered if he would keep writing, or if the aggravations and the time crunch would finally drive him to quit. But every basketball season, there he was, dissecting tape, analyzing statistical trends, and educating us with some of the most meticulously researched and carefully orchestrated columns on basketball you'll read anywhere.
Larry's intelligence was self-evident, and his generosity knew no bounds.
The third, and last prerequisite to being a great sports fan is to be fun.
Without community, without fun, there is no real point to sports fandom.
Larry was so much fun.
This deeply logical, analytical man was the same person who would unfailingly buy a churro at halftime of football games, because our sturdy Golden Bears just might fail to pull out a win without #ChurroToVictory. Larry playfully participated, and even led in the superstitions of sports fandom, and no matter how many games Wilcox's boys lost, that was no reason not to stand in Victory Formation on the east side of Memorial Stadium.
The truth is, Larry had serious misgivings about the ethics of college football. The money, the politics and the violence of football troubled him, and he wrestled with his fandom of the gridiron Bears. But just about every Saturday home game, there was Larry at the tailgate and on the bleachers, chatting, laughing, singing and rooting on the Golden Bears. Larry was there because he loved the Cal community, and because having fun with his fellow Cal Bears was important to him.
His love of the Cal community was the real reason he spent all those hours writing and commenting on CGB. As smart as Larry was, what he really loved was having fun, and being silly, with his brothers and sisters in Blue and Gold.
And now, this passionate, intelligent, fun man we grew to know and love, is gone. His students lost an inspirational teacher, the world lost an ethical and compassionate man, and we in the Cal community lost the best among us. Because that's what Larry was. He was the perfect sports fan, and the best California Golden Bear.
Larry won't be there as Charmin Smith orchestrates the meteoric rise of the WBB program. Larry won't be there as Justin Wilcox wrestles Bay Area football supremacy from Stanfurd once and for all. Larry won't be there when we finally hire our own version of Brad Stevens.
But Larry will be with us, our sturdy Golden Bear, watching from the skies.
Rest in peace, Larry. Sing Glorious, Victorious. Forever.
Lindsay Gottlieb
My husband Patrick and I were brought to our knees with sadness yesterday when we heard the news of the passing of Larry Berroya.
Quite honestly, we only knew him as Reef.
As a coach, you have to be careful how much media/blogging/tweeting you read. I found that over the years I became quite selective about where I spent my time getting info. It wasn't about positive or negative feedback. When you become a coach, you sign up for feedback, critique, etc. It's sports … people care about it! And if they didn't, well, that's a different kind of problem. Rather, I found myself drawn to quality.
With no disrespect to any other Cal writer or fan, Reef was THE go-to in our household for any Cal related sports thoughts. He was smart, detailed, nuanced. He blended an ability to be a fan and an expert like no one else I've ever read. His basketball knowledge was high level and insightful. In addition, he valued and appreciated the women's game in a way that was really, really important. It wasn't sappy. It was, indeed, heartfelt: I believe he felt a connection to the teams and players of Cal Women's Basketball. However, he analyzed and covered the actual games, players, coaching in a way that really helped to legitimize us. I hope that somehow he knew that I felt a connection to him, as well.
Patrick and I never actually knew that Reef was Larry Berroya. In fact, we would jokingly ask ourselves, sometimes, what we thought he looked like, or, sitting at a men's game or a football game …"could that be Reef, over there?" But I think, in actuality, we liked that he was an unknown sports guru to us. This year, living in Cleveland and trying to follow Cal sports remotely, Patrick would often say "we missed the game. Let's check and see what Reef thought."  His insight, intellect and basketball knowledge we respected and appreciated in this basketball-crazed household of ours.
In reading more about him, it seems as if he was an equally dedicated and talented teacher.
What a terribly tragic loss for the Cal community, for his students, family, friends and, indeed, for the world.
Patrick and I will miss him, even though we didn't really know him personally. Rest assured, he made an impact on us. Someday, we will tell our son Jordan about the Cal writer/fan who was, truly, the best.
Cal Gold Standard Team
Larry's passion for Cal Athletics - our basketball teams in particular - was clearly evident to everyone on staff he came in contact with. Between his constant support for our student-athletes and his work covering the Bears for California Golden Blogs (and more recently, Write for California), his contributions to our community will be terribly missed. 
The positive impact Larry had on the Cal Family and his community can't be overstated, and we want to send our deepest condolences to his friends and loved ones at this difficult time.