Discover more from Write For California
A community for California Golden Bears, about the California Golden Bears, made by California Golden Bears.
Over 4,000 subscribers
unclesam22 and the indelible importance of the 2013 Cal–Northwestern football game
Wayback Wednesday: If you've ever wondered what life must feel like as a Golden Bear deep in SEC territory...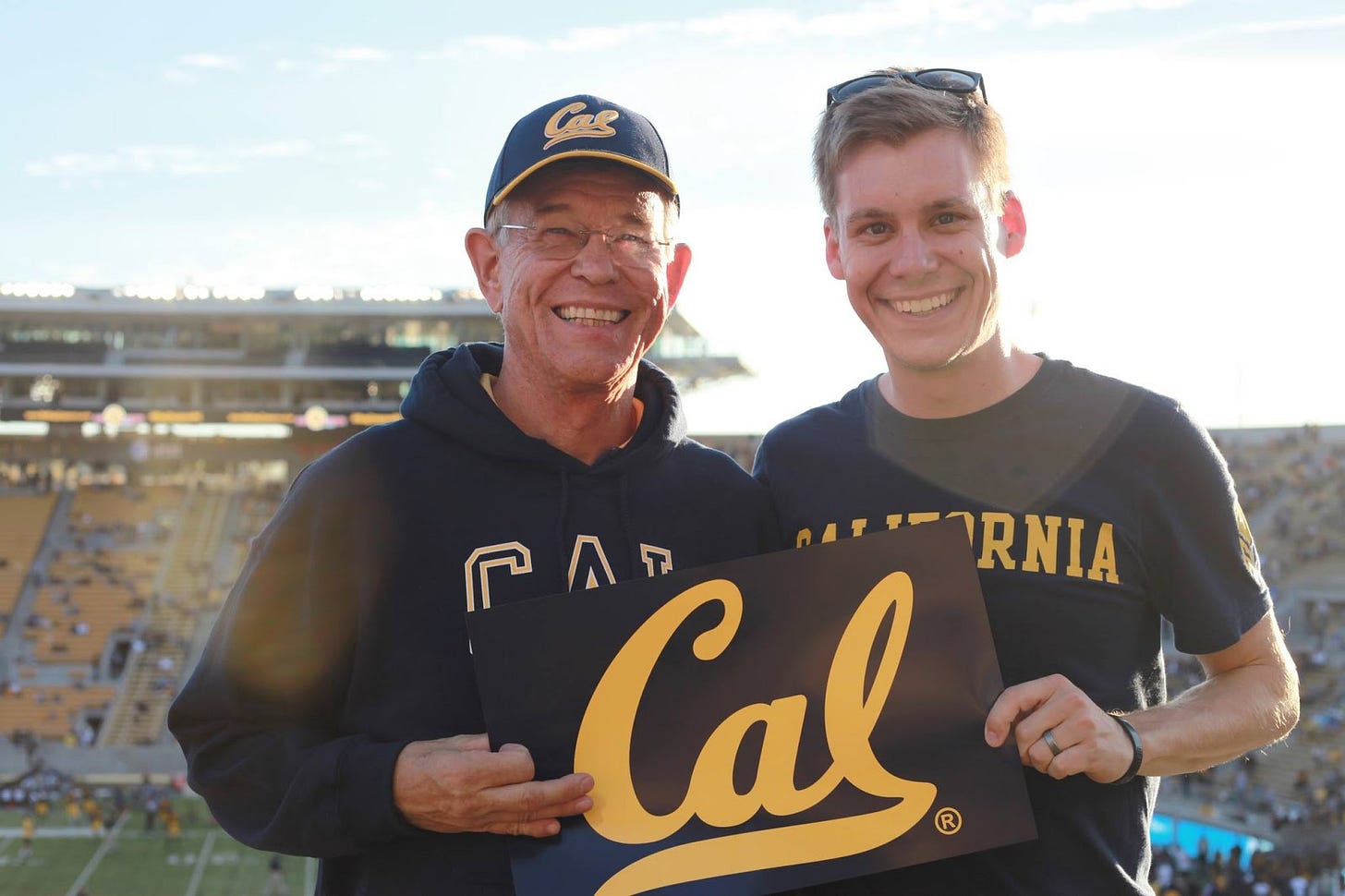 The following was written by the defiantly dashing unclesam22, pictured above. Not pictured are his dazzling socks.
---
For far too long, my dad (Old Bear '71) and I had watched Cal football from afar. In 1993, we moved from the North Bay to Florida and while we remained staunch Cal fans through thick (Cal vs. USC 2003 wasn't on TV in FL so I "watched" via ESPN Gamecast) and thin (let's be honest, too many to name, but such is the life of a Cal fan), we hadn't seen our beloved Golden Bears in-person in 20 years. So when the opportunity came to combine a mother-in-law birthday trip (for Dad) and a work trip (for me) with a Cal home game, we started planning. 
We'd bring Mrs. Bear 71 and Mrs. Unclesam22 with us and invited my aunt and uncle as well. We'd eat Top Dog and go to Bancroft Clothing to buy some new Cal gear. We'd tailgate with the WFC (then known as CGB) squad and meet some people IRL whom we only knew on the internet. We'd walk all over campus and visit places Old Bear '71 frequented as an undergrad 40 years previous. We'd make our way up to the stadium and take our place amongst the Golden Bear faithful—a position we hadn't taken up in two decades. 
It worked out exactly as we had hoped. We checked everything off our list and as the clock ticked towards kickoff, the anticipation of the game plus the debut of both Jared Goff and Sonny Dykes were almost overwhelming. We were sitting near the north endzone and as Vince D'Amato flipped a fluttering pass to Jackson Bouza on a fake FG for a TD right in front of us, we went crazy. As we high-fived and hugged and laughed, I vividly remember turning to my dad and saying "Totally worth all of it!" 
The rest of the game was a microcosm of what it means to be a Cal fan. There was a long TD pass from Goff to Chris Harper that showed exactly the potential that those two would show over the next few years. There were inexplicable bounces that led to not one, but two Northwestern pick-sixes. There were flashes of brilliance when the offense looked unstoppable. There were concerning drives where the defense looked hopelessly lost (spoiler alert: THEY WERE AND WOULD BE). Along with Harper, Bryce Treggs and Darius Powe seemed to be everywhere and catching everything. Brendan Bigelow, Daniel Lasco, and Khalfani Muhammad ran like crazy and Tony Franklin's system seemed to be the future of not only Cal football, but of all football. 
In the end, Cal lost the game by 14 points. What seemed like a great and promising debut for Dykes actually showed exactly how the rest of the next four years would play out. But we didn't know any of that then. Instead, we walked out of the stadium. We were filled with joy, and hope, and optimism. After all, Cal football and Cal sports in general aren't always about winning and losing, but instead the opportunity to get together with friends and family and cheer for our sturdy Golden Bears! If I'm being completely honest, that's what I'm missing the most as football doesn't kick off in Memorial Stadium this fall. I miss my friends. I miss talking to my Dad about the team and season and telling him little nuggets of things I learn along the way. I miss texting my dad after late-night games have ended with the same three lines—"Good night. I love you. Go Bears." I miss getting those same three lines back. We're in a season of loss right now, but if being a Cal fan has taught me anything, it's that there are things other than winning and losing, that there are things more important than sports, as great as they are and as much as I love them.  That's a lesson I learned as a little boy from my dad and now I'm trying my hardest to pass that along to my sons. 
Good night.
I love (and miss) you (all of you).
GO BEARS!