Discover more from Write For California
A community for California Golden Bears, about the California Golden Bears, made by California Golden Bears.
Over 4,000 subscribers
AP releases Preseason Top 25—does Cal football get any love?
The AP released their sole ballot for the 2020–2021 season that will contain every college team.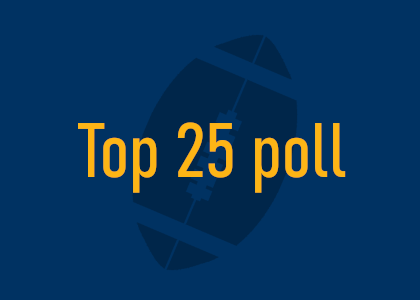 It's a weird season—you may have noticed.
To accommodate for this once-in-a-generation funky season, the Associated Press decided that for their inaugural 2020 Top 25 ranking, they will assess every team in the nation—regardless of whether or not that team actually intends to play in 2020. When play actually begins, the field will be whittled down to "only teams that are scheduled to play."
"The preseason poll has always been a speculative ranking of teams based on last year's results and knowledge about the new makeup of teams," said Michael Giarrusso, AP's global sports editor. "This year, we think it is crucial to give all the teams and all their fans a snapshot look at what the Top 25 would have been to open the season."
Should teams be able to play in the spring, then the Top 25 polls will continue for those teams.
So, how did we do in these speculative-yet-performance-based rankings?
With 11 points, California came in at 37th nationally. For comparison, we ended 2019 with six points and ranked 35th.
Other Pac-12 teams (and originally-scheduled 2020 opponents) that were ranked are:
9th - Oregon (1119 points)

17th - USC (534 points)

22nd - Utah (211 points)

29th - Arizona State (66 points)

33rd - Washington (21 points)

38th - TCU (9 points)
California was ranked sixth-highest in the Pac-12 and was slated to play all five of the other Pac-12 teams that earned recognition (as well as a non-conference game against the team ranked one spot lower than us).
Since we will have no actual football this year, let's overanalyze what little football content we have! Here are the folks who voted for us:
This deeper dive actually revealed a pretty interesting phenomenon. We're ranked as the sixth-best Pac-12 team when all voters were aggregated, but those few voters who did recognize us evaluated us much better—as third in the conference. What exactly does this discrepancy mean? On the doom-ier of hands, it might just mean that these three voters are misinformed and/or now driven past the point of insanity thanks to all the global nonsense (and in the case of Wilner, promoting the hometown team as well). For a sunshine-pump-ier perspective, maybe this means that this group of three voters (all of whom are in the Pac-12 footprint and should, thus, be best-informed about Pac-12 teams) has the best assessment of California whereas the other voters are haphazardly throwing in Pac-12 teams that had recent success without considering their actual current status (e.g., Washington and Utah).
In the the preseason Coaches' Poll, we came in at 42nd (in a tie) with five points.