Discover more from Write For California
A community for California Golden Bears, about the California Golden Bears, made by California Golden Bears.
Over 4,000 subscribers
Best case: Cal vs. USC football in a heavyweight brawl
A showdown between two 4–1 Pac-12 contenders.
With the delay of Pac-12 Football in 2020, Write for California started the fall by covering a mock season. In place of our standard game previews, we will start our pregame "coverage" with fictitious contrasting best- and worst-case scenarios for each game (inspired by Ye Olde ESPN Pac-12 Blog) had COVID-19 never cursed us. The week will culminate in a video game simulation on Saturday (with commentary by Rob Hwang and Trace Travers) and a game recap by Nick Kranz on Monday.
With the resumption of Fall Sports, the future of this series is… TBD. It's not all too popular (can't even get the staff here to read it) and the burnout is very real.
---
California is recovering from being on the wrong side of an upset loss to Wazzu, dropping them from the Top 25. Unfortunately, there isn't too much time to lick the wounds with a second-straight road game—now to a ranked USC squad. After dropping their season-opener to Alabama, Clay Helton has managed to stay out of the way of his uber-talented squad enough for them to win the next four-straight games for a battle between two 4–1 teams.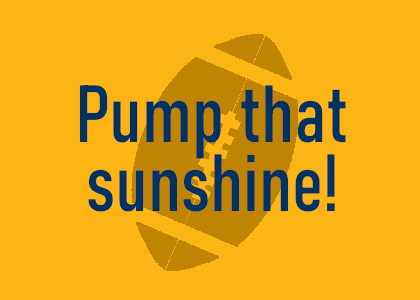 For Trojans and Bears everywhere, the game lived up to the hype. It was a back-and-forth slugfest with both teams executing at a high level. Prodigious OC Graham Harrell's spread attack was lethal with QB Kedon Slovis making fast reads to quickly get the ball out, but the Cal defense was mostly successful at keeping them out of the endzone.
The USC defense struggled at times in learning the system of new DC Todd Orlando, allowing for lapses in coverage that Cal was able to exploit. Nonetheless, the superior recruiting of the Trojans gave them a potent edge that provided a challenge to the Cal defense all night long.
The game came down to the final minutes. Late in the fourth quarter with the Bears driving to overcome a 17–14 deficit, Chase Garbers dropped back for a deep pass—needing a few seconds of protection for his receivers to get open downfield. As was the trend all night, the stellar Trojan D-line was terrorizing the veteran Cal unit and quickly preyed upon Garbers. With a spin to elude Drake Jackson and a juke to dodge Jay Tufele, Garbers got out of trouble and scampered for the 25-yard touchdown—with key blocks from Jake Tonges and Kekoa Crawford along the way.
USC's potent spread offense took the field with 45 seconds left to play—plenty of time for such an offense. Slovis was accurate and decisive with his passing, taking advantage of the bevy of Trojan receivers—enough talent to keep the Bears guessing which receiver would get the ball and talented enough to grab jump balls on contested catches. The Trojans navigated the ball to the redzone and Slovis—perhaps already hearing that damn band play Tribute to Troy in celebration of another touchdown pass—completely ignored a gargantuan Luc Bequette barreling towards him. With a monstrous sack, Bequette the behemoth killed USC's drive, notched a win for California, and saved our ears from having to hear that damn song again.
---
2020 Cal best-case season
UNLV: W 34–13
TCU: W 27–20
Cal Poly: W 45–17
Utah: W 27–17
Washington State: L 34–28
USC: W 21–17
Oregon:
Oregon State:
Washington:
Arizona State:
Stanfurd:
UC L.A.:
Win-loss: 5–1
---
This is a completely fictional account of the 2020 California football season had it transpired without COVID-19. All commentary, criticism, etc. of any player, coach, or figure is based on this total hypothetical and is not an analysis or indictment of the actual individual.