Best case: Will the Bears falter against the reigning Pac-12 South champions?
First college football conference game of the year looks to be a tough one.
With (possibly?) no Pac-12 Football in 2020, Write for California will instead be covering a mock season. In place of our standard game previews, we will start our pregame "coverage" with fictitious contrasting best- and worst-case scenarios for each game (inspired by Ye Olde ESPN Pac-12 Blog) had COVID-19 never cursed us. The week will culminate in a video game simulation on Saturday (with commentary by Rob Hwang and Trace Travers) and a game recap by Nick Kranz on Monday.
---
It's a great time to be a Bear—California is sitting pretty at 3–0 with a week of extra rest thanks to the bye week.
But if you're an Old Blue, you've seen this before and you might just be ready for that other shoe to drop. We've seen the team get off to a hot start—particularly in non-conference play—only to see the team struggle once conference play hits. We've seen the team inexplicably come out flat rather than recharged after a bye week. And the Bears had to tackle all of these all-too-familiar issues against a tough and gritty 3–0 squad of visiting Utes that won the Pac-12 South last season.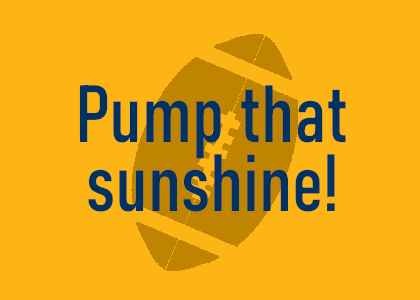 But the whole offseason was filled with hand-wringing and concern that Utah was losing too much talent from their South Championship squad; however, there's a damn good reason why the dean of the Pac-12 head coaches has been around for 15 years. To cover up the loss of QB Tyler Huntley, the Utes' gameplan was built around their run game. Mixing up the shake of the shifty T.J. Green with the bake of the hard-hitting Devin Brumfield, the thunder-and-lightning duo kept the Bears off-balance and South Carolina transfer Jake Bentley has enough talent (and spent the whole last year learning the system while sitting out) that California couldn't just coast and expect him to make mistakes.
On the other side of the ball, the Utes' previously–nationally ranked defense lost a whopping nine starters. Utah's long history and program continuity with Kyle Whittingham and DC Morgan Scalley helped ease this transition with players already deeply entrenched in the system, but their youth and inexperience were ultimately too much of a roadblock for the Utes defense to become a… roadblock capable of stopping the Golden Bears offense that is starting to click and thrive under the Musgrave system. Combined with their youth on offense being mismatched against a stellar Cal defense and this game ended up much less competitive than the pundits predicted.
---
2020 Cal best-case season
UNLV: W 34–13
TCU: W 27–20
Cal Poly: W 45–17
Utah: W 27–17
Washington State:
USC:
Oregon:
Oregon State:
Washington:
Arizona State:
Stanfurd:
UC L.A.:
Win-loss: 4–0
---
This is a completely fictional account of the 2020 California football season had it transpired without COVID-19. All commentary, criticism, etc. of any player, coach, or figure is based on this total hypothetical and is not an analysis or indictment of the actual individual.