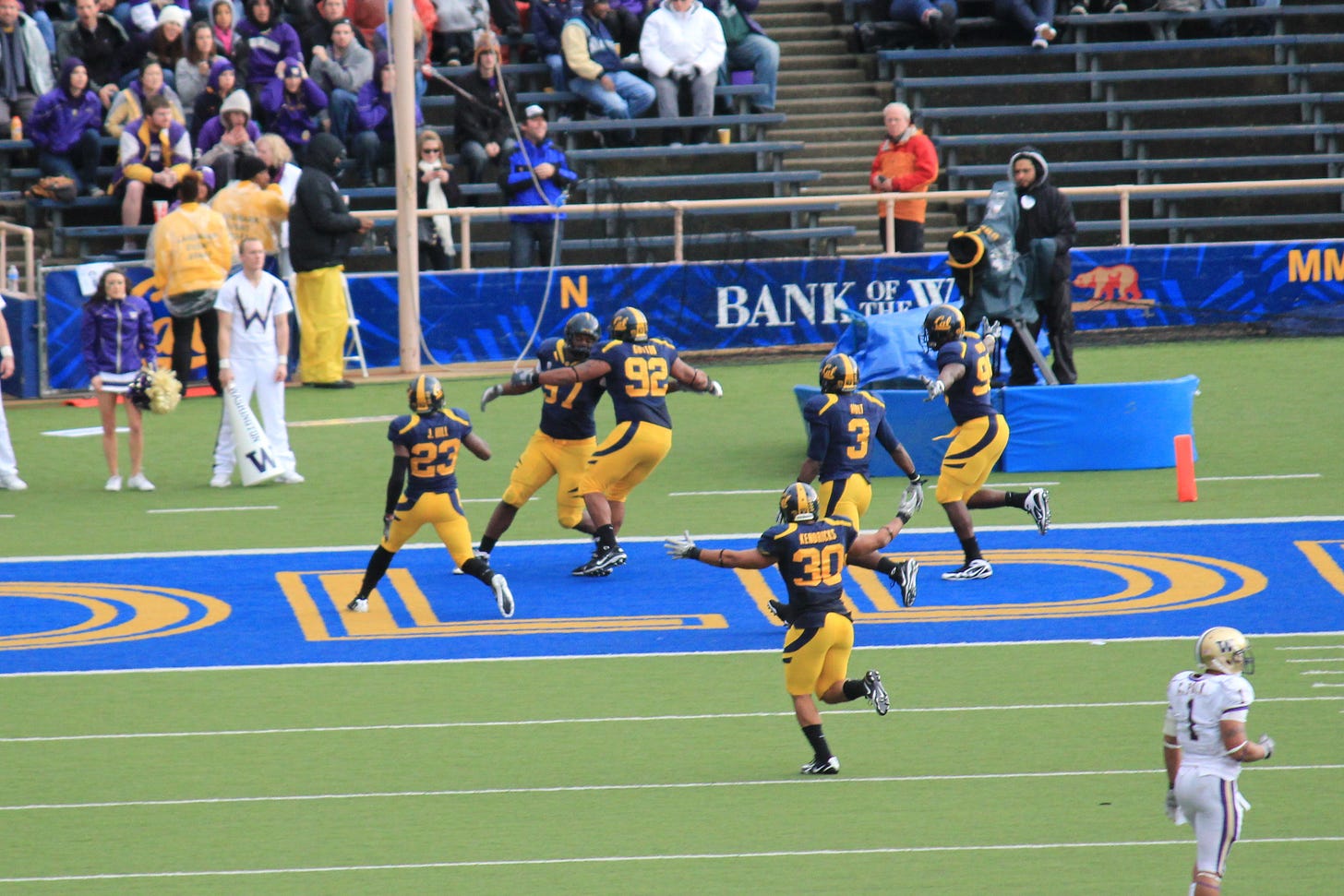 Cameron Jordan. Mike Mohamed. Mychal Kendricks. Chris Conte. That 2010 team was loaded on defense.
Image: © BrokenSphere / Wikimedia Commons
---
Cal football remains a distant memory, and it may be that way for a while. So until we have some meaningful sports to watch, I'm going to keep looking back at the last decade of Cal football. For the past ten seasons we have been asking the Cal community to rate the Bears' performance after each game. After reviewing the best of the decade, the worst of the decade, and the offense, today we look at a wild decade for the Cal defense.
Among the categories our readers rate after each game are the pass defense and the run defense. I've plotted a moving average for each category over the entire decade.
The decade starts off decently as Clancy Pendergast's maddeningly inconsistent defenses pair brilliant performances (that 2010 Oregon game!) with unscheduled bye weeks (any time we played USC). Things fell off a cliff in 2012 and didn't start to recover until 2014, when the run defense showed steady improvement. Pass defense moved from turrible to okay in 2015 to balance a middling defense with a brilliant offense. Of course, that was short-lived as both categories on defense regressed back to awfulness in 2016. And then Justin Wilcox arrived. Defense immediately climbed back up to respectability in 2017 and achieved the best year of the decade in 2018. Although 2019 couldn't match 2018's highs, the Cal defense remains poised to be a force in the 2020s…assuming the team actually plays football at some point this decade.
---
Year-By-Year Ratings
Next we aggregate those scores on a yearly basis to produce a year-by-year average.
The 2018 defense proves to be the best of the decade: by a huge margin for passing defense and by a moderate margin for run defense. Fun fact: we had 11 scores above 80 for pass defense in the seven seasons prior to Wilcox's arrival; the team matched that total in two years spanning the 2018 and 2019 seasons. Wilcox's 2018 and 2019 teams took the top two spots for pass defense, but Sonny Dykes' 2015 team finished a surprising third. We may have been grading on a bit of a curve, however, just like the 2019 team's offense looked to be graded on a curve in our review of the offense. That 2015 pass defense ranked 97th in the nation in yards allowed per game (243.9), 89th in opponents' pass efficiency (135.49), and 97th in yards per attempt (7.9). Contrast that to the 2010 pass defense: 21st in yards allowed per game (185.5), 29th in pass efficiency (116.52), and 19th in yards per pass attempt (6.2). Clearly we lowered our expectations after the 2012-2014 rut (and, of course, any semblance of a pass defense looks great when Goff is slinging 400 yards per game en route to 35+ points per game).
The 2018 and 2019 teams claim two of the top three spots for run defense, but Tedford's 2011 team earned second. Just like the 2015 team's pass defense enjoyed a boost in ratings thanks to modest expectations, the 2019 team suffered a bit due to our high expectations. Despite finishing third in our ratings, the 2019 run defense was best of the decade in yards allowed (126.31, 27th nationally) and yards per carry (3.56, 26th nationally). If we keep having no sports to talk about, I may take a look at how our standards for good offense and good defense changed across the Dykes and Wilcox eras.
---
The Best of the 2010s
2017: Cal 37, #7 Washington State 3 (Pass defense: 96.36 (highest of the decade!), run defense: 89.75)
Highlights: SEVEN TURNOVERS FORCED! 0.9 yards per carry

2018: Cal 15, USC 14 (Pass defense: 92.00, run defense: 90.40)
Highlights: That second-half USC drive chart: safety, interception, punt, punt, punt, punt

2011: Cal 63, Presbyterian 12 (Pass defense: 89.42, run defense: 92.94)
Highlights: Everything—48 total yards, 1.4 yards per passing attempt, 0.8 yards per rush, 10 Presbyterian punts, 3 Presbyterian 1st downs

2018: Cal 12, #9 Washington 10 (Pass defense: 90.80, run defense: 90.50)
Highlights: Chris Petersen's decision to bench Jake Browning for Jake Haener, whose second pass is intercepted by Evan Weaver and returned for the go-ahead TD

2011: Cal 34, Utah 10 (Pass defense: 85.77, run defense: 92.13)
Highlights: shutting out the Utes for the first 48 minutes, 4 turnovers forced, 13 rushing yards (0.5 ypc)
Honorable mention:
2010: Cal 35, UCLA 7 (Pass defense: 83.25, run defense: 94.35 (highest of the decade!)
Highlights: 144 yards, 26 rushing yards (1.0 ypc), 3.2 yards per passing attempt, 9 punts
Obviously that Wazzu game would be #1 for smothering an undefeated, top-ten Cougs team that was averaging nearly 400 yards and 4 TDs per game. In retrospect, that second-place USC didn't seem like an outstanding performance until you recall how badly the USC offense destroyed the Bears in 2019.
The third-place Presbyterian game is the most forgettable of the bunch, but it was an utterly dominant defensive performance even for an FCS opponent. The score is deceiving because the Blue Hose's only points came off a blocked punt returned for a TD and an interception returned for a TD, both at the hands of Justin Bethel, who is entering his 9th season in the NFL. Presbyterian completed six passes. They averaged less than a yard per carry. They didn't even break 50 yards. They punted ten times.
The Cal defense allowed five touchdowns in the aforementioned six games. They allowed six in the first half of the worst performance of the decade. And 51 TDs in the following seven games.
The Worst of the 2010s
2013: Cal 13, #9 LSJU 63 (Pass defense: 2.51, run defense: 17.74)
Lowlights: Kevin Hogan's 329 yards (12.7 ypa!) and 5 TDs; 603 total yards of offense

2016: Cal 27, #5 Washington 66 (Pass defense: 6.22, run defense: 15.82)
Lowlights: Jake Browning's 378 yards (13.5 ypa!) and 6 TDs; SEVEN HUNDRED FOUR TOTAL YARDS

2013: Cal 24, Colorado 41 (Pass defense: 6.30, run defense: 16.80)
Lowlights: Freshman QB Sefo Liufau outperforms Jared Goff with 364 yards (10.1 ypa) and 3 TDs

2016: Cal 26, #23 Washington St. 56 (Pass defense: 13.61, run defense: 11.34)
Lowlights: WSU runs (yes, runs) for an absurd 254 yards (8.2 ypc), Falk tosses 5 TDs and 373 yards (7.5ypa)

2012: Cal 14, #16 Oregon State 62 (Pass defense: 12.05, run defense: 14.53)
Lowlights: Sean Mannion throws for 325 yards and 4 TDs
Dishonorable mention:
2014: Cal 35, BYU 42 (Pass defense: 0.88 (lowest of the decade!), run defense: 39.74)
Lowlights: BYU's walk-on QB throws 433 yards (11.4 ypa!) and 5 TDs, including 164 yards in the 4th quarter

2016: Cal 44, Oregon State 47 (Pass defense: 48.13, run defense: 3.97 (lowest of the decade!))
Lowlights: OSU runs for 474 yards (9.5 ypc!) and 6 TDs to break a 12-game conference losing streak
I had forgotten how bad some of these performances were. Those 2012, 2013, and 2016 defense were hard to watch at times. Unfortunately, I think the worst of the worst Cal defenses were much worse than the best offenses were good. I think the worst defense of the decade (2013) paired with the best offense of the decade (2015) would lose to the best defense of the decade (2018) paired with the worst offense of the decade (2012). Actually, I'd be pretty interested in watching that game…
Cal Football 2010s in Review