Discover more from Write For California
A community for California Golden Bears, about the California Golden Bears, made by California Golden Bears.
Over 4,000 subscribers
If you haven't yet, please read Nick's memories before walking down memory lane with me. Read the memories of Larry's close friends Terence, Otavio, and coach Lindsay Gottlieb.
For those who knew him well, you can also leave your memories here in this memorial set up by his loved ones.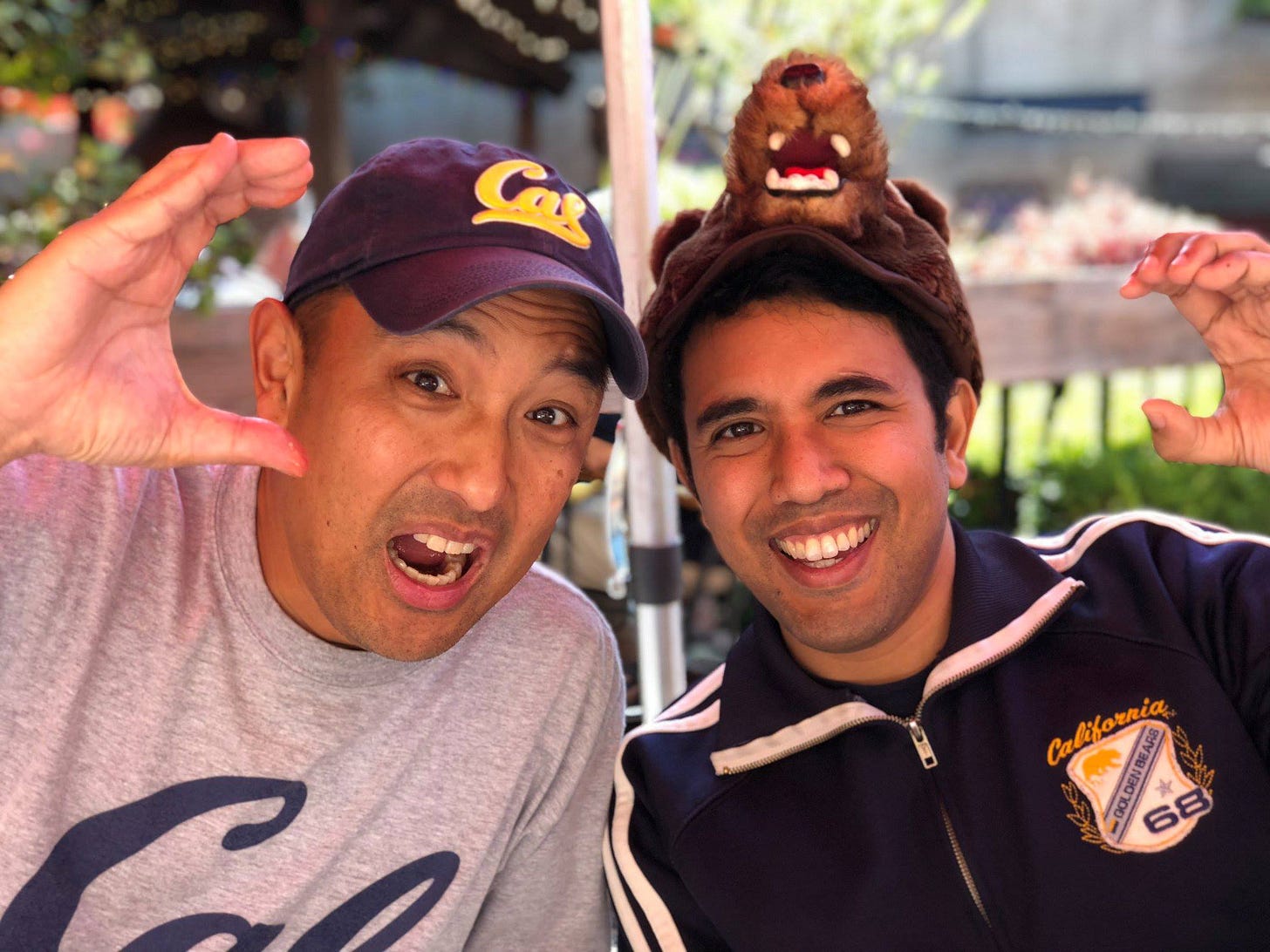 My first correspondence with Larry was in 2012. He'd been commenting under the name 'Reef' on California Golden Blogs for a few years, and Shareef Abdur-Rahim was finally getting his degree from Berkeley, so I figured it might make sense to reach out to the dude leaving two-paragraph responses about Allen Crabbe's defensive instincts. (There was also the 2% hope that it was actually Shareef who was commenting.)
Here's what he shared about Shareef:
Shareef always seemed far older than his years.

On the court, his game was old school and old man. He had average athleticism for a Pac-10 big, but a set of skills an NBA 10-year-veteran would envy. He could handle up top and on the wings, hit from midrange, turn on you in the post. He had an endless array of offensive skills. But what was most fascinating and fun to watch for me was how slow he seemed to move. Everyone around him always looked much quicker, but despite this he was never, ever in a hurry. He set up his moves like a chessmaster. If they stepped back he'd shoot over them. If they overshaded one side he'd cross them over. If they leaned on him he'd drop step or spin. If they got in the air he'd pump fake. He boarded the same way. It's like he never got off the ground, never outjumped anybody, but the ball was waiting for him because he was in the right spot. In the modern era they talk about James Harden having the old man YMCA game. That was Shareef. Calm. Deliberate. Another bucket.

I think Jason Kidd was the most impactful freshman in Cal history. But nobody came to Cal ready to score like Shareef.

His maturity off the court was just as impressive. I watch tape of interviews from his graduation, and it's like he hasn't aged a day, because that's what he was like as a freshman. Quiet. Thoughtful. Humble. Midway through the season there was a lot of talk in the media about Ramadan. Would the fasting affect him during a critical time in the season? It seemed like the only one completely unconcerned was Shareef. Every time he was asked about it he calmly said it was his faith and changing his behavior was not an option, but it would have no effect on what he did on the court. And when it didn't, and everyone wanted to ask him why it didn't, he didn't get annoyed, he again just patiently talked about his faith and the basketball. In the end that's what it seemed to come down to in his game and in his life. Simplicity. What was real. There was never any of the drama, never any of the ego, that came with other players of the Cal era. There was just his faith and his basketball.
All of the things that Larry wrote about Reef, you could write about Larry.
He brought his effort relentlessly to things he was passionate about. He never lost focus on the things that mattered most to him. He was steady. He was wise. He was full of life.
He'd watch a devastating Cal game late into the night, then wake up the next morning and run a half-marathon. He would take a weekend trip to Vegas, then get his teaching plan ready on his flight home for Monday.
He did things simple. He loved basketball, he loved golf, he loved data, he loved food, he loved running, he loved writing, he really loved Cal, and he really, really loved teaching.
He did it all with focus and humility. He brought the people closest to him along for the ride.
Just like Reef.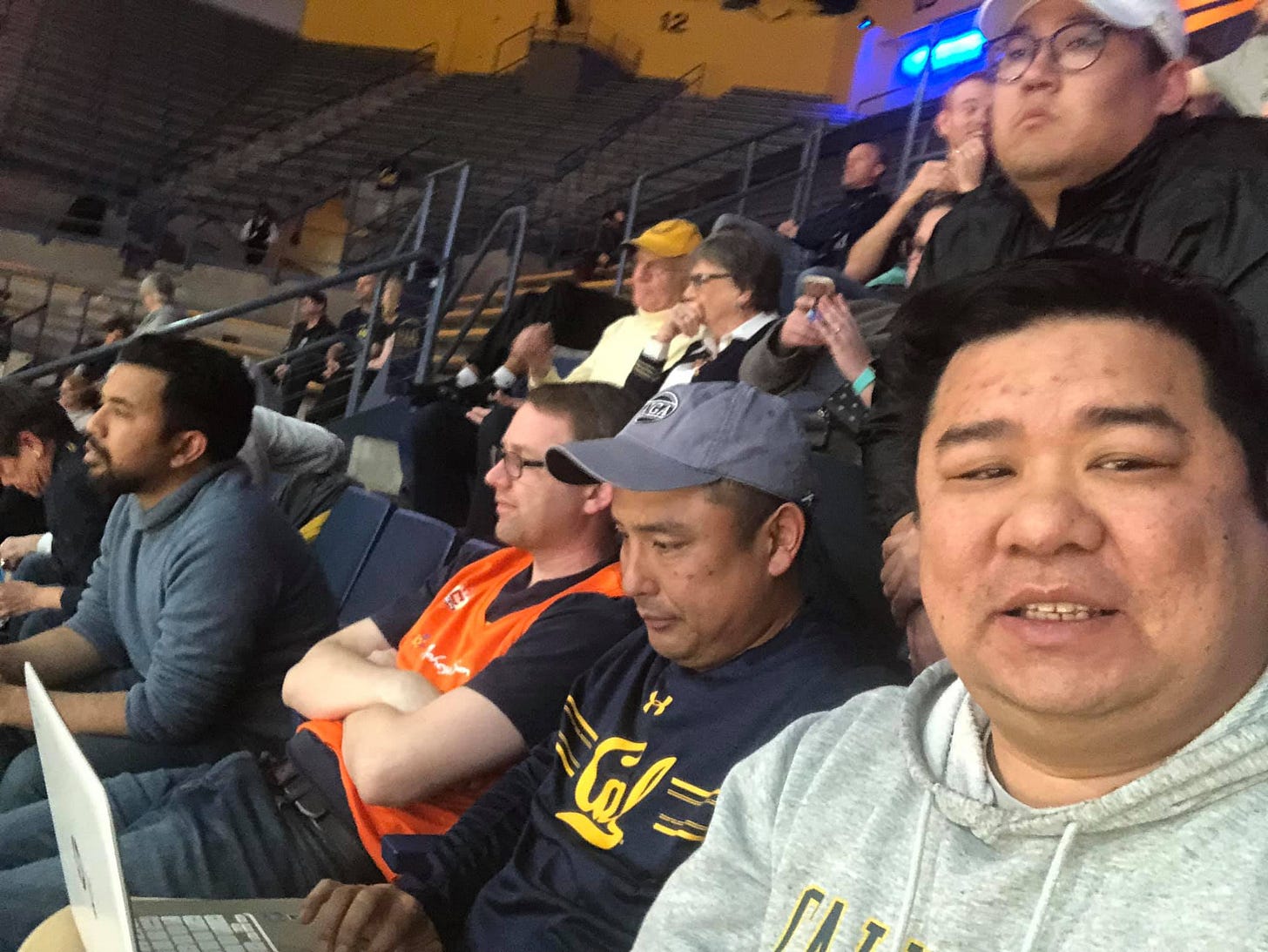 Larry was a hoops head.
Larry started writing for California Golden Blogs in earnest in 2014, and within a year it was clear we had found someone deeply overqualified. Imagine directing the local town play, and you get an original script handed to you stating "Written by Sofia Coppola." That's what every Cal basketball recap by Reef felt like. The effort shined through the analytics, through the prose. Shot equity and expected value became common phrases in the Cal hoops lexicon. Larry always followed the numbers, but never lost track of the picture in front of him.
Larry was a '93 Cal grad, so he belonged to a generation that believed in energy and enthusiasm, two hours unrelenting. Bears should roar at Haas, not whimper.
Even in the biggest moments, he did his best not to overreact to the hype. Here were his thoughts moments after Jaylen Brown committed to join Ivan Rabb to form the most talented Cal team in years. It's eerie how close his prediction was to the mark.
We can't possibly retain all these wings. Gotta be a transfer out somewhere.

Very much doubt we're an elite team with this roster. Second tier is definitely a reasonable expectation, though.

I'll need to run some stuff before committing, but probably adjusting my range up to like 25 – 5.

With all the hype there are people who will be calling for Cuonzo's head if we're near the bottom of that range.

Another parallel: the Cal team with Shareef playing at a PoY level and Ed Gray averaging 15 ppg (and who had the talent to average 24 ppg the year after, and earn 3rd team AA + a first round pick), as well as a lot of nice pieces (the same pieces that went on a Sweet 16 run the year after AFTER Ed got injured)…well, they were mediocre all year and their season ended in a demoralizing Iowa St flameout.

Paper is paper. Expectations are expectations. The court is where it actually plays out.
But despite the fun memes of Robot Larry, his fandom shone through constantly. Ten minutes before Ivan Rabb committed to Cal, here was Larry's state of mind.
Reef (6:43 PM): Decided I'm not gonna watch. Gonna keep paying taxes. I'll probably be able to find the info somewhere...

Reef (6:47 PM): So someone just asked on Twitter what I predicted, and I'm a little scared anyone takes me seriously. On court stuff, yeah, this stuff, no. NOBODY REALLY KNOWS ANYTHING ABOUT RECRUITING.

Reef (6:50 PM): Okay fine, I'm watching. I am mentally picturing Arizona. It's better if that's in my head.
Larry loved Cal basketball in all its forms, men's and women's alike (more on the women later), but it wasn't blind love. He treated the teams with a critical eye everytime he came in to write about them. When Cal fell short after a remarkable season, Larry put it into perspective.
Let's face it, although this was a very good Cal basketball team relative to what I've seen in my lifetime, it still was never going to be a great team. Too many mismatched parts, and too little experience — it was always going to be a team that, even at its best, could maybe play a great team close.

I would like to see a great Cal team before I die. I think Cuonzo Martin can get us there. He still has work to do schematically (I am probably going to revise my grade downward closer to the B/B+ range), but he is bright, starts from very good efficiency principles, will be attractive to recruits, and builds a great program atmosphere. I would like to see what he can do if given the chance to refine his strategic coaching and recruit personnel to build a team in his image. I hope we do not have to start over.
Larry then proceeded to write four more years, three times for losing Cal teams, twice for truly, truly miserable Cal teams. Here is Nick (blue) and Larry (gray) accurately forecasting the Wyking Jones era the moment he was hired.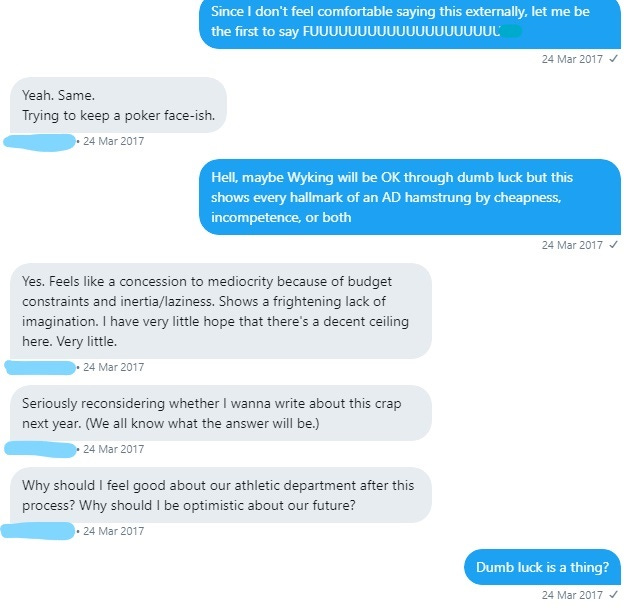 He'd still chart every game, as college basketball box scores didn't provide the in-depth metrics he'd need to write the recap he wanted. He'd often replay the game to fill in the missing gaps. Here were the type of nuggets he'd put together after his final recap of a Cal-Washington game this January.
Washington plays an aggressive zone that causes turnovers on 20% of possessions. The Cal offense had coughed up 35 turnovers in its first two Pac-12 contests. In preparation for this game, the Bears drilled repeatedly against the unusual zone concepts Mike Hopkins teaches, took care of the ball, and gave up only 10 turnovers in 68 possessions (14%). They committed just 4 turnovers in the first half, and many of their second half turnovers occurred when UW switched to man to man. Good ball security kept the Huskies' superior athletes out of transition, a critical factor in a game with razor thin margins. Sound, sensible coaching.
Sometime before this recap came up, Larry told me he was taking an indefinite break. He was understandably tired of covering sub-mediocre hoops, and wanted to do more with his time. But ultimately, he felt he could not meet the standard of excellence he set for himself.
Do things right, or don't them at all. Larry in a nutshell.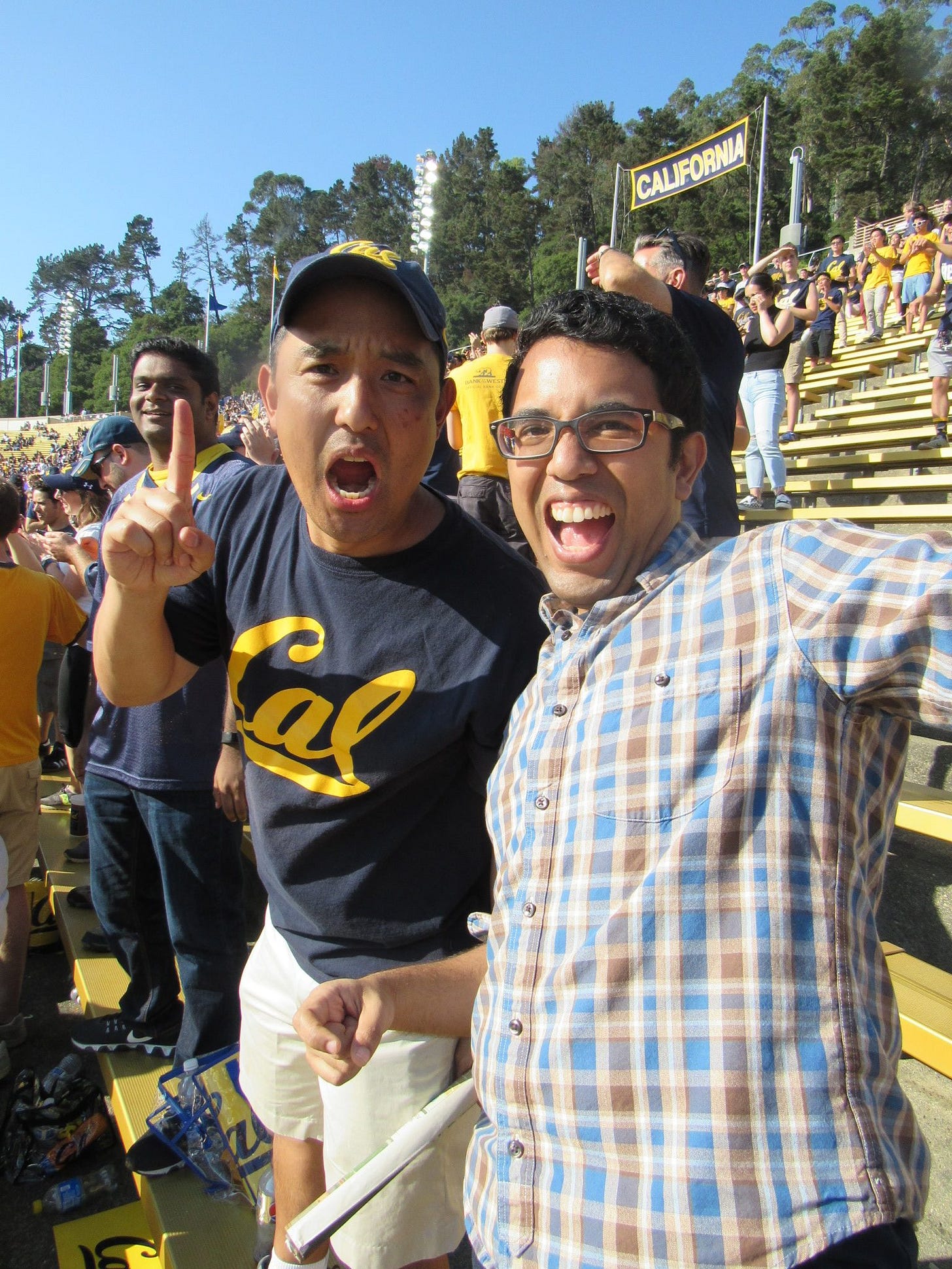 Larry was a Cal fan.
Although he had been writing for us for years, I didn't really get to know Larry until 2017, when he started returning to Memorial Stadium. Larry was all in on hoops, and I had gravitated to football in the later years. Out of principle, he didn't show up to Cal football games for years, because he had fundamental…disagreements with who was running the show.
But before that, Larry was all in on Cal football. He bought his Rose Bowl tickets in 2004 and attended the Rose Bowl. Texas showed up instead. He also went to the Holiday Bowl. It wasn't his favorite week.
After Justin Wilcox brought him back to Memorial, we started to meet for our weekly Golden Blogs tailgates. Larry would usually run a few miles, then bring something tasty to eat pre-game. The latest eats from the Asian Ghetto. Some random assortment of treats that my body could not handle. Larry was 15 years older than me and still treating himself like he was a freshman at the Units. The benefits of marathon life.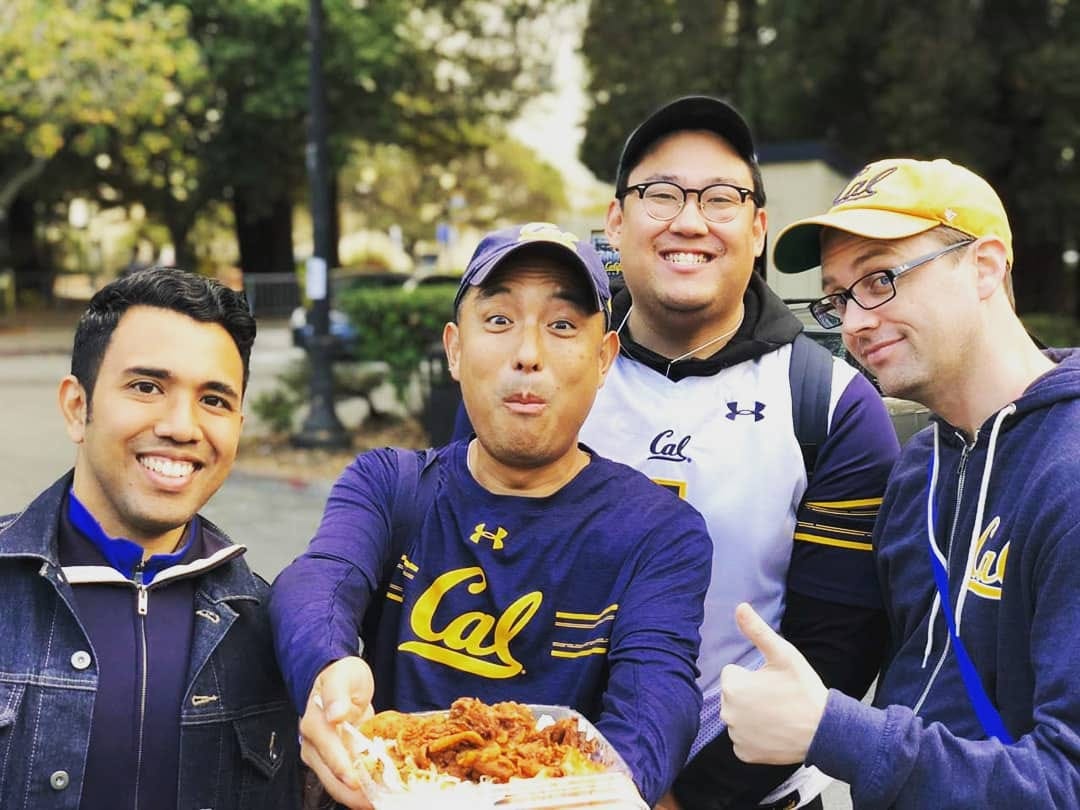 Although football was not Larry's sport of choice, probability definitely was, and he had very deep opinions on punts. Everytime a 4th down came up, I would usually ask Larry the following question.
"Larry, should we punt here?"
Responses varied from…
"It's too early. You gotta play defense. Our defense is so good!"
"Terrible decision. Why bother playing football if you're going to punt there?"
The analyst would often take over the fan, and he wouldn't mince words about how he felt about certain coaches and their decision-making process. But even in between, he'd always bring levity to many a college football game.
When Cal would have a successful run play: "ALWAYS RUN!"
When Cal would get stuffed on the next run: "STOP RUNNING!"
When Cal started 2019 with five wins and no losses, he showed up to the tailgate flush with confidence. Perhaps too confident.
Larry: Where should I buy my Rose Bowl tickets? What section do you think?
Me: Dude, you're way too confident about this. Where's logical Larry?
Larry: I'm just a fan here. Where are we staying on New Year's Eve?
Soon everyone in our tailgate started saying it. It was the power of Larry.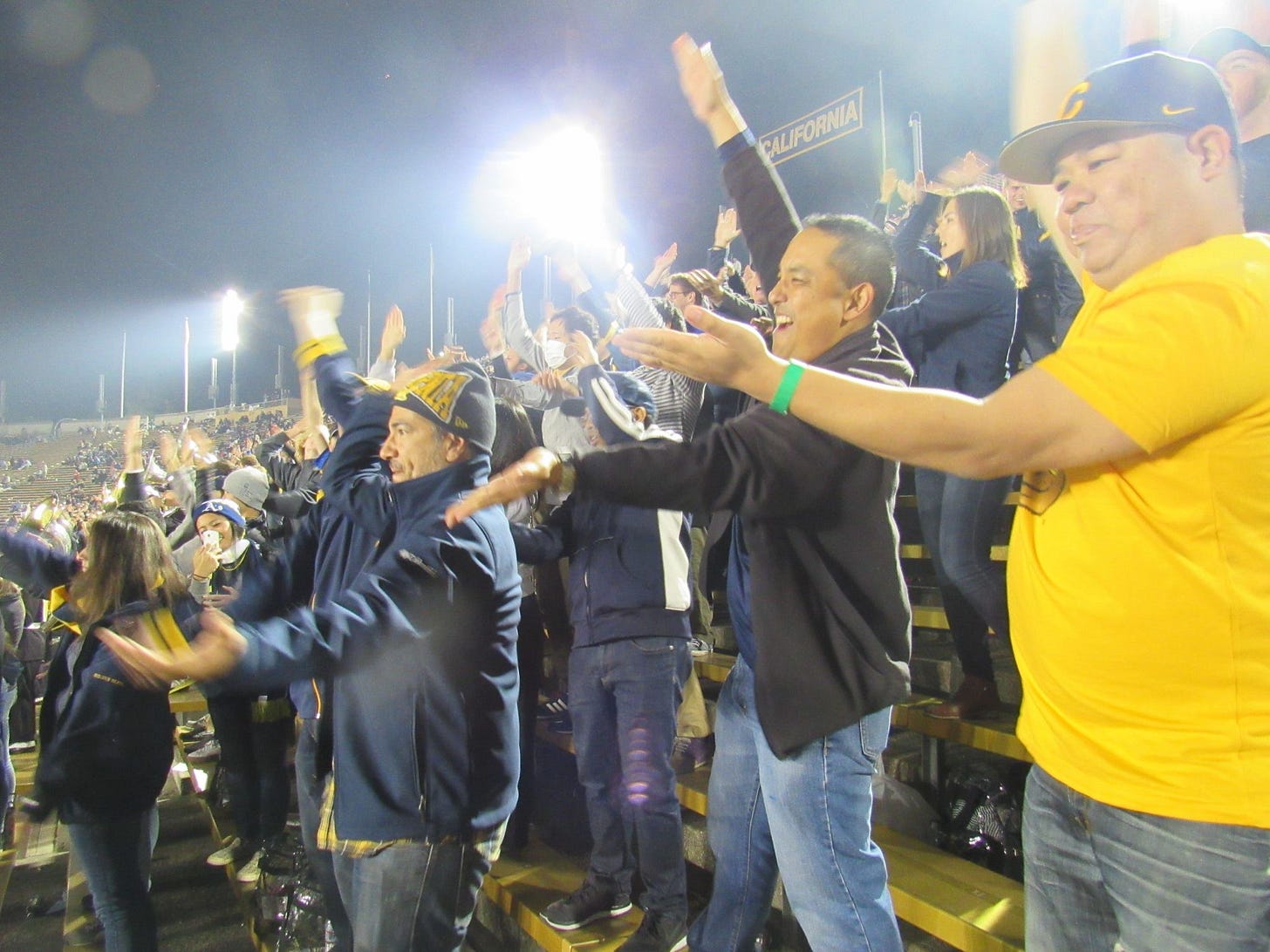 We rode the BART back that night together on that depressing Friday evening. He was entirely deflated. Chase Garbers had an undisclosed upper-body injury. The season seemed lost in an instant.
"Are we going to a bowl game? Why do I do this to myself?"
Turns out Larry could be like any other Cal fan on game day.
Larry loved food.
To support Cal and his stomach, Larry bought a churro at halftime of every Cal game he attended. This tradition started the first game we watched together, and continued all the way through our final Redbox Bowl.
If Cal fell behind double digits at Memorial, he would sometimes run up the Memorial steps mid 2nd quarter to get the juju flowing. When Cal would score a touchdown just before the half as he returned to a seat, he would exclaim, "We have a churro now, we cannot lose." But he would always wait until halftime to start biting down.
When we arrived at Chase Field for the Cheez-it Bowl, we got to our seats, only to realize we were in the middle of the baseball field and many minutes away from the nearest churro. So Larry and I got out of our seats and did two circles around the field to try and ID a churro stand. Every minute without finding one, Larry kept on saying quite loudly around a crowd of perplexed TCU fans:
"There's no churro here. It's over, we're all doomed."
We eventually found it. When Cal threw the fourth interception in ten plays early 2nd quarter, Larry went mad dashing for the churro stand. Unfortunately, the power of Cheez-its was too strong for the power of churros that night.
After paying $20 for Carl's Jr outside the stadium and getting an ice cream sundae with brownies at Majerle's, Larry said, "I don't think I like Phoenix that much."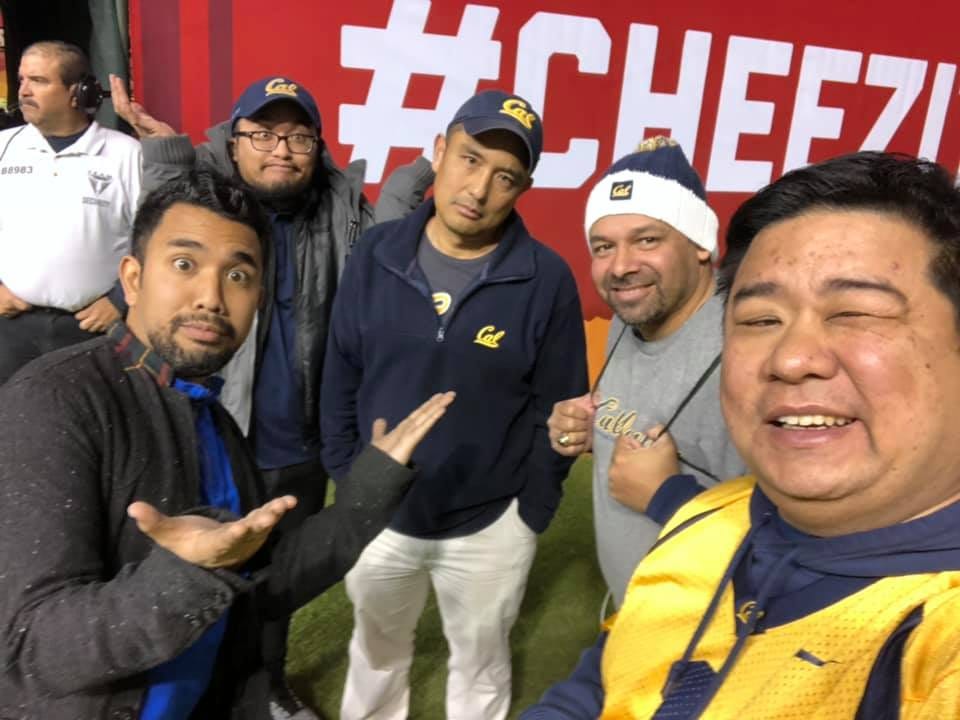 To brighten our Phoenix experience, we went to an escape room the next day. Larry had never done an escape room before.
He's still undefeated.
Larry hated Stanford.
Here are the most rational of his 2019 Big Game pregame comments, transcribed:
"#%#% STANFORD!"

"I HATE THIS SCHOOL!"

"I'M SICK OF LOSING TO THIS TEAM!"

"WE'RE TAKING OUR #%)!#)%!#) AXE TODAY!"

"WHY DID I GET A DEGREE HERE?"

"GO BEARS! I'M MEETING YOU AFTER THIS GAME ON THIS STUPID S!"
He showed up to our pregame tailgate with a pizza. He ate the pizza. Then he yelled more about how much he hated that this place existed and everything it represented.
We ended up meeting after the game on the stupid S.
Larry was a teacher.
After years in the law, and more years running junior golf tournaments for AJGA (golf was Larry's other major Cal sports passion), Larry found his calling in education, particularly in the mentorship of teenagers.
When we first emailed him to write in 2012, he messaged back the following.
I might as well give you as much notice as possible: this program requires my full attention (in a way that's awesome and fulfilling and life-changing), and I would be doing my students, classmates, and you a disservice if I tried to mix in a commitment to writing quality articles. I'm barely finding time to take care of important things like exercise and diet. 
Even when he wrote for us, and put on his Cal thinking hat, nothing took precedence over his students. When a team he really loved was getting bounced by Hawaii in the first round, Larry was in his classroom, quietly fuming.
"Mr. B, why are you in a bad mood?"

(internal monologue) WHY DO YOU THINK I'M IN A BAD MOOD?
It's almost fitting that Larry's first piece writing about Cal came after Shareef's graduation. It was his favorite day every year.
Whenever I really think of Larry, the man, I think of him consulting and mentoring teachers (including some in our community) about their next steps, chastising them for not being open to discourse, guiding friends about how to listen to their children to encourage their learning.
After the Cheez-it Bowl, Larry spent most of the remainder of the trip talking with Nam about where their education careers would go, about their students, about the vast journeys they would take. So I always found this anecdote endearing.
Larry was always interested in making sure people looking for their path would find their way. But he was particularly invested in people like Nam trying to express themselves so he could lend a hand too. Even when he wasn't teaching his students, he was trying to teach us.
He loved teaching so much he kept on showing up to a school he despised to mentor students most in need of it who were ready to learn.
He was open, but firm.
Larry believed deeply in civic duty. He'd research ballot measures for hours to make sure he made the right decision, in the same way he'd break down tape of some Cal State Northridge game to make sure his recap met his standard. He did not see the world as a side to take. Every issue had complexity. He saw the benefits and costs of the state of education, having played on many parts of the fence. He knew no easy answers were awaiting his pupils.
We talked about his students often. He worried about them constantly. That with each passing year they were getting more cynical at an early age. He wondered about their civic engagement, particularly in an environment where politics was getting more rancorous and discussion lacked depth. He grew more and more frustrated with the growing wealth gap in society, which put the students he was trying to help in situations that were growing more difficult to navigate year by year. As COVID-19 became a clear and present issue, he thought about the inherent issues that would face our country's students as we went to distant learning, and how it would leave millions of children who lacked the resources to learn online behind.
But in the end, he returned to hope and love and purpose.
We didn't always agree, but I always knew the thought he put into a subject would often far outweigh mine. His greatest wisdom was his ability to accept uncertainty and humility. He would turn moments that would frustrate even the most level-headed of us into teaching lessons. His empathy was boundless.
He didn't always know everything, particularly when it came to his students, which was part of why he was able to reach so many. He taught with empathy, and translated those efforts to the young adults he was trying to reach. Often times, he'd find a way to teach our entire team lessons as well.
Larry loved Cal women's basketball.
The last time I saw Larry was after the Cal-Stanford women's basketball game in January. We didn't see him during the game. He was off charting and analyzing, as he always does. He brought his laptop to the game often, making sure he had every note ready for when he was ready to talk high-level hoops, with Nick and Scott and Rob and a host of others. If you weren't bringing your best, why even show up?
Larry bought season tickets and went to more women's games than men's the last few years. He loved the passion they played with, the energy and execution he often felt was lacking from recent men's teams. He lamented how little attention the Cal women got compared to the men, particularly when the former was outclassing the latter on the court. He was excited about what Charmin Smith was bringing to the program and the new direction it was taking. He became the energizer bunny for Cal women's hoops engagement.
His fervent writing caught the attention of Lindsay Gottlieb.
Larry always understood the bigger picture. That even if you miss a few things on tape, you can offset it all with winning culture and personality that helps build environments worth investing in. When Gottlieb left for the NBA, he wrote about the impact her tenure had on him.
Personally, I am going to miss Lindsay Gottlieb. From a fan and a writer perspective, she was open, caring, direct, fun...a basketball junkie after my own heart...and just a genuinely good person. Even though I had more than my share of frustrations with our quality of play, I also have some truly special memories from the Gottlieb era, and I enjoyed being a WBB fan. So much so that I renewed my season tickets last month without hesitation, despite some trepidation about our roster composition.

We are sports fans because--hopefully--it increases our measure of happiness in life, and Lindsay Gottlieb's basketball teams gave me plenty of joy and plenty of pride. I don't want to take that for granted, and I think it's important to be grateful and say, thanks coach.
Approaching his fourth decade of being a Cal fan, he still brought it, just as he had all those years ago at Harmon.
My lasting memory of watching Cal women's basketball with him came against UConn. As the game stayed close and Geno Auriemma started complaining to the officials, the taunting began.
For anyone who's attended a Cal women's basketball game, they're usually pleasant, cordial affairs with lots of good vibes between players. It was all about growing the sport.
Larry brought a blowtorch to that and taunted Breanna Stewart sitting courtside. You couldn't take the Harmon out of Larry.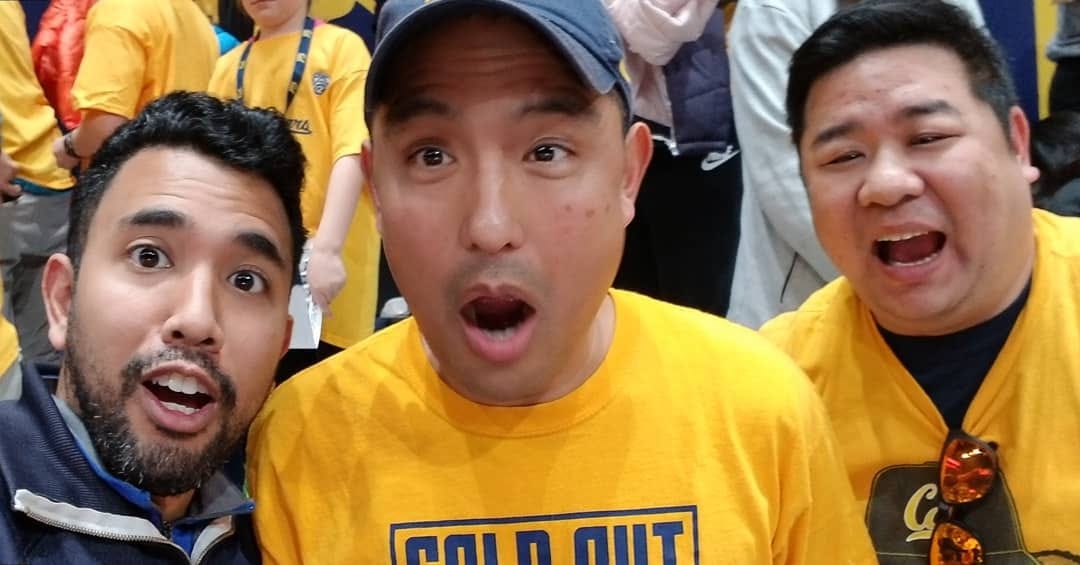 Larry loved to grow.
That last night together riding back to The City on the BART, we talked about the future. We chatted about this new endeavor we were starting on and the part he'd play in it. Some parts of him was excited about the new change (he spent an hour analyzing copyright law!), and how he could start writing the pieces he wanted to write here that the demands of working as part of a large digital machine didn't allow. He could get more creative with his writing. We talked about our trip to Vegas next season for Nam's birthday, where I was hoping to get the full Larry poker shark track.
But in our last conversations together, I realized Larry was thinking more about where he could find happiness in the next stage of his life. He talked about settling down, about getting away from the toxicity of social media (an environment that ran counter to everything he was trying to teach his kids), about giving his personal life the time it deserved.
He had already stepped back in the last year. He was always trying to find newer purpose.
Larry picked me up for the Redbox Bowl and we spent most of our trip there and back talking about these things as well, particularly about where to find fulfillment outside of work, outside of Cal, outside of everything he already knew. There were so many things he still was excited to do—marathons he wanted to run, things he wanted to learn, students he wanted to reach. He was ready to tackle new horizons.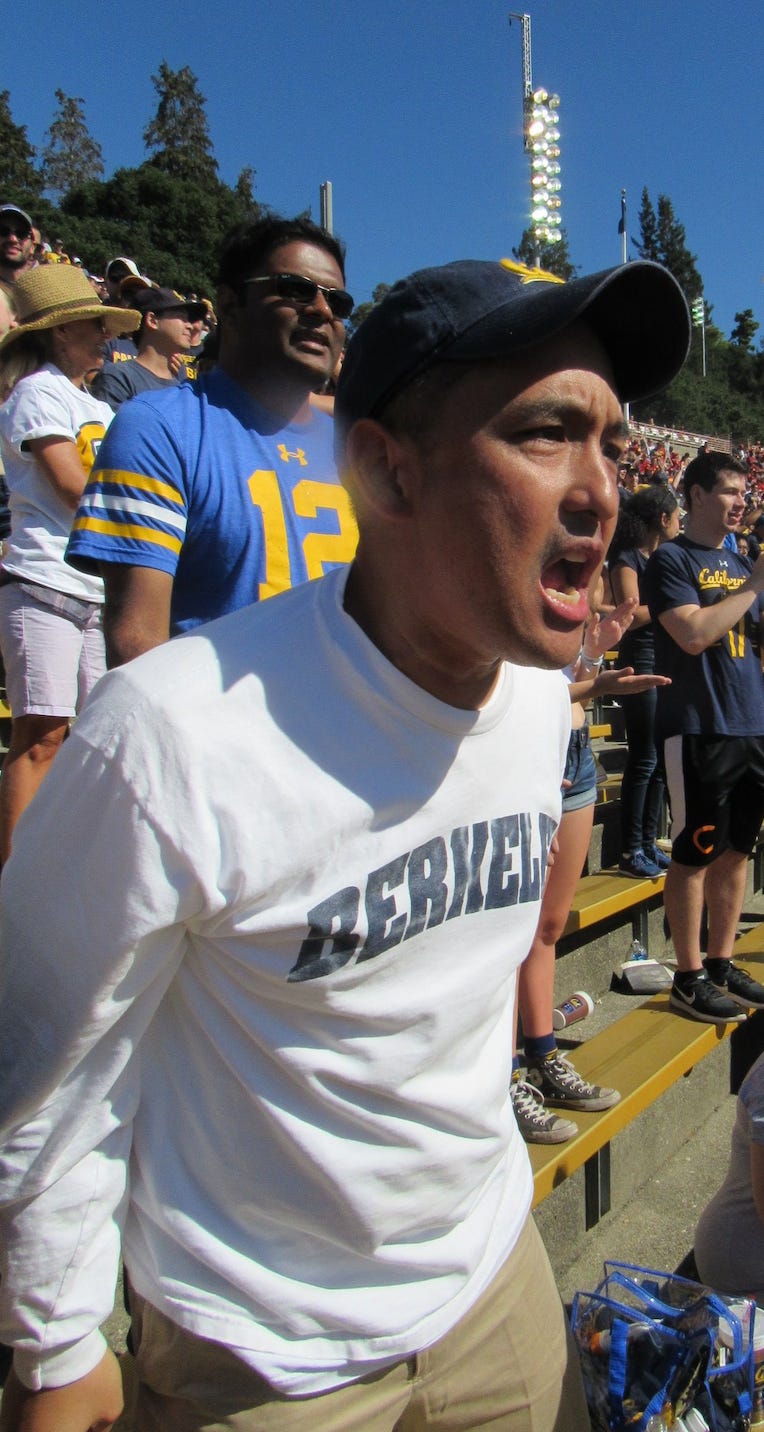 Here was Larry, approaching the second half of life, ready to grow once again.
There was one regular refrain from him during our conversation: "I'm just a fan now."
He was right. He'd been a fan of living life in a manner worth living.
Hopefully, he knew about all the fans he made along the way.
Rest easy, son of California. Time to make fans on the other side.