In the best case for 2020, do we finally get back to the Rose Bowl?
Because no one asked for it, the non-thrilling end to our best-case hypothetical 2020 football season.
With the delay of Pac-12 Football in 2020, Write for California started the fall by covering a mock season. In place of our standard game previews, we will kick off our pregame "coverage" with fictitious contrasting best- and worst-case scenarios for each game (inspired by Ye Olde ESPN Pac-12 Blog) had COVID-19 never cursed us. The week might culminate in a video game simulation on Saturday (with commentary by Rob Hwang and Trace Travers) and maybe a game recap by Nick Kranz on Monday.
With the resumption of Fall Sports, this series is thankfully coming to an end. We present to you the conclusion of our best-case hypothetical season.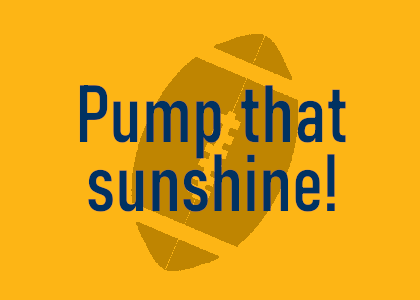 ---
California was flying high after back-to-back wins over Pac-12 favorites USC and Oregon, which inevitably stirred up conversation about a potential trap game and concerns that the team wouldn't be prepared. Oregon State certainly fit the bill as they have been a nuisance for us in recent years and have been solidly rebuilding under Jonathan Smith. An offensive-minded coach, his side of the ball was unfortunately suffering some turnover from last year's squad (although O-line coach Jim Michalczik was using his famed prowess to smooth the transition for his unit). The Beavers were still struggling defensively—particularly up front and in the secondary. Chase Garbers and the Cal offense were able to expertly navigate the ball around OSU's elite linebacker Hamilcar Rashed Jr. and the Beavs' offense just could't keep up.
California defeated Oregon State, 31–24
---
In a recurring storyline this season, Washington was replacing a ton of talent—including starters at quarterback, running back, receiver, three O-lineman, and inside linebacker. Although they transitioned to a new head coach, they benefitted from significant continuity because it was an inside hire. Without Evan Weaver putting the fear of God in them, the Huskies struck first and played stout on defense all day. Ultimately, an inefficient run game and mistakes from a new starter at quarterback spelled their doom and Wilcox continueed his winning streak over visiting teams from the state of Washington. It makes news all over SportsCenter when Coach Sirmon's squad nabbed two picks—including one by Kuony Deng—thrown by Jacob Sirmon and texts leak showing the younger Sirmon complaining to his parents that his uncle didn't go easy on him.
California defeated Washington, 24–20
---
Officially matching their win total from last season, Cal fans everywhere are worried as the team had to travel to Tempe for a Top-25 showdown. Although the Sun Devils have been playing well on defense all year, this game ended up being a thrilling and nail-biting shootout. Jayden Daniels—one year removed from his breakout campaign as a true freshman—made some magic with offensive coordinator and rising star Zak Hill, but the veteran Bill Musgrave had more tricks up his sleeve and the defense was able to make enough plays to escape with the win.
California defeated Arizona State, 34–28
---
For the first time since 2010, California was fighting to keep the Axe at home. With the exception of FCS Cal Poly and a UNLV squad that's in total rebuild, Cal has been in tight games all season with the biggest margin of victory being 10 points. And the trend continued for the Big Game.
Oh wait—no it didn't. This is the best-case scenario.
QB Davis Mills couldn't handle the pressure of another losing season on the Farm and regressed, looking pedestrian against the Bears. To make matters worse, the Stanfurd talent pool at tight end dried up, depriving Mills of any easy targets for jump balls. There were a few high spots for the lowly Cardinal—the O-line and Paulson Adebo—but it wasn't enough. David Shaw's playcalling got even more illogically conservative (why did he punt on third down?) and it was clear that there's systemic rot that fueled the fact they somehow saw at least 14 players try to flee through the transfer portal.
California demolished Stanfurd, 70–3 (Jet Toner had to do something in his ninth season), and set Big Game records for most points scored and largest margin of victory.
---
It's the Joe Roth Memorial Game and the Golden Bears were full of confidence and turkey. The Baby Bears weren't feeling too bad themselves—Chip Kelly isn't fully up to speed yet, but they're bowl-eligible for the first time since 2017. Too bad their imitation blue and gold looked utterly ghastly compared to our beautiful Roth throwbacks. The Bruins weren't all too terrible on offense, but Dorian Thompson-Robinson just continued to display poor judgment and was goaded into throwing three picks—two to Cam Bynum and one to Daniel Scott. On the other side of the ball, the UC L.A. pass defense resembled Swiss cheese and offered up even less resistance to Chase Garbers and the wideouts.
California defeated UC L.A., 31–20
---
Going 11–1 (8–1 in-conference), the Bears win the Pac-12 North! Oregon finished the regular season with an identical overall record, but their loss to California gives us a better divisional record and the head-to-head victory. The last time Cal was this close to winning the conference, our little collection of West Coast teams was being dominated by USC—and in some poetic justice, USC won the South and was the last hurdle blocking us from sweet, sweet conference championship. The Bears survived the Trojans earlier in the season thanks to some late-game heroics by Chase Garbers and Luc Bequette, but this rematch was even closer.
With time running low at the end of regulation, the teams were tied as the Cal offense took the field. Just out of field-goal range, Garbers heaved a ball into the endzone towards Kekoa Crawford… only for the pass to be broken up by Isaac Taylor-Stuart, pushing the game to overtime. It took two overtimes, but a the magical boot of Dario Longhetto delivered for his second game-winning field goal of the season! California won the Pac-12!
California defeated USC, 27–24 OT
---
The question lingered in the air of if a one-loss Pac-12 champion would make it to the College Football Playoff. Unfortunately, the voters continued to overlook the Pac-12 and did not reward the Bears for a one-loss season in a tough conference. To make matters even worse, the usual treat for the Pac-12 champion—the Rose Bowl—was a College Football Semifinal game this year. The one thing that fans all over Bear Territory have been dreaming of for over sixty years was held just out of our grasps due to a technicality.
Instead, the Bears were selected for the Peach Bowl against Penn State. The Nittany Lions proved that their "next player up" mentality isn't just a cheap slogan on defense and their offense was beautifully methodical and potent. Cal clawed to keep it close, but ultimately just couldn't keep up.
California fell to Penn State, 24–14
A tough loss to end the season—two, as we are all counting us getting blocked out of the Rose Bowl—but Cal still ultimately finished the season with 12 wins and a freakin' conference championship. The Bears end the season with a top-10 ranking and renewed confidence behind Justin Wilcox and the new-look offense.
---
2020 Cal best-case season
UNLV: W 34–13
TCU: W 27–20
Cal Poly: W 45–17
Utah: W 27–17
Washington State: L 34–28
USC: W 21–17
Oregon: W 12–10
Oregon State: W 31–24
Washington: W 24–20
Arizona State: W 34–27
Stanfurd: W 70–3
UC L.A.: W 31–20
Pac-12 Championship vs. USC: W 27–24 OT
Peach Bowl vs. Penn State: L 24–14
Win-loss: 12–2
---
Ignoring my need for self-indulgence for the Big Game, I think it shows how many things had to go right for us given how close all the games are. Firstly, I knew there had to be a conference loss somewhere—we're too cannibalistic and no one has finished a Pac-12 season undefeated in the history of the conference. I chose a somewhat less-important game so we could instead get critical wins over Oregon and USC. In hindsight and if I were to write this whole season at once, maybe I would have a win over Wazzu and a regular-season loss to USC with Cal winning the rematch. I think I pushed it a little too hard with Cal winning the conference championship (rather than the odds of us beating a top team like USC twice), but that just felt too tragic for a best-case scenario.
The next big decision point was if a one-loss Pac-12 Champion would make it to the Playoff. A quick poll of the WFC writers was a perfect 50–50 split and it just felt like we had too many lucky breaks to get another and find our way into the CFB and—perhaps more importantly—the Rose Bowl. I decided to run with West-Coast bias keeping us out and on top of that, it felt like we used up all our good luck during the regular season.
Ultimately, I'm kind of okay with how the bowls played out. There's a balance between the long-suffering nature of Cal fandom (with us still being kept from the Rose Bowl) while still being able to win the conference and ending the season with a high ranking—and I think Cal fans are so tired of poor in-conference results that being Pac-12 Champion offsets the bad taste of the bowl loss.
---
This is a completely fictional account of the 2020 California football season had it transpired without COVID-19. All commentary, criticism, etc. of any player, coach, or figure is based on this total hypothetical and is not an analysis or indictment of the actual individual.